by Texas Homesteader ~
I wanted fingerless gloves, but I wanted to make them myself. In 5 minutes I was able to upcycle long socks into oh-so-cute fingerless gloves with NO SEWING! See this easy tutorial.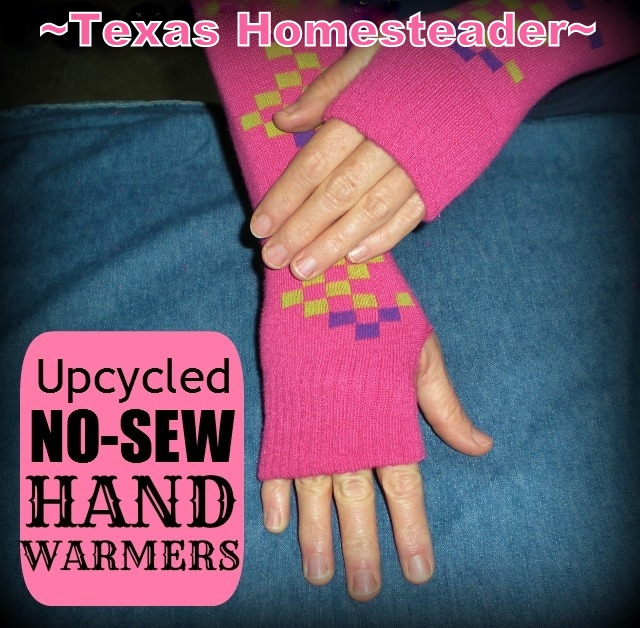 Looking For Fingerless Gloves
I've been dreaming of a pair of fingerless gloves all winter, I absolutely love the style and functionality of them.
You know how it is. You want your hands to be warm. But sometimes a full pair of gloves are just too restrictive.
But fingerless gloves allow you to use your fingers to work your smartphone or for picking up things while still offering warmth to your hands.
Oh how I wanted them! So I started shopping, hoping I would find a pair that I would love.
Making My Own Fingerless Gloves
But then I saw someone share ways to upcycle long socks into hand warmers and (here's the kicker) it took NO SEWING!
Now I've joked before about my lack of sewing prowess but I kid you not – I have NO sewing skills.
None. Nada. Zilch.
Sewing a button back on a shirt may be the very edge of my ability. And I'm not gonna lie, the result still probably won't be pretty.
So when I read the idea of using socks to make a no-sew hand warmer I was intrigued.
Bright, Colorful Long Socks
Rewind back to last year when I bought a pair of bright pink socks. Although I loved the color & design, they were full calf-length socks. And after wearing them all day I had painful marks at the top where the elastic cuff was.
They were just too tight. I hated that because I loved the socks. Plus – dang they were brand new!
Hummm… PERFECT opportunity to try these no-sew fingerless gloves!
Fingerless Gloves Easy To Make!
First I laid out the clean socks & cut them just above the heel leaving the sock in two pieces.
I wanted to leave most of the length for my fingerless gloves so they would cover much of my forearms as well. But you might want to decide how long you want your warmers to be so you'll know how high up the sock you wish to cut.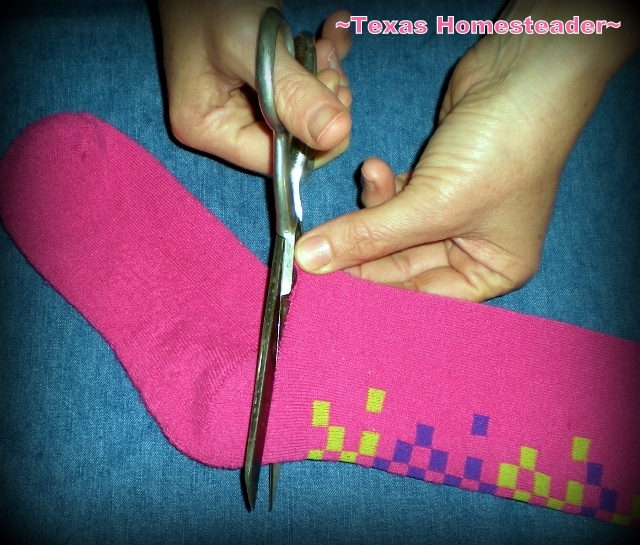 I sat the foot section of the cut sock aside & focused my attention on the long calf section that would become my fingerless gloves.
Then I needed to cut a hole for my thumb to go through. So I slipped my hand into the section of sock with my fingers at the finished cuff end to measure where the thumb hole should be cut.
For me it was right at the bottom of the cuff. So I cut a very small slit for my thumb to come through.
Keep in mind that the material will stretch when you put it on your hand. So this cut in the fabric for your thumb needs to be just barely enough to squeeze your thumb through.
Don't try to make this hole too big. You can cut it bigger if you want later, but you can never make it smaller once it's been cut. So err on the side of too small initially.
I will say that when you're wearing these fingerless gloves the thumb goes through a little deeper than you think they will.
That means you'll naturally pull the glove higher up on your hand, which will result in slightly less coverage for your fingers.
I thought these gloves would cover as shown in the picture when I was wearing them. But because the thumb typically goes in further when wearing the fingerless gloves they actually ride just about 1/4″ higher than that.
So be sure you measure the thumb hole location based on the very highest part of the thumb that will fit through for an accurate fit.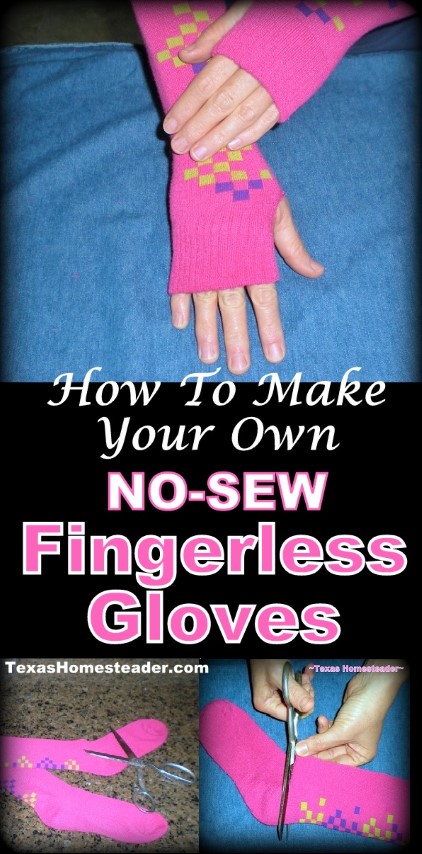 Anyway, I absolutely L-O-V-E these fingerless gloves and they are long enough to cover most of my forearm as well.
If you have some favorite socks that you'd like to upcycle to a new life give these fingerless gloves a try.
And hey, did I mention there's NO SEWING??
~TxH~
Easy Beginner's Crafts & Projects We Love
…And Much More


C'mon by & sit a spell! Come hang out at our Facebook Page. It's like sitting in a front porch rocker with a glass of cold iced tea – lots of good folks sharing! You can also follow along on Pinterest, Twitter or Instagram.
If you'd like to receive an email each time a new blog post goes live it's EASY to
Subscribe to our blog!
Save