by Texas Homesteader ~
I used some fabric from a thrift store and some inexpensive cotton cording to make a cute clothespin apron as a homemade gift for my sister. She loved it!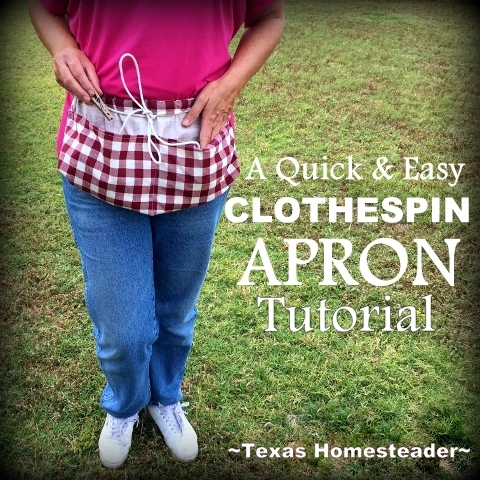 How Do I Corral Clothespins?
People have various methods of holding their clothespins when they're hanging laundry. I've heard of such ways as clothespin aprons or even sewing the bottom of a cute baby's dress and using a hanger to keep it on the line.
I love to hang our laundry on the line. There's just nothing like that gorgeous Texas blue sky and sunshine to add the delightful aroma of pure sunshine to our clean clothes.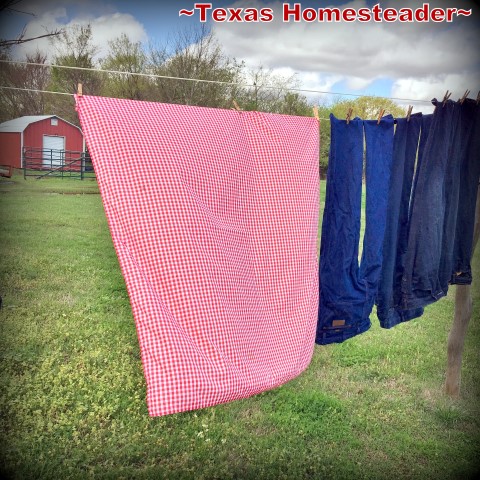 My sis is like me – loving the smell of sunshine on her clean laundry. So she hangs her clothes out to dry as well.
When she had a birthday recently I put on my thinking cap. Y'all know we like to make homemade gifts whenever possible, but what would she like. Hummm… I KNOW! I'll make her a clothespin apron!
Line-Drying Clean Laundry
Like me, my baby sister has recently been bitten hard by the 'green' bug. Oh she's been at least somewhat environmentally-aware all her life. But now all of a sudden she's taking it to the next level.
These days she's even making her own homemade yogurt and cottage cheese. I'm so proud of her, and I know this path of self-sufficiency makes her feel empowered too.
Although she's always enjoyed hanging a few things on the line, she's transitioning into hanging more & more clean laundry under that blue Texas sky to dry.
Not only does she love the savings, but she's discovered there's really no substitute for that amazing aroma of sunshine on clean laundry!
Homemade Clothespin Apron Gift From My Heart
First off let me say this gift to her is truly a labor of love. That's because
I. Hate. To. Sew!
But if I'm going to make this gift myself I've gotta get out the mammoth sewing machine & get to it. I hope she understands exactly how much a part of me this gift is! Apparently I must love her or something.
A LOT! LOL
Where To Find Used Fabric For Sewing
Now I know I could have gone to the fabric store & picked up the fabric that I needed, but I prefer to buy used if at all possible. It's just an environmental preference for me.
Luckily I found the perfect fabric at our local thrift store. This cute country red & white checkered pattern will be perfect.
Finding A Tie Material
But I wonder what I'll use for the apron's tie. Ribbon didn't seem heavy enough & I'm not about to sew a tie from scratch. (see sewing hatred statement above) I decided on braided cotton cord. Let's see how this goes…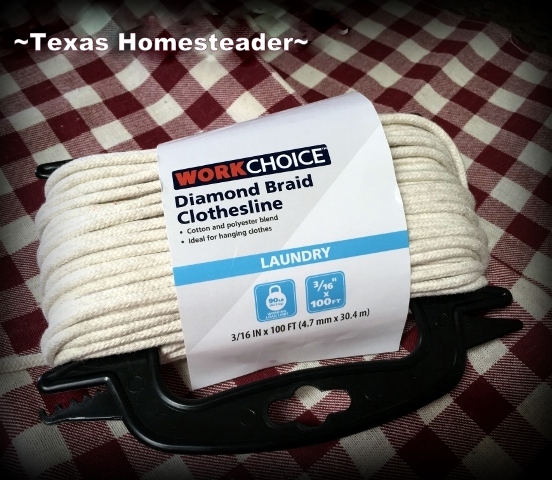 How To Assemble A Clothespin Apron
So I cut a piece of fabric that measured approximately 17″ by 21″. You can make yours larger or smaller, I just eyeballed it and this is the size I decided on.
Then I folded the top just a bit and then folded it over again & sewed along the seam to make about a 1″ casing for my apron. This will be where the tie will thread though.
When the casing was done I folded the bottom up to make a single 6.5-inch deep pocket. I had already hemmed it so I sewed each side of the pocket to attach the front to the back.
Now I have a pocket that's folded at the bottom, open at the top with both right & left sides sewn closed.
I decided to also run a stitch down the middle so I could divide it into two smaller pockets. Each pocket ended up measuring about 6.5″ deep and 10.5″ wide.
Creating A Boxed Bottom In A Fabric Pocket
Then I stood back to see what I thought. Humm… Not bad.
But I really want a more open boxy bottom to the clothespin apron. I decided to use the same method as I use when I'm making my denim baskets with repurposed denim from old jean legs.
So I turned the pocket inside out and laid it out flat. I measured 1.5″ from the corner and drew a line evenly across. Then I pinned it and sewed a straight line across to make a triangle.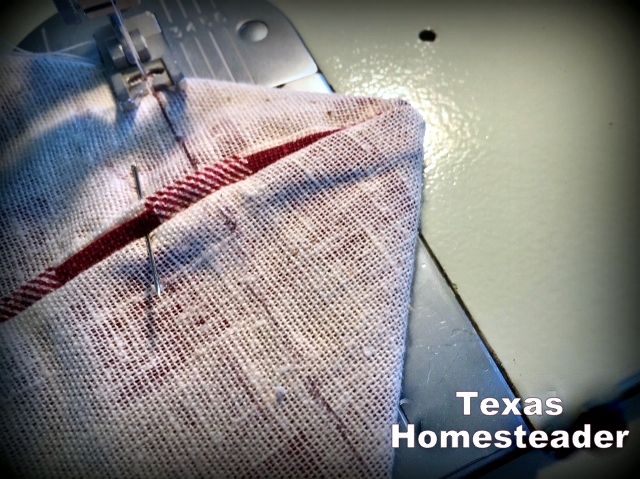 I only boxed the outside edge of the pocket, then I did the same thing to the other side so both pockets would be boxed.
Then when I turn the pockets right-side out again the bottoms of my pockets now form a boxed bottom.
I love it! That'll make the pockets a little more open which will make it a little easier for her to fetch the clothespins.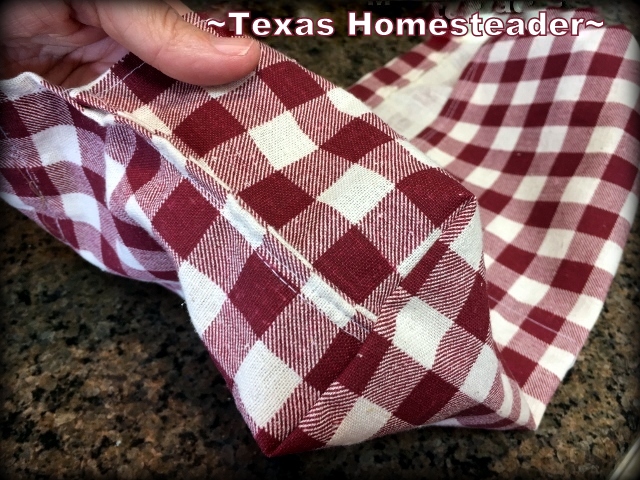 How Long To Make A Tie String
Then I used that cotton cording for my tie. I measured off way more than I needed & threaded it through the casing.
I purposely made the tie much longer than needed because if it were my apron I'd want to criss-cross it behind my back & tie it in front. Personally I think having the tie in front would just make it more comfortable to tie.
So I left a super-long tie knowing that my sister can leave it that long or cut it as short as she likes. Because you can cut it shorter, but you can't make it longer ya know! I'd rather leave it longer than needed so she can make it work best for her.
I asked RancherMan to singe the ends of the cord to keep them from fraying. Then we tied a knot in each end. To reinforce the casing I hand-sewed the edge of the casing where the tie would come out to make sure it was tightly tacked.
Adding Vintage Clothespins To A Homemade Gift
Finally I wanted to include some vintage clothespins. So I contacted our local antique store & asked if they had any vintage clothespins.
Of course they hooked me up! Gotta love living in a small town.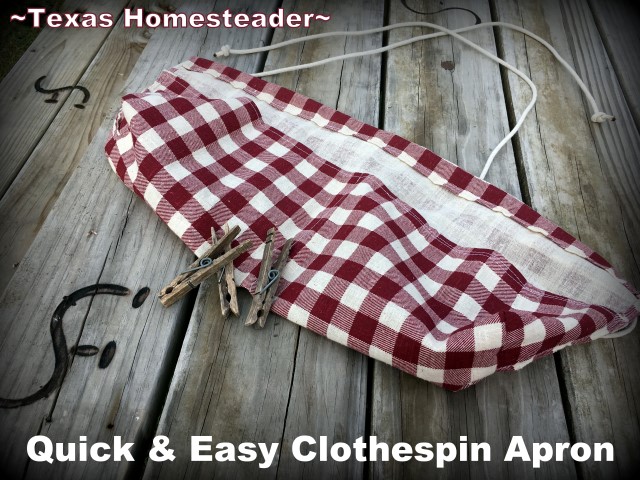 So there ya go. For only the price of a little cloth, some cotton cord and a handful of vintage pins, I have a clothespin apron gift that I know my sister will love.
And it's so true that a gift straight from the heart is always well received!
~TxH~
This post categorized in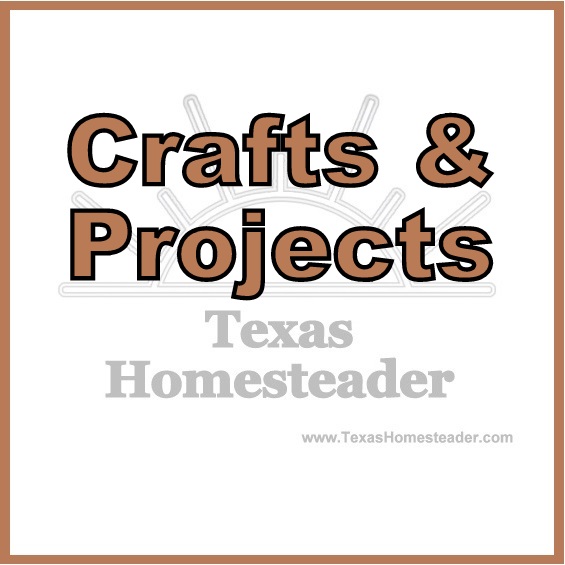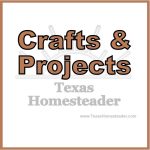 Our Favorite Crafts & Projects
…and many MORE!


C'mon by & sit a spell! Come hang out at our Facebook Page. It's like sitting in a front porch rocker with a glass of cold iced tea – lots of good folks sharing! You can also follow along on Pinterest, Twitter or Instagram.
If you'd like to receive an email each time a new blog post goes live it's EASY to
Subscribe to our blog!
Save
Save
Save
Save