by Texas Homesteader ~
Do you struggle drying your clean sheets outside due to the wind? You know the drill, you fight to get the sheets onto the line. Then the wind catches them & makes them want to set sail into the next county!
But I've discovered a secret to keeping the sheets on the line on windy days!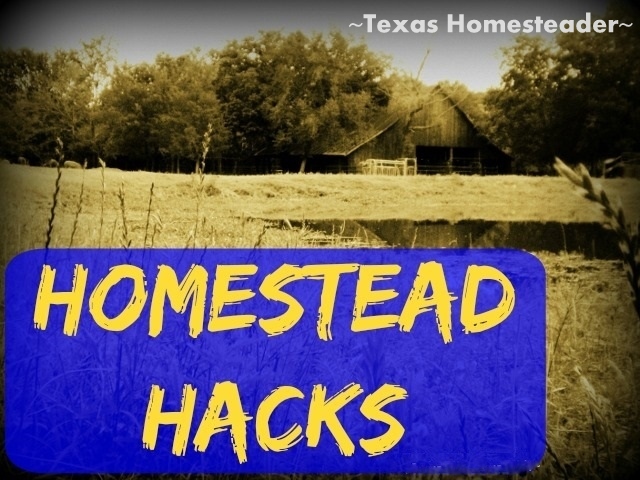 (Note: Some links in this post will take you to other related articles for further information. But links preceded with * are affiliate links. If you click and buy something I could receive a tiny commission.)
Our Simple Laundry Routine
There's a complete list of our natural cleaning posts at the end of this post, or you can click the button below. I encourage you to check it out if you're looking to simplify your cleaning routine.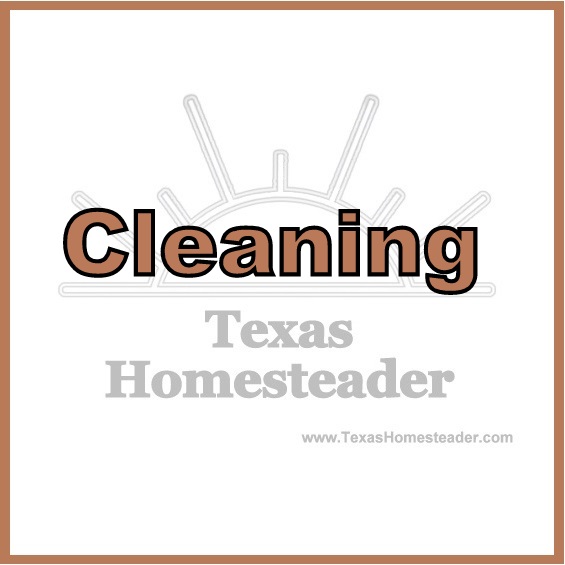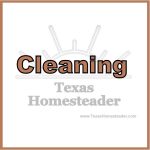 And an important part of our simple cleaning routine is our laundry choices. Such things as:
Not only that, but all of our clean laundry is air-dried. We feel it's better for our clothes, better for our budget and better for the environment too!
Is Air-Drying Laundry Good For Your Clothes?
There are many benefits of air-drying your clean laundry:
Solar Energy Dries Your Clothes For FREE! A dryer is one of the most power-hungry appliances in your home. No need to use or pay for utilities to dry your clothes.
The fresh smell of sunshine on clean, line-dried sheets. The 'add good-smelling stuff ' corporate guys have tried (unsuccessfully) to replicate that delightful aroma and sell it in a bottle. But why buy a sub-standard artificial substitute for that crisp, clean sunshine smell when Mother Nature offers it for free?
Makes clothes last longer. Think about it, that big ball of lint you've just pulled out of the lint trap of your dryer? Most of that is actually pieces of your CLOTHES!
So our clean laundry is dried outside during all seasons – spring, summer, fall or winter. But what about those windy spring days?
Drying Our Clothes For Free
We own a gas clothes dryer but we don't use it. If I weren't afraid we'd need it in an emergency situation I'd sell it – I could use the space in my utility room.
Our laundry is most often dried outside on a 2-line *retractable clothesline. I love it because when the laundry is brought inside, the clothesline is too.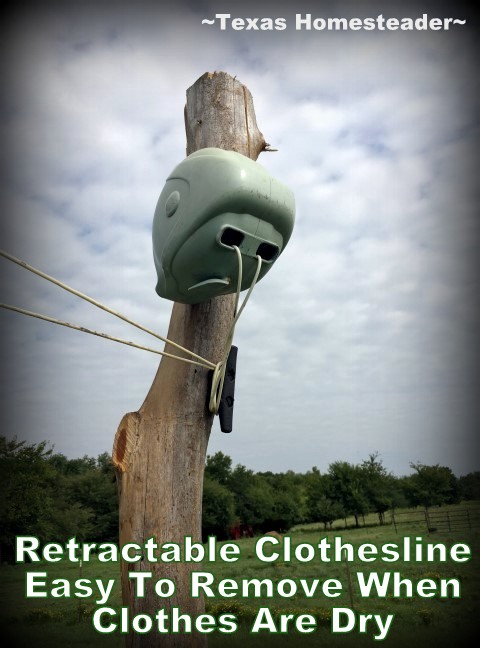 It makes for a more beautiful unobstructed view of our beautiful Homestead.
How To Air Dry Laundry Indoors
If the weather is inclement I bring out my folding clothes *drying racks and dry our clothes inside.
By using the guest bedroom when drying clean laundry inside, I can close the bedroom door in the event of unexpected company.
When the clothes are dry I simply put the clean clothes away, fold up the drying racks and place them neatly back into the closet. There they'll await their next chance to do their eco-friendly duty.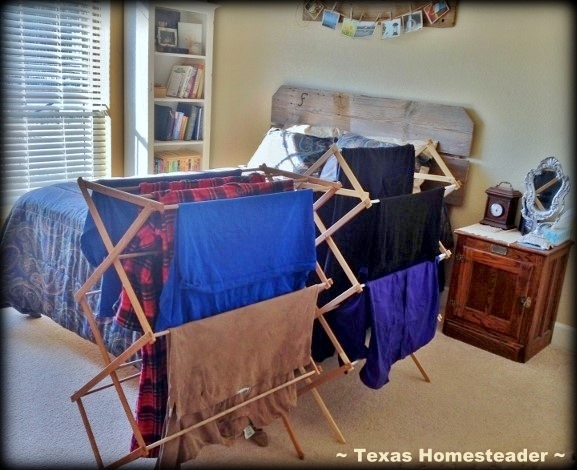 Drying Clean Clothes In
Breezy Weather
I'm almost ashamed to admit how I struggled with how to line-dry on windy days for years without figuring out an easy solution.
Oh sure, I'd try to pick only a lightly breezy day to hang my laundry outside. But sometimes you can wait no longer. You've just got to get the chores done, ya know??!!
Especially during the spring months when almost every day is windy.
How To Line Dry Sheets On Windy Days
I noticed wet jeans don't seem to be having much trouble with the wind. The heavy denim simply sways gently in the wind.
Then that little cartooney-shaped light bulb appeared above my head. You know the one. Yep, I had an idea!
I pulled a couple of pair of wet jeans from further down the line and pinned them right there on top of my wet sheets. Then I stood back to watch.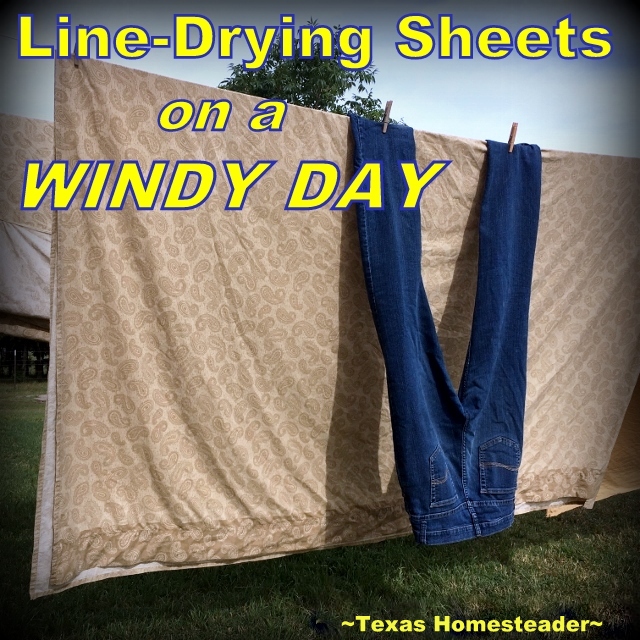 Sheets Stay On The Laundry Line Even With Wind
As expected, the uncovered edges of the sheets still flapped wildly in the stiff breezes but the jeans kept the sheets firmly on the line. SUCCESS!
If the wind gets even higher or starts to be swirly I can pin another pair of jeans on the other side of the sheets so they don't wind around & around the line.
And both the wet sheets as well as the clean jeans are getting line-dried at the same time.
Yeah, that's right folks: Two Birds. One Stone.
~TxH~
Want To See Our Natural Cleaning Posts?
C'mon by & sit a spell! Come hang out at our Facebook Page. It's like sitting in a front porch rocker with a glass of cold iced tea – lots of good folks sharing! You can also follow along on Pinterest, Twitter or Instagram.
If you'd like to receive an email each time a new blog post goes live it's EASY to
Subscribe to our blog!
* Affiliate Links – We are currently enrolled as an Amazon Affiliate (others could be added in the future) Occasionally I will insert an affiliate link into one of my posts if I think it may be of interest to you. If you click on one of those links and buy something (almost anything, not just what was linked) I get a small referral percentage from them – the price you pay for those items is UNCHANGED.
When you buy something through the affiliate link it's a great way to support this blog without anything coming out of your pocket so click often!
*Amazon affiliate
Save
Save
Save
Save
Save