by Texas Homesteader
*contains affiliate link
Working with barbed wire (and pasture plants with thorns) means blood stains are a common laundry stain problem here on the Homestead. Maybe you struggle with it too?
Come see how I'm able to remove blood stains from RancherMan's shirts.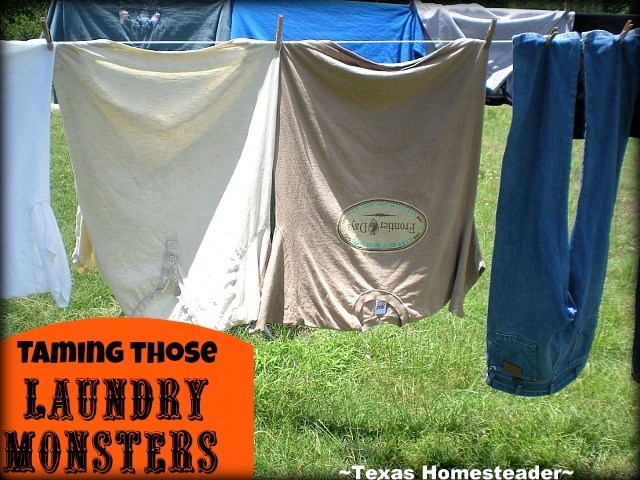 (Note: Some links in this post are for further information from earlier posts I've written. But links preceded with * are affiliate links. If you click them and buy something (almost anything, not just the item noted) I could receive a small commission. But the price you pay will NOT change. It's an easy way to support this blog without anything coming out of your pocket. So click often! Thank you!)
Laundry Problems
I think it goes without saying that there are some laundry problems on the homestead that are a little more specific to our lives here than, say, the typical suburban household.
For instance it's not only common, but typical for our clothes to be hit with cow manure. Hey, if you're at the chute trying to work a cow when she lets loose, something's gonna get hit!
(well, HOPEFULLY the typical suburban household doesn't have to deal with that particular stain anyway… LOL)
But some stains that are very prevalent here on are probably the same laundry monsters you may be dealing with in your own home. One such laundry problem for us is blood.
But I have a secret for getting most blood stains out of our clothes…
Barbed Wire Mishap
Recently RancherMan was reworking some fences and one of those sharp barbs got him.
When you're wrestling a barbed-wire fence it's just the way it is. Sooner or later one of those barbs is gonna bite!
It wasn't a deep cut thankfully, just enough to draw blood. Being the RancherMan that he is, he just looked down at his arm, saw the blood and wiped it on his shirt.
(sigh…)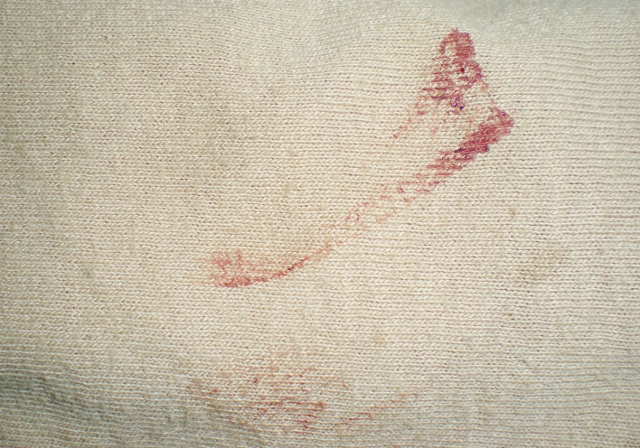 He finished working on the fence before he came back to the house. So as soon as I saw this blood stain on his shirt I knew I'd better start treating it. Prompt action is vital to successfully removing a stain.
Now I must say that my homemade laundry detergent does a dang good job of cleaning our ranch clothes, I've been very pleasantly surprised at its effectiveness. I think it's the Fels Naptha soap that I include in the recipe.
(although it's difficult for me to find Fels Naptha in our area, I've seen it online * here)
Special Treatment of Blood Stains
Aaaanyway, even if you've got a rockin' laundry detergent sometimes you need a little extra cleaning power. And today looks like it's going to be one of those days.
I had him remove his shirt and I took it into the bathroom and poured a little peroxide directly on those blood spots.
Now I'm not a chemist or anything, but I've read there's something about a protein in the blood reacting with the peroxide blah, blah, blah.
I don't need to know WHY it works, I just want it to work!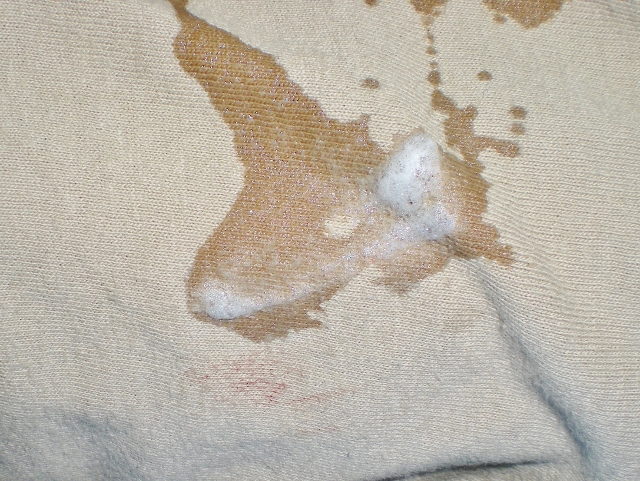 So, after I let the peroxide soak on the stain for about 10 minutes I threw that shirt into the washer with some of my magical homemade laundry detergent.
I know that heat will set a stain so I set the water temperature dial to cold. Then I turn the cycle dial to "soak".
I love that my washer has this option. But even if yours doesn't you can let it fill and begin to agitate, then stop the washer for a few minutes to get the same result.
I don't know if soaking is even necessary after the pretreatment I've already done on the shirt. But it's an extra step I always use when I've got something stained and want to give it an extra chance to get GONE.
After the washer goes through the soak cycle I wash as normal (again in COLD water) and use the high-spin option to get as much of the rinse water as possible out of the cloth.
Clothes Dried On The Clothesline
Now it's time to dry this load. For environmental reasons I always line-dry my clothes. I discovered years ago how much energy a dryer takes for a single cycle.
Although we have an older yet nice higher-end dryer, I've not turned it on in years.
Now my clothes-drying method of choice is especially important with this load. (remember above when I warned that heat will permanently set the stain??)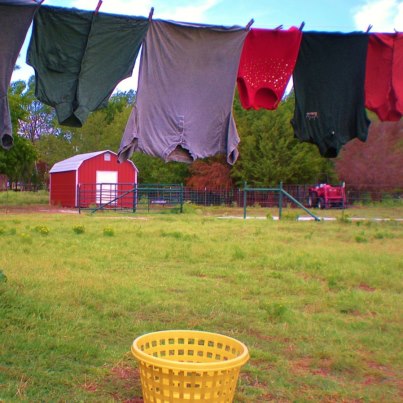 So I hang the clean laundry on our *retractable clothesline and wait for it to dry. If you don't have a clothesline you'll want to air dry your previously-stained item just in case.
Perhaps use a folding clothes rack or even hang the shirt on a plastic hanger with plenty of air to circulate around it.
No More Blood Stain!
VOILA! No more blood stains!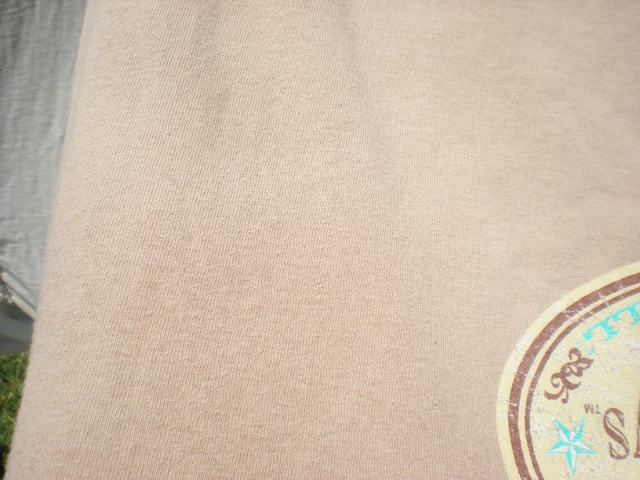 But if there did happen to remain any hint of the stain I can simply pre-treat again since I've not heated this stain in a dryer to permanently set it, although that's seldom necessary.
Now thankfully RancherMan's way-too frequent skirmishes with our fences have never resulted in a full-on gusher. But for the blood stains we deal with here on the homestead this treatment method has never failed me.
So to recap, to treat blood stains on your clothes…
Treat the stain immediately
Pour peroxide on the blood stain (first test material for color-fast)
Let the peroxide soak into blood stain for approximately 10 minutes
Place item in washer and let soak for at least 10 minutes IN COLD WATER
Wash as normal (IN COLD WATER)
Air dry (DO NOT PLACE IN DRYER)
So there ya go. A little secret weapon I've discovered to battle one of our common laundry monsters – blood stains.
It's inexpensive, doesn't require the purchase of a specialty product. And it's been very effective for us. Give it a try and let me know how it works for you!
~TxH~
Links In This Post:
Want To See Our Natural Cleaning Posts?
C'mon by & sit a spell! Come hang out at our Facebook Page. It's like sitting in a front porch rocker with a glass of cold iced tea – lots of good folks sharing! You can also follow along on Pinterest, Twitter or Instagram.
If you'd like to receive an email each time a new blog post goes live it's EASY to
Subscribe to our blog!
*Amazon affiliate
* A word about our Affiliate Link – We are currently enrolled as an Amazon Affiliate. Occasionally I will insert an affiliate link into one of my posts if I think it may be of interest to you. I receive nothing from the manufacturer and I only link to products that I have used & love and feel you might love too. If you click on any of my affiliate links and buy something (almost anything, not just what was linked) I may get a small referral percentage from Amazon. But here's the really important part – the price you pay for your items is UNCHANGED.
When you buy something through the affiliate link it's a great way to support this blog without anything coming out of your pocket so please click often!
Save
Save