by Texas Homesteader ~
*affiliate link
We had pet stains on our carpet. And even using a professional carpet cleaning service failed to remove that carpet stain. But this inexpensive homemade stain treatment worked. And the stain never reappeared!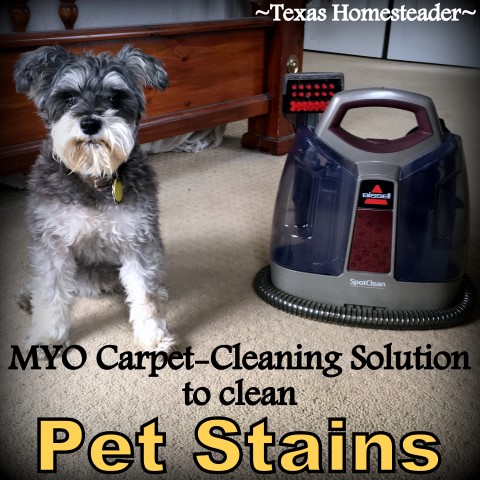 (Note: Some links in this post are for further information from earlier posts I've written. But links preceded with * are affiliate links. If you click them and buy something (almost anything, not just the item noted) I could receive a small commission. But the price you pay will NOT change. It's an easy way to support this blog without anything coming out of your pocket. So click often! Thank you!)
Pet Stains On Carpet
When we adopted our Mini-Schnauzer Bailey several years ago, she was plagued by painful bladder stones.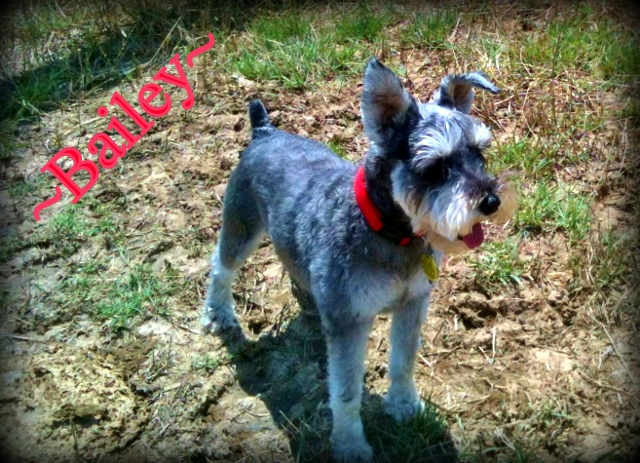 This bladder-stone condition also caused her to relieve herself often in the house. And her urine was sometimes tinged with blood. A carpet-stain nightmare!
I'm happy to say surgery to remove her bladder stones was a success and Bailey has been a happy and healthy member of our household ever since. But those pet stains in our bedroom? Hummm…
Of course we tried to spot-clean the carpet ourselves with various purchased carpet cleaners. But even rinsing out the carpet to the best of our ability, the soap residue apparently attracted dirt over the following days until the stain magically 'reappeared'.
Professional Carpet Cleaner Fail
So we hired a carpet cleaning company to come give the stain a professional cleaning. They spot-treated the stain first with a concentrated cleaner, then cleaned the whole room with their high-powered commercial machine.
Although the stain lightened initially, it came back several days later. Soap residue again? Hummm…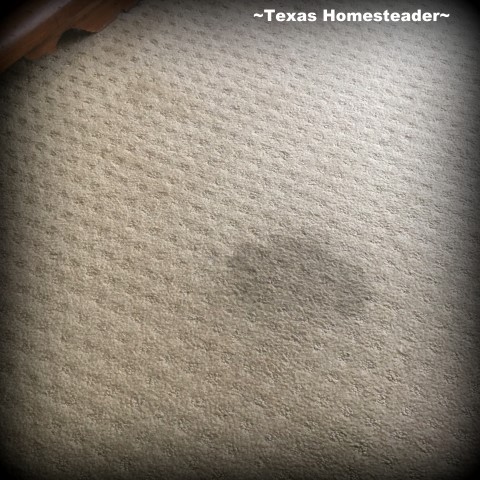 So I went looking for a solution. We obtained a small *Bissell SpotClean Machine for spot-treating carpet stains. It works by spraying cleaning solution on your carpet and then sucking out all the liquid back out of the carpet into another receptacle.
But instead of buying commercial cleaning solutions to go into the machine, I decided to go looking for a less toxic carpet cleaning solution.
I knew I didn't want to use soap because, well, it keeps attracting dirt after the stain has been removed. Heck, even with a professional carpet cleaner!
Simple Non-Toxic Ingredients For Carpet Cleaner
So I decided to use a recipe I found on wikihow online. It simply called for vinegar, water & salt.
Oddly enough it also called for essential oil in the ingredients. But although essential oil would smell nice, I can't imagine that adding oil in any quantity would be good for a carpet stain.
So I omitted it. Any smell of vinegar dissipates when it dries so I wasn't concerned about that. So the only ingredients I used were white vinegar, salt & water.
Pet Stain Finally GONE!
We used our Bissell machine and our homemade cleaning liquid to remove the pet stain. But I wondered, would that stain magically reappear yet again?
To test that oddity, I waited a few months before sharing this post with you. As of today, the stain is still gone, gone, GONE! Yea!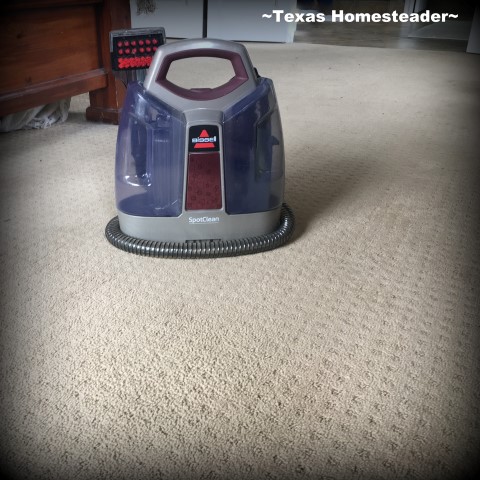 Here's my disclaimer. I'm just sharing with y'all an inexpensive solution I was able to make myself that worked beautifully for a pet stain on our carpet using a small spot cleaner machine. The carpet in our bedroom is a light color and there was no damage or fading to our carpet.
But your carpet may be made with different materials and/or dyes. So please test this on an inconspicuous spot first to make sure it doesn't fade or damage your carpet! Then proceed at your own risk. M'kay?
Here's the recipe I used, and it's the only spot-cleaning solution I'll ever use from now on. Simple ingredients from my own kitchen to replace a plastic jug of chemical cleaners?
Yes please!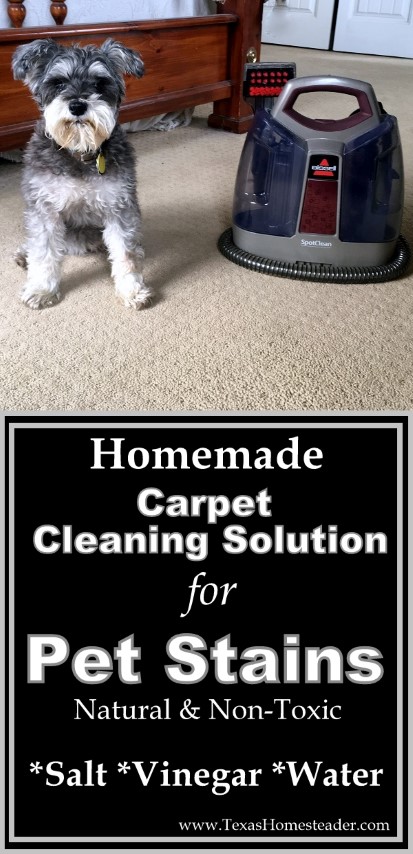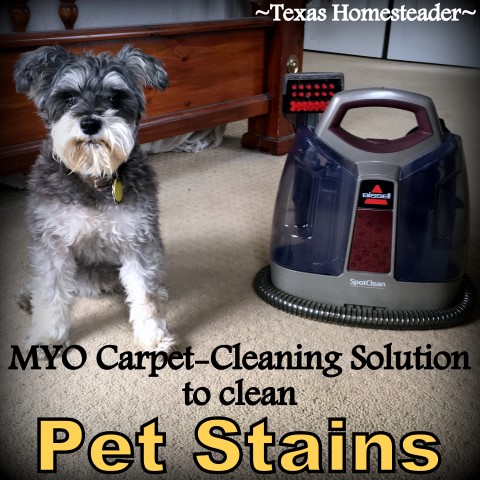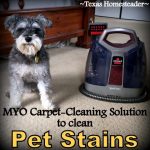 MYO Carpet-Cleaning Solution For Our Bissell SpotClean Machine
Ingredients
1

cup

distilled white vinegar

2

cups

warm water

2

teaspoons

salt
Instructions
Warm 2 cups water for 1 minute in microwave.

To warmed water add 2 teaspoons salt & stir to completely dissolve


Pour 1 cup vinegar into Bissell reservoir (marked) and add warm water/salt mixture.

Swirl reservoir to combine ingredients and return receptacle to machine.

Spray mixture from Bissell wand onto carpet stain and let sit for 15-20 minutes.

Then using the bristles on the wand, begin scrubbing until no stain remains.

Finally, activate suction which removes water & cleaning solution from carpet.

When finished, turn fan on to expedite carpet drying.
~TxH~
Want To See Our Natural Cleaning Posts?
C'mon by & sit a spell! Come hang out at our Facebook Page. It's like sitting in a front porch rocker with a glass of cold iced tea – lots of good folks sharing! You can also follow along on Pinterest, Twitter or Instagram.
If you'd like to receive an email each time a new blog post goes live it's EASY to
Subscribe to our blog!