~by Texas Homesteader ~
When RancherMan & I found this little piece of paradise, we were smitten that's for sure. As we looked over that old fence at the dilapidated 1880's barn and overgrown property, we saw something beautiful. We saw where our future would be found. We saw HOME.
It's been lots of work getting our property where it is now, and we're nowhere near done. You see, there's a prolific tree growing here called 'Honey Locust'. For the most part we find these trees troublesome. But out of a useless tree, at least there are some useful features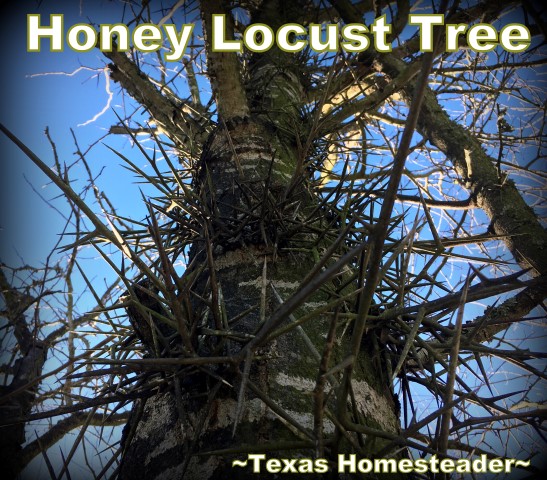 USELESS Features
LOTS of thorns! This tree's trunk is covered with an almost impenetrable mass of thorns all along the trunk and all along the branches too. And these aren't regular sized thorns y'all. Some thorns are right at a foot long!
These thorns are tough too. They'll easily go through a work boot or flatten a tractor tire in a heartbeat. We've had cattle that were injured after stepping on those thorns.
Want to cut them down? HOW??!! How do you get the chainsaw through the thorns. And once you do, how do you grasp the cut limb to haul it off? And do you really want to broadcast those thorns as you drag a limb away? (I'll answer for you. No, no you do not!) Let me tell ya, much bloodshed has happened for me and RancherMan as we vow to rid our property of each and every one of these 'Satan Trees'!
And the trees also make bean pods, a favorite food for many critters. Of course they eat the bean pods and then deposit the seeds elsewhere in their scat. Many animals don't digest the seeds so more trees are seeded this way. yippee…
USEFUL Features
OK, we hate the trees y'all. It's our fervent desire to one day rid our property of Every. Single. One. But they do have some useful features.
The blossoms of the honey locust tree are favored by honeybees (and other pollinators as well). It's said that honey made from the blossoms of the honey locust is some mighty-fine honey indeed. We're beekeepers so that certainly appeals to us.
Honey Locust wood makes pretty darn good firewood. According to the Forestry dept, a cord of Honey Locust is dense wood, weighing from 3800 – 4600 lbs & containing a whopping 26.7 MILLION BTU's. Honey Locust fares well in all the Forestry categories: Easy splitting, low smoke, few sparks, excellent coals, slight fragrance and excellent overall quality. (references below)
RancherMan & I recently harvested a Honey Locust that had died but remained standing. As it stood, it seasoned. Then one day a heavy wind blew it down, the roots no longer able to support it.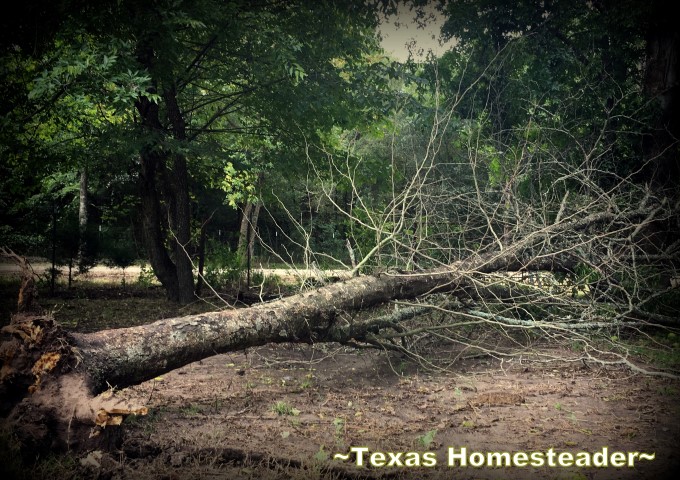 But since it remained standing until now the wood was still in very good shape for firewood. It's very dense and it makes a nice hot fire that lasts a long time. So RancherMan & I CAREFULLY cut away the fanning limbs to get to the trunk.
When nothing remained but the trunk I ran a sharp blade along it to dislodge most of the thorny masses. Then RancherMan cut the trunk into firewood-log-sized chunks and we split the logs. DANG, there are even thorns INSIDE the wood!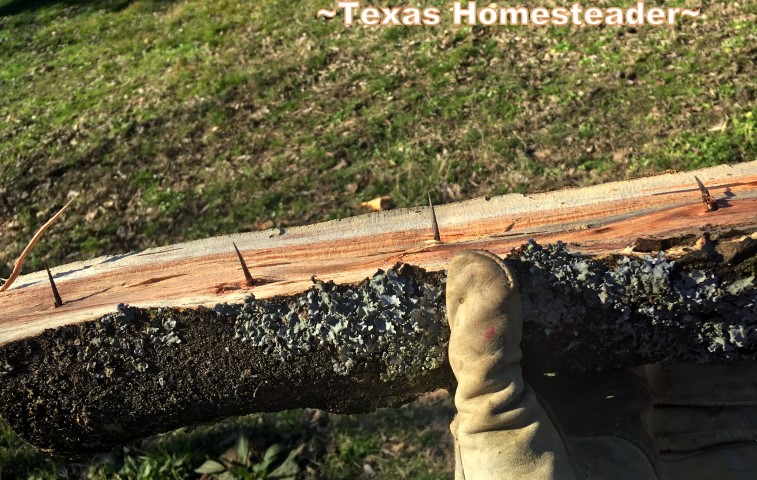 OK I'll admit it. The tree is very pretty. Its leaves are dainty, the fall color is nice and the tree itself makes a nice shade tree too.
So although we're still anxious to one day rid our property of thousands of these trees, at least in the meantime they do serve some purpose.
~TxH~
NE Texas Native Trees & Plants
Other Native Wildlife Posts


C'mon by & sit a spell! Come hang out at our Facebook Page – it's like sitting in a front porch rocker with a glass of cold iced tea – lots of good folks sharing! You can also follow along on Pinterest, Twitter
If you'd like to receive an email each time a new blog post goes live it's EASY to
Subscribe to our blog!
References