by Texas Homesteader ~
How will I protect baby rabbit kits in the nest from my dog's killer instincts until they're old enough to fend for themselves? See this rabbit's nest guard I came up with to keep them safe. It was free using things I already had.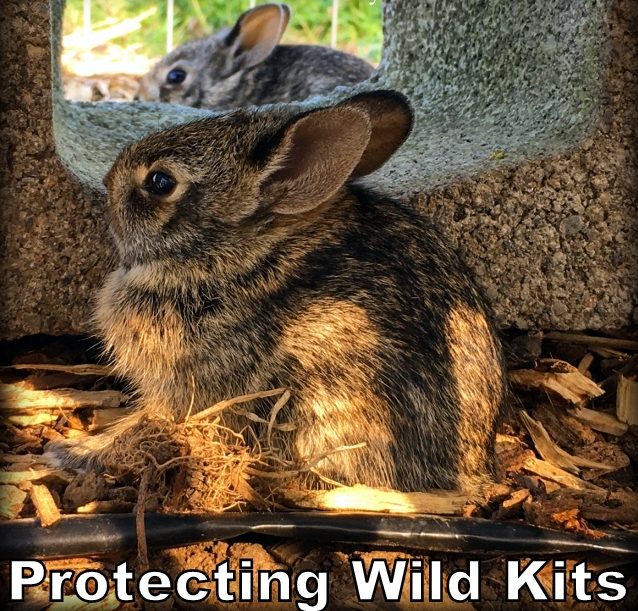 (Note: Some links in this post will take you to other related articles for further information. But links preceded with * are affiliate links. If you click and buy something I could receive a tiny commission.)
Rabbits Build Nests In Unsafe Places
Sometimes mama rabbit makes a nest somewhere that's not ideal. That's when I try to protect the baby bunny kits until they're old enough to be out on their own.
For instance, planting time is almost here & I've been in my veggie garden a lot lately. A LOT!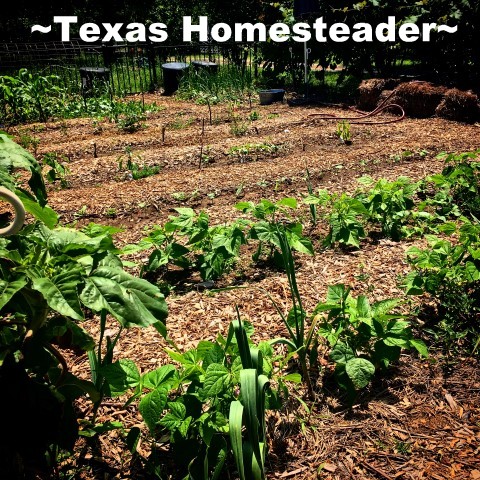 Unfortunately with all my coming & going I inadvertently left the garden gate open for a few days.
In a golden moment of opportunity a mama rabbit got into the garden, made a nest and had babies.
Rabbit's Nest In My Vegetable Garden
As I was clearing away some mulch I first saw some fur balled up. As I tenderly checked deeper I found a rabbit's nest.
It's my fault, that's what I get for leaving the gate open!
You see, my garden is fenced & typically keeps rabbits out. (my bad on leaving the gate open long enough for mama to nest & give birth!)
How Are Baby Rabbits Protected From Predators?
Baby rabbits have almost no natural scent. And mama rabbit will only tend to them in the early morning and evenings. This is nature's way of protecting those baby rabbits.
So don't worry if you see a rabbit's nest but no mama. She's purposely not drawing attention to that nest!
But since this nest is inside my garden, I need to find a way to allow mama to tend to those baby kits, raise them and for all of the rabbits to move on to greener pastures. Then I can once again lock them out and away from our food.
But I need to protect them from our mini-Schnauzer Bailey in the meantime. Her instincts make her a seasoned baby rabbit killer and it just breaks my tender heart!
Protecting A Wild Rabbit's Nest From Our Dog
I knew I needed to cover the nest with something. So I came inside and eyeballed an 18″ plastic stackable bin in our closet. This will be perfect!
It's got a scooped opening on one side and is semi-solid on the other three sides. But the sides offer some much-needed ventilation while still offering protection. The bottom is solid plastic. My bin is similar to *These Plastic Bins at Amazon.
Here's how I put my protective cover together to let mama rabbit in but keep our dog out.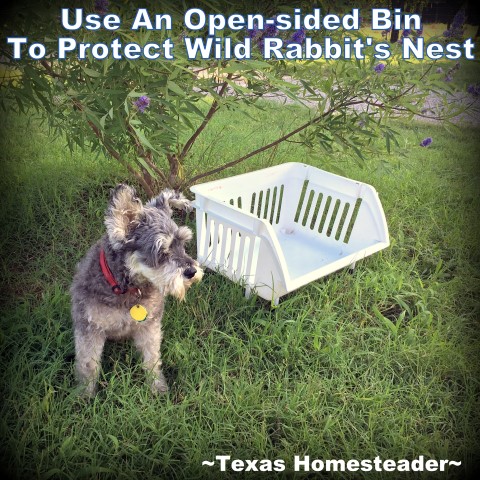 I took the plastic bin outside and turned it upside down so that the open top was on the ground. Then I placed it over the rabbit's nest.
I tried to put the nest itself as far as I could from the opening to protect the kits as much as possible.
But our dog can still paw inside and remove the babies. I needed a way to keep our dog out but let mama rabbit in to raise her kits.
Making An Entrance In The Protective Rabbit's Nest Cover
To make an entrance big enough for mama but too small for our Mini-Schnauzer Bailey, I decided to use a concrete cinder block.
I laid the concrete block on its side which results in the two holes in the cinder block to be facing outside, like two little tunnels.
Then I slid it in front of the open side of my plastic bin that I'd turned upside down over the rabbit's nest.
The cinder block measures 8″ x 8″ x 16″. So by having this cinder block in front of the plastic bin opening, it adds another 8″ depth for our dog to have to paw past.
That plus the fact that I placed the actual nest at the very back of this overturned bin means there's no way our dog can reach the baby kits from the outside.
Plus the little square openings of the concrete block are too small for our mini-schnauzer dog to squeeze through. But they're plenty large enough for mama rabbit to come & go to raise up her babies.
Finally I placed a heavy stone on top of the plastic bin. That will weigh down the cover so Bailey can't paw the lightweight bin away to get to the nest.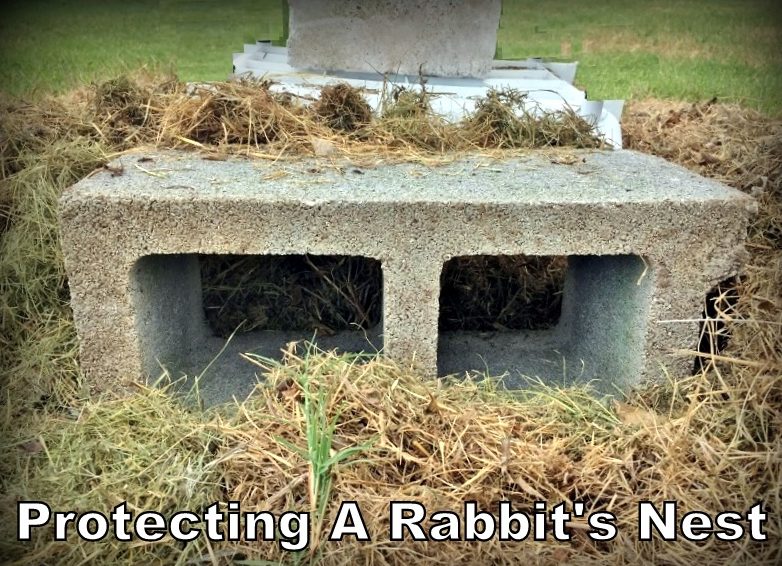 Although probably not necessary, sometimes I'll add some old hay around the enclosure just to disguise it. I'm not sure if it fools any wildlife or not, but hopefully it does.
In any event, it makes the little protective cage a little less obvious.
Now all that's left to do is wait until the kits grow up & leave the nest. Then I'll lock them all out of the garden again. Thankfully it shouldn't take long.
About a week or so later as I was in the garden I saw the kits were starting to explore outside the nest and outside their protective enclosure too. It looks like there are three of them and they're still tiny but growing fast.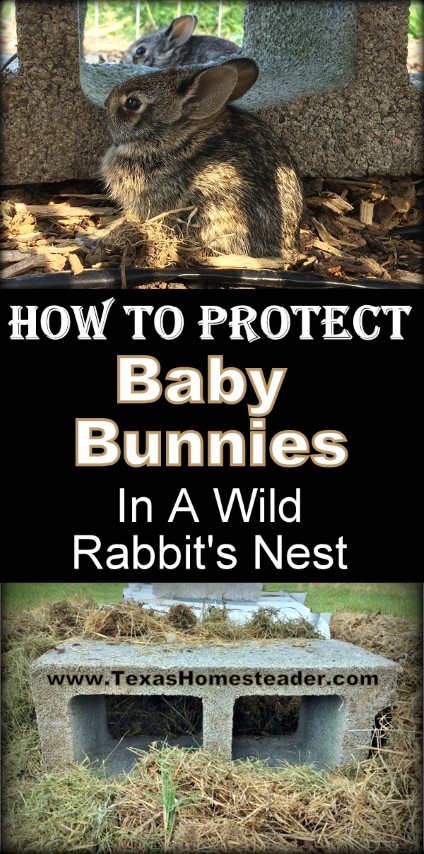 They're so adorable! It won't be long until they're old enough to be on their own.
How Long Do Baby Rabbits Stay In The Nest?
Baby rabbits (kits) stay in the nest until they're about 3 weeks old.
So I kept an eye on the nest every day as I was in the garden. Little by little the baby rabbits grew. Then a few days later I looked and saw no rabbits.
So I removed the plastic bin and peeked into the rabbit's nest. It was empty. I checked all around the garden and was pleased to see they were all gone, not only from the nest, but from my garden. Yippee!
So I washed out & once again stored away the plastic bin. The concrete block went back to RancherMan's shed and I cleaned up the garden area where they'd nested.
Now, back to my gardening chores. I'll be sure to keep that garden gate CLOSED from now on!
I've used this same enclosure setup to protect various bunny families over the years. It's easy to set up and has been successful in protecting the baby rabbits.
~TxH~
Other Wildlife Posts
Other 'Use Whatcha Got' Ideas


C'mon by & sit a spell! Come hang out at our Facebook Page . It's like sitting in a front porch rocker with a glass of cold iced tea. There are lots of good folks sharing! And you can also follow along on Pinterest, Twitter or Instagram
If you'd like to receive an email when a new blog post goes live,
subscribe to our Blog!
Save