by Texas Homesteader~
Uh oh, something has burrowed beneath the rosemary by our back porch. We're guessing it's an armadillo. What a mess! So much dirt has been kicked up into the rock border of our porch and the burrow is obviously into the roots of my beloved rosemary plant.
A live trap will be set to capture and relocate whatever it is because it simply cannot stay! Not only is it tearing up our landscaping but we don't want to chance our mini-schauzer coming into contact with something that could harm her.
Due to the size of the burrow, we're trapping based on the premise that we're dealing with an armadillo. Come see what worked for us.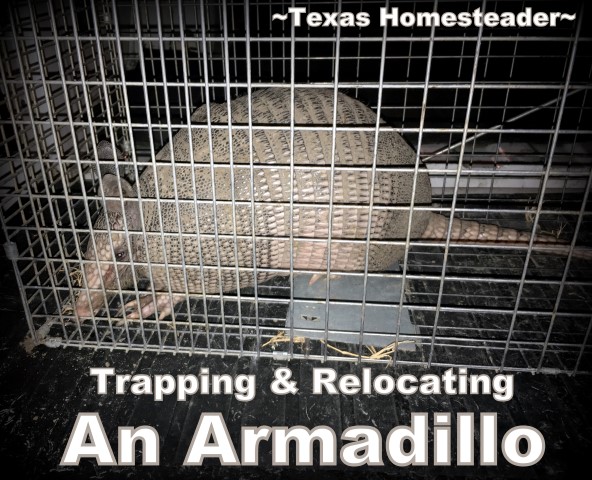 Now before I go any further, know that I'm simply sharing what we did to remove a pest that was encroaching upon our space. Our property was being damaged, plus we don't want to risk a tussle with Bailey & a potentially dangerous animal. But we don't like to kill a critter just for being what it is unless it's venomous.
No, we're not animal-trapping experts and we certainly don't know it all. But here's what we did to successfully trap and remove the armadillo:
The mystery critter had previously dug lightly around our rain barrel. We'd raked the area smooth to repair the damage, but it came back the next day & dug the same area, this time more deeply. We repaired the damage again blocked it off with a large stone and thought that was the end of that.
But the next day we found a deep burrow beneath our huge rosemary plant next to our back porch. It was about 2 ft deep and 10″ wide. I wonder if it's a female & she's looking for a place to have babies?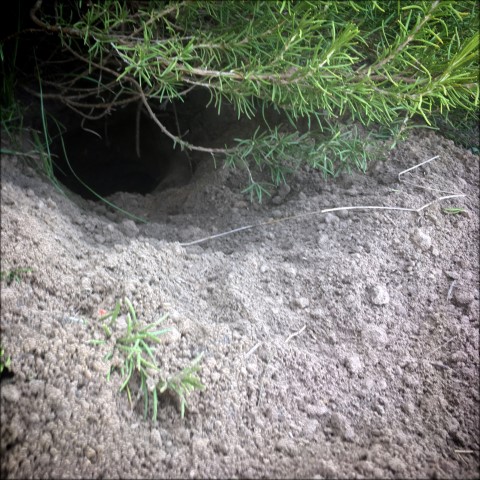 Upon close inspection we found the burrow was closed-ended & empty. RancherMan's research showed this was probably just one of several 'escape burrows' that is typical for an armadillo.
Armadillos Are Hard To Trap
But we're reading that armadillos are notoriously hard to capture in a trap. Any bait you use will not attract them because they root for their food instead. So the bait in your trap will attract other pests such as raccoons, possums, etc. That certainly defeats your purpose!
So we set the trap right at the burrow entrance hoping she would come back to it. The trap was right on top of the hole, covering the burrow opening with the opening of the trap. Hopefully she'll go into the trap in her effort to enter the burrow.
We also set up a motion-activated alarm so we'd be alerted if/when she arrived.
We got lucky.
When we heard the alarm go off around 10:30 that night we went out to inspect. The trap was empty but it was too dark to see well. So we came inside to get a flashlight & went back out to inspect more closely. In that short time apparently she went to hide in the burrow & went into the trap instead, just as we'd hoped!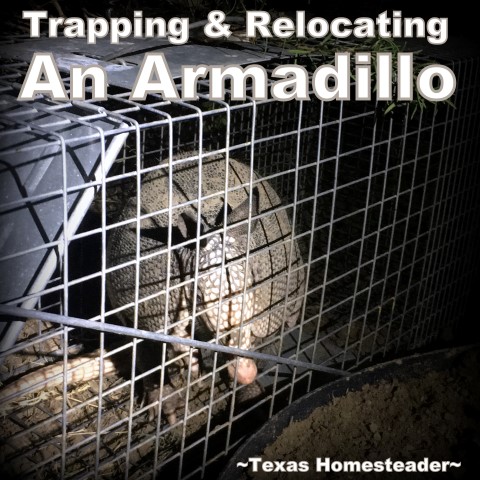 Isn't she cute?? I've always loved the look of armadillos. They almost look prehistoric with their body armor.
We relocated her to the farthest back section of the pasture so she can do her armadillo thaaaaang without destroying our landscaping.
Will The Armadillo Return?
It's said to assure they don't come back, you need to relocate an armadillo over 5 miles away. So even though this one was released in the farthest-away section of our 100-acre homestead pasture, she could technically navigate back to the house if she wanted.
But as long as there's food, water and shelter there, I'm guessing that she'll be happy right where she is.
So Far, So Good
So far she has not returned. If she does & we need to relocate her further away next time we will. My experience is that when we relocate critters as far away as we can, they find food & shelter abundant where we move them and they just continue on with their lives.
If she (or another like her) encroaches on our space again we'll trap them again. But we realize how important all these critters are to the ecosystem. So our preference is always relocation.
So far the relocations we've had to do with armadillos, possums, snakes and raccoons have been few & far between. Sometimes we have to trap the whole family & remove them one by one, but typically that's the end of it.
So for now we'll chalk this armadillo relocation up as a SUCCESS!
~TxH~
Other Wildlife Posts
NE Texas Native Trees & Plants

C'mon by & sit a spell! Come hang out at our Facebook Page . It's like sitting in a front porch rocker with a glass of cold iced tea. There are lots of good folks sharing! And you can also follow along on

Pinterest

, Twitter or Instagram
If you'd like to receive an email when a new blog post goes live,