by Texas Homesteader ~
This savory roast and brown gravy is the perfect comfort food. And it's made simple using the Instant Pot pressure cooker. Fast, delicious, perfect!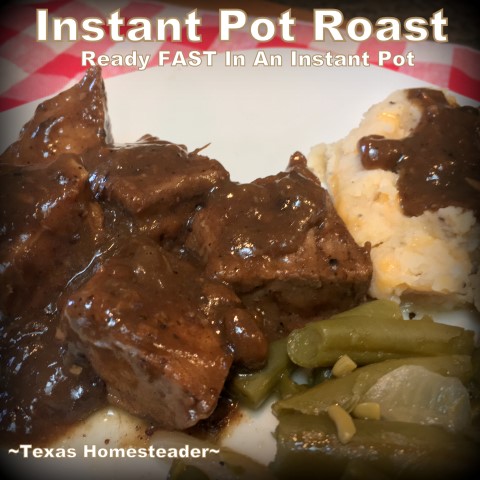 (Note: Some links in this post are for further information from earlier posts I've written. But links preceded with * are affiliate links. If you click them and buy something (almost anything, not just the item noted) I could receive a small commission. But the price you pay will NOT change. It's an easy way to support this blog without anything coming out of your pocket. So click often! Thank you!)
Pressure Cooking
Electric programmable pressure cookers are all the rage. But I had a stove-top pressure cooker and I loved it.
I guess it's been hard for me to justify the cost of buying a different thing when I have something that works for me. But I've finally made the plunge and purchased an Instant Pot!
Recently we invited my parents to dinner and I decided this would be a good time to break in my new Instant Pot. I decided I'd serve the epitome of comfort food – a pot roast.
Pressure Cooker Purchase Considerations
When considering the purchase we looked at all different brands of programmable pressure cookers.
First we borrowed my sister's 8-quart programmable pressure cooker. Although we loved the ease of using it, I thought it was just too bulky to store. And there are only two of us here, so it seemed a little large for our purposes.
We always research quality & customer satisfaction before price. So RancherMan researched and found that *Instant Pot brand had the highest customer ratings.
So we decided to buy the 6-quart size Instant Pot. I think I'm gonna love it!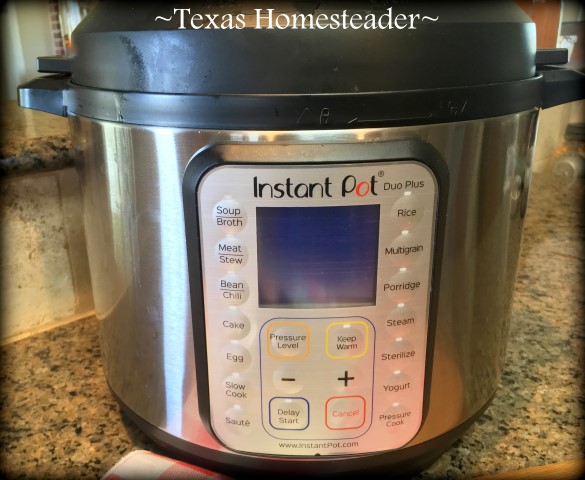 First Instant Pot Meal
Now I'll make my first pot roast in it. Most pot roast recipes I found included additional steps for adding potatoes and carrots. That often involves starting & stopping the cooking process to add the vegetables.
But that's not what I wanted. My plan was to make a pot roast with gravy in the Instant Pot and serve green beans and cheesy mashed potatoes as sides.
I found a recipe closest to my requirements from a site called Pressure Luck Cooking. But it included some ingredients I didn't want, as well as the all-common addition of potatoes & carrots.
So of course I changed it a bit to suit our tastes. Here's what I did:
Seasoning The Meat
We chose a 3-lb arm roast for our pot roast meal. But any marbled roast will work. Chuck roast is the most popular pot roast choice. Just make sure whatever cut you end up using that it's well marbled for the most tender, flavorful result.
To prepare the seasonings I first harvested a small amount of fresh rosemary & thyme, then washed & minced the leaves. (you can use the dry seasoning counterparts instead if you wish).
Then I combined salt, black pepper, onion powder & garlic powder with the minced fresh herbs. I seasoned the meat by rubbing the mixture onto all surfaces of the meat.
Searing The Roast
It's recommended to sear the meat to help seal in the juices. So I added a couple of tablespoons of bacon grease into the Instant Pot and hit 'sauté' on high heat. After the fat melted I placed the roast inside.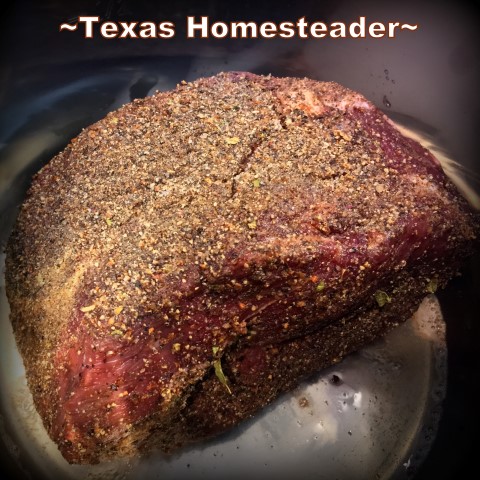 Using heavy tongs I held each surface of the meat to the hot grease. I turned the roast after about 2-3 minutes on each side until all surfaces were seared.
Then I removed the roast and placed it on a plate. Time to deglaze the pan & sauté those onions.
Deglazing the Pan & Sautéing The Onions
The seared roast left some bits of seasoning stuck to the bottom of the pot. But that's going to add some flavor too, so I'll be deglazing the pot now.
I already had the onion chopped into large cubes and ready to go. So I added another tablespoon of bacon grease to the pot. When the grease melted I added my onion.
As it sautéed it released moisture. I got to work deglazing the pot with a wooden spatula. It was easy to remove all the stuck-on bits. And that will keep them from burning but also add additional flavor to my pot roast.
After a couple of minutes I added minced garlic & Worcestershire sauce and continued deglazing. With the Worcestershire addition the deglazing was even easier to finish.
After a couple of minutes I turned off the Instant Pot & was ready to cook the roast.
Cooking The Roast
I placed the seared roast on the wire rack that came with my Instant Pot and lowered it into the pot on top of the onions. Then I poured broth and red wine over the meat. Now it's show time!
I placed the lid securely on top of the Instant Pot and pressed 'Pressure Cook' on high pressure for 60 minutes.
The Instant Pot will automatically come up to the proper pressure, then begin countdown while it's cooking. SO EASY!
When the timer went off I let it sit undisturbed for 15 minutes. Then I did a quick release by carefully turning the valve to finish dropping the pressure.
Careful now, the steam is hot! For safety's sake I'll toss a kitchen towel over the valve while it's releasing that steam.
When all the pressure had been released, the lid was removed carefully. I tilt the lid up in the back so the hot steam will rise from behind the pot and away from me!
The roast was moved to a cutting board and allowed to rest. Time for that gravy!
Thickening The Sauce
I combined equal parts of cornstarch and water to thicken that flavorful juice. With the roast removed I poured the cornstarch mixture into the onion & juices and hit 'saute' on high heat.
It took no time for it to start bubbling away! Then I added the brown gravy mix and gave it all a stir. It was thickening up nicely!
I turned off the Instant Pot and turned my attention to the roast that's been resting.
Finishing Up
Time to carve the roast, it was fall-apart tender. RancherMan tried to carve in 1″ – 2″ chunks. But most of the roast actually ended up being shredded from the sheer tenderness of it!
When the roast was carved he added it back into that thickened gravy. Be sure to scrape all the small bits from the cutting board into the gravy – it's all good!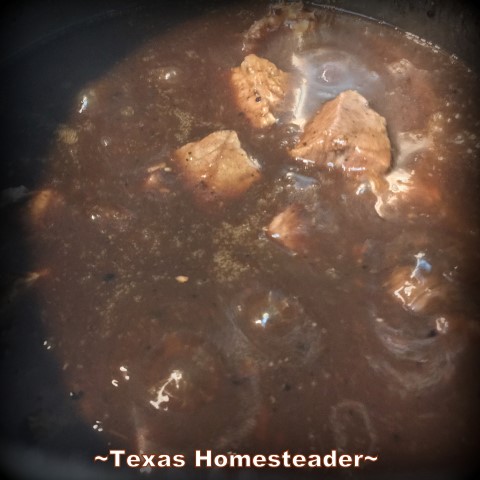 Serving The Meal
Now it's time to serve the meal. I'd already made green beans by sautéing chopped onions & then simmering them with the fresh garden green beans. I'd also made mashed potatoes and gently stirred in grated cheddar at the end for the cheesy mashed potatoes my dad loves.
Using the tongs I plated a serving of roast, the green beans and the potatoes. A small ladle of that flavorful gravy topped the roast and potatoes and dinner was served!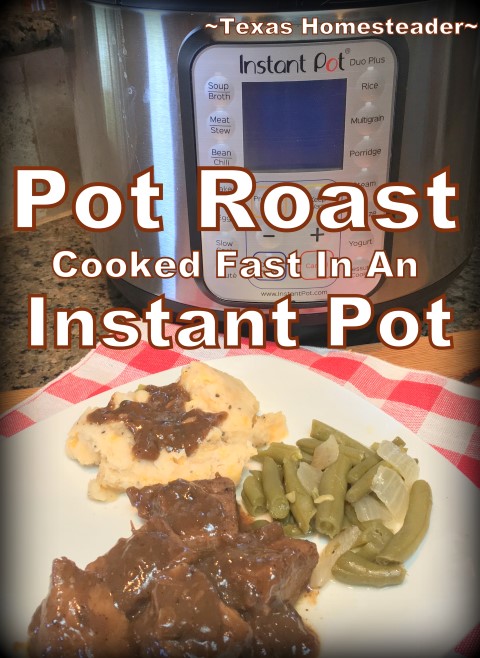 I think I'll be making this often. My new Instant Pot makes comfort food in a flash!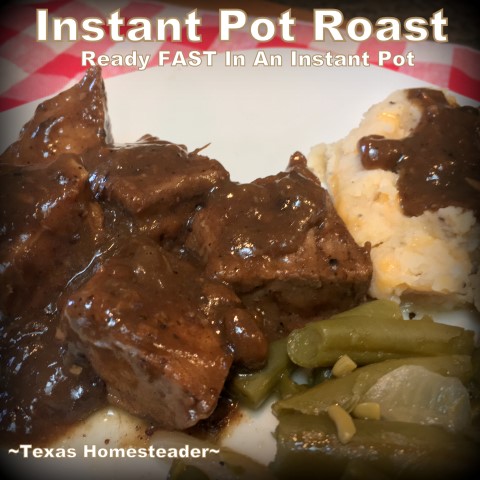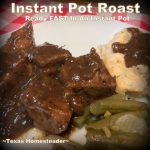 Instant Pot Roast With Onion Gravy
This recipe uses a 6-quart Instant Pot & 3-5 lb chuck or arm roast. Make sure the cut of meat is adequately marbled to assure a juicy, tender result. Depending upon the size of the roast, it may take almost 2 hours start to finish when you factor in the instant pot coming to pressure, the cook time and the cool down time & finish. #TexasHomesteader

Natural Release Time
15
minutes
Ingredients
Ingredients:
3-5

lb

Beef Chuck or Arm Roast

2

tsp

salt

2

tsp

black pepper

1

tsp

dried thyme

I used 3 small 3" stems FRESH thyme, minced

1

tsp

dried rosemary

I used a 3" stem FRESH rosemary, minced

1

tsp

onion powder

1

tsp

garlic powder

3

tbsp

bacon grease,

divided

1

large

yellow onion,

cut into thick cubes (about 2 cups)

2

cloves

garlic,

minced

2

tbsp

Worcestershire sauce

1

cup

broth

I had chicken broth so that's what I used

1

cup

dry red wine

I had Merlot so that's what I used

1/4

cup

cornstarch + 1/4 cup water mixed into a slurry

1

1-oz pkt

beef gravy mix
Instructions
Instructions:
Rub all surfaces of the roast with 2 tsp each salt & black pepper, 1 tsp each thyme, rosemary, onion powder and garlic powder

Add 2 Tablespoons bacon grease to 6-qt Instant Pot and hit "Sauté" on high heat. Allow the grease to melt, then sear the seasoned roast in the grease for about 1-2 mins on each side. Remove the roast when seared and set aside.

To deglaze the bottom of the pot, add 1 tablespoon bacon grease & scrape the bottom of the pot with a wooden utensil. Add 2 cups chopped onions, continuing to deglaze the pot as they sauté. Cook for 2 minutes, then add 2 minced garlic cloves and 2 Tablespoons Worcestershire sauce. Cook and stir for another 2-3 minutes while deglazing.

Place the roast fat-side up on a handled trivet and lower it into the pot. Set on top of the onions with the handles facing up. Pour 1 cup red wine and 1 cup of broth over the meat.

Secure the lid and then press "Pressure Cook" on high pressure for 60 minutes for 3 lb roast, or 70 minutes for a 4 lb roast, or 80 minutes for a 5 lb roast. When the time is up, allow the roast to sit undisturbed for 15 minutes. Then finish reducing pressure using the quick release method.

Remove the lid carefully and remove the roast, placing it on a cutting board and allowing it to rest while you make the gravy

Press "Sauté" on high heat and allow the juice to a bubble. Add the cornstarch slurry while stirring. Finally add the packet of gravy mix and stir. Allow to simmer for one minute and then turn the pot off.

Slice the pot roast against the grain in chunks of about 1" - 2". Add the meat to the gravy and allow it rest for a few moments to soak it in.
Recipe Notes
Note: This makes lots of gravy. So plan the meal around using every delicious drop!
~TxH~
Other Instant Pot Recipes:
Pork Roast Recipes:
Recipes Using Leftover Roast:
New Meals Remade With Leftovers
…and MUCH MORE!

C'mon by & sit a spell! Come hang out at our Facebook Page. It's like sitting in a front porch rocker with a glass of cold iced tea. There are lots of good folks sharing!
And you can also follow along on Pinterest, Twitter, Instagram
To receive an email when a new blog post goes live it's EASY to
Subscribe to our blog!