by Texas Homesteader ~
You can cook perfect rice in an Instant Pot using only THREE minutes of pressure-cooking time with 10 minutes natural release!
Rice is a cheap staple in my Homestead kitchen, and being able to cook it fast appeals to the lazy cook in me. You too? Read on, dear friends!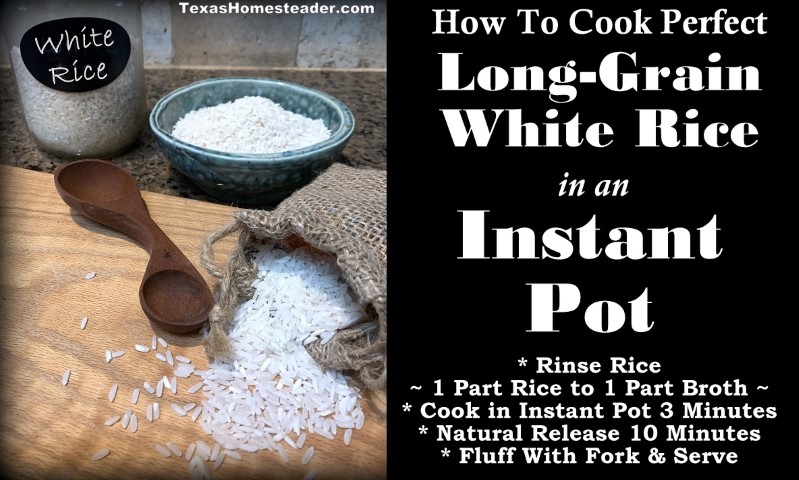 (Note: Some links in this post will take you to other related articles for further information. But links preceded with * are affiliate links. If you click and buy something I could receive a tiny commission.)
Batch Cooking White Rice In An Instant Pot
I've found I can cook several cups of rice at the same time in my Instant Pot using the same cooking/natural release time. Then I can season portions of the leftover cooked rice individually for different flavors to serve throughout the week.
That's the whole premise of Planned Leftovers. It's the way I'm able to serve Homemade Meals Daily the EASY Way!
My list of different ways to serve the rice is at the bottom of this post. But for now let me show you how to cook rice FAST in an Instant Pot.
Rice Pressure Cooking Directions
This is easy, y'all. For each cup of rice you'll use a cup (for drier rice) to 1¼ cup of broth (or water). You can multiply that up to 4 cups if you're using a *6-quart Instant Pot.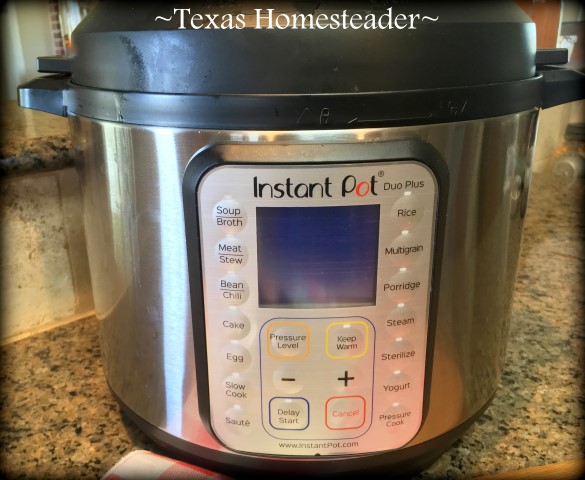 The pressure cooking time of 3 minutes and natural release time of 10 minutes remains the same whether you're cooking 1 or 4 cups of rice.
Properly Measuring Rice For Cooking
Here's the thing – you know you need 1 cup of rice to 1 to 1¼ cups of broth or water. (depending upon how firm you want your rice)
But getting those measurements right has a large effect on the finished texture of your rice.
Too much rice & not enough broth means you'll end up with some grains of rice that are still slightly crunchy like they're not quite cooked. That's a pretty off-putting texture.
Not enough rice but too much broth will leave you with soggy rice grains. That's an equally off-putting texture.
To get light fluffy rice you need to measure the ingredients correctly. This is important, y'all!
I find that if I just pour rice into a measuring cup, shake it gently to remove excess rice and eyeball it with the top of the cup I'll almost always be over measuring the rice quantity. Here's what you do instead:
Transfer your raw rice to a measuring cup – don't try to pack it down. Then scrape the extra rice away by running the straight edge of a butter knife across the top of the measuring cup.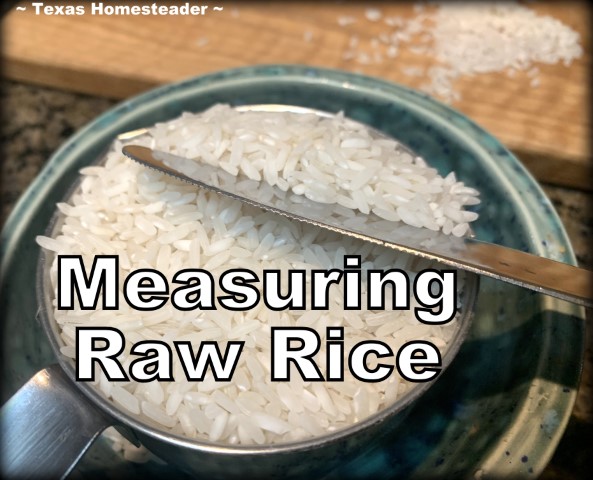 I'm always surprised at how much excess is scraped away when I thought I'd measured a cup of rice precisely. It makes a big difference in keeping your rice to broth ratio accurate.
How To Keep Rice From Being Sticky!
To make sure your cooked rice is fluffy and not sticky you must first rinse the raw rice. This removes the excess starches that could cause your rice to be sticky and clump together.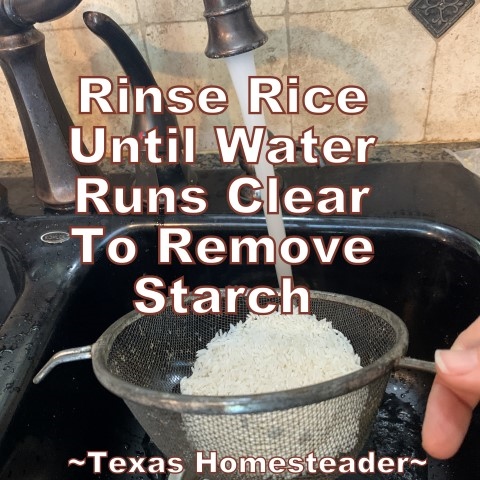 Measure out your rice and put it in a strainer. Then run water through the rice until the water runs clear.
Now that your rice has been rinsed you're well on your way to cooking a hefty batch of rice to use in all kinds of different meals throughout the week.
Easily Cooking Instant Pot Rice
Using the Instant Pot to cook lots of rice all at one time means I've got fluffy rice waiting in the refrigerator to season any way I wish.
The key here is to leave out heavy seasonings when you initially batch-cook your rice. You don't want seasonings in your cooked rice to clash with the seasonings you might want to use when you serve it in different ways in the next several days.
Since my homemade broth is unsalted, salt is the only seasoning I add to my batch-cooked rice. (If you're using salted broth you may not need to add any extra salt.)
I'll place my rinsed rice in the Instant Pot's inner liner, add the broth (or water) and a touch of salt. Then I lock the lid onto the top of my Instant Pot, making sure the lever is set to 'sealing'.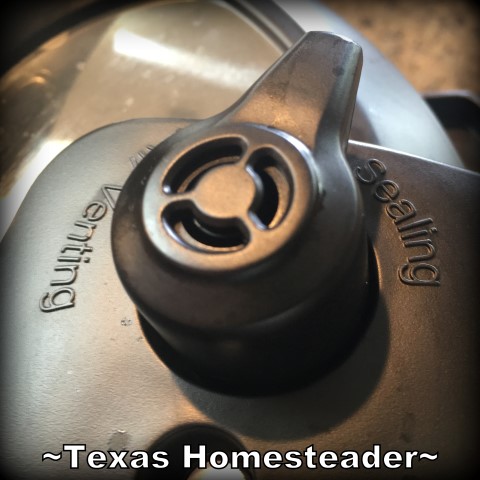 I press the +/- button until the display reads 3 minutes. Now I simply walk away. Push-button convenience cooking, y'all!
After the Instant Pot cooks my rice for 3 minutes it will sound a tone indicating it's no longer cooking. I just wait 10 minutes before flipping that lever to 'vent' to release the pressure remaining in the Instant Pot.
Careful When Releasing Pressure
Be sure to stand back when you release the pressure, the steam that will come out of the vent is hot! Some people use a long handled wooden spoon to flip that lever to protect their hands from that hot steam, others toss a kitchen towel over the lever first.
Whatever method you use, just be aware that when you change the lever from sealing to vent, hot steam will immediately flow from that vent and can burn if you're not careful.
When all the remaining pressure has been released, a pin drops so that the Instant Pot lid can be removed. I'm always careful to remove that lid facing away from me since there will still be plenty of hot steam coming out of that pot when the lid is removed.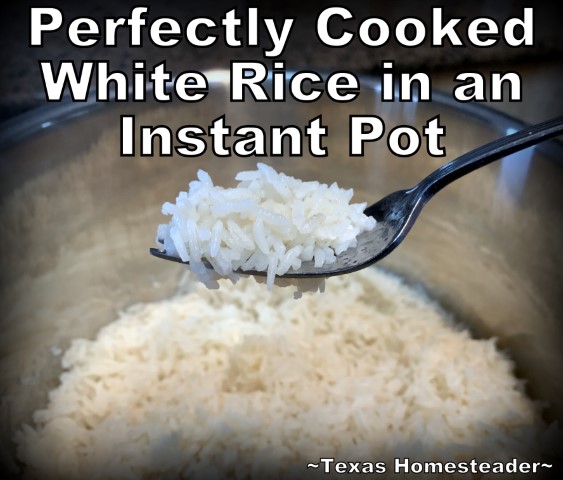 After my rice is cooked I'll fluff it with a fork and it's ready to serve. I'm delighted to see the rice is perfectly fluffy yet firm and not sticky or mushy. PERFECT!
Different Ways To Enjoy Cooked Rice
That first serving of rice is often as a side dish – I like to stir in an Herb Bomb (frozen minced fresh herbs, garlic & olive oil frozen into an ice cube) from the freezer for extra flavor.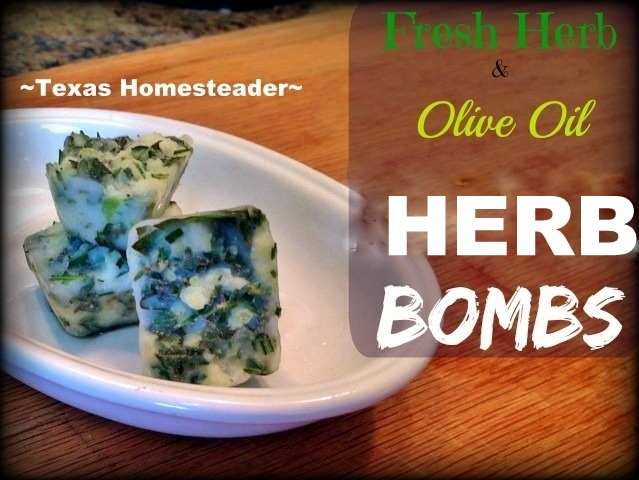 Heck, you can serve a rice side with almost anything – grilled pork chops, Homemade Meatloaf, or Poor-Man's Steak, grilled chicken, etc. RancherMan really likes it this way too. So simple yet so delicious.
Then I'll allow the rest of the cooked rice to cool. I'll transfer the cooled rice to a large container (usually a Repurposed Coffee Can) and store the cooked rice in my refrigerator.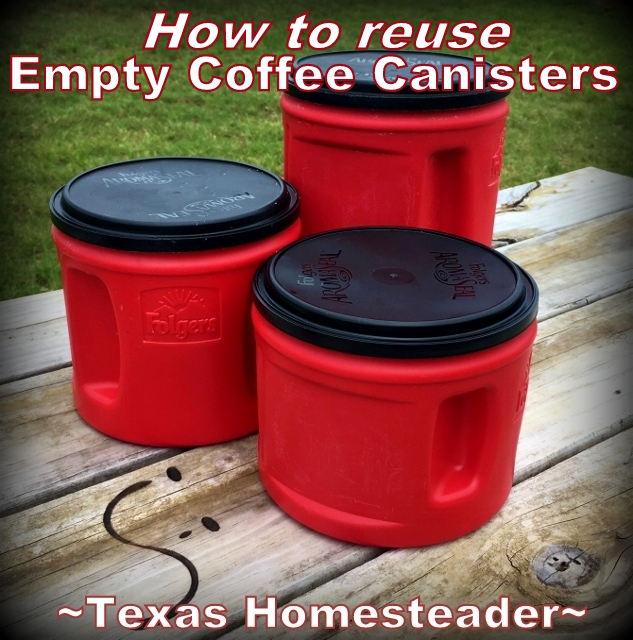 That way I can pull out portions of rice to serve in different ways over the next few days. That rice side dish will be fast since it's already cooked!
Kitchen Tip: Did you know you can easily write on those black lids of a repurposed coffee can using chalk? No more guessing what's inside that container in the fridge!
Using Leftover Rice
I like to add some of the cooked rice to my Endless Soup. RancherMan likes a less brothy soup so I typically add rice or noodles to the soup to placate his tastes. And why not add some of this rice, it's already cooked and ready to go!
But I like to enjoy some of that rice for breakfast too. When I was a child my parents used to serve rice to us kids with breakfast. They'd add a little sugar, a small pat of butter, maybe a sprinkle of cinnamon and a splash of milk. Aaaaahhhh sweet childhood memories.
Making my rice without specific seasonings means I'm even able to enjoy some of that cooked rice for breakfast.
Many dishes make good use of leftover rice to speed along a meal. For instance, it significantly speeds things up when I'm making my Stuffed Peppers if I already have rice cooked and ready to go.
And one of my favorite ways to use leftover cooked rice is when I make Chicken Fried Rice. That recipe calls for 3 cups of cooked, cold rice. It's a Homestead favorite for us.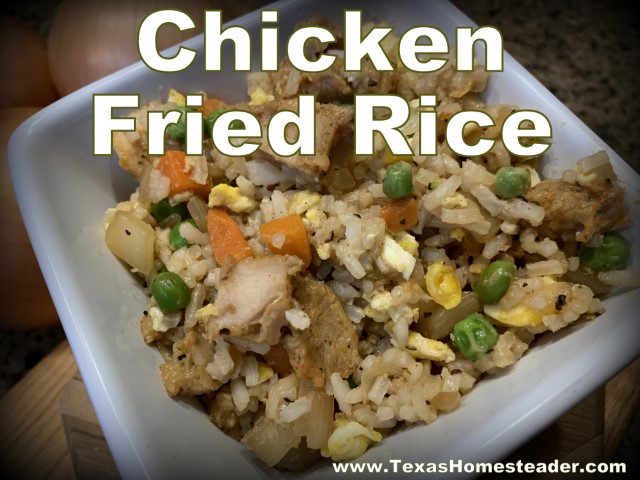 Different Flavors For Rice
Sometimes I'm serving that leftover cooked rice with a Tex-Mex meal. If so I'll take out a portion of rice and stir in some melted butter and sautéed minced garlic & sage to make my Garlic/Sage Buttered Rice.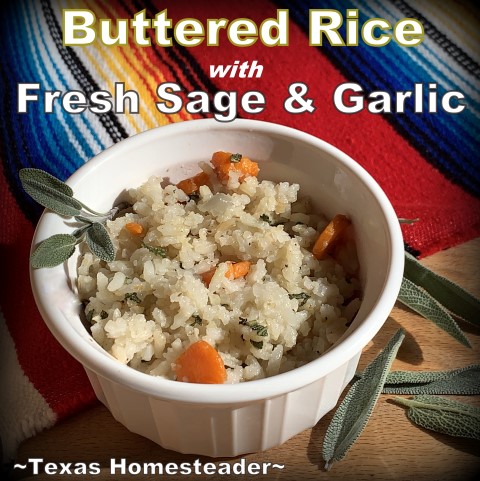 Other times I might sauté minced fresh rosemary in butter and stir it into a portion of rice to make Rosemary Rice.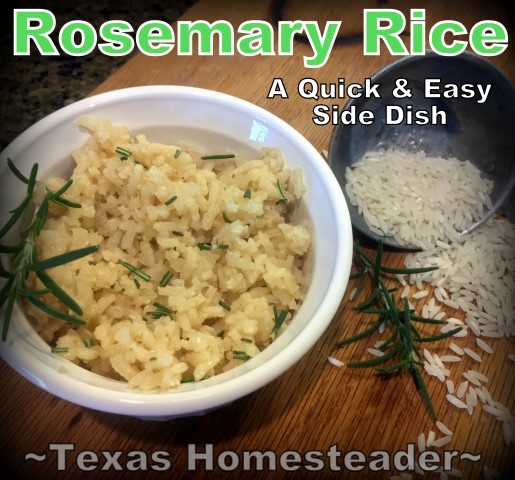 If I'm in the mood for Spanish Rice I'll portion out some rice and stir in some chunky salsa.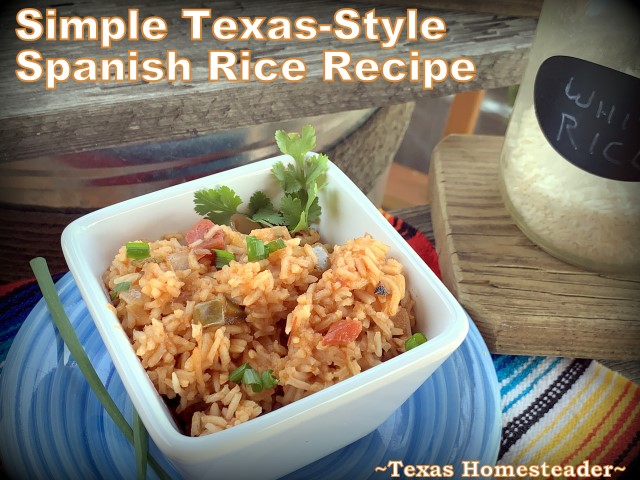 When I invite my parents to join us for supper, dad's favorite rice flavor is Cilantro Lime Rice. If I'm using leftover rice I just scoop out a portion of that leftover rice and stir in a little minced cilantro and lime juice. (I'll only add lime zest if I'm able to zest it very finely since it won't be actually cooked into the rice.)
It's all so easy to do because the rice itself is cooked. I'm just stirring in different seasonings to make a whole different rice dish!
Batch Cooked Rice Convenience
Anyway, as you can see it's super easy to cook a larger batch of rice at one time and enjoy it for several days in completely different ways.
Since the rice is already cooked those rice dishes come together in minutes. Planned Leftovers, bebe!
Here are my instructions for perfect Instant Pot long-grain rice. Enjoy!
Did you make this rice? Please rate the recipe in your comment below!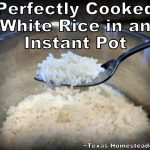 Instant Pot Long-Grain White Rice
Rice is a very inexpensive staple. And Instant Pot Rice only needs 3 minutes pressure cooking and 10 minutes natural release time. Plus by cooking a batch of rice at one time you have rice ready to serve in many different ways later in the week. #TexasHomesteader
Ingredients
1

Cup

Long-Grain White Rice (185 grams),

rinsed

1

Cup

Broth or Water (259 grams)

(NOTE: 1 cup for firmer/drier rice, up to 1¼ cups for softer/wetter rice)

Salt to Taste
Instructions
Rinse 1 cup of rice until water runs clear. Then place in the pressure cooker's inner liner along with 1 - 1¼ cups of broth or water. (1 cup broth for firmer rice or up to 1¼ cups of broth for softer rice) Salt to taste.

Cook in Instant Pot on high pressure for 3 minutes.

When cooking time is up, allow 10 minutes natural release, then manually release remaining pressure by flipping the lever to 'venting'. (careful, steam can burn)

Fluff with fork & serve hot. Refrigerate leftover rice for subsequent servings.
Recipe Notes
NOTE: You're using one cup of rinsed white rice to 1 - 1¼ cups broth for this recipe. (depending upon whether you want firm or softer rice)
But depending upon the size of your pressure cooker you can multiply your quantity by 2, 3 or 4 for more rice. The same pressure-cook time of 3 minutes and natural release time of 10 minutes remains the same.  
Most often when I'm batch-cooking rice: 3 cups rice, 3½ cups broth, 2 ¼ tsp salt. Pressure cook 3 minutes, natural release 10 minutes, fluff and serve!
~ TxH~
This post categorized in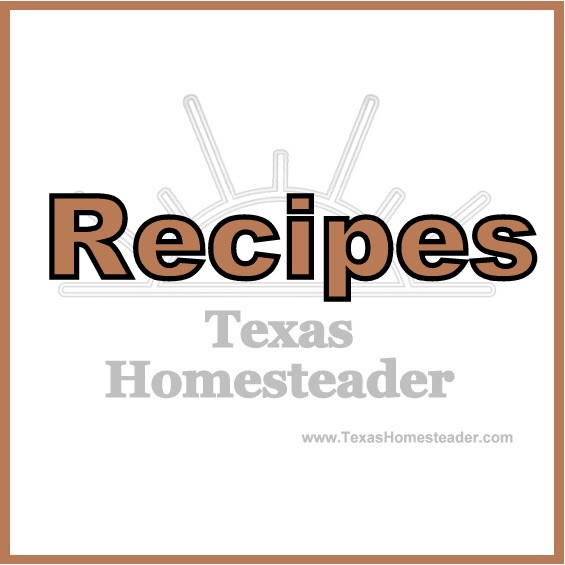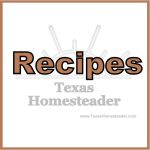 Other Instant Pot Recipes:
Other Side Dishes We Love

Rice
Beans
Vegetables
Other
…and MANY MORE!


C'mon by & sit a spell! Come hang out at our Facebook Page. It's like sitting in a front porch rocker with a glass of cold iced tea – lots of good folks sharing!
You can also follow along on Pinterest, Twitter or Instagram.
To receive an email when a new blog post goes live it's EASY to
Subscribe to our blog!