by Texas Homesteader ~
This week's 5 frugal things includes such things as tips for saving money during travel, saving money in the garden, enjoying special occasion meals inexpensively and much more! Come see this week's 5 frugal things.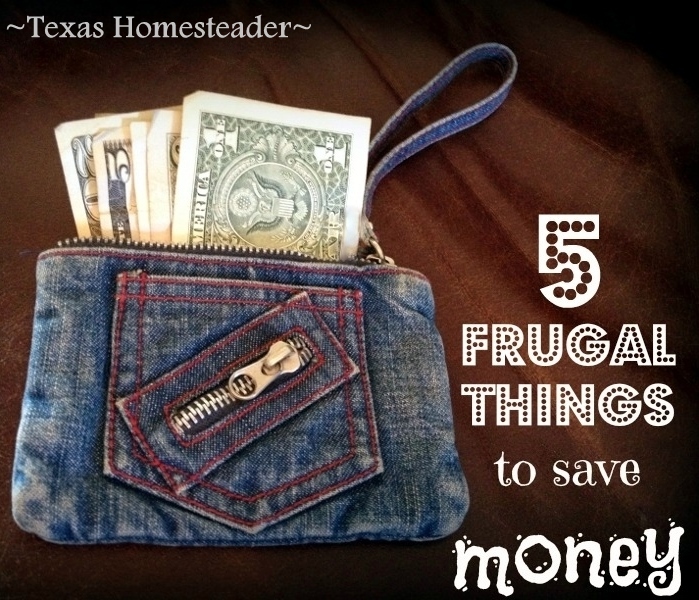 1.
Loyalty Rewards Travel Discounts
RancherMan & I had a trip out of town that would necessitate an overnight hotel stay.
Since RancherMan is the king of research, he checked out all the hotels in the area we were staying. He narrowed it down first to location, then ratings, and finally cost.
Luckily the hotel we decided on was close to our event and also offered a hefty discount from a loyalty program offered by our insurance company. So we were able to score a comfortable night's stay (and free breakfast in the morning) at a very discounted price. Score!
The lesson here is: Be sure to check loyalty programs for things you were going to spend money on anyway. You can often save money in ways you hadn't even thought about.
2. Frugal Food On The Road
Because we'd be traveling, RancherMan & I decided to slice some leftover baked ham and make a few ham & cheese sliders for the road. Although we enjoyed restaurant meals at times during our trip, this will keep us from having to stop at a restaurant for a quick meal while on the road.
I also packed grab-n-go snacks for between seminars using reusable silicone zipper bags. One was filled with almonds, another with dried fruit and yet another with Homemade Jerky. Then I tucked the snacks and a couple of bottled waters in my Texas Homesteader drawstring backpack.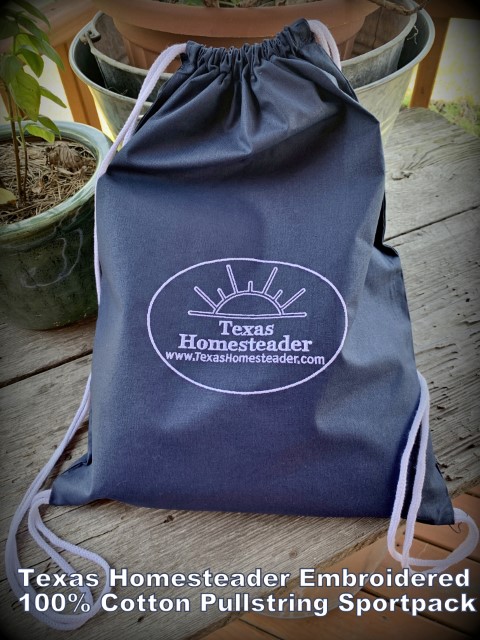 Using my backpack I was able to easily tote things around as well as show my Texas Homesteader pride. And I got lots of compliments on the bag from other attendees. (blushes…)
Note: I actually offer these handy cotton drawstring bags on my Online Store Here. I love them, they're durable yet lightweight (and importantly to me) – NOT cheap nylon!
Anyway, I just tucked the snacks in my bag and carried them with me for our two days of seminars. It helped tide us over between classes and between meals. This saved us money over standing in concession stand lines and it gave us healthier snacks to boot.
3.
Galvanized Trough Raised Garden Beds
I'm changing up my garden (again). Many of my planting rows are being changed into raised beds. It will make weeding and harvesting easier – I'm not getting any younger, ya know!
I've been repurposing the large 30-gallon plastic tubs that are leftover from the cattle supplement we buy to make large planters for those raised beds. And they're working well enough I suppose.
But my garden is located in front of our home and I'd like to at least have the visible ends of my garden rows look nicer for our visitors than a plastic tub.
So I've moved and repurposed some older galvanized troughs for much of my raised bed planting.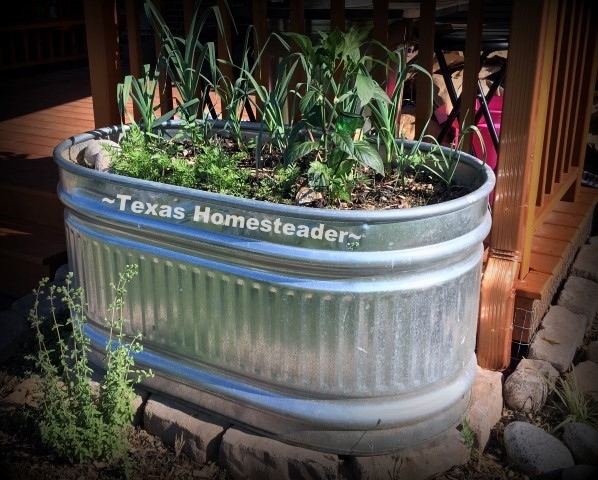 Heck, one of those troughs I picked up a couple of years ago at the metal recycling place for just $10. But now that using galvanized troughs for raised bed planting has become more mainstream they no longer have them available.
So I did a little price checking for a 4-ft long, 2-ft high and 2-ft wide galvanized metal trough. The price has really gone up over the years!
But most places I checked (Tractor Supply, Home Depot, etc.) had them priced at between $129 – $139.
But Atwood's Farm & Ranch Store had them on sale for $109. Since I needed two troughs that little bit of research saved me anywhere from $40 to $60 on that one purchase!
I'll remove the trough's plugs & fill them Hugelkultur style, first with some EcoBricks at the bottom for drainage, then a layer of 3 – 4" thick limbs, followed by smaller branches/twigs. These will come from damaged trees from the ice storm we just endured.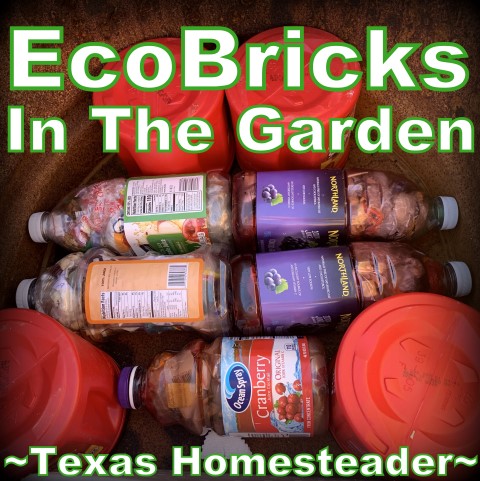 Then I'll add fill dirt on top of the wood followed by planting medium amended by compost for the actual plants.
Not only does this method save lots of money over buying that much soil to fill the troughs, but I'm reading Hugelkultur gardens also help retain moisture. (Further Hugelkultur information at the bottom of this post)
4.
Garden Planting: Herb Seeds
While I was purchasing the galvanized troughs I found that Atwood's was selling seeds at a 40% discount. I had a few herbs I typically don't plant that I wanted to grow this year – specifically dill, garlic chives and parsley.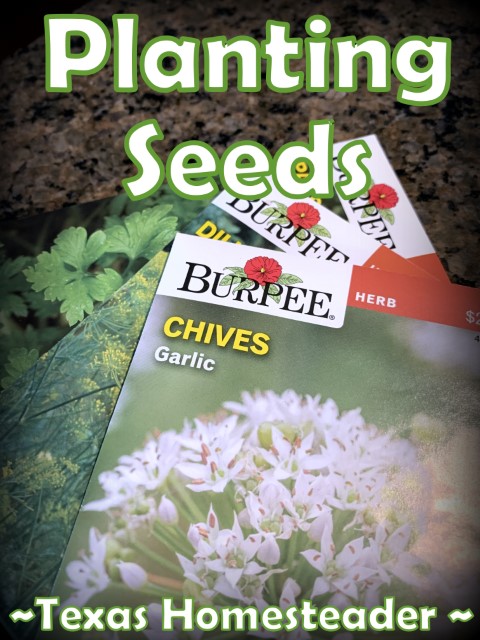 Instead of buying plants, I bought those seed packets for just over $1 each! And I'll have enough seed left to plant for the next few years as well if I decide to continue growing them. Otherwise I can just pass the seeds on to another gardener to love.
5.
Valentine's Day Celebration At Home
As you know, Valentine's day was this past week. RancherMan & I really (REALLY) don't like to go out to eat on Valentine's Day.
Oh sure I enjoy a night off from the kitchen from time to time, but Valentine's Day is such a crazy-busy time to be crammed shoulder-to-shoulder with the crowds in a restaurant. That's not romantic at all for us!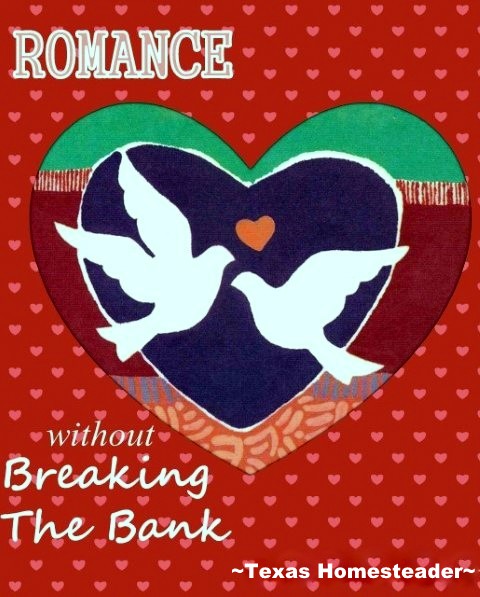 So our special meal for Valentine's Day included filet mignon steak grilled to perfection, green beans seasoned with bacon, and baked potatoes enjoyed with a glass of wine. Now THAT'S a homemade meal worthy of Valentine's Day!
And although cost was certainly not the determining factor in eating at home on this special day, the cost was a mere fraction of the same meal at a restaurant.
Share Your 5 Frugal Things This Week
So what about you – what are your 5 Frugal Things this week?? Don't forget to share below and we can all celebrate with you!
~TxH~
This post categorized in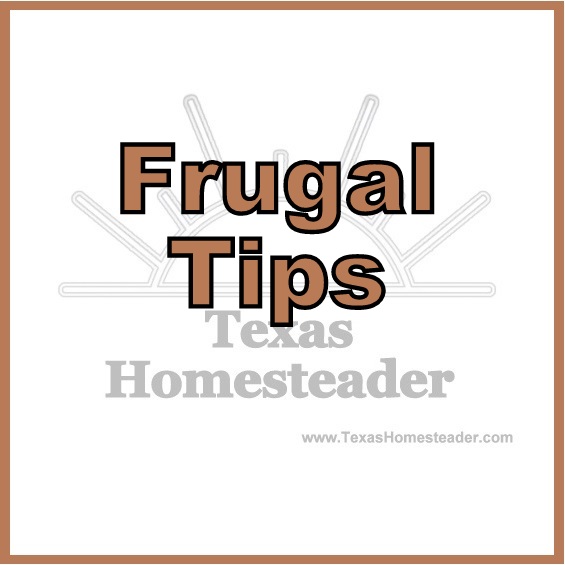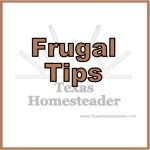 Other Frugal Tips
…and many MORE!


C'mon by & sit a spell! Come hang out at our Facebook Page. It's like sitting in a front porch rocker with a glass of cold iced tea. Lots of good folks sharing! You can also follow along on Pinterest, Twitter or Instagram.
If you'd like to receive an email each time a new blog post goes live it's EASY to
subscribe to our blog
Save
References: