By Texas Homesteader ~
I've been very pleased at how easy and inexpensive it is to make our own jerky at home. We use a mixture of ground meat, seasonings and 'cure'. You can use either ground beef or strips of steak to make jerky. But we decided to make wild-game jerky using venison and elk.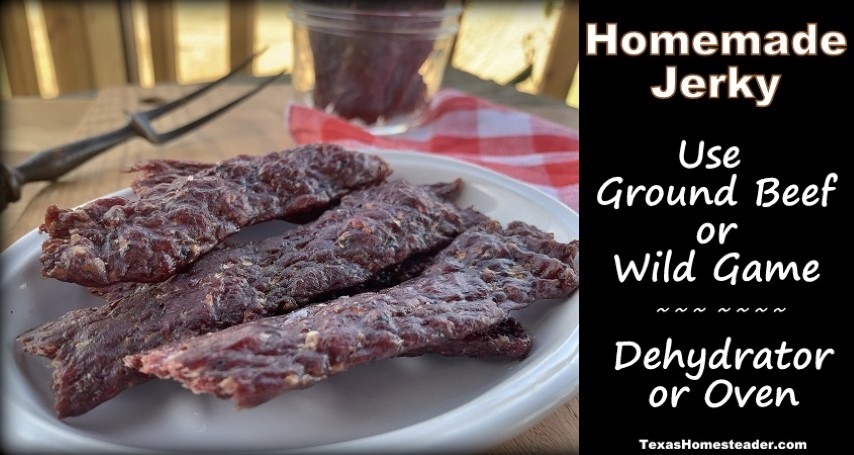 (Note: Some links in this post will take you to other related articles for further information. But links preceded with * are affiliate links. If you click and buy something I could receive a tiny commission.)
Wild Game Ground Meat Jerky
RancherMan is an accomplished hunter. He keeps our freezer filled with wild pork and venison. We have our game meat professionally processed into tenderized steaks, roasts, and ground – both regular and chili grind.
RancherMan also has the meat processor add 10% beef fat to our ground game meat because it's too lean otherwise. We had plenty of ground venison and elk, so that's what we used for our jerky.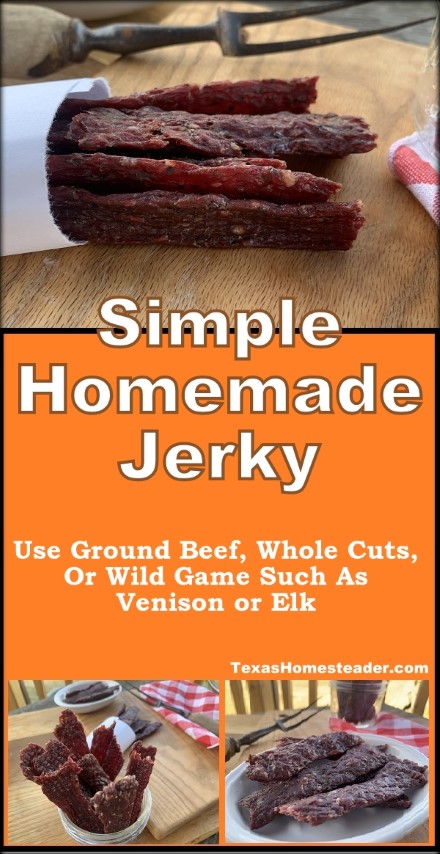 You can use thinly-sliced strips of whole cuts instead. But I feel the jerky made with ground meat has a better texture so that's what we chose.
Favorite Homemade Jerky – Seasonings
Complete jerky kits are pretty inexpensive online & include both seasonings & jerky cure. We like garlic & black pepper flavor.
Use Your Own Seasonings
We made both jerky strips as well as snack sticks using our own flavor mix.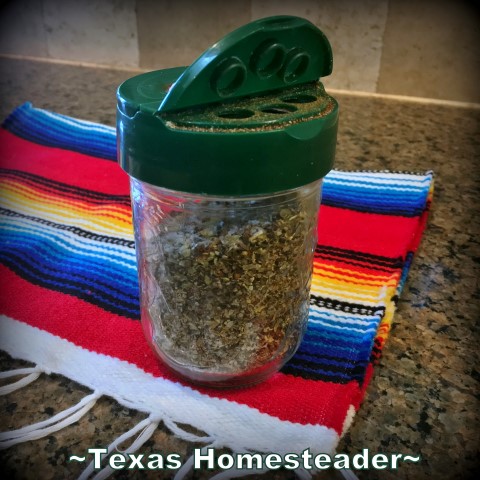 Is Meat Cure Just Salt?
You may wonder, "Is meat cure really just salt?"
Well, no.
Table salt is sodium chloride. But meat cure is sodium chloride PLUS nitrite and/or nitrate, necessary for the purpose of food preservation.
Meat cure is required for a safe outcome since meat will be dehydrated at low temperatures for a long period of time.
Preparing Meat For Jerky
We had chili-ground venison from the processor with 10% beef fat added in. So RancherMan ground it further using the smallest grind on our KitchenAid meat grinder.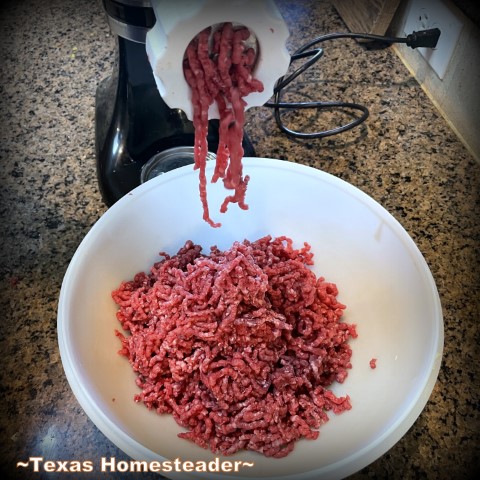 For every pound of ground meat he added ¼ cup water.
He also added the spices and cure. Then it was mixed thoroughly and covered.
He placed the prepared meat in the refrigerator for 4-8 hours.
Making Ground Meat Into Jerky Strips or Sticks
The next morning we brought out the prepared meat, our *9-Tray Excalibur Dehydrator and our Sportsman 15" *Jerky Gun.
We love how it simplifies making jerky! RancherMan compares it to an oversized caulk gun, but designed for meat.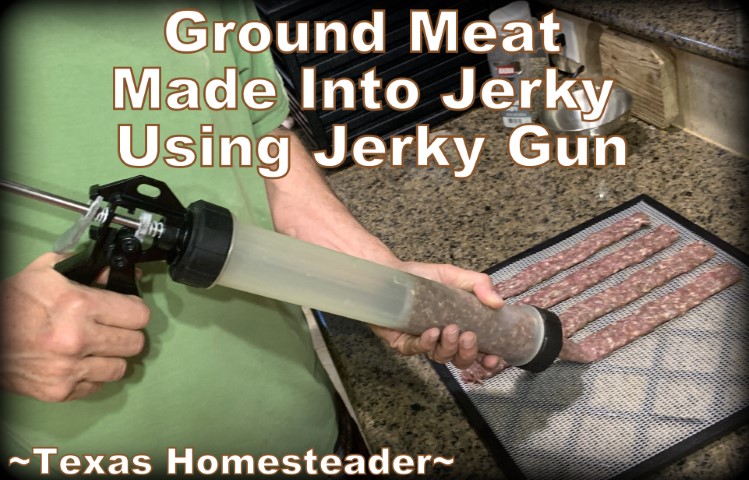 To make the jerky the tip is removed from one end of the jerky gun and the prepared ground meat is added into the large cylinder.
RancherMan packs the meat in as tightly as he can, but the action of the jerky gun will also compact the meat so he doesn't worry if a few small air bubbles remain.
Then he adds the tip to the end of the jerky gun.
Flat Tip for jerky strips
Round Tip for snack sticks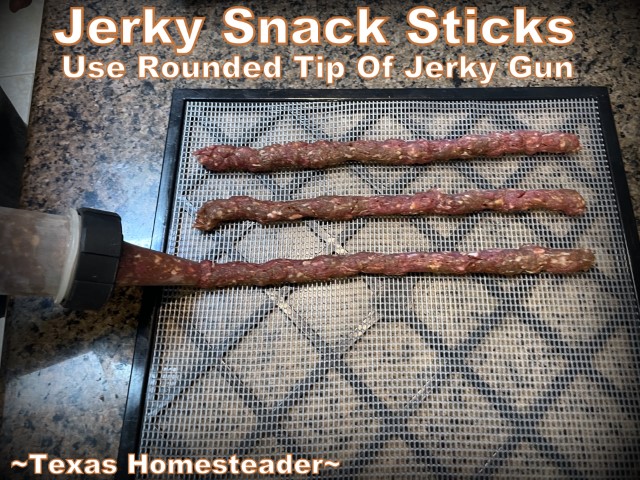 We bring out one of the large square dehydrator trays and using the Jerky Gun he places thin strips of prepared meat onto the surface of the tray.
The video below shows exactly how quickly the jerky gun works:
For jerky strips we're able to apply 6-7 strips between 1/8″ – 1/4″ thick per tray.
Dehydrator Highest Temperature Clarification
The FDA recommends dehydrating homemade jerky at a temperature of 160ºF.
But my basic model Excalibur dehydrator temperature selector only shows to go as high as 155ºF.
Excalibur states on their website that the temps on their dehydrators actually go above the 155ºF shown, that the 155º setting actually heats up to 165º.
So I contacted Excalibur for clarification, giving them the model of my basic 3900 Excalibur dehydrator for reference.
According to Excalibur Dehydrators:
"155 degrees is the highest temperature marking on these but your machine does go up to 165. You would need to set it between the 155 markings and the "off" marking."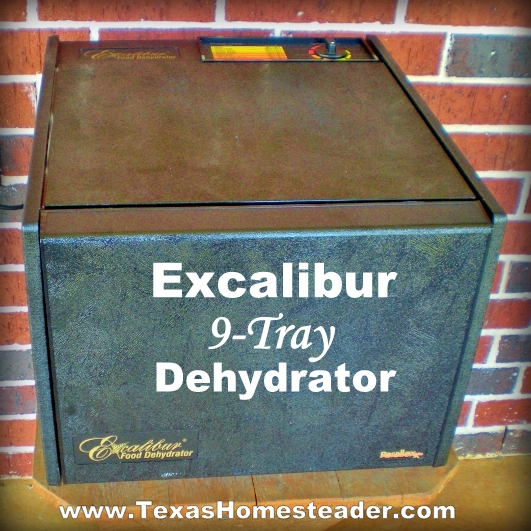 So be sure to contact the manufacturer of your dehydrator if you have any questions about the highest temps for your dehydrator.
Wild Game Jerky In Dehydrator
When all the meat was placed on the dehydrator trays we turned the dehydrator's dial as far as it would go, which Excalibur has stated is actually 165°F.
we allowed the jerky strips to dehydrate between 6 to 8 hours.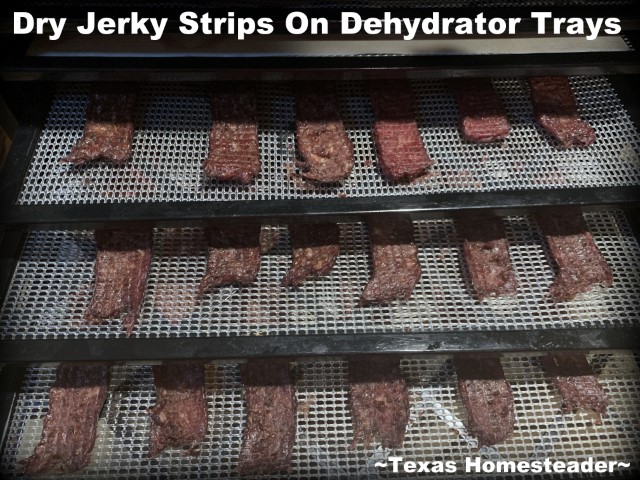 Depending upon the thickness of your jerky strips, the humidity in your kitchen, how dry you want your jerky, etc. your time may vary.
The jerky should dry and leathery, and bend without breaking or tearing when you apply light pressure. You're looking for a chewy but not tough texture.
Drying Jerky In An Oven
If you don't have a dehydrator, don't worry. You can easily use your oven to make your jerky. And apparently in less time too.
The instructions inside our jerky seasoning kits indicated we could make the jerky in an oven.
Preheat oven to 200ºF.
Place jerky slices on an *Oven-Proof Jerky Screen on the top rack of the oven. (I assume you'd want a baking tray somewhere beneath it to catch drips.)
Dehydrate jerky for approximately 80 minutes. (or longer if you like a drier product)
Safe Internal Temperature For Wild Game Jerky
According to University of Minnesota, the National Center for Home Food Preservation, my local extension agent and many other qualified sources, it's recommended that the internal temperature of wild game jerky reach 160ºF. after it's dry.
But how the heck do you test internal temperatures of jerky?? It was an easy fix.
After our homemade jerky was dried to leathery perfection we placed the strips on a rimmed baking sheet for 10 minutes in a pre-heated 275ºF. oven.
Plus, that short stint in the oven also pulls any residual fat from the surface of jerky strips too. After heating the dry jerky in the oven I bring those rimmed baking trays out and elevate one side to allow any extra melted fat to drain away while the jerky is cooling.
Packaging Our Homemade Wild-Game Jerky
To package up our homemade jerky we bought some *Sealing Bags and vacuum sealed them with our *Food Saver Vacuum Sealer.
To prepare them for gift presentation we printed out a tag on our laser printer. Then I used ordinary packing tape to make Customized Labels for our jerky gifts.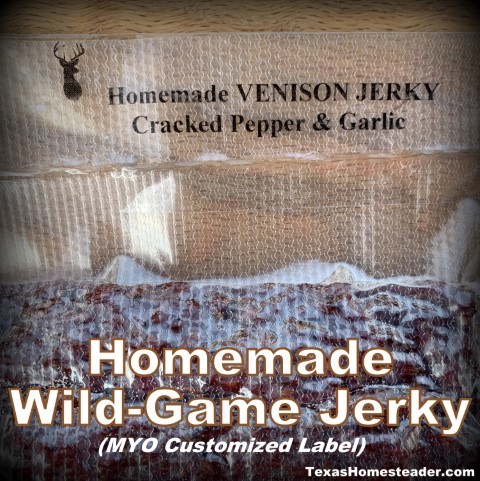 Everyone in our family loves jerky so it's a great homemade gift idea.
How Long Does Homemade Jerky Last?
According to the National Center for Home Food Preservation, the finished jerky can be stored at room temperature in a sealed container for about 2 weeks.
It can be refrigerated or frozen for longer storage.
~TxH~
Links In This Post:
Other Wildlife Posts
Wild Game Pork Roast Recipes:
Recipes with Leftover Pork Roast:


C'mon by & sit a spell! Come hang out at our Facebook Page . It's like sitting in a front porch rocker with a glass of cold iced tea. There are lots of good folks sharing! And you can also follow along on Pinterest, Twitter & Instagram
If you'd like to receive an email when a new blog post goes live,
subscribe to our Blog!
Homemade Jerky Safety References
National Center For Home Food Preservation
University of Minnesota – Safe Jerky Procedure
University of Wisconsin Extension – Safe Jerky Procedure