by Texas Homesteader ~
Need a last-minute gift idea? I love these cute snowman gifts that include candy and a new pair of gloves. I like to use one-size-fits-all gloves and a box of candy or larger candy bar. And it's a fun way to present a cash gift too!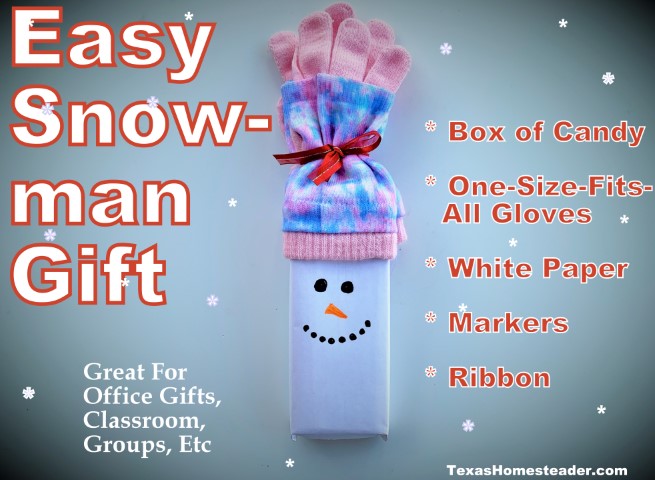 Inexpensive Snowman Gift: Candy & Gloves
Whether making a gift for kids in your child's classroom, an inexpensive gift for your co-workers, a little sumpin' for the mailman or your favorite hair stylist, these gifts can be whipped up literally in minutes for very little cost!
The snowman is made of a box of candy and his toboggan hat is fashioned from a new pair of gloves. And c'mon, how cute is this??
What a fun, quick and inexpensive gift idea. We made each of our grandchildren one of these snowman gifts. It was easy!
All you need for these snowman candy & glove gifts: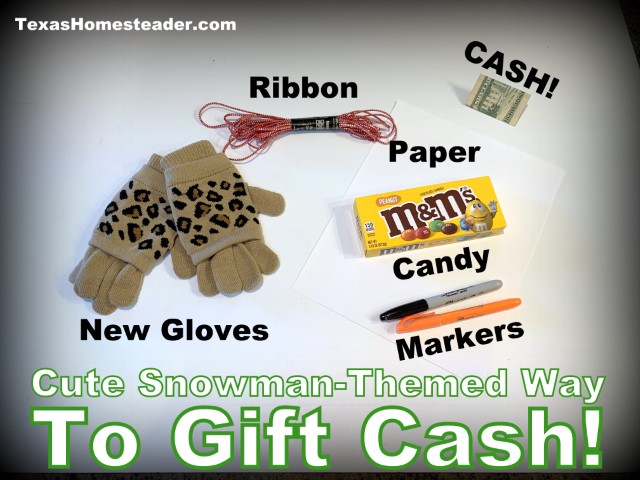 Candy Options To Consider
If you'll be making these cute snowman gifts yourself, there are a few things to keep in mind:
Size of Package – you're slipping the small wrist of a stretchy glove over the candy box. So try not to choose something overly wide so the glove fits snugly without overly stretching it out. We opted for a larger 3.10-oz box of M&M's candy. You could also use a large candy bar.
Allergy Considerations – If you're making these snowman gifts for several children (such as when gifting to your children's classmates), keep in mind there may possibly be allergy considerations. Peanut allergies are common, so it's best to avoid peanuts. Perhaps a box of skittles or regular M&M's would be a better option?
Kids With Braces – Some of our grandchildren are currently wearing orthodontic braces. So we checked with their parents beforehand to make sure peanuts wouldn't be a problem for them. (The parents said peanuts were fine.) If you're not sure if your gift recipients require orthodontic considerations you might stick with candy that won't be an issue for children with braces, – especially nothing overly chewy/sticky.
Making A Snowman Gift Using Candy And Gloves
Making the snowman-themed gift couldn't be any easier. Start with a box of candy or perhaps a large candy bar. RancherMan loves peanut M&M's best, so of course he preferred those for each of these gifts for our grandkids.
Then we went to the dollar store and chose a pair of stretchy one-size-fits-all gloves for each of our grandchildren.
I even found these cute 3-in-1 gloves for our granddaughters. They included a pair of coordinated fingerless gloves that could be worn alone or as an additional outer wrap on top of the glove for a little extra fashion sumpin'. So cute!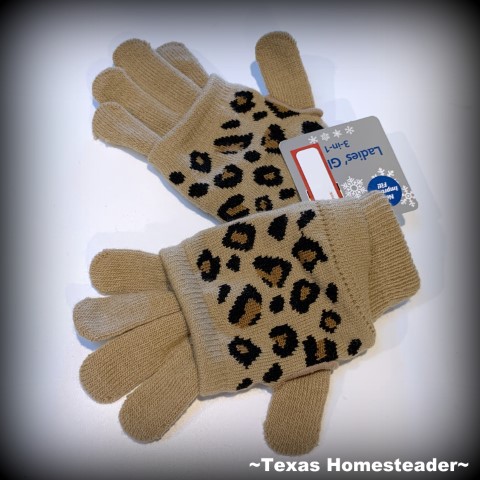 Then I wrapped a sheet of white paper around each of the boxes of candy to make a blank canvas for each of our snowman gifts. A small piece of tape on the back holds it all in place.
I used a black permanent marker to draw the coal eyes and mouth. Then I used an orange marker to draw the carrot nose.
When all was ready I placed the elastic wrist of one of the gloves over the top of the candy box. Then I used a festive ribbon to tie the fingers of both pair of gloves together to make a toboggan hat for our snowman.
And we're DONE!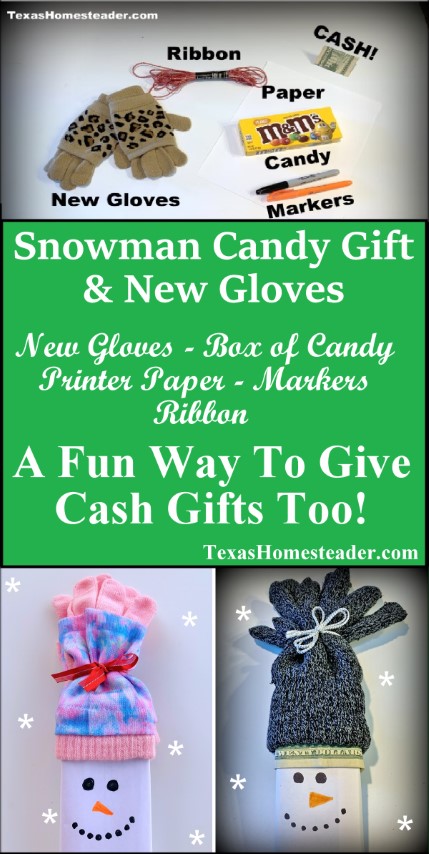 I really think these turned out cute. And of course all of our grandchildren love candy and will enjoy the gloves for keeping their hands warm during these cold winter months.
Cute Way To Gift Cash
Here's another way to use your snowman gift too. Sometimes you are at a complete loss on what to buy someone. "What do they want? What do they already have? Will they even like this gift I'm considering?" AAARRRRGGGHHHH!!!
So instead you've decided to gift cash this year so they can buy what they want in the size or color they prefer.
But c'mon, you don't want to just hand over the bills. You still want a nicer way to present your thoughtful gift of cash.
These snowman candy boxes fit the bill quite nicely for gifting cash.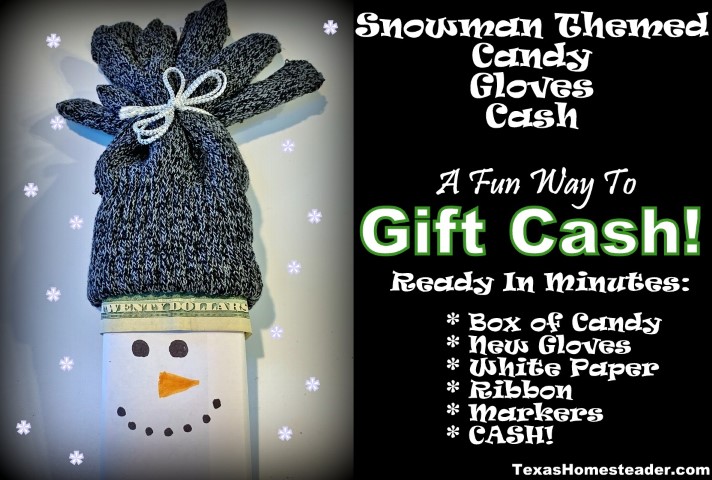 You can just place the money between the hat and the white paper outer wrapping. Keep in mind (especially if you're not going to be present when they open their gift of cash) you want to make sure it's hard to miss. So I leave a little green peeking out from the snowman's toboggan.
Lookie there! Now you've got THREE gifts in one: Candy, New Gloves and CASH!
So if you're looking for a cute way to present a cash gift or are just looking for an inexpensive last-minute gift you can make in minutes, these candy snowman gifts are so cute, fun and easy to make.
~TxH~
Other Christmas Posts You Might Like:
Gift Ideas
Eco-Friendly Gift Ideas: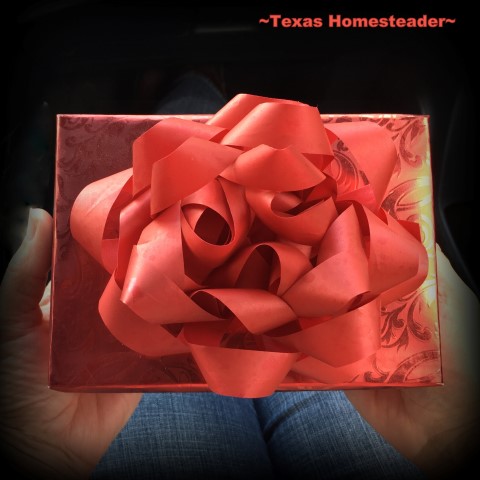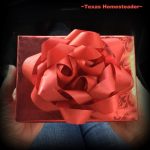 Low-Waste Gift Wrapping & Presentation

C'mon by & sit a spell! Come hang out at our Facebook Page . It's like sitting in a front porch rocker with a glass of cold iced tea. There are lots of good folks sharing! And you can also follow along on Pinterest, Instagram & Twitter
If you'd like to receive an email when a new blog post goes live,
subscribe to our Blog!