by Texas Homesteader~
Here's a cute Christmas gift idea. A snowman treat jar. It comes together in minutes using repurposed materials. I filled an oversized peanut butter jar with inexpensive homemade sweet trail mix. Paint on black buttons, tie on a scarf and you're done!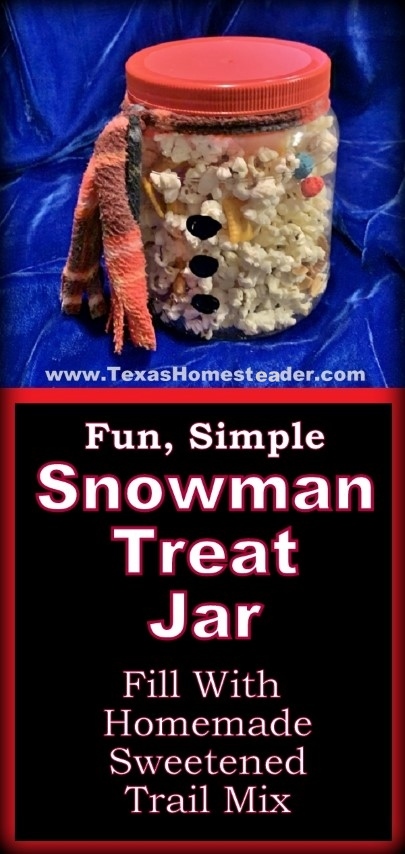 Christmas Gift Ideas For Our Grandchildren
At their parent's request, we've moved away from gifting toys to our grandkids for Christmas. Instead we now give experience gifts to them. It's been such a wonderful change.
We get to spend time with our grandkids and create memories for Christmas instead of giving just another toy to be broken & forgotten in no time.
But these excursions aren't often on the schedule until AFTER the big day. RancherMan & I didn't like gathering with the family for Christmas and having nothing other than a scheduled event to give to our beloved grandbabies.
So in addition to their experience gift, we usually give them a little sumpin' on Christmas day.
Experience Gift Extras
Sometimes the grandkid's little sumpin is related to their fun excursion that's to come.
Ft. Worth Stock Show & Rodeo – One year when they were younger we took them to the Ft. Worth Stock Show & Rodeo. So we got them inexpensive cowboy gear from the Dollar store. A fringed vest, bandana, a Sheriff's star, etc.
It didn't cost much but they were thrilled to be able to wear their cowboy gear to the Stock Show.
Escape Room – Another year we took them all to an escape It was so fun. None of us had ever been to one before.
So for their Christmas Day gift we gave them mystery-solving props. A large spy glass, a note pad and fun colored pens.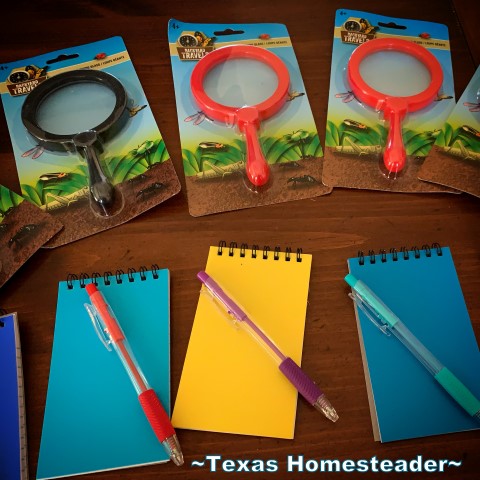 Other experience gift excursions we've enjoyed included
A Ninja Warrior Obstacle Course,
Fun Indoor Rock Climbing,
Attending a Live Christmas Play,
Drives through Christmas light parks, etc.
You can read all about our Experience Gifts Here.
Edible Gifts
Those little sumpin' gifts aren't always related to their excursion though. One year I made them the cutest Santa Sleigh entirely of candy.
OMGosh y'all, believe me when I say this gift went over WELL with the grandkids.
I mean, chocolate? Candy? YES PLEASE! It does a grandmama's heart glad to see them get so excited over this small portion of their gift.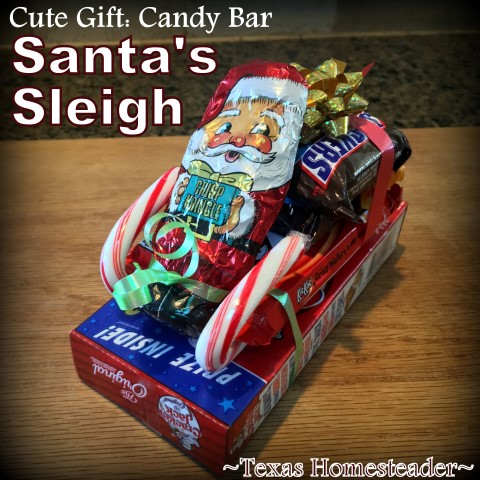 Snowman Sweets Jar
Since they got so excited over the edible portion of their gift last year, I decided I wanted to make something similar this year.
Ideas abounded of cute ways to present sweets. But I really liked the idea of a snowman jar. But where to get the containers?
You're not gonna believe this – RancherMan suggested the chunky jars from the huge 64-oz containers of peanut butter we buy.
I'd been putting them back in hopes of using them for food storage or something, so I had enough for each of our grandchildren.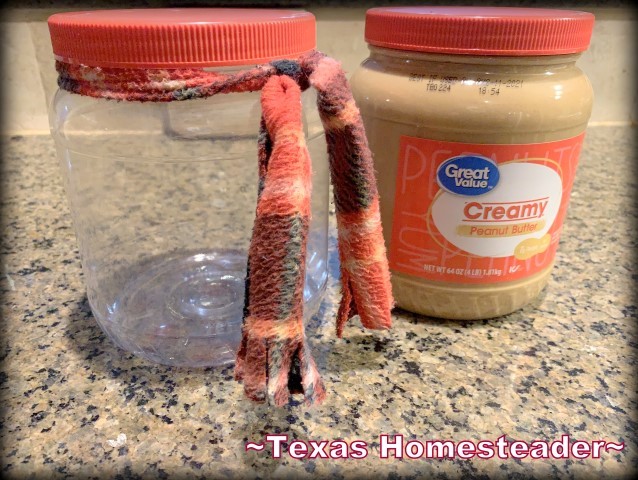 They are large and barrel-shaped. They'll be perfect containers to make into a snowman.
The jars had already been cleaned out but we cleaned them again, inside & out, in preparation for our gift. Then I decided what I wanted to put in them.
Snowman Treat Jar Contents
To fill the treat jars I had many ideas. Maybe the popular chex mix snack. Maybe fun-size candy bars or little cookies. The world's your oyster here.
But since my jar would be decorated as a snowman I really wanted primarily white-colored treats inside. So I decided I wanted to fill my snowman treat jar with a sweetened popcorn trail mix of sorts.
To make an easy Sweetened Popcorn I made an easy syrup by boiling sugar, butter and water for 4 minutes until it was as the soft ball stage.
Then I poured the syrup on the popped popcorn and mixed everything together to fully coat it to a delightful sweetness.
Sweetened Popcorn. How easy, and how PERFECT! (recipe for Sweetened Popcorn HERE)
But what will I add to it to turn it into a trail-mix? Hummm…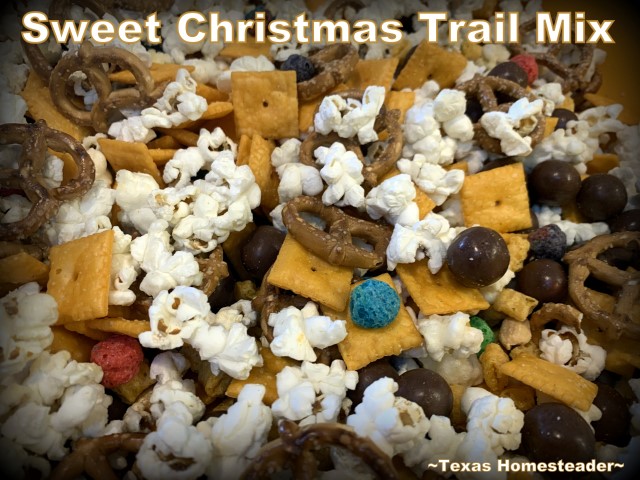 Here are the additions to my sweetened popcorn to make my Christmas trail mix:
(I'd wanted red & green M&M's but, you know, when you live in the middle of nowhere you learn to improvise!)
When I was a kid I always loved Cap'n Crunch and I figured it would be sweet enough to mix nicely with my sweet trail mix. And it does!
When I had all my supplies gathered I mixed the trail mix ingredients together and poured it into each clean, dry jar.
Simple Embellishment for My Snowman Treat Jar
But I wanted to decorate my treat jar to look snowman-esque.
So I started by cutting a strip of red/black flannel and tied it around the neck of each jar to make a scarf. I cut the ends of each scarf to make a little fringe.
I stood back to take a little look-see… Yeah, YEAH! I like it.
Finally I used a black paint pen to draw 3 black buttons on the front of my snowman treat jar.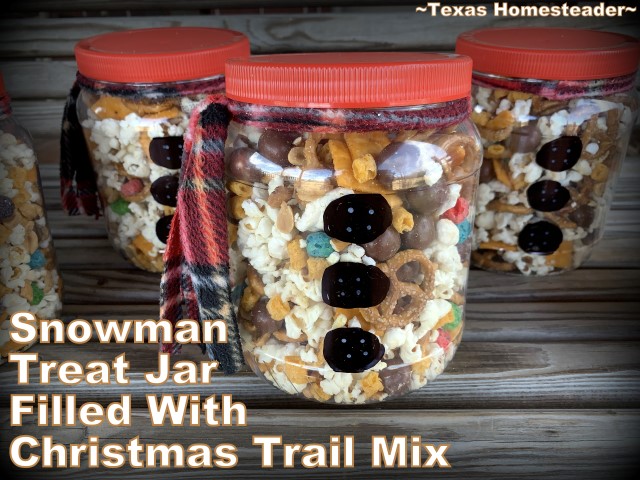 Don't they look festive? Even the red lid ties perfectly with the look I wanted.
I think they turned out super cute and I know the grandchildren will love them. But they didn't cost much at all. A simple yet delicious homemade gift from the heart.
~TxH~
Other Christmas Posts You Might Like:
Gift Ideas
Eco-Friendly Gift Ideas: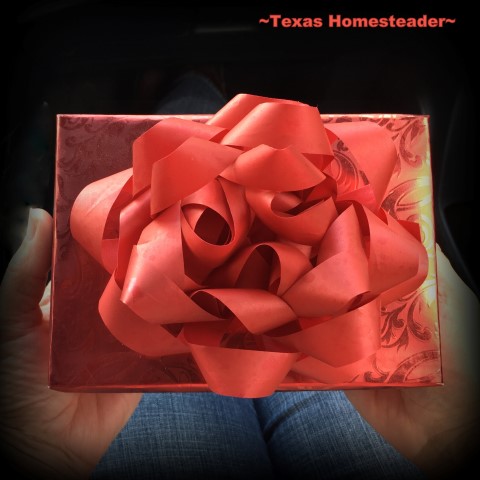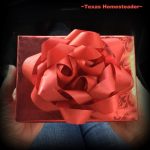 Low-Waste Gift Wrapping & Presentation

C'mon by & sit a spell! Come hang out at our Facebook Page . It's like sitting in a front porch rocker with a glass of cold iced tea. There are lots of good folks sharing! And you can also follow along on Pinterest, Instagram & Twitter
If you'd like to receive an email when a new blog post goes live,
subscribe to our Blog!