by Texas Homesteader ~
This time of year is known for cheer and excitement. Trees trimmed with sparkly decorations & cheerful gifts under the tree.
It's known for an awareness of sharing and giving to others. A gentle season pushing us to remove the focus from ourselves & think of others.
But oftentimes there's an uglier side too. Think about all the hateful rhetoric flung about on social media this time of year about Merry Christmas vs. Happy Holidays.
Sometimes it calls for action, snarkily responding to those wishing us a Happy Holiday that we want to hear only MERRY CHRISTMAS!
It's a well-meaning but oftentimes harsh push to keep Christ in Christmas. But that unnecessary ugliness is really disturbing to me.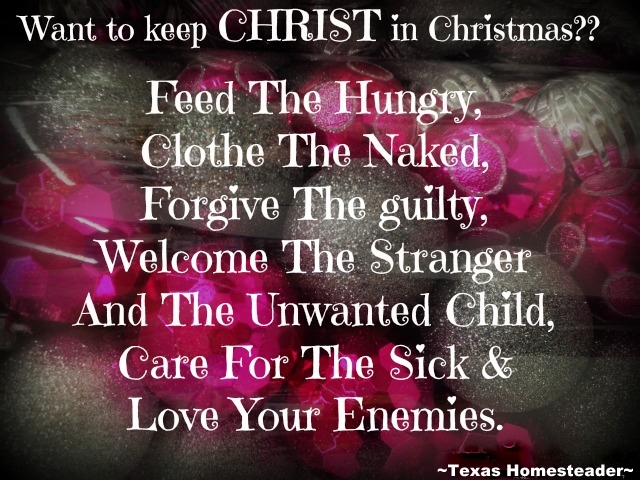 How many times have you heard outrage over a store wishing customers 'Happy Holidays' instead of 'Merry Christmas'? Calls go out to boycott those stores – 'We'll Show Them!!"
What about the firestorm a few years ago about the Christmas design on the cup of a well-known coffee house? Oh my…
Kinder Ways For Christians To Keep Christ In Christmas!
As a Christian I love this beautiful holiday. Not only is it a time to celebrate the birth of Christ, but a time to soften our hearts and show real love & compassion to those around us.
Yes, I absolutely want to keep Christ in my Christmas!

But here's the deal, y'all…. Do you REALLY want to keep Christ in Christmas? It's easy to do! And without mean-spirited hatefulness or adding a dividing line in the sand separating 'Us' from 'Them'.
See there? Christ fully involved in our Christmas.
And using only love – no ugliness required!
Let's all strive for a kinder, gentler Christmas this year!
~TxH~
Other Christmas Posts You Might Like:
Gift Ideas
Eco-Friendly Gift Ideas: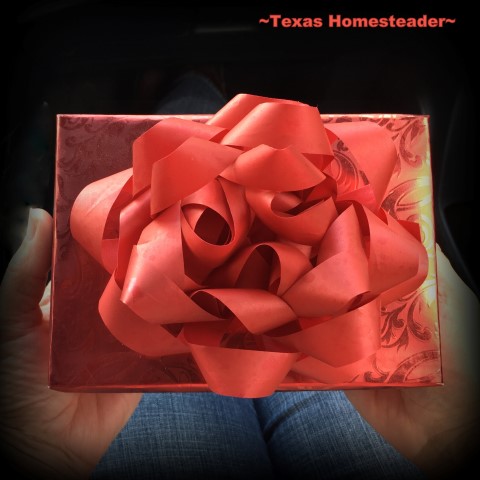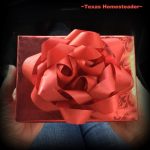 Low-Waste Gift Wrapping & Presentation


C'mon by & sit a spell! Come hang out at our Facebook Page . It's like sitting in a front porch rocker with a glass of cold iced tea. There are lots of good folks sharing! And you can also follow along on Pinterest, Instagram & Twitter
If you'd like to receive an email when a new blog post goes live,
subscribe to our Blog!
Save
Save
Save