by Texas Homesteader ~
*contains affiliate link
Right next to the house lies our barn paddock. It is a small paddock that features our amazing 1880's barn as well as a small fenced area. This paddock is used often to wean calves, work the herd or separate specific cows for whatever reason.
In this paddock was a huge, very old cedar tree. I loved that thing, it was massive!
But last year it died and RancherMan had to pull it down. Broke my heart, y'all! The once-beautiful tree was hauled in large pieces to our burn pile.
But with our annual family reunion coming up I panicked. In a few days that bonfire will be lit & it'll be gone forever!
So I asked RancherMan to salvage some of that beautiful wood. And I specifically asked him to go to the burn pile & cut off about 5 ft of that huge tree. Puzzled, he still placated me…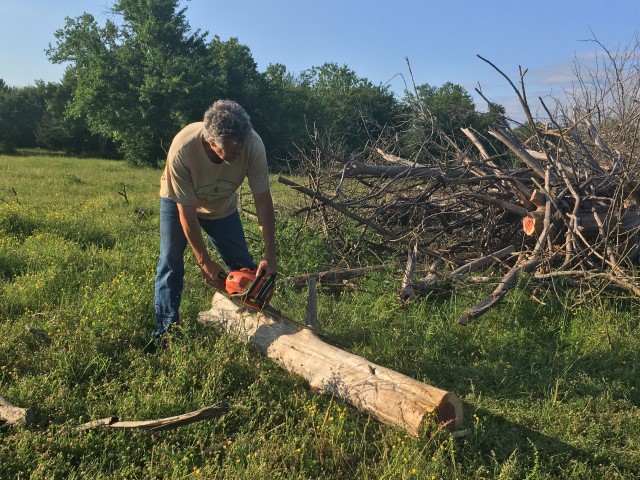 (Note: Some links in this post are for further information from earlier posts I've written. But links preceded with * are affiliate links. If you click them and buy something (almost anything, not just the item noted) I could receive a tiny commission. But the price you pay will NOT change. It's an easy way to support this blog without anything coming out of your pocket. So click often! Thank you!)
He'd already taken one of the huge limbs and made me a laundry pole, I love that. And he used several of the straight branches to make beautiful walking sticks too.
But after RancherMan fetched the sections I requested, I sat out to make something decorative with them.
Decorative Idea For Cedar Log
I told him I wanted to make a solar light feature for our home's front walk. Then I asked him to saw the cedar log into different and graduating sizes.
One log should be around 2 feet long, another 1.5 feet and the last about 1 ft. He sawed them to length for me.
How I love that cedar's red heartwood! Oh, and that smell of fresh cedar. (breathes deeply) Delightful!
I'd already purchased 3 *solar lights. There are many different styles and although I could have purchased some plainer ones for almost nothing, I wanted these because they were a little more decorative without being too flashy.
I like the design with a small cap over them. To me they're classy without being just too much. They'll look perfect in my new solar light feature!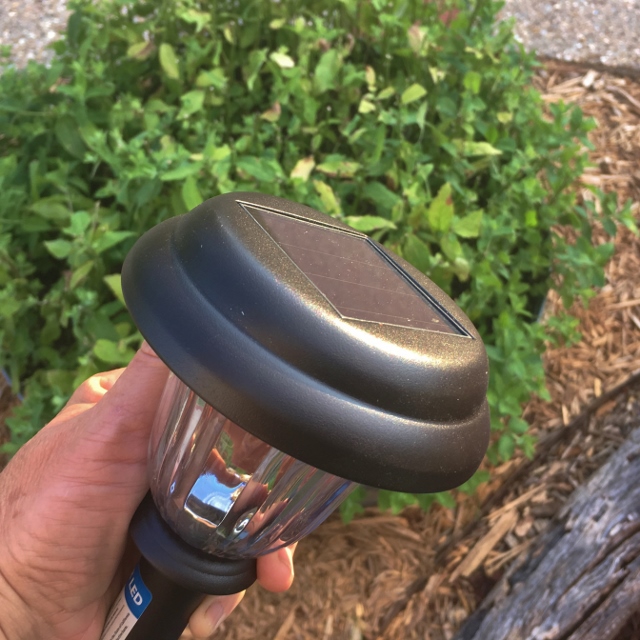 Making The Solar Light Feature
After the logs were cut & sat up on their ends RancherMan took a paddle bit and drilled a hole into the top of each log.
This hole was the perfect size to receive my solar lights.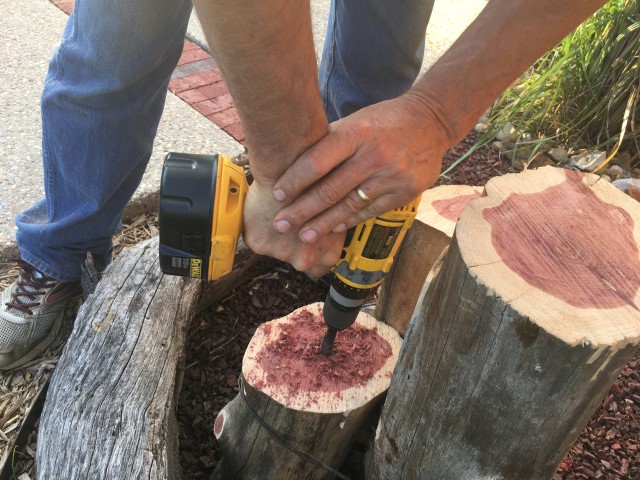 I bundled the three logs together and we used heavy wire to bind them tightly.
RancherMan then used industrial staples to attach that wire to the logs for extra durability.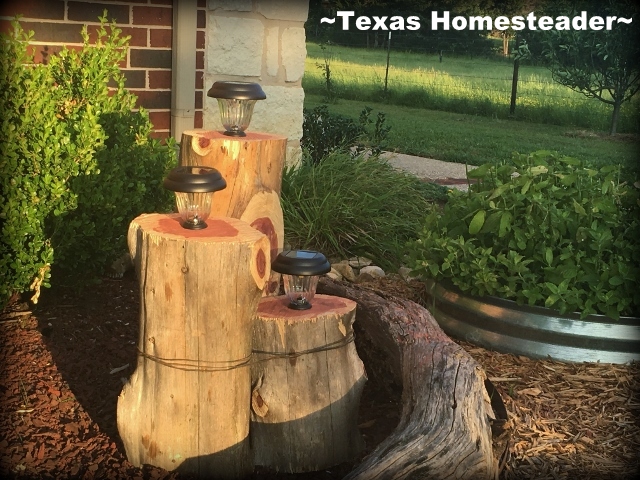 But that wire is ugly & I didn't want it to show. How can I soften that look? Humm….
I took some jute and twisted several strands together to make a thick rope.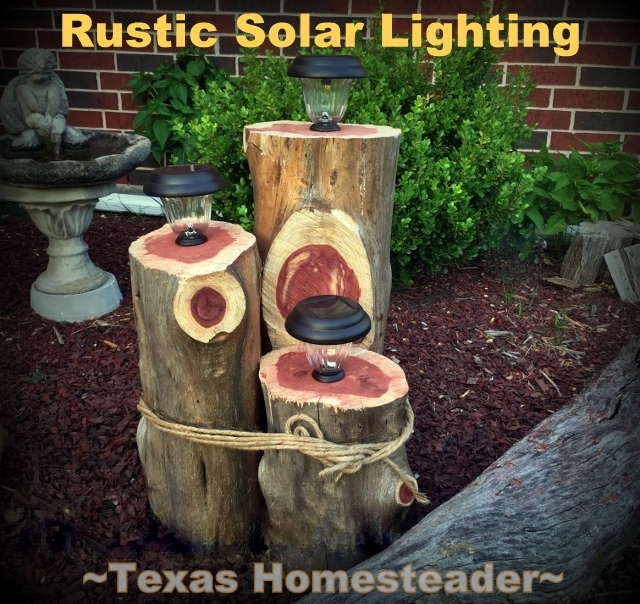 I wrapped the rope around the logs covering the wire and fashioned a rustic knot that I thought looked cool. It hid the wire bindings too. Yeah, I like it!
Finally, we cut the stake of each solar light down to only about 3″ long & pushed each solar light into a log. That would allow the lights to sit flush to the surface of the logs.
Soft Lighting For Our Home's Walkway
Let's stand back & see what we think. OH YEAH! I love it! The rustic look is exactly what I was looking for.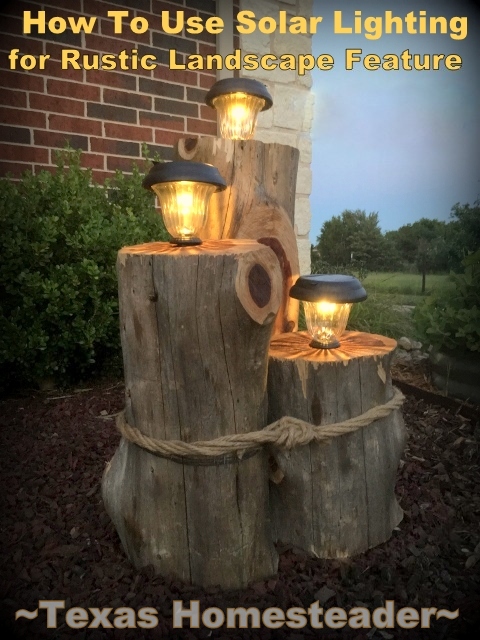 These lights come on automatically at dusk and light the sidewalk to our front door.
The project was quick & it only cost the price of those solar lights and a short length of twine that we already had in the shop.
And now even though it's gone, that beautiful cedar tree continues to serve us well!
Another Solar Light Feature Made
We loved our cedar light feature so much, and the cost was so little, that RancherMan & I decided to make another one as a gift.
This one was made for our daughter and new SIL. For this Solar Light Feature we used old Bois d'Arc Wood and a brass elephant embellishment.
Our daughter is crazy about elephants. So it was a personalized gift that was very well received indeed!
Personal, hand-made with love. That's what we like to do with our gifts.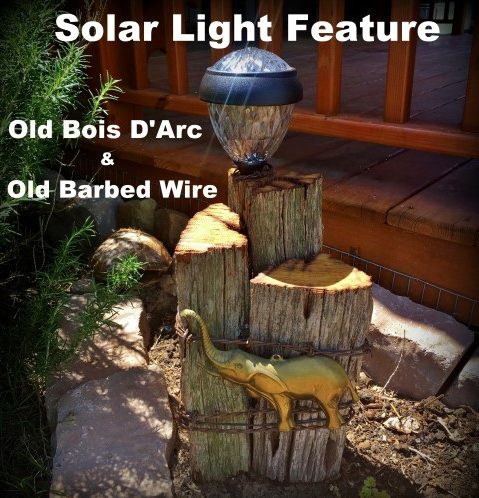 So if you're looking for an inexpensive way to add a little pop to the gardens and light to your walkway, give it a try!
~TxH~
Easy Beginner's Crafts & Projects We Love
…And Much More


C'mon by & sit a spell! Come hang out at our Facebook Page. It's like sitting in a front porch rocker with a glass of cold iced tea – lots of good folks sharing! You can also follow along on Pinterest, Twitter or Instagram.
If you'd like to receive an email each time a new blog post goes live it's EASY to
Subscribe to our blog!
* Amazon affiliate
Save
Save
Save
Save
Save
Save