by Texas Homesteader ~
These hand warmers are heated in the microwave and tucked into your coat pockets. They offer comforting warmth when you step outside on a cold day. Easily made using repurposed denim scraps, long-grain rice and a few drops of essential oil. These pocket-sized hand warmers are perfect for kids or adults alike!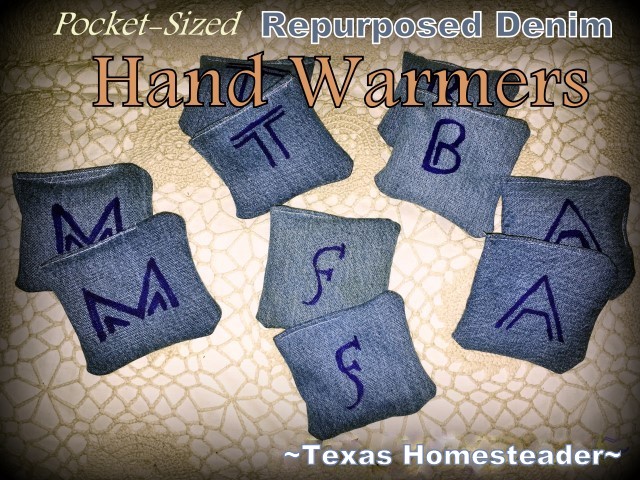 (Note: Links preceded with * are affiliate links. If you click and buy something I could receive a tiny commission.)
We Prefer To Give Homemade Gifts
Y'all know RancherMan & I like to make homemade Christmas gifts. To us, it's just so much more personal.
Plus by doing so we've removed ourselves from the consumerism and stressful side of the holiday. We feel it's brought us back to a more well-balanced Christmas filled with the love of Christ & the warmth of family & friends.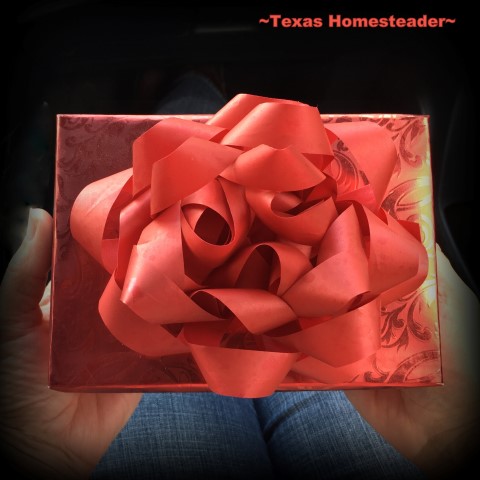 Sure it takes more time (and sometimes more money too) but we feel we're living our values. And that's important to us.
We've made many different homemade gifts over the years, they've all been well received.
But our grandchildren always receive experience gifts. Still, we want them to have something to open during our family Christmas Day celebration too.
So we decided to make pocket hand warmers for each of them to keep their little handsies warm during the chill of winter.
How To Make Homemade Denim Hand Warmers
Here's the quick-reading version of how we made 'em: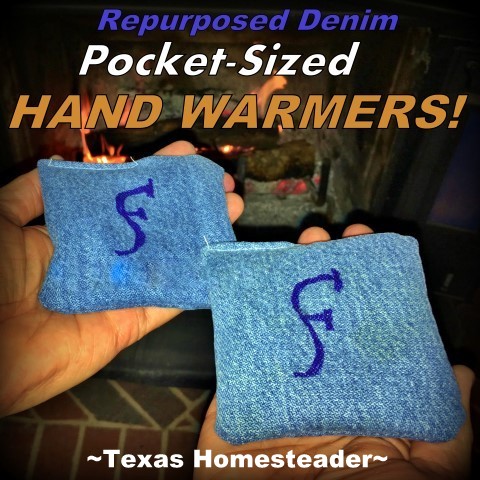 Pocket-Sized Hand Warmers (Child sized @ approximately 4″x4″)
Cut repurposed denim into a 4″ x 8″ strip for each hand warmer
Pin each piece together inside out
Sew open edges except the final 1-1/2″ with a small 1/4″ seam
Turn hand warmer right-side out through opening
Fill hand warmer with 1/2 cup rice, scented with essential oil if desired
Tuck open section so that final edge is straight
Sew open section closed
Microwave Rice-Filled Pocket Warmer For Heat
Their parents need only to pop these little warmers in the microwave for a few seconds. The grandbabies then would be able to tuck the heated hand warmers into their jacket pockets.
These pocket warmers should stay toasty for about 20-30 minutes, perfect for walking to the bus stop or heading out to play on a chilly day.
Choosing Repurposed Fabric for Hand Warmers
So now that we've decided on a project, there are still decisions to be made.
What kind of fabric should I use?

What shall I fill them with?

Should I scent them or not?
I thought about flannel or fleece material for their soft fluffiness qualities. I also thought about felt that was sewn rustically with contrasting-colored embroidery thread.
But in the end, I decided to repurpose the denim from RancherMan's old worn jeans.
I love that soft, durable material. Plus that way our grandson can feel comfortable carrying these hand warmers in his pockets because denim is plenty manly alright!
NOTE: I often have these delightful hand warmers for sale in my online store! For those of you asking about my Online Store Here, feel free to check it out!


Scenting The Homemade Pocket Hand Warmers
Several days in advance I poured some long-grain rice into a container. I added about 10 drops each of lavender, lemon and peppermint essential oils.
Then I stirred the rice and closed the container to let the rice take on that delightful aroma.
Making Our Pocket Warmer Gifts
Now it's time to make those hand warmers! I decided for my hand warmers I'd want to cut the fabric into 4″ x 8″. That way I could fold them over and only sew 3 sides.
Plus the finished size would be about 4″ x 4″. (less the seam of course). I'd think that would be about the perfect size for our grandbabies' hands!
When RancherMan & I make our Christmas gifts we both have a hand in it. Whether cooking and canning edible goodies, making homemade soap, or any of the other homemade gifts we've made over the years – we do it together!
So RancherMan dealt with ironing/measuring/cutting the repurposed denim. But soon cutting this much material with scissors began frustrating him.
Fabric-Cutting Shortcut Tip
Then I remembered that we had these *Black & Decker electric scissors. I love these things! So I charged them up & told RancherMan to give 'em a try.
He swapped out the manual scissors for the electric ones and was amazed! They cut through the fabric like butter. All he had to do was push the button & guide the scissors.
He exclaimed "Dang, this is like a power saw for fabric!" LOL
Using these electric scissors he made a pair of fabric pieces for each grandchild in record time.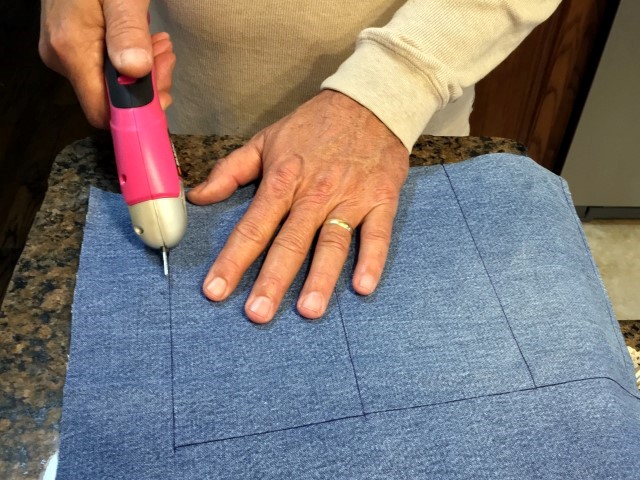 So he brought the cut fabric pieces to me. Now it's my turn to have a hand in these gifts. While I'm sewing the hand warmers I asked him to look up some cool fonts to personalize them.
Sewing Denim Pocket Warmers
I pinned the fabric right-sides together and sewed a small 1/4″ seam along the edges, leaving about 1.5″ at the end to fill the hand warmer.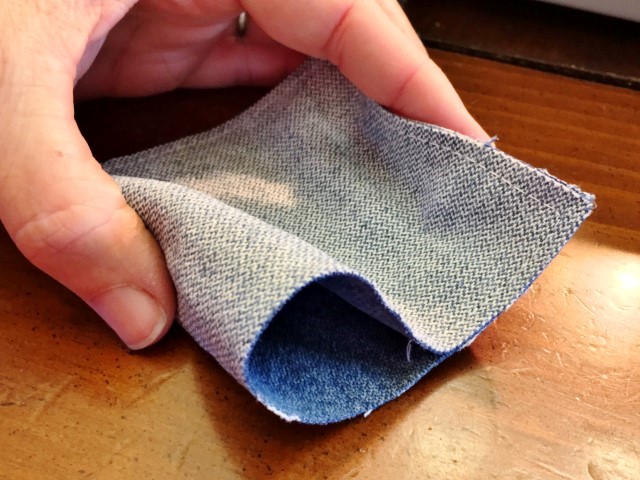 Using the rounded end of a metal kabob I pushed the inside of the hand warmer through the hole I'd left. So the right sides are now facing out. I'm left with a sewn square with a small 1.5″ opening.
Filling Denim Hand Warmers With Rice
Then I popped a funnel into that small hole. I scooped up 1/2 cup of scented long-grain rice and poured it into my hand-warmer.
Then I tucked the unsewn edges inside, pinned them together and back to the sewing machine. I sewed that tiny section shut and VOILA! I copied those steps for the remaining hand warmers.
Personalized Designs Marked On Fabric
But what to use to make the personalization? Well, I have a brand new blue permanent marker pen so I drew our ranch brand on my pair of hand warmers. I mean, heck – it's a PERMANENT marker so why not?
There, all done. Now let's step back & evaluate. What do I think? Hummm… I think I like it!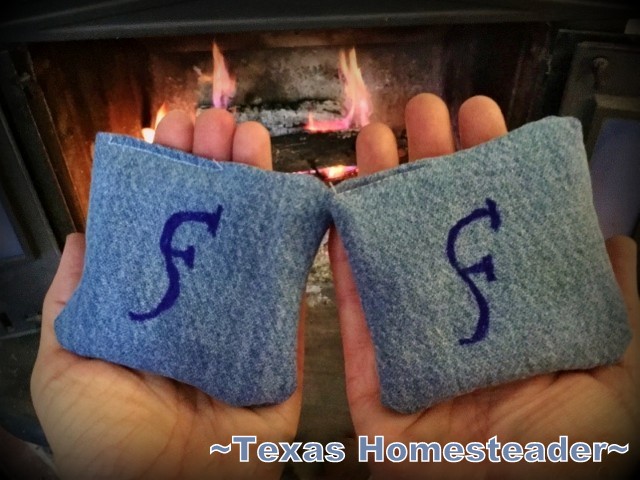 I plunked them into the microwave for about 20 seconds and they were pleasantly warm but not hot enough to burn.
IMPORTANT: Microwaves vary & you don't want to burn little hands!
A touch not hot enough is MUCH better than TOO HOT!
I love the way they turned out. They'll offer each of our precious grandbabies the warmth of their grandparent's love on a cold day.
~TxH~
Repurposed Denim Crafts
Other Christmas Posts You Might Like:
Gift Ideas
Eco-Friendly Gift Ideas: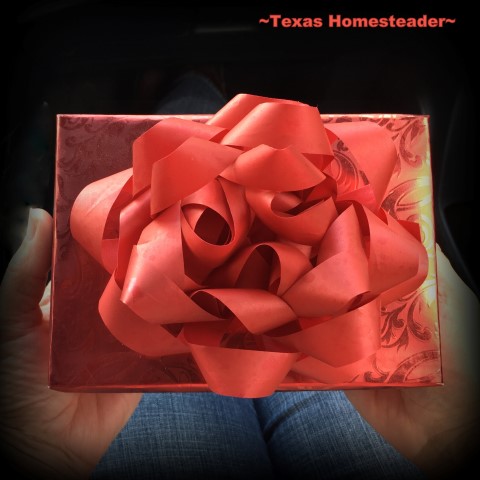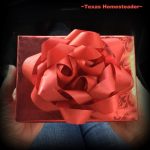 Low-Waste Gift Wrapping & Presentation

C'mon by & sit a spell! Come hang out at our Facebook Page . It's like sitting in a front porch rocker with a glass of cold iced tea. There are lots of good folks sharing! And you can also follow along on Pinterest, Instagram & Twitter
If you'd like to receive an email when a new blog post goes live,
subscribe to our Blog!
Save
Save