by Texas Homesteader ~
*contains affiliate link
As y'all already know, RancherMan & I wanted a personalized Ranch-Themed Cornhole game for our annual family reunion (ie: RanchFest) that we host each year. We bought the materials and RancherMan got busy building the customized ranch-themed cornhole game.
Although we could have simply *purchased the bags to go with the game, I wanted to make the cornhole bags myself using my stash of denim scraps from RancherMan's ripped jeans. Luckily it was super easy even for a novice seamstress like myself. (hummm… I don't think I can call myself a seamstress, even a NOVICE one!)
But if I can do it, ANYONE can! Come see how easy it is to whip up these cornhole bags yourself.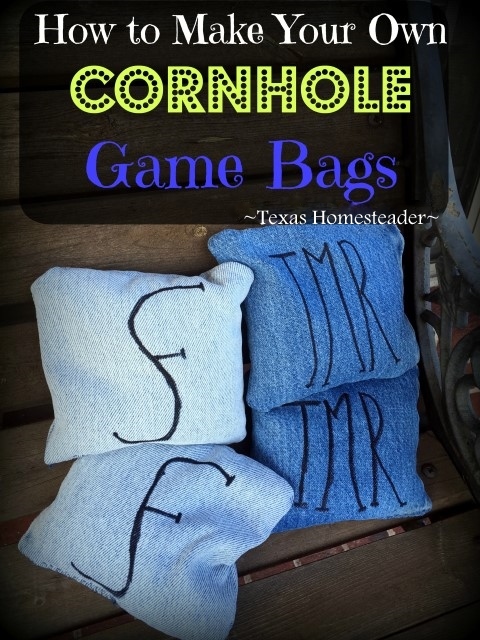 Finding Sturdy Material
Of course the denim material in RancherMan's jeans is a nice sturdy material for my cornhole bags. And I love everything denim.
I'd already scavenged the back pockets of these ripped jeans to make a fresh supply of no-sew denim coasters. But the jean leg sections would be perfect for making my cornhole bags! You'd better believe where denim is involved I can be a repurposing queen. I love denim!
I wanted a 5 1/2″ x 5 1/2″ finished size so I smoothed out the fabric of RancherMan's old jeans and measured eight 6 " squares out of the legs and marked them with pencil. Then I used straight pins to hold the squares together as I cut them out.
I decided to use two different colors of denim to make it easier to see the different team's play so I cut out 4 squares of dark denim and 4 squares of faded denim. (*See note below about faded denim strength)
When I was cutting the fabric squares I left the one seam of the jean leg intact so I'd only need to sew 3 seams to complete the bag. Oh yeah, I'm lazy errr I mean EFFICIENT like that!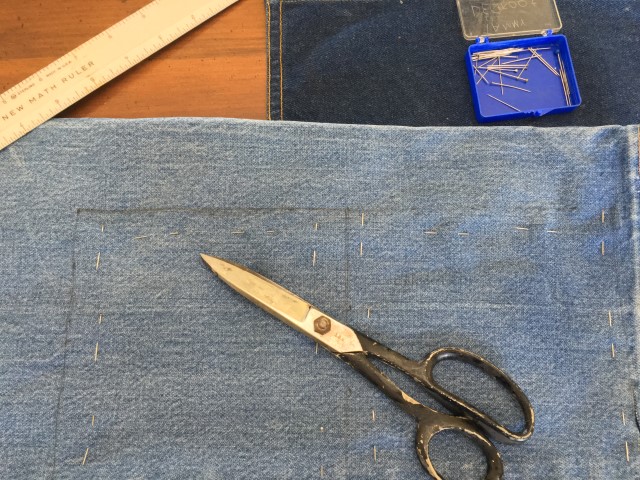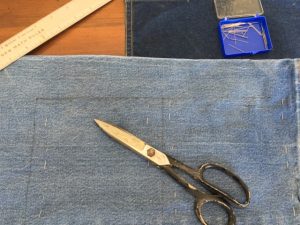 Sewing The Cornhole Bag Squares
When all my squares had been cut out I turned the denim wrong-side out and sewed an approximately 1/4″ seam around 3 1/2 sides, leaving a small 2-3″ final section unsewed.
I used a butter knife to turn the bags right-side out again through that unsewed portion. Now that small unsewn section will be used to fill the bags with corn.
Custom Decorating Your Cornhole Bags
Now my bags are ready to fill, but first I wanted to decorate them. So I laid each bag out flat and used a permanent sharpie marker to boldly draw two different designs on our denim bags. Oh yeah, I like it!
Filling The Cornhole Bags
Now all that's left to do is fill the bags with corn & finish sewing 'em shut! I suppose you could use dried beans or maybe rice. But traditionally these bags are filled with deer corn.
We had already purchased a bag of deer corn, so using a digital scale we measured out 16 ounces (about a pound) of corn for each bag. Then using a funnel we poured the measured corn into each bag and used a strong clip to hold each one closed until I could sew tightly closed the final section of each bag.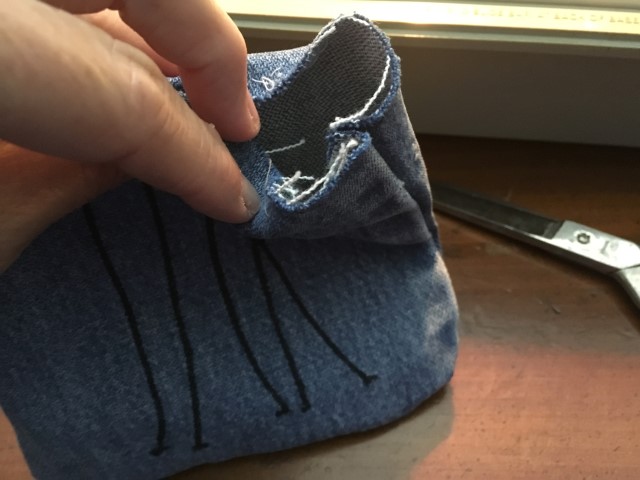 Even though we purchased a 50-lb bag of corn, we only used 8 lbs for our cornhole bags. I'm guessing that all that leftover corn will go into RancherMan's game feeder this fall.
Hummm… d'ya think he purposely planned that?? LOL
Finishing Up The Cornhole Bags
Now that the bags have all been filled, all that's left to do to finish them up is to sew shut the hole I'd left for filling them. I'll hand-stitch the last 3″ section of each bag shut but I wanted to double-stitch it to make sure it would hold strong.
So I folded the seam in to match the rest of the bag that had already been sewn and hand-stitched a simple but tight running stitch first along the length of the opening to sew the two sides together. Then I went back over it with tight looping stitches to make sure the bags were tightly sewn and could withstand the rigors of tossing.
Oh yeah baby, you'd better believe my family can get cut-throat when we're competing with each other!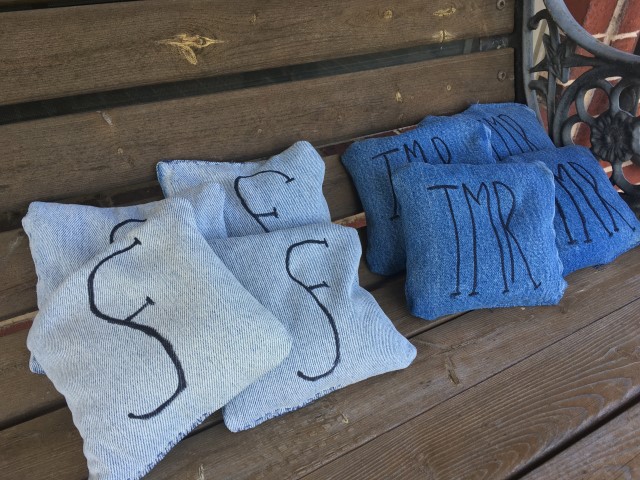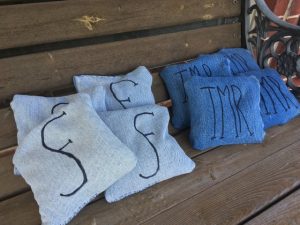 So there you have it! Making our own custom cornhole bags was an easy project that cost us nothing more than a little corn!
Although we used these bags for our customized cornhole game, you could use them for any game that requires tossing a beanbag. I'd think they would be great to have on hand for kids parties for them to use with their own games!
UPDATE: The faded denim material was not near as sturdy as RancherMan's Wrangler jean denim and we had some cornhole bag failures with those faded ones. I'll replace them with RancherMan's jean material, but turn the fabric inside out to achieve the different color… I also took a reader's advice and although I still double-stitched the edges of each bag, the first stitch was straight and the second was zigzag right over the straight stitch. Hopefully that solves the problem!
~TxH~
Links Included In This Post:
Wanna See Other Repurposed Denim Crafts?
Easy Beginner's Crafts & Projects We Love
…And Much More


C'mon by & sit a spell! Come hang out at our Facebook Page. It's like sitting in a front porch rocker with a glass of cold iced tea – lots of good folks sharing! You can also follow along on

Pinterest

, Twitter or

Instagram

.
If you'd like to receive an email each time a new blog post goes live it's EASY to


Subscribe to our blog

!
*Walmart affiliate link
Save
Save
Save
Save
Save
Save
Save
Save
Save