by Texas Homesteader ~
*contains affiliate link
WHEW – the temps have really heated UP here in NE Texas! As it typically does during our summer months, the forecast has lots of 3-digit temps promised and no rain for weeks on end. I'm doing what I can to keep everything watered, I'm using a *terra cotta stake using a repurposed water bottle to keep the porch planters watered, my rain barrel is so far keeping the back yard trees watered, but a mishap involving my cistern hose splitting and draining the entire rainwater content of our 18-ft underground cistern means I may have to amend my strict 'no potable water on the ground' rule. So far other than the whole rainwater thing, the garden's growing GREAT – come check it out!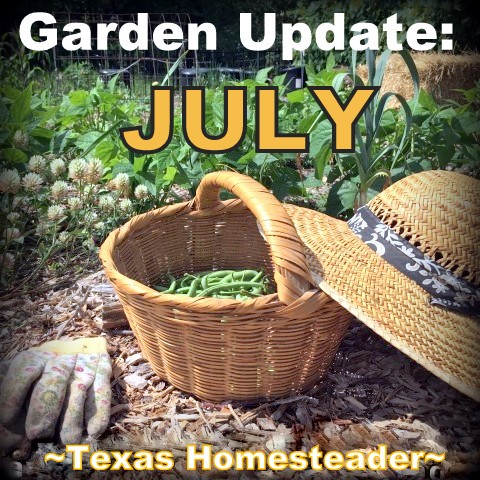 No Bermuda Grass Struggles – Hooray!
You know we changed up the garden this year and I've mulched heavily around the garden to keep the Bermuda grass at bay. so far I've been successful, it's the first year EVER I haven't spent more time digging/pulling/killing grass than actual gardening! I need a few non-breezy days though to spray my homemade grass killer at the garden fence to make sure the runners making a run for it don't successfully get in the garden. Breeze or no breeze, that will happen soon I promise you – I can't take the chance that the grass will get in!
Eating From The Garden Daily
Other than that – LOOKIE! I'm harvesting from the garden every day – tomatoes, zucchini, summer squash, cucumbers, green beans, spaghetti squash may come into the kitchen on any given day. Love it!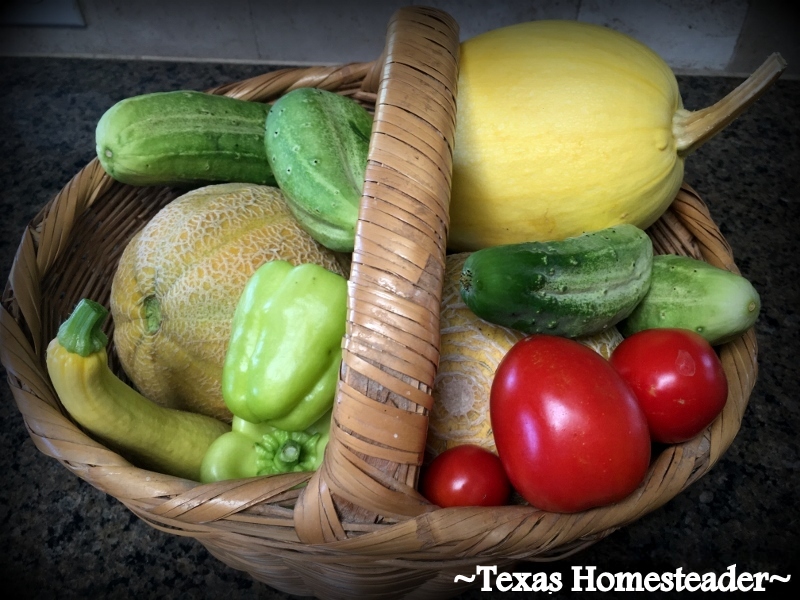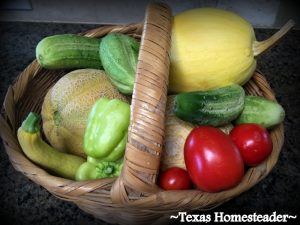 3 Sisters Garden
Soon I'll be harvesting the corn, but I'll leave the stalks behind since they are part of my 3-Sisters garden I plant every year – Corn to grow tall, squash (in my case pumpkin) to cover the ground to act as a living mulch & conserve moisture as well as moderate soil temps, and vining green beans to grow up the corn stalks for support as well as add nitrogen back to the soil for both the pumpkin and corn. All plants complimenting and helping the others – how symbiotic!
My summer squash is producing like crazy! I'm planning on doing a few things to preserve it – I'll cube & lightly cook, then dehydrate the squash to be dropped into my endless soup (yes, I enjoy endless soup for my lunches even in the summer time – it's a great way to use up garden excess and get even more healthy veggies in my diet too!)
Making Pickles!
I'm picking my heirloom pickler cucumbers every day as well. there's not enough quantity to fire up the canner so I'm making these crisp little gems into refrigerator pickles. I'm using the *Mrs. Wages mix to make the dill pickles but experimenting with a more homemade sweet pickle recipe I'll be sure to share soon. RancherMan loves 'em all!
My tomato bushes are loaded down. I've picked a few ripe tomatoes but they're just about to explode into full production. I purchased an heirloom tomato plant thinking I wouldn't get any of my seedlings to take off this year (and I was right) and I also bought a hybrid paste tomato plant. I'm not impressed with the taste & texture of the hybrid paste tomato but DANG those heirloom slicing tomatoes are delicious – I'll for sure be saving seed and implementing them into the garden next year.
My spaghetti squash vine has about done its thing, but there are several large spaghetti squash ready for me to harvest. I'm usually able to store spaghetti squash for several months due to its thick, tough rind but I'm wondering if I can cook some up & dehydrate some for my endless soup. I'd love to be able to drop the dried squash spaghetti into my endless soup as well! I may just try this with a couple of my spaghetti squash, I'll let ya know how it comes out.
I've located a few tiny watermelon on the vine too. I haven't grown watermelon in years so I'm pretty excited about these! They look like they will be smaller melons and that's perfect since there are only two of us here at the ranch.
The bell peppers haven't grown this well for me in years but this year they're doing great. I planted red, yellow and green bells and they are all growing beautifully. I'll chop & freeze some of the large harvest for cooking and I'll dehydrate bell peppers as well for the pantry. Nothing goes to waste!
Volunteers In The Garden
These volunteer cantaloupe vines are going crazy! They sprouted up after I'd planted the garden and of course I allowed them to grow for two reasons: 1) The vines cover the ground to conserve water as well as keeping the ground cool during the hot summer months just like the 3 sisters garden squash does, and 2) You know, fresh CANTALOUPE! I've already harvested one of the smaller ones and thoroughly enjoyed its sweetness. But there are at least a dozen more and some of them are huge!
The concord grape vine is growing great, but I'm noticing that some of the grapes are starting to dry & fall off. I'm keeping them watered so I'm not sure if it's the heat or what, but I'm hoping to get in a harvest of grapes again this year. Last year they were absolutely delicious and this year I was hoping to make grape jelly from them.
The sunflowers have finished blooming and are in the process of making huge heads of sunflower seeds. I originally planted these sunflowers purposely on the west side of the fence that separates the chicken pen from the garden. They were planted there to help shade the chicken run and it's worked great for that purpose as well as bringing beauty (and BEES) to the garden. Now that they're done the sunflower seeds will go to the chickens as well.
Edible Landscape
And in the edible landscape bed by the front porch, my zucchini is beautiful and providing plenty of zucchini for us to steam and enjoy as a side dish with our suppers. I'm thinking of dehydrating some these as well for my soups. I'm also wondering about the *Veggetti to make them into zucchini spaghetti (zoodles). I've made zoodles into matchsticks using my mandolin but I'd really like to try the longer spaghetti-type strands as well. I've ordered one of these Vegetti devices since they're so inexpensive, I'll let ya know how well it works as soon as it comes in!
So there you have it! Other than the heat/dry/watering thing my garden is doing better this year than any year in recent memory. Gotta love it! How's your garden growing?
~TxH~


C'mon by & sit a spell! Come hang out at our Facebook Page. It's like sitting in a front porch rocker with a glass of cold iced tea – lots of good folks sharing! You can also follow along on Pinterest, Twitter or Instagram.
If you'd like to receive an email each time a new blog post goes live it's EASY to Subscribe to our blog!
Save
Save
Save
Save