by Texas Homesteader
*affiliate link
This time of year many gardeners that are absolutely sick of zucchini. They've already eaten as much steamed zucchini side dishes and made it into every casserole they can think of. They've passed much of their zucchini overload on to friends, family and even complete strangers (why can I never run into these gardeners??! LOL)
I've heard about using zucchini for low-carb noodles and I was intrigued. Although RancherMan & I don't specifically strive to eat low-carb, I do try alternatives when I can find a tasty one and we both love zucchini anyway so… Check it out!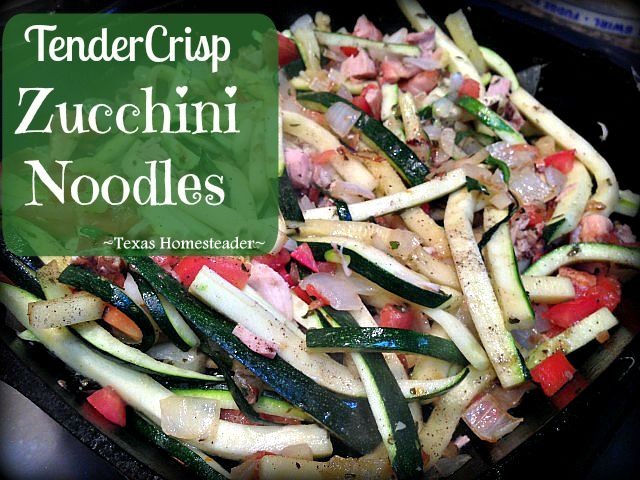 (Note: Some links in this post are for further information from earlier posts I've written. But links preceded with * are affiliate links. If you click them and buy something (almost anything, not just the item noted) I could receive a small purchase. But the price you pay will NOT change. It's an easy way to support this blog without anything coming out of your pocket. So click often! Thank you!)
Many of the how-to's I read said that you'll want to peel your zucchini because sometimes the peel can make your zucchini noodles (or "Zoodles") somewhat bitter.
But I like both the color as well as the nutritional boost of using the entire zuke. So if the zucchini is young and tender I don't bother peeling it & it always turns out just fine.
Recently we had a tiny bit of leftover chicken. So I bought a small zucchini, an onion and a single roma tomato to see what healthy veggie-heavy dish I could come up with.
Zucchini Noodle Thickness
First I brought out my grandmother's cast-iron skillet, pulled a couple of my homemade Olive Oil Herb-Bombs from the freezer and dropped them into the skillet with chopped onion and minced garlic and allowed it to cook while my attention turned to that zucchini. I washed it & trimmed the ends.
Then I brought out my *mandoline. Now I've had a mandoline for years and I often use it when I'm dehydrating veggies to get them all uniformly sliced. But I'd never really used the julienne blades before.
Mine has two julienne sizes, a tiny matchstick size and a thicker one that makes a more square cut. I've tried the zucchini noodles both ways and I really like the thicker slices better.
I guess if you're wanting them to actually LOOK more like noodles and with the same cooked consistency perhaps it would be good to peel the zucchini and use the smaller blades. But I much prefer a tender-crisp texture.
So I set up my mandoline and in no time my zucchini strips were ready to go in the skillet. I added the julienned zucchini to the translucently-cooked onion/garlic, gave a quick stir and put the lid on to allow the zucchini to cook to a tender-crisp consistency.
Adding Leftover Meat
In the meantime I took out that leftover chicken and removed it from the bone and chopped it up. I sprinkled the cold cubed meat on top of my zucchini noodles as they were cooking. I didn't want the meat cooked more I just wanted it heated through.
And I also chopped and added my tomato so that the tomato pieces would soften a bit. But they would probably still be delicious if I just topped my finished dish with the raw chopped tomatoes after it was all said and done.
Now different people like different textures for their food. But I always hate when I'm served steamed veggies and the chef has "killed" the poor limp over-cooked thing. So I don't like my zucchini noodles to be too soft. I like a subtle bite left in the zucchini.
So with my zucchini noodles already in the cooking process I allow the meat to warm a bit in the skillet, then with a final quick stir I pull the skillet off the heat. This means my main dish is ready in a flash! We loved it, and there's enough leftover for tomorrow's lunch too.
So, next time the zucchini in your garden is going crazy and you want something different to do with it, try making zucchini noodles. It's a deliciously different way to use that healthy garden produce!
~TxH~
Other Side Dishes We Love
…and MANY MORE!


C'mon by & sit a spell! Come hang out at our

Facebook Page

. It's like sitting in a front porch rocker with a glass of cold iced tea – lots of good folks sharing!
To receive an email when a new blog post goes live it's EASY to
Subscribe to our blog!
*Amazon affiliate link
Save
Save