by Texas Homesteader ~
Rice is cheap and makes a delicious side dish. Buttered rice with fresh sage is inexpensive and easy to prepare, yet it tastes fancy. And I often add a few chopped carrots to add a nice color.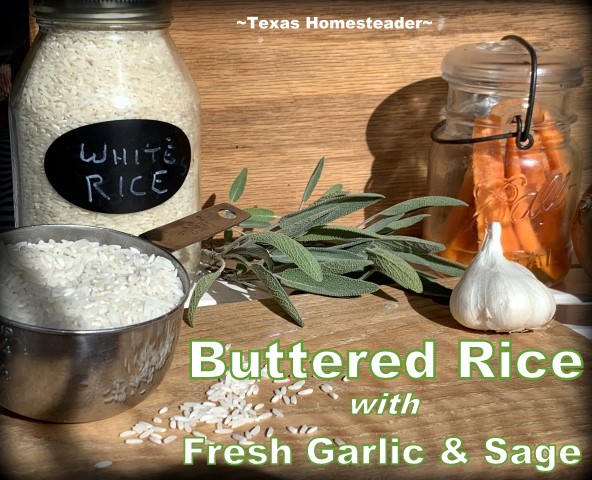 Family Supper Gathering
When we invite my folks to supper, RancherMan often tosses some meat on the grill and I'm left to make a couple of sides and a dessert.
The sides can be as simple as opening up a couple of cans of veggies. Or I sometimes I Roast Fresh Vegetables (mom's fave).
But buttered rice with fresh sage is an easy yet delicious side option too. And it comes together so quickly.
Rice is cheap, y'all. So it's a staple in our pantry.
What Makes Rice Sticky?
Rice turns out sticky if you don't first rinse out the excess starches. So if you want light fluffy rice, be sure to rinse it thoroughly until water runs clear before you cook it.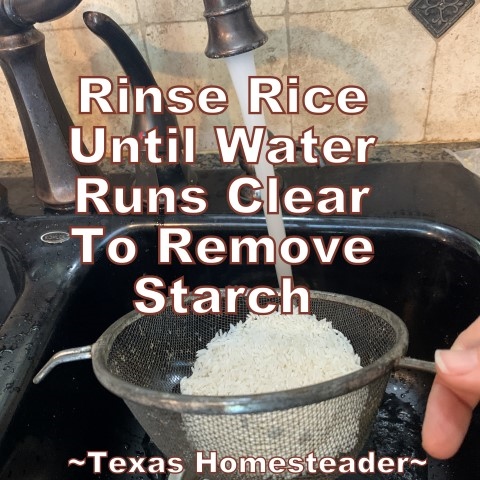 When I'm making rice I measure out a cup of rice and put it in a strainer. Then I run clear water through it to rinse off the excess starch.
Easy Buttered Sage Rice Recipe
It's super easy to make this buttered sage rice with just a few simple ingredients.
1 Cup rice – thoroughly rinsed until water runs clear
(Optional – a handful of thinly-sliced carrots for color)
1 Tablespoon butter
1 Minced garlic clove
1/4 Cup finely chopped fresh sage
Preparing Fluffy Garlic Sage Rice
First I rinse the rice in a strainer until the water runs clear. Then add the rinsed rice to the pot and add my broth.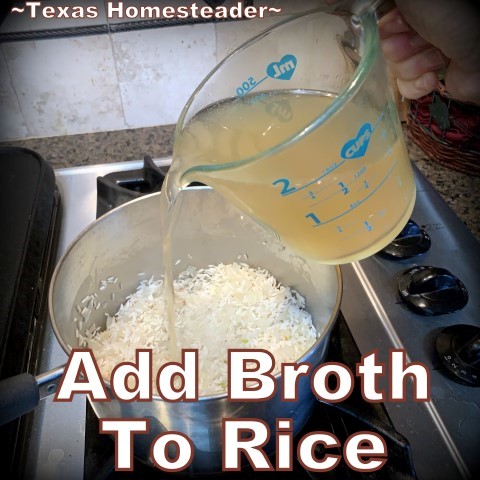 At this point I like to add a handful of chopped carrots. I just like the look of them in my rice. Then I put the lid on the pot and bring the broth to a simmer.
I simmer my rice for about 15-18 minutes. I just want the liquid gone before I turn off the heat. (Sometimes the liquid cooks into the rice quicker than anticipated so I keep an eye on it.)
After the liquid has been cooked into the rice I turn off the heat and leave the pan covered on the stove while I turn my attention to the fresh sage.
Preparing The Garlic & Sage
While the rice is steaming, I sauté some garlic in a little butter. Then I'll finely chop some fresh sage & sauté for about 2 minutes more.
I want the sage to be soft and nicely fragrant but I'm not trying to cook it here.
Now I simply scrape all that buttery goodness into my pot of cooked rice and give it all a fluff with a fork to incorporate it. Aaaaahhhhhh….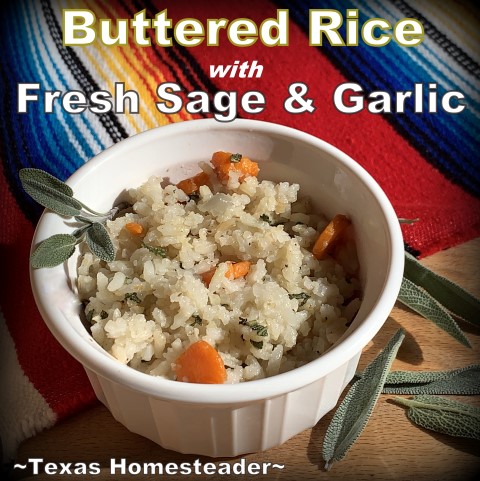 My Streamlined Garlic Sage Rice Shortcuts
Y'all know when it comes to cooking, I'm always up for a Cooking Shortcut, right?
So more often than not my buttered sage rice dish preparation looks more like this:
In my saucepan I sauté minced garlic in butter until it's translucent.
Then I add my rinsed & drained rice and give it all a stir to coat the rice. At this time I'll toss in my finely chopped fresh sage & if I'm using them, chopped carrots as well.
Top it all off with 2 cups of my homemade broth, add 1/2 teaspoon of salt & give it all a stir. Then I'll put on the lid and simmer the rice until the liquid is gone. (about 15-18 minutes)
This shortcut puts all the ingredients into my pan at one time. When the rice is done I might add a pat of butter for even more buttery goodness, fluff the rice with a fork and serve.
Shortcuts my friends. Always about cooking shortcuts with me. The rice still turns out delicious with less fuss.
Work smarter, not harder as I always say!
Other Rice Recipes
It's fun to change up the flavor of your rice to go with the meal. So I have a few other favorite ways to serve rice as well:
I'll often cook up a Batch Of Rice in my Instant Pot. Then I can use rice to flavor as a rice side dish, make Chicken Fried Rice or add it to my Endless Soup pot to stretch that homemade goodness even further.
Can You Freeze Leftover Rice?
I've found leftover rice freezes beautifully. I section out the leftover rice into small freezer bags. That means I'll be able to pull it out and enjoy it with another meal next week.
Did you make this Garlic Sage Rice? Please rate the recipe in your comment below!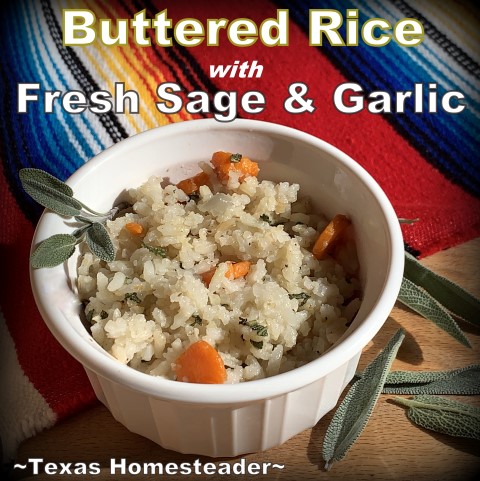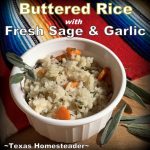 Buttered Rice with Garlic & Fresh Sage
Ingredients
Ingredients
1

cup

uncooked long-grain rice,

rinsed until water runs clear

2

cups

broth

(My homemade broth is unsalted)

1/2

teaspoon

salt

1

Tablespoon

butter

1

garlic clove,

minced

1/4

cup

fresh sage,

finely chopped
Instructions
Instructions:
Measure rice & rinse under running water until water runs clear.

Bring broth and salt to a boil in a large saucepan, then add rice.

Cover, reduce heat and simmer 15-18 minutes or until rice is tender and liquid is absorbed. Then remove from heat and let stand covered for 5 minutes.

While rice stands, melt butter in a small skillet over medium heat. Add garlic & chopped fresh sage. Sauté 2 minutes or until garlic is softened, fragrant & garlic is golden.

Add buttered garlic mixture to rice, toss well & serve.
Recipe Notes
Options:
Finely chopped or shredded carrot can be added with the rice while cooking to add color.
Finely chopped onion sautéed along with the garlic is a nice addition.
~TxH~
This post categorized in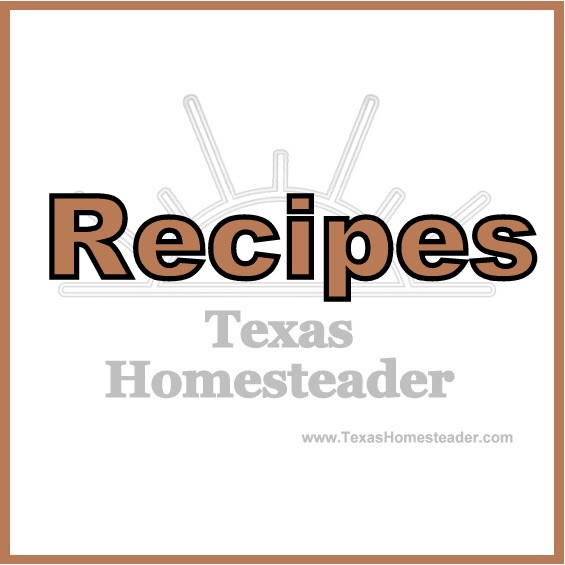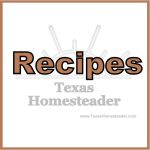 Links In This Post
Other Side Dishes We Love
…and MANY MORE!


C'mon by & sit a spell! Come hang out at our Facebook Page. It's like sitting in a front porch rocker with a glass of cold iced tea – lots of good folks sharing!
You can also follow along on Pinterest, Twitter or Instagram.
To receive an email when a new blog post goes live it's EASY to
Subscribe to our blog!