by Texas Homesteader ~
Rice is an inexpensive pantry staple here. So I prepare it as a side with our meals often. Today I'm sharing a few of my favorite (yet super EASY) rice flavors to serve.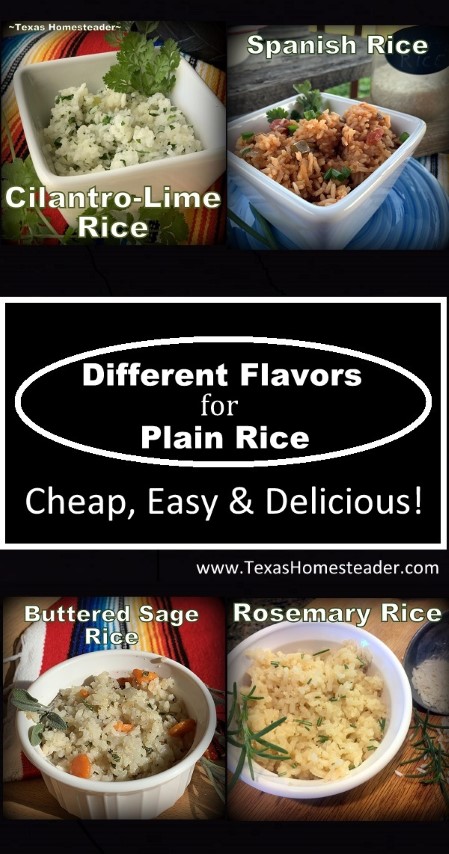 The beautiful thing about rice is that it's easy to mix up the seasonings for completely different rice flavors.
I'll serve rice often as a side dish, whether we're enjoying Mexican dishes or grilled chicken. It's very versatile and easy to change up the rice flavors to pair with whatever meal you're enjoying on any given night.
Basic Rice-Cooking Directions
Conventional wisdom for cooking rice is simple: Measure & rinse rice until water runs clear. Add 1 part rice, 2 parts water or broth to a pot.
Cover & simmer 20 minutes. Remove from heat, fluff with a fork and serve.
Sounds simple enough, right?
But DANG if I follow those directions my rice is always over-cooked and mushy. I'm really not sure what the difference is. Maybe the strength of the gas burners on my stove. Maybe the minerals that are in my water. I have no idea!
But if you experience the same rice-cooking frustrations, I'll share how I do it differently for deliciously-cooked rice every time.
My Different Rice-Cooking Method
Instead of traditional rice-cooking wisdom, my rice-cooking procedure typically looks like this:
Measure & rinse rice until water runs clear.
Add 1 part rice, 2 parts Homemade Broth to a pot.
Cover & simmer for 10 minutes
Then turn off heat, leaving pan covered.
Allow rice to steam in covered pan to soak up remaining broth for the final 10 minutes.
Remove lid, fluff rice with a fork and serve.
This always results in tender rice, not a mushy, overcooked pile of goop.
Whichever way you prepare your rice, I think we can all agree that cooking rice is easy. But how to change up the rice flavors to go with different dishes?
Well I'm able to make a rice side dish to go with whatever I'm serving. It's easy, it's inexpensive and it's always delicious.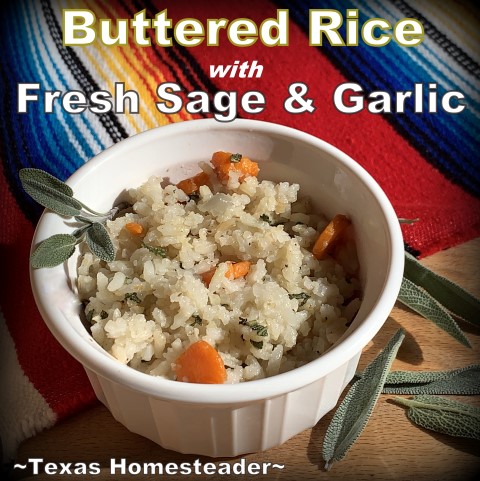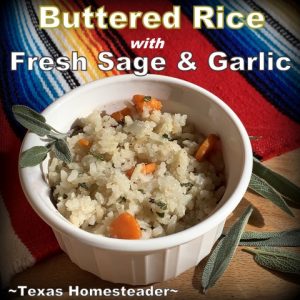 Buttered Rice with Garlic & Fresh Sage – This is RancherMan's favorite. It goes well with
After the plain rice is cooked I sauté minced garlic & fresh chopped sage with butter until tender.
Then I add this buttery, sagey, garlicy goodness to the rice & fluff with a fork.
~ ~ ~ ~ ~ ~ ~ ~ ~ ~ ~ ~ ~ ~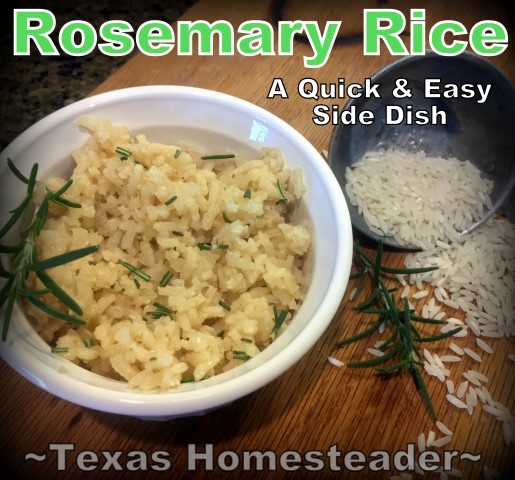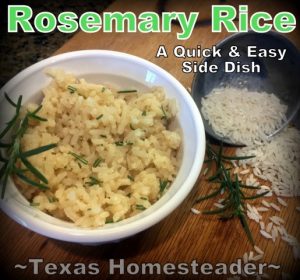 Fresh Rosemary Rice – This dish goes best with
I often serve this side when we have company for supper.
It's easy, I just add 2 teaspoons minced fresh rosemary when I add the broth to cook the rice. This assures the rosemary is soft when the rice is served.
~ ~ ~ ~ ~ ~ ~ ~ ~ ~ ~ ~ ~ ~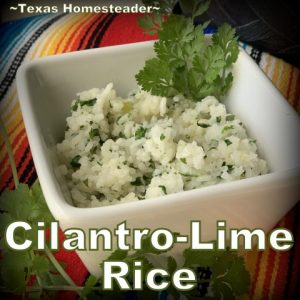 Cilantro Lime Rice – I enjoy making this with any of our Mexican-themed dishes.
Since we eat south-of-the-border themed meals often, this is one of my favorites.
I typically focus on cilantro rice in the earlier spring months when the fresh cilantro is abundant in the garden. You know I hate for it to go to waste!
And I often buy limes when they're on sale and toss them in the freezer. This way it's easy to thaw and zest.
And I use a Vintage Juicer to get the lime juice required in the recipe. No plastic trash made!
~ ~ ~ ~ ~ ~ ~ ~ ~ ~ ~ ~ ~ ~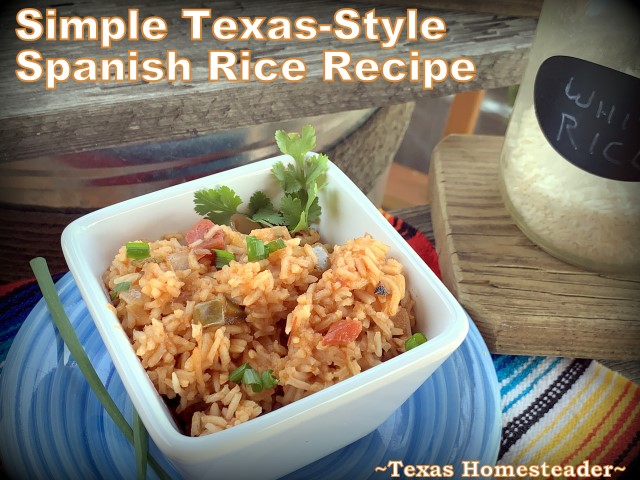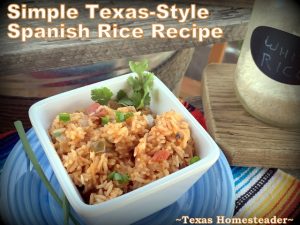 Spanish Rice – When my cilantro isn't producing in the garden but I need a Tex-Mex side, I'll often make Spanish rice instead to go with:
I cook the rice by using 1 part rice, 2 parts broth and 1 part chunky salsa.
Sometimes I'll sauté aromatics like chopped onion & minced garlic before adding the rice, broth & salsa. Sometimes not. I mean, the salsa already has those things in the ingredients. So either way I'm good to go.
Yep, I'm a shoot-from-the-hip cook that way.
But RancherMan always raves when I make Spanish rice.
~ ~ ~ ~ ~ ~ ~ ~ ~ ~ ~ ~ ~ ~
Dishes That Require Leftover Rice
I find it helpful to have cooked rice at my disposal. And remember, rice freezes beautifully. So go ahead and make lots while you're at it.
Section leftovers into serving sizes and freeze it for another quick & easy meal later.
Stuffed Bell Peppers – Having rice already cooked beforehand is a real time saver when I'm making my Stuffed Peppers.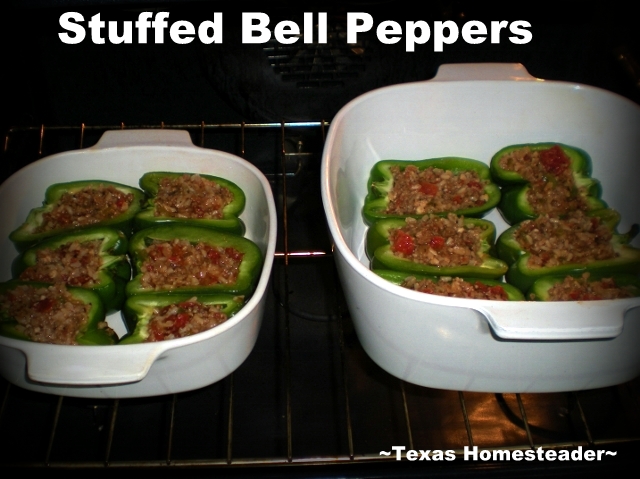 Endless Soup – If there's not much rice leftover I'll just put it to good use by adding it to whatever soup we may be enjoying for lunch. It makes for a less brothy soup (which RancherMan prefers) and adds flavor & nutrition as well. No food goes to waste in my kitchen.
Chicken Fried Rice – Another favorite way to use up leftover rice is by making Chicken Fried Rice. This dish uses both leftover rice as well as leftover chicken. And it makes a LOT.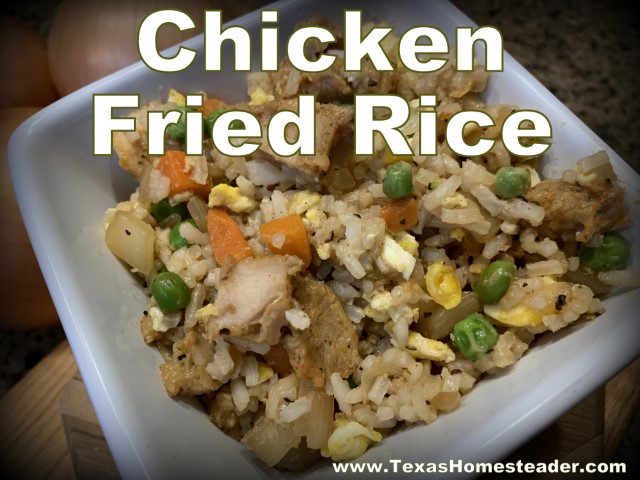 Rice is such an inexpensive yet versatile pantry staple. We always have rice in the pantry. So it's on our menu often! Thankfully there are many rice flavors from which to choose.
~TxH~
This post categorized in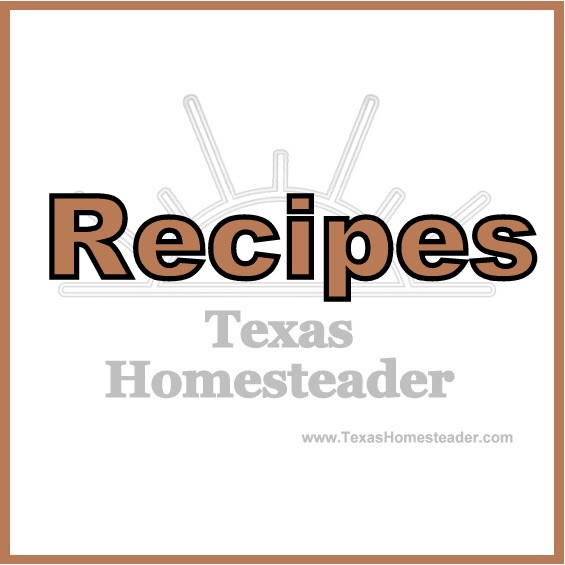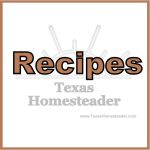 Other Side Dishes We Love
…and MANY MORE!


C'mon by & sit a spell! Come hang out at our Facebook Page. It's like sitting in a front porch rocker with a glass of cold iced tea – lots of good folks sharing!
You can also follow along on Pinterest, Twitter or Instagram.
To receive an email when a new blog post goes live it's EASY to
Subscribe to our blog!