by Texas Homesteader~
Whew! The weather's changing in Texas. One day it's cold, blustery & rainy, the next we have gorgeous blue skies, sunshine and temps in the 70's! How's the weather where you are?
Today I'm sharing 5 Frugal Things we did this week to save money. It's easy to do and there's been no sacrifice at all.
Looking for inspiration to save a few dollars too? Well check this out.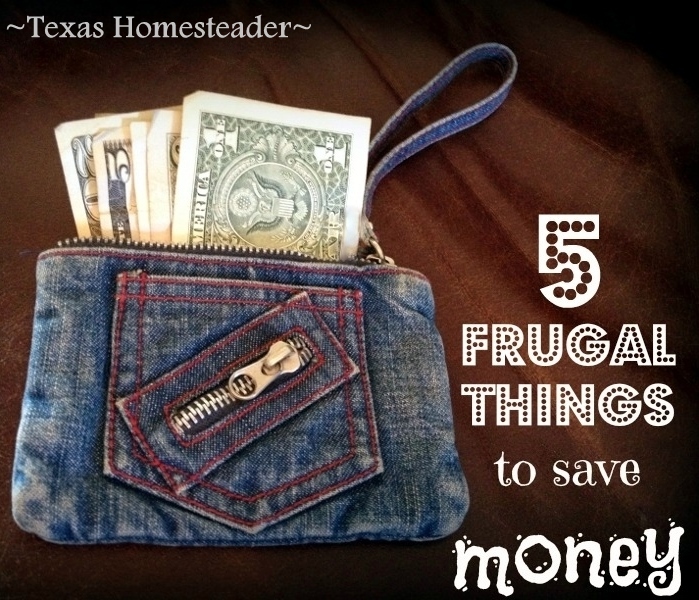 (Note: Some links in this post are for further information from earlier posts I've written. But links preceded with * are affiliate links. If you click them and buy something (almost anything, not just the item noted) I could receive a small purchase. But the price you pay will NOT change. It's an easy way to support this blog without anything coming out of your pocket. So click often! Thank you!)
1. Appliance Repair
We have a crappy built-in microwave. When it finally dies for good we'll certainly buy another brand. But in the meantime, RancherMan's been able to keep it running to delay that purchase.
You see, the door switch can go bad on the microwave. But RancherMan's been able to research the problem, buy replacement switches and easily install them.
The total cost for 3 switches was only $10. RancherMan's diligence in keeping things repaired at the Homestead is one huge way we're able to keep our expenses low enough that we don't have to resort to corporate offsite employment to make ends meet.
The moral of the story is this – if something needs repairing, don't automatically assume it needs to be thrown away & replaced. Or even that it must be repaired by a repairman.
RancherMan's mindset is this: "It's already broken, I can't make it any worse. If I fail, it's still broken. If I succeed I'm able to repair for a reasonable cost".
I love that mindset. Both from a financial standpoint as well as an environmental one. Our microwave is now good to go for the foreseeable future.
2. Keeping Warm
Now that the weather's turning colder it's easy to just bump up the heater and keep it warm in the house.
But I'm not one of those people who can be comfortable in cold temps. And I'm also not someone who's willing to be cold & uncomfortable for the sake of not paying an electric bill.
BUT, there are many ways I'm able to stay comfy cozy for cheap.
Dress For The Weather – Yes, the heater is turned up some, but I'm also dressing the part of fall. No longer in lightweight fabrics, I'm sporting heavier, warming fabrics these days.
Utilize The Fireplace – RancherMan's got our wood rack filled with wood. When a chill hits the air I ask him to build a fire. It's super easy for him with my Repurposed Fire Starters. In no time a roaring fire is going in our antique Franklin stove. Aaaaaahhhh…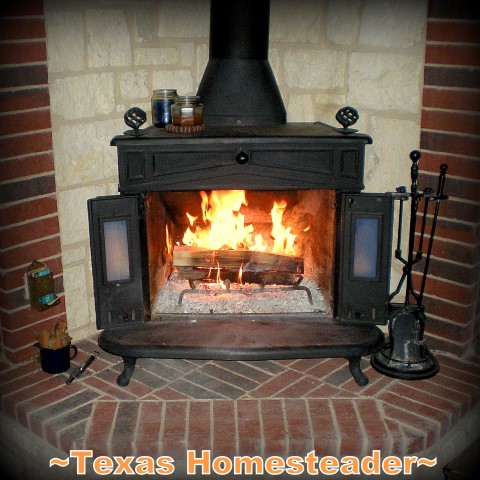 Warmth From The Inside Out – There are other ways for staying warm too.
For instance, when it's cold outside I enjoy sipping on a hot beverage to warm me from the inside out. Whether coffee, Hot Cocoa, hot tea or Chai Tea.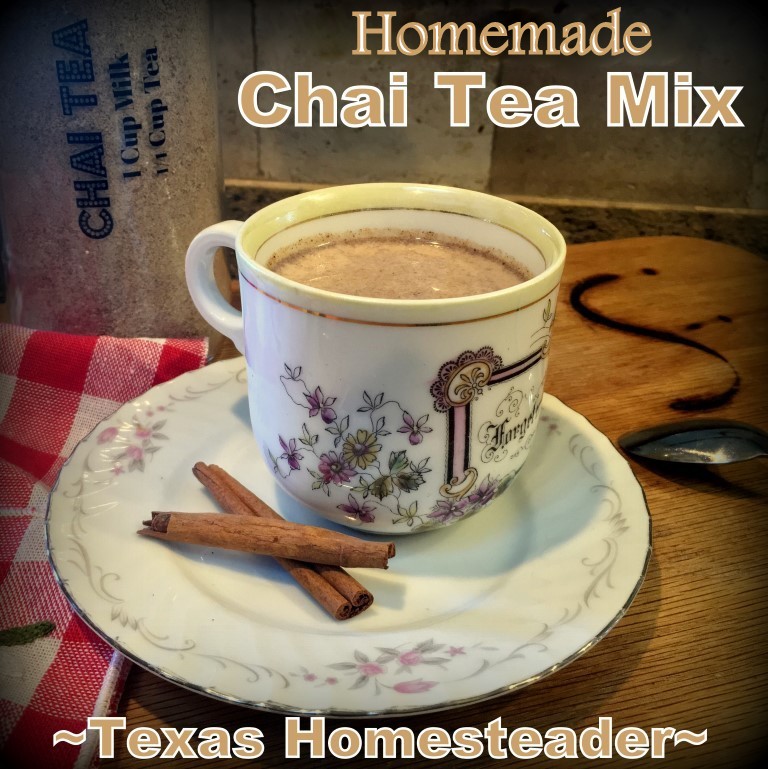 Using The Oven – During the hot & humid summer months I didn't want to fire up the oven to make my Homemade Pumpkin Granola. But now that it's chilly outside, using the oven adds some warmth (and a delightful aroma) to our home. NOW'S the time to make plenty of granola!
Staying Warmer Outside – What about going outside? Since many of our chores are outside I'm looking for ways to stay warm outside too.
Microwavable Hand Warmers – I've made microwavable hand warmers using long-grained rice and essential oils tucked into a Repurposed Denim pouch. I use those handy warmers often and love them. I can microwave them before heading out and tuck them in my pockets. They radiate heat for about 20-30 minutes. Perfect for short chores outside.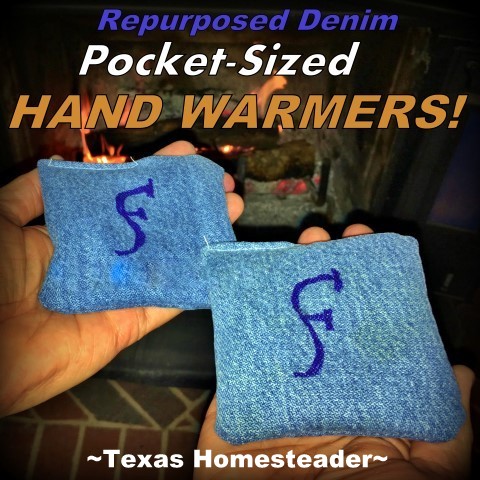 Disposable Hand Warmers – But sometimes I must be out in the cold for longer. I know that *Amazon Sells Disposable Hand Warmers that will stay warm 10-18 hours. While that would make working outside more comfortable on cold days, I hated the disposable aspect of them.
Refillable Hand Warmers – Wait, what's THIS?? I found this handy-dandy thing at an antique store recently. It's a refillable metal hand warmer that uses a catalyst to heat.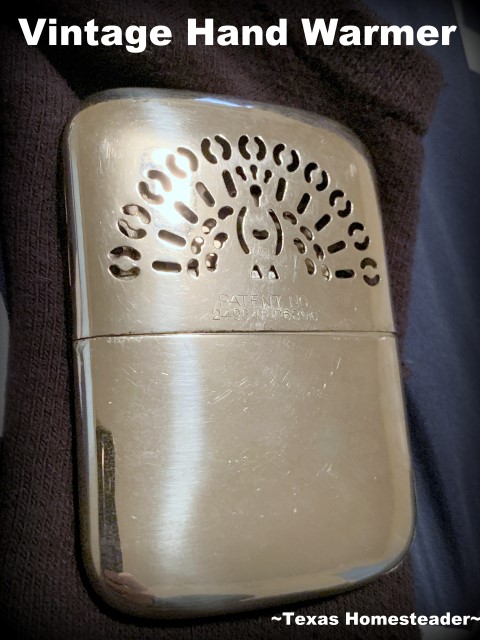 You simply add some lighter fluid and pass a lighter over the catalyst. There's no flame, but somehow it warms the hand warmer for several hours. The first time I tried mine it stayed warm for over 24 hours!
Upon seeing my fantastic antique store find, RancherMan immediately went online & bought a new one for himself to use when he's hunting. And my brother purchased several for Christmas gifts. (What a great gift idea!)
I found new *Refillable Hand Warmers On Amazon. They even make rechargeable *Battery Hand Warmers too, but I much prefer the refillable ones – I'd think there's not as much to break with them.
So now when I'm going to be outside in the cold for a few hours I simply fill, light & tuck this hand warmer into my pocket. Zero-waste warmth for hours!
3. Cheap, Filling Cold-Weather Meals
Now that it's turned colder I pulled some chicken bones from the freezer. Then I made two huge batches of Instant Pot Broth with those bones.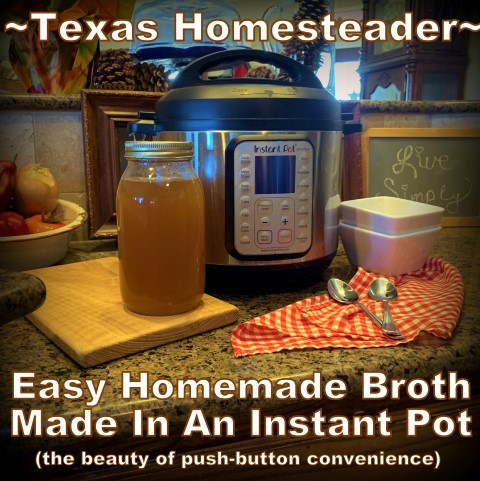 When the broth was cooled I skimmed the fat from the top. Now my homemade broth stands ready and waiting for winter time comfort foods. I'm able to feed us well for cheap.
We invited our daughter and my parents over to share a meal. I made Cowboy Beef, Black Bean & Dark Beer Chili using some of that homemade broth To make an inexpensive bone-warming meal that all loved I whipped up a batch of Jalapeno Cornbread too. I even made Single-Serve Apple Pies baked in canning jars for dessert.
Then I used more of that homemade broth when making our lunches. I had some carrots that needed to be used up and some Pre-Sautéed Onions in the freezer. So I used some of that broth, chopped the last of the carrots, tossed in a handful of sautéed onions, elbow macaroni and some garden herbs along with some leftover chicken to make a delicious chicken soup. RancherMan loved it and it was a hot, healthy meal that cost almost nothing. And there was enough leftover for lunch the next day too.
All week long I used that broth from the fridge. It fed us chili, homemade chicken noodle soup as well as other warming comfort-food meals.
4. Healthy, Inexpensive Snacks
RancherMan has a sweet tooth, y'all. He loves his sweets. I try to balance between presenting full-on sweets and offering healthier sweet options for him.
Sometimes when we're schnoodled on the couch watching tv at the end of the day, he gets a craving for a little something sweet. I've found that oftentimes dried fruit satisfies that sweet tooth craving for him. But, you know, it has to be grab-n-go convenient for it to actually be eaten.
So I dehydrated apples for him & placed them in a cute, vintage jar I found at an antique store. Then I placed the decorative jar on the table by our couch. When he gets to craving something sweet I can pass the jar to him. Healthy, delicious and CHEAP.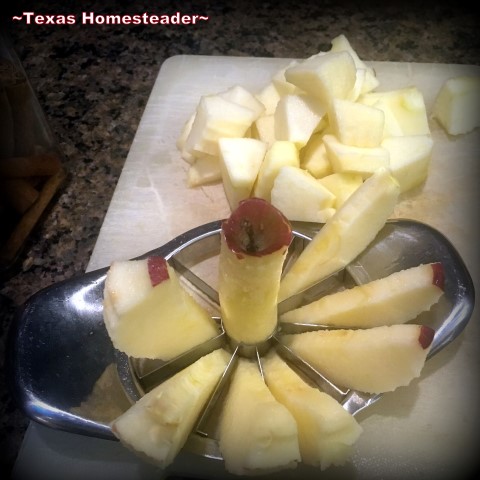 I dehydrate all manner of fruits in my *Excalibur Dehydrator. I like to load it up with various fruits and dehydrate trays of different kinds. I've dehydrated apples, plums, bananas and nectarines. He loves them all.
5. Selling Unused Items On Ebay
RancherMan has been listing items we no longer use on ebay. It's surprising what things are worth sometimes.
For instance, I have many flip-top bottles that I use for my homemade apple cider vinegar and such. But he found a ceramic flip-top bottle that wasn't being used. A quick search found that it was worth about $20.
He's been on the prowl for other things we no longer use. Anything that we're not using that others may be wanting, he lists it on ebay. We've been able to pad our bank account with various ebay sales. Unused items out of our house and into the hands of other who can use them, and money in our account? YES PLEASE!
I have a few things on My Online Store too. Ebay sales will never make us rich, but it makes my crunchy-green heart happy to make sure items we can no longer use are now being loved by others.
Everyday Frugality
That's a good start for my 5 frugal things. Although there were many other things as well. We Hang-dried our clean clothes washed with my Homemade Laundry Soap on the warmer sunshiny days. I love the smell of sunshine on my clean clothes, don't you??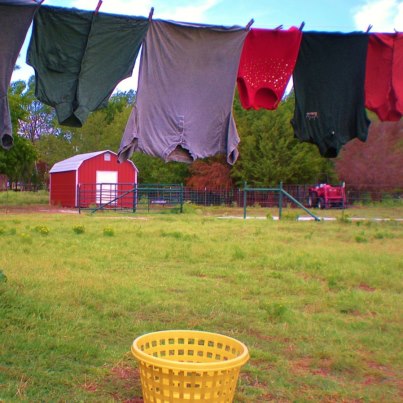 I also got a few free plants. I've mentioned how we live in the Botanical Hole of Death, plants are purchased and planted over & over again just to succumb within 18 months. So I hate to spend money on them.
My sweet SIL shared a start of her Mexican Petunia with me. It's gorgeous and I'm hopeful that next spring it will grow & bloom. If not, she's promised to give me another start of it to try again.
And I had a Crepe Myrtle tree seedling sprout in my garden, so I allowed it to grow this season in my raised bed. But now that the garden season is over I wondered if I could transplant it.
So I moved it from that large tub and planted it in our yard. Crepe Myrtle trees are very hearty so I'm pretty sure there will be new blooms on this sapling next spring. YEA, FREE TREE!
How was your week? Any tips on how you saved money this week?
~TxH~
~ ~ ~ ~ ~ ~ ~ ~ ~ ~ ~ ~ ~
Links In This Post
Other Frugal Tips
…and many MORE!


C'mon by & sit a spell! Come hang out at our Facebook Page. It's like sitting in a front porch rocker with a glass of cold iced tea. Lots of good folks sharing! You can also follow along on Pinterest, Twitter or Instagram.
If you'd like to receive an email each time a new blog post goes live it's EASY to
subscribe to our blog
Save