by Texas Homesteader ~

OK, I've made it no secret that we own a nice, newer, high-end CRAPPY refrigerator/freezer. It was exorbitantly expensive because we required a specific size to fit into our kitchen layout. Although it looks great and is labeled 'Energy Star' to conserve electricity, it's… well… it's crap!
One of the biggest deal-breaking problems with it is the ice maker. Although there are only two of us in this house on any given day, it can't keep up with our ice needs.
Now we work outside in the Texas heat all summer, ice is a necessity! Of course we could buy ice cube trays blah, blah, blah but instead I just make sure to reserve ice use for actually cooling our drinks.
But there are other times when I need to use ice in the kitchen. For instance, when I'm making homemade yogurt I need to cool the heated milk. Now I used to do that in a bowl filled with ice – what do I do now? Check out this Homestead Hack, y'all!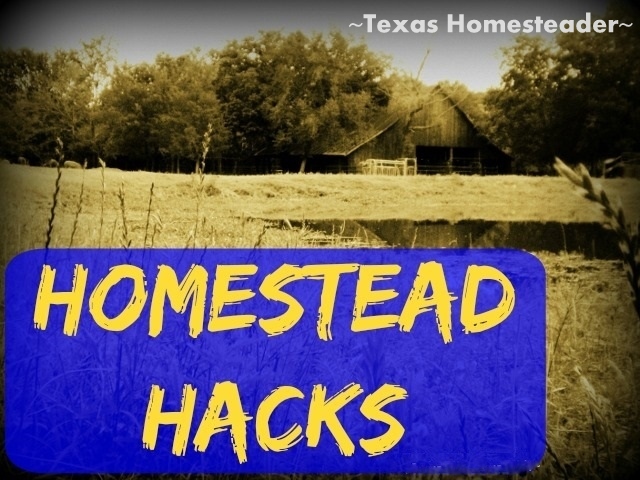 Crappy Ice-Maker – Secret Weapons
I have a few crappy-ice maker-secret-weapons: Frozen water bottles. Oh yeah, these babies do double duty for me.
Since a freezer is more efficient when it's full, these water bottles fill empty space in our chest freezer and keep it running with less electricity usage. But now they'll also be helping me cool my homemade yogurt.
After the milk has warmed I fill a large bowl with water and bring out my secret weapons, eh… frozen bottles. I stir them around in the water for a few seconds to get everything good & cold first. Then I set my pan of hot milk into the water, surrounded by the water bottles.
In no time my milk has cooled to the required 105 degrees and I can continue my recipe. SCORE!
And I've also used this same method when I'm cooling hard-boiled eggs – pour water in a large bowl / add frozen bottles & stir / add hot eggs and allow to cool.
After I'm done I simply remove the water bottles, dry them off & store them back in the chest freezer. And now the water remaining in the bowl is used to water the potted plants on the patio – nothing's wasted.
Y'all know my battle cry:
"Use Whatcha Got!"
~TxH~
Other Kitchen Hacks


C'mon by & sit a spell! Come hang out at our Facebook Page. It's like sitting in a front porch rocker with a glass of cold iced tea. There are lots of good folks sharing!
And you can also follow along on Pinterest, Twitter, Instagram
If you'd like to receive an email when a new blog post goes live,
subscribe to our Blog!
Save
Save
Save
Save
Save