by Texas Homesteader ~
I like to use homemade broth for my cooking.  Let's face it – no matter what you're cooking it's just more flavorful when it's made with broth instead of water.  And it's more nutritious too!  I make my own Chicken Broth from the bones of our chicken meals.  And I've also made Turkey Broth with the leftover turkey carcass after Thanksgiving.  And of course I've simmered veggie scraps into my own vegetable broth but there's an even easier way!  C'mon y'all, use my battle cry with me:  "USE WHATCHA GOT!"  Yeah, that's the ticket!  Check out this ridiculously-easy Homestead Hack…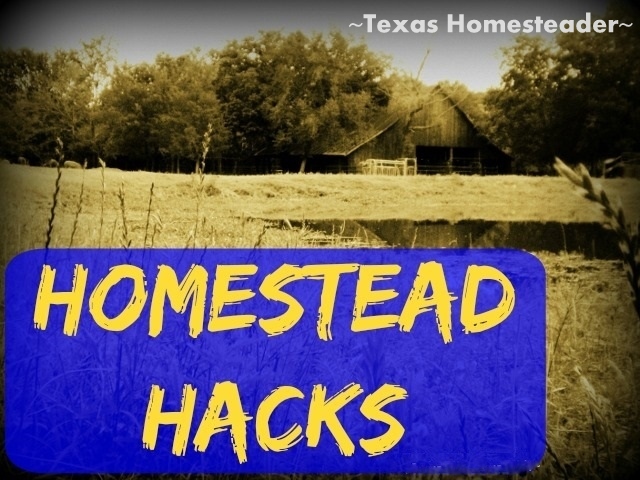 Canned Vegetable Juice Wasted?
Whether I'm using home-canned veggies or even purchased cans of vegetables, there's always lots of juice in the cans and jars.  Now in my previous don't-think-ahead days I would have just poured that juice out before preparing the veggies for supper.  As a matter of fact I'm embarrassed to admit I did that for years.  Oh so many years…  What a waste!
Then I had a thumps-forehead moment.  This juice is already veggie flavored and packed with nutrients.  Why don't I save it??!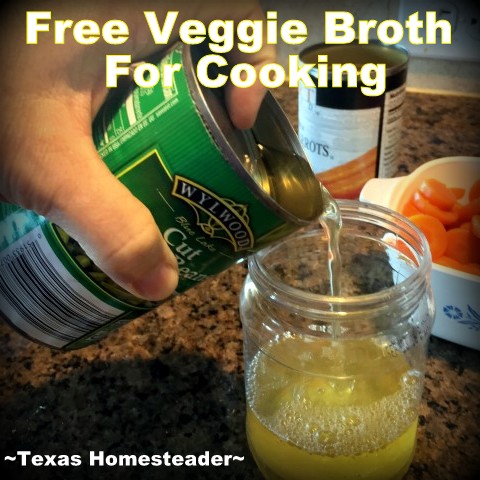 Freezing In Plastic Jars Instead
These days when I'm opening a jar or can of vegetables I pour that juice into a jar instead of down the drain.  That jar is quickly labeled as veggie broth & placed in the freezer for future use.  Now although I hate plastic more than the average bear does, I don't freeze in glass.
Oh yes, many of you have successfully frozen things in glass but it's not an option for us at the Taylor Household.  I know all the secrets about proper headspace and straight-necked jars. But it's just not worth the risk to me.  One wrong 'clink' in our chest freezer could cascade tiny glass shards throughout our freezer.  So until a better solution comes around, I simply save plastic peanut butter jars for freezer broth.  We always have those peanut butter jars available anyway.  Plus it's a great way to repurpose them before sending them to the recycle bin.
So there you have it – I've been able to take save nutritious veggie juice that was previously wasted and use it for something I used to have to make myself or purchase.  I use that vegetable broth when I'm making homemade Endless Soup. It also makes a more flavorful end result than using water when cooking rice, potatoes or pasta. It's delicious, it's nutritious and it's basically FREE!  I don't know about you, but my budget really loves free stuff.  🙂
~TxH~
Other Kitchen Homestead Hacks


C'mon by & sit a spell!  Come hang out at our Facebook Page. It's like sitting in a front porch rocker with a glass of cold iced tea. Lots of good folks sharing!  You can also follow along on Pinterest, Twitter or Instagram.
If you'd like to receive an email each time a new blog post goes live it's EASY to
subscribe to our blog
Save
Save
Save