by Texas Homesteader ~
I grow & harvest lots of garlic every year. So much so that there's no way I can use it all fresh before it goes bad. So to preserve some of the garlic further I also like to keep a jar filled with peeled garlic cloves in my freezer.
But ugh, peeling that many cloves is going to be a long, sticky chore, right?
Nope.
Come see how I can peel whole heads of garlic cloves in seconds.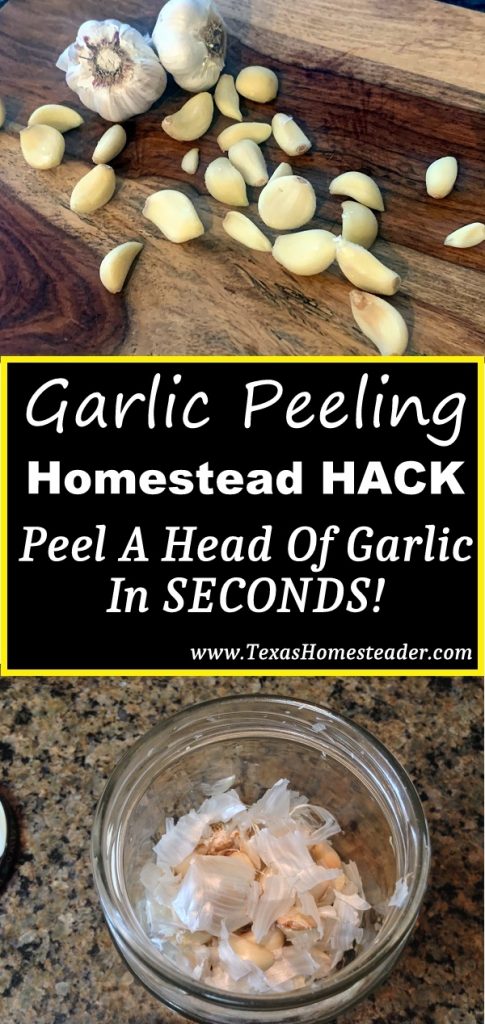 We love garlic. And thankfully it's easy to grow garlic in our NE Texas garden. It adds a healthy yet powerful flavor to our food. We especially love it with Tex-Mex flavored dishes.
I recently harvested the garlic from our garden. I'll allow it to cure for several weeks and then I typically hang whole garlic heads in my pantry. That garlic will be ready and waiting to be used at a moment's notice.
But now I'll be peeling and freezing several heads of garlic.
Repurposing A Lidded Glass Jar
I'll be repurposing a wide-mouth jar for this simple garlic-peeling hack. I'm fortunate that I have family members save these jars for me.
I'm always using glass jars for one thing or another. I prefer to Use Glass In The Refrigerator for many reasons, and my dehydrated food is stored in the pantry in glass jars.
So these repurposed jars will always have a job to do. Plus – not only have I saved something from the landfill, but these glass jars are FREE!
Today this handy repurposed jar will be saving me time in the kitchen. Y'all know I'm a big fan of NOT being in the kitchen all day! I'll be using this jar to quickly peel a whole head of garlic in seconds. Check this out, y'all.
Peeling The Garlic
First I separate the garlic head into individual cloves. Then I toss a handful of those cloves into my jar. The lid is placed onto the jar and now the magic begins…
I shake that jar as hard as I can. Those cloves are really banging around in there! After about 10 seconds I'll take off the lid to see how we're doing.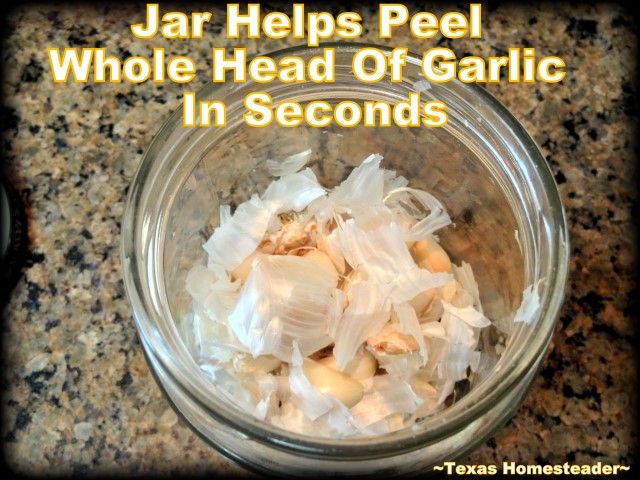 Wow. Look at all those loose skins! Now I'll dump it all out on the counter and quickly pick the whole, peeled cloves from the discarded skins.
It really doesn't get any easier than that, y'all!
Occasionally I'll have a smaller clove that hangs onto its peel even after shaking in the jar. Those I'll set aside and just use them fresh.
The peeled cloves are all then tossed into my freezer-garlic jar and placed in the freezer.
Using Frozen Garlic Cloves
It's easy to use these frozen cloves too. Since they're already peeled I simply bring one out of the freezer and start slicing. Even though those garlic cloves are frozen, they're still pretty easy for me to slice through.
By the time I have the garlic sliced, the clove's already thawed enough to continue on & mince with ease. Then I simply toss it into the food I'm cooking and carry on!
I suppose you could just bring it out and let it sit for a few minutes to thaw and use your garlic press to press the peeled cloves instead. But we typically like our garlic minced. To me it just seems to lend that garlic flavor & texture that we love.
What a time-saving hack this has been for me to peel garlic!
~TxH~
Other Kitchen Hacks


C'mon by & sit a spell! Come hang out at our Facebook Page. It's like sitting in a front porch rocker with a glass of cold iced tea. There are lots of good folks sharing!
And you can also follow along on Pinterest, Twitter, Instagram
If you'd like to receive an email when a new blog post goes live,
subscribe to our Blog!