by Texas Homesteader ~
*contains affiliate link
How would you love to never have to refill that little soap dispenser pump attached to the edge of your sink? I found a soap dispenser with an extension tube that draws directly from the large bottle of liquid soap beneath your sink. That makes having soap at your fingertips so much more convenient!
(Note: Some links in this post will take you to other related articles for further information. But links preceded with * are affiliate links. If you click and buy something I could receive a tiny commission.)
Kitchen Sink Soap Dispenser
Many sinks come with a little pump soap dispenser on the top edge. Whether you fill it with dish soap for washing dishes or hand soap for washing hands, it's quite a handy little amendment for your kitchen sink.
But most of those little soap dispenser pumps use a small screw-in bottle underneath the sink to hold the liquid soap.
That tiny receptacle always runs low at the most inopportune times, don't they? And they're so small that they have to be refilled pretty frequently.
So we got to wondering, is there a better way?
Standard Sink Top Pump Soap Dispensers
My sink-top soap dispenser pump is filled with grease-cutting dish soap for washing dishes. But that kind of soap is too harsh for me to use on my hands as often as I wash them when I'm in the kitchen.
So I also have my Homemade Hand Soap sitting on a luffa slice on my sink's surface for hand washing, reserving the convenient soap pump for dishwashing liquid.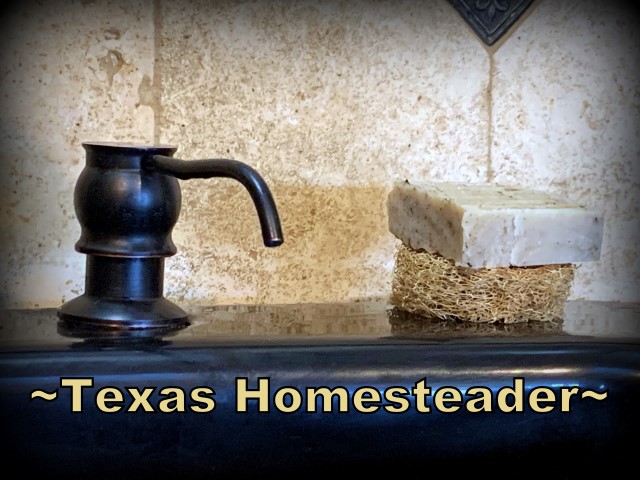 But the standard-style soap dispenser we had on our kitchen sink held only about 8 ounces of soap. So I was refilling it often.
Not the end of the world or anything, but still it aggravated me.
It always seemed I'd run out of dishwashing soap as I was hand-washing a heavy stock pot or something. #IsntThatTheWayItAlwaysGoes??
Easier Way To Deliver Soap At The Sink
Now this is not a sponsored post or anything. Nothing was given to us for a review. I'm just sharing what we found. (And I'm SO happy that we did!)
A friend recently casually mentioned that they used a sink *Soap-Pump Extension System. It includes a longer tube that pulls dish soap directly from the dishwashing soap bottle.
WHAT??!! Directly from the bottle?? Now I've just gotta check that out!
The premise is simple: No more filling a small container with soap. The pump on the sink is connected to a tube that runs to and pulls directly from a large bottle of soap stored in the cabinet beneath the sink.
So if you're pulling soap from a humongo bulk-sized bottle, the need to repeatedly refill a tiny receptacle is eliminated.
If something that simple can eliminate an aggravation for me, shouldn't I go for it?
OMGosh – YES!
Kitchen Sink Endless Soap Dispenser With Extension
So we bought one to try it out. RancherMan pulled the existing soap pump and mount from the sink and unscrewed the receptacle bottle from beneath that original soap pump.
Now it's time to install our new soap dispenser. The new dispenser is installed through the same existing soap-dispenser hole and is anchored with a nut from beneath the sink. Easy peasy.
Included in our extension kit is an adapter plug that fits your large bottle of dish soap. There are two different sizes included in the adapter kit we purchased.
Just choose the size adapter plug that fits the bottle of soap you have, add that plug the top of the soap bottle and run the tube through and into the soap liquid.
That same tube is then run from the bottle of soap to the underside of my new soap dispenser pump.
Handy Feature To Keep Liquid Soap Coming
And here's an oh-so-handy feature, y'all. Within this plastic tubing is a check valve that keeps gravity from pulling the liquid soap back into the bottle.
So that means no more pumping the soap dispenser several times to finally get the soap up through the tube to dispense. This has always been a problem for me, even with the standard soap pumps once the soap level began to drop some. Ugh…
This check valve keeps everything right where it is until you press the pump the next time to deliver that soap with the very first pump. WONDERFUL!
And installation was super easy too. RancherMan had the old soap pump removed and the new soap pump system installed in only about 15 minutes tops.
My New Easy-Fill Endless Liquid Soap Dispenser
So now that it's installed, here's how I've got it set up:
I'd already bought the largest bottle of grease-cutting dishwashing liquid I could buy. I typically buy in the largest sizes available to help eliminate packaging waste.
RancherMan installed the adapter and ran the plastic tube to the bottle and set the large soap bottle in the cabinet beneath the sink.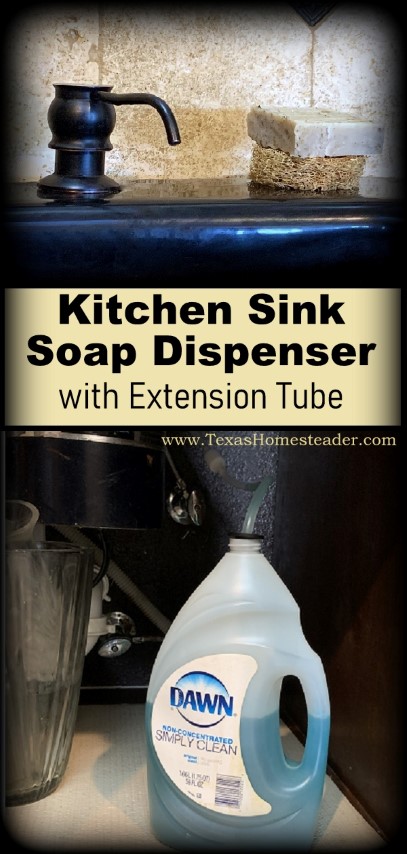 Heck even though my bottle of dishwashing soap is half empty already, I won't have to change this bottle out for quite some time.
But when I do, I can just grab the handle of this large bottle of soap and replace it with another large bottle of dishwashing soap.
Then I just slide it back into the cabinet beneath my sink. Done & Done.
Work smarter, not harder!
NOTE: If you don't already have it, you can totally *Try Amazon Prime For FREE for 30 days. Then place your order & get your free shipping, etc. Keep prime for 30 days FOR FREE & try it out – streaming movies, music, free shipping – the whole 9 yards! If you don't want to continue you can cancel within 30 days and pay nothing for the Amazon Prime membership trial run. But you'll probably want it anyway – we've gotten lots of use from our Amazon Prime by streaming videos & TV shows, streaming music, free next day shipping option on many items, etc.
~TxH~
Other Kitchen Hacks


C'mon by & sit a spell! Come hang out at our Facebook Page. It's like sitting in a front porch rocker with a glass of cold iced tea. There are lots of good folks sharing!
And you can also follow along on Pinterest, Twitter, Instagram
If you'd like to receive an email when a new blog post goes live,
subscribe to our Blog!