by Texas Homesteader
*affiliate link
I've had many requests for me to share our soap recipe so I'm sharing with you today. We made several batches using different oils and also different dried botanicals from our homestead.  We're using dried lavender blooms from the beautiful lavender in my flower beds. I also enjoy using crushed dried rosemary from the mammoth rosemary bush at our porch.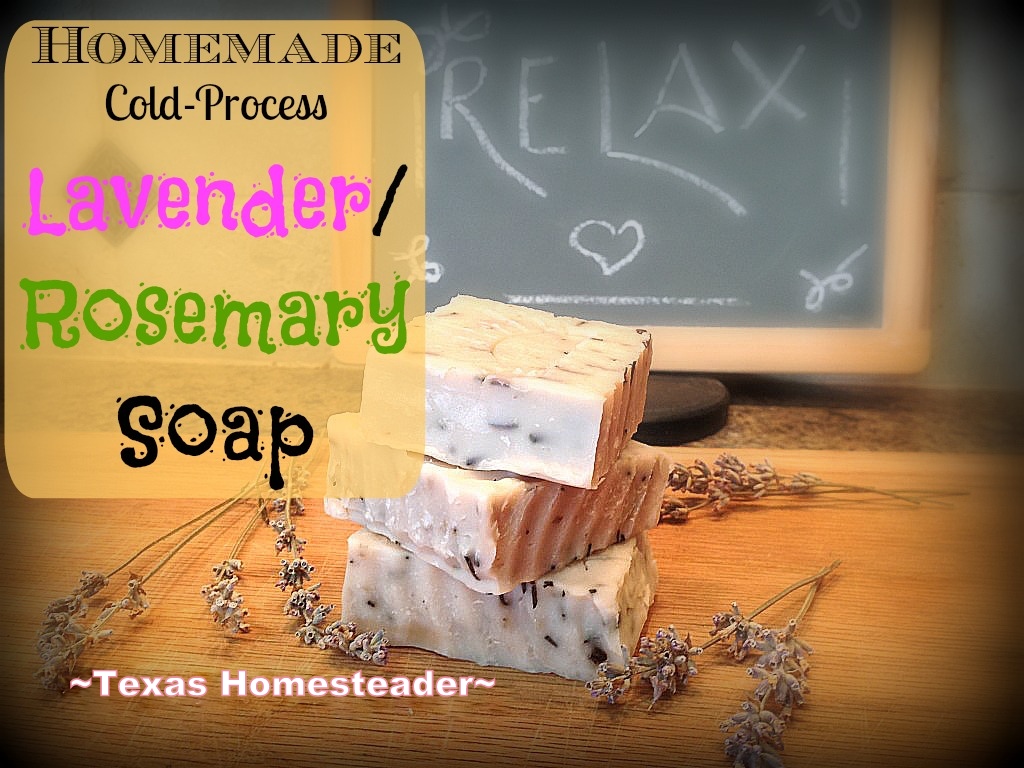 (Note, if you want some of the handmade items I write about but don't want to make them yourself, I often sell our handmade items in my
It's a great way to support this blog, so RancherMan & I THANK YOU!
Now let me say here that making cold-processed soap is not hard at all. As a matter of fact, making soap is truly very easy and incredibly fulfilling. But remember you're dealing with lye and chemical reactions here. You MUST use caution!
Now's not the time to have the children or small pets underfoot to trip over. What I'm saying here is if it's not done properly, dealing with lye and the chemical reactions involved can be dangerous. So please do your homework first and proceed at your own risk.
If you've made soap before, you already know the precautions to take. But for those new to soap making – please use caution!
I'm no soap-making expert and don't pretend to be, but here are precautions RancherMan & I take each and every time we're making soap:
Precautions:
 Making cold-process soap relies on measurement by WEIGHT, not by volume, so you're going to measure all oils & lye on a digital scale, not rely on what a measuring cup reads!
Make no substitutions to either quantity or type of oils unless you consult a trusted soap-making oil calculator. Oils must be combined per the recipe in both type as well as quantity measured by weight to result in a safe product. (I've used oil calculators before to tweak a recipe but I typically follow this tried-n-true recipe and just tweak my scents or dried botanicals for variations.)
When mixing lye water – be sure to measure (by weight) the water first and then measure (by weight) the lye and carefully sprinkle the lye into the water to keep from splashing caustic liquids.   Never pour water into measured lye – always sprinkle measured lye into measured water.
Lye is caustic – be sure to wear eye protection, rubber gloves and a paper painter's mask to protect yourself.
Always make soap where there is adequate ventilation to avoid inhaling caustic lye fumes.
Never use metal utensils or containers for caustic lye solutions – opt for silicon spoons, glass or plastic containers and porcelain-lined pans.
Raw soap must cure for at least 6 weeks – longer is better.
Follow directions carefully.
Proceed at your own risk.
Get Your Gear Ready
RancherMan & I set up a work station for making our soap out in the garage with doors & windows open which offered a nice cross breeze. To protect ourselves we wore safety goggles, protective painter's masks and rubber glove. Before beginning we read over the directions again so we knew what we were going to do and when. And of course we sat out all the tools we'd needed so that we weren't scrambling looking for things.
We knew we wanted to make different kinds of soap this year. So we started early summer collecting rainwater and placing it in a jar with several sprigs of fresh mint to allow the summertime sun to infuse this all-natural water with a fresh minty scent.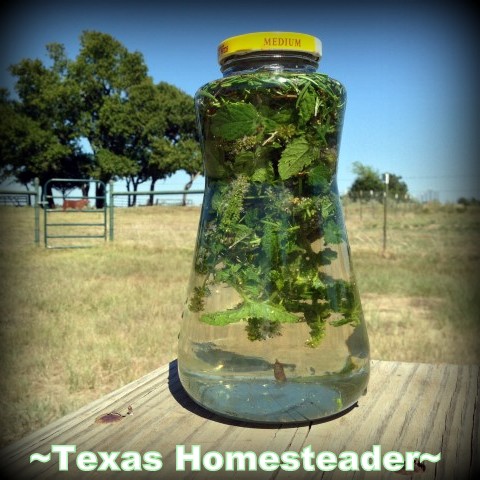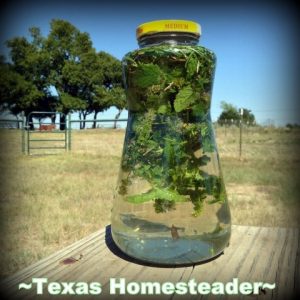 Now that we're ready to get started with our soap I brought the rainwater in and strained out the mint leaves & stems, dropping the spent leaves into the compost.
Making The Soap
WHEW!  Ok, we're finally ready to start making that soap! RancherMan & I assembled our tools & ingredients. We have some tools that are designated for soap-making only such as a wooden spoon, porcelain pot, plastic containers, etc:
Tools:
Rubber Gloves
Silicone Spoon (not metal)
*Plastic Bucket for Lye (no metal)
*Porcelain-Covered Pot for Soap (no exposed metal)
Small Containers for Measuring Botanicals & Essential Oils
Plastic Wrap
Thick Towels
I don't like making soap with palm oil in the ingredient list since it's not easy to obtain palm oil living out here in the boondocks. So I stick with soaps that call for common oils that I can pick up at our local grocery store. RancherMan & I wanted to make a few 2-lb batches of soap using different scents & dried botanicals.
Each 2-lb batch makes about 9 small bars so this recipe works great for us. This recipe is my favorite. And it's so versatile since you can change it up with different essential oil scents & botanicals.
Ingredients:
Mint-Infused Rainwater
Vegetable shortening (Crisco)
Mid-Grade Olive Oil
Coconut Oil
Dried Lavender Blooms, pulverized in coffee grinder
Dried Rosemary Leaves, pulverized in coffee grinder
Sodium Hydroxide Lye crystals
Rosemary Essential Oil (you can buy quality oils here)
First, Mix The Lye Water
First we mixed our lye solution by measuring the water FIRST, then sprinkling the lye crystals on top of the water and stirring with a silicone spoon. The water and lye will cause a chemical reaction so we were sure first put on our eye protection, rubber gloves and paper mask and kept away from the fumes.
We stirred the lye/water mixture gently with a non-metal spoon until the lie completely dissolved.  The chemical reaction caused the lye water to heat up quickly. We used a glass candy thermometer to measure the temps – we needed it to cool down to about 100 – 110 degrees.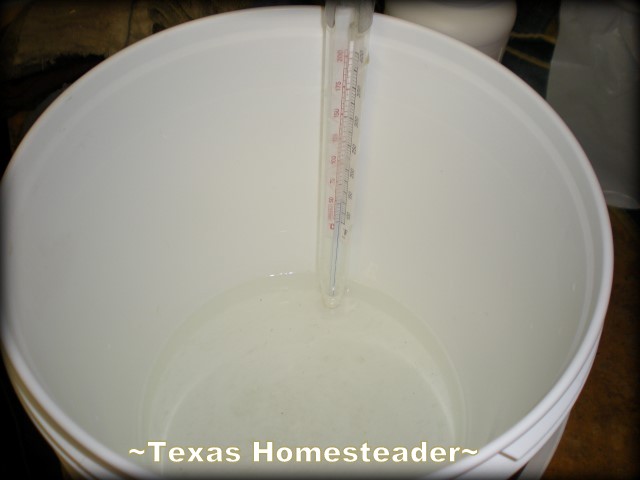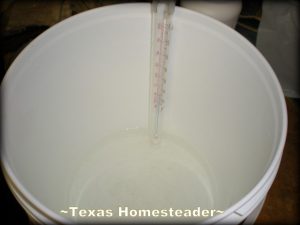 As the lye water was cooling it's time to get started with the oils. We measured (by WEIGHT) the liquid olive oil and added it to our measured solid coconut oil & shortening. I poured them all into a large glass measuring cup and heated them in the microwave until the solid oils melted and the oil mixture measured around 100 – 110 degrees.
When the oils and the lye water were both between 100 – 110 degrees it was time to get to blending! We carefully poured the lye water cooled to 110-110 degrees into the melted oils heated to 110-110 degrees and gently stirred with a wooden spoon to get everything blended.
Get To Stirring!  And Stirring.  And…
Now it was time to make some soap! You're wanting to get the oils and lye water to reach something called "trace". That's where the soap texture changes from just an oily mixture to a thicker almost pudding consistency.
Here's where I incorporate my shortcut, my secret weapon, my SANITY! Stirring with a wooden spoon will eventually give you trace, but it takes quite a bit of time. I can get the soap to reach trace much quicker – about 20 minutes – using a stick blender.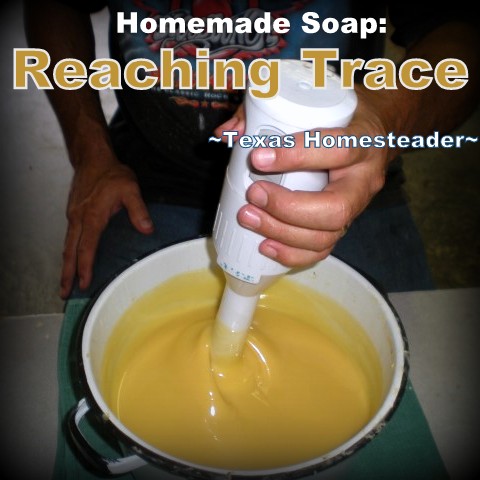 Watch For False Trace
Now you can get false trace by just turning on the stick blender & going to town with it. You don't want to do that or your soap won't turn out correctly. False trace looks like it's thickened into trace, but it doesn't stay thick. That's because the emulsification you're trying to achieve has not really happened.
So what you want to do is turn the stick blender on for a very short duration and stir about 2-3 times around your pot with the stick blender turned on. Then turn it off & just use the stick blender itself to continue stirring manually to remove the bubbles that have been created beneath the surface. When the bubbles are gone give it another blast with the stick blender then turn it off and use it to stir again. Your mixture will become thicker over time.
It's reached trace when you can drizzle the liquid soap across the top of the mixture and have it leave a little trail for a few seconds before disappearing beneath the surface. When it reaches trace it was time to add the essential oil and dried botanicals. Lastly give everything a final stir to get everything blended in.
Place Raw Soap In Soap Mold
Now the raw soap is ready to be poured into a soap mold. We have two different molds we use for the soap.  For a larger 4-lb batch we use a wooden box RancherMan made for me, lined in plastic to make it easy to remove cooled soap. But for this smaller 2-lb batch we use a silicone pan that measures 8.5 inches by 8.5 inches and about 1.5″ deep.
We poured the thickened soap into the mold, smoothed out the top with a plastic spatula and covered the top of the soap with a piece of plastic. Then we topped the whole thing with thick towels. The towels keep everything well insulated and allow it to cool slowly.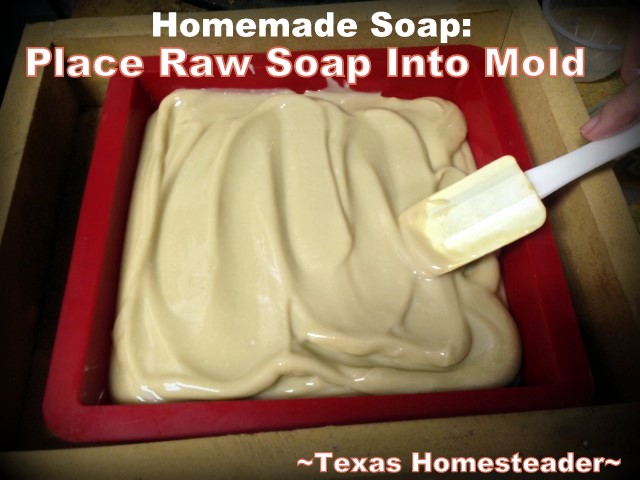 We typically leave the soap in the mold for about 24 – 48 hours before removing it. If the soap still seems a bit too soft to take it out of the mold you can leave the soap in the mold for another 24 hours. Ours took about 48 hours to be ready. At the end of that time the soap is solid but still pretty soft. We carefully folded back the silicone pan to release the soap and placed the whole soap block on a cookie rack to air dry for another 24-48 hours or so.
Now the soap is still soft but a little more firm than before. So we set the soap to the counter and cut it into 9 bars. We used a cute stamp to put our logo on each bar. Now our soap is ready to be fully cured by placing it on a wire rack and exposing it to the air for several weeks. You need to cure soap for at least 6 weeks, but the longer you cure the soap the harder the bar will be & the longer it'll last in the shower.
Different Variations Of Soap Recipe
We made several different batches of soap:
This 2-lb batch of Rosemary/Lavender soap was made using mint-infused rainwater, rosemary essential oil and half pulverized dried rosemary leaves and half pulverized dried lavender blooms.
Another 2-lb batch of soap we made:  Rosemary-Scented Scrubbing Soap. We used mint-infused rainwater, rosemary essential oil & coarsely-chopped rosemary leaves. (this one is RancherMan's favorite – he loves the scrubbability of this bar!)
We also made a 2-lb batch of Softly-Scented Lavender Soap using filtered water, lavender essential oil & pulverized lavender blooms. (My favorite)
We even made a completely different recipe that was a large 4-lb batch of Vanilla-Scented Shampoo Bars. We used a more foam-producing oil and a blend of vanilla & sweet pea fragrance oils.
And I love Morning Motivation Mint soap using mint-infused rainwater and pulverized dried mint leaves.  Refreshing!
There was enough soap to give several bars as gifts and also plenty for RancherMan & me to use for the rest of the year.  Thankfully we haven't had to buy commercial soap for years! Here's my recipe for the Lavender/Rosemary Cold-Process Soap: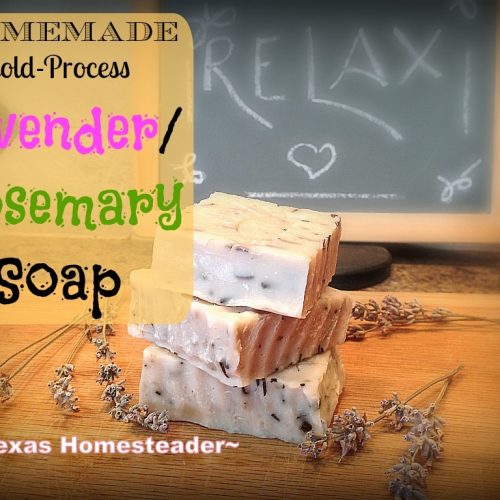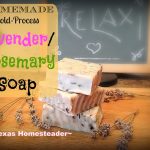 3-Oil Lavender/Rosemary Cold-Process Soap
(2-Lb Recipe, about 9 small bars)
This easy recipe uses only common oils found in any grocery store. The soap lather's beautifully and smells wonderful.

IMPORTANT!! Read all precautions before beginning! Dealing with caustic lye requires safety equipment. Do not attempt to make soap with children or pets around!
Ingredients
Ingredients:
9.4

oz

Vegetable Shortening

(ie: Crisco)

6

oz

Olive Oil

(mid-grade is fine & even preferable)

6

oz

Coconut Oil

7

oz

Mint-Infused Rainwater

3

oz

Sodium Hydroxide Lye Crystals

0.9

oz

Rosemary Essential Oil

1

Tablespoon

Dried, Pulverized Lavender Blooms

(it's ok to measure this ingredient by volume)

1

Tablespoon

Dried, Pulverized Rosemary Leaves

(it's ok to measure this ingredient by volume)
Instructions
(read precautions above first)
Mix lye solution by measuring the water first, then sprinkling the measured lye crystals on top of the water. Stir with silicone spoon until the lye is completely dissolved. Mixture will heat up, so allow to cool to about 100 - 110 degrees.

In the meantime measure liquid olive oil and add it to the measured shortening & coconut oil. Pour all into a porcelain-lined pot and heat to 110 - 100 degrees. (or use a large glass measuring cup & heat in a microwave)

When the oils and the lye water are both between 100 - 110 degrees, carefully pour the lye water into the melted oils & gently stir with a non-metal spoon to get everything blended.

Continue stirring until mixture reaches 'trace'.

At trace, add measured essential oils and dried lavender & rosemary, giving everything a final stir to get it all blended.

Pour raw soap into 8.5" x 8.5" x 1.5" deep soap mold, top with a piece of plastic wrap & then cover everything with thick towels. Leave undisturbed for 24-48 hours

Carefully remove soap from mold and place soap block on a wire rack to air dry for another 24-48 hours.

After this time, cut into 9 bars and place bars on a wire rack exposed to the air to fully cure for at least 6 weeks. The longer you cure the soap the harder the bar will be & the longer it'll last in the shower.
Recipe Notes
IMPORTANT!!  Read all cautions first!  Dealing with caustic lye requires safety equipment.  Do not attempt to make soap with children or pets around!
Stay tuned, I'll share the other recipes soon!
~TxH~
Zero-Waste Health & Beauty


C'mon by & sit a spell!  Come hang out at our Facebook Page. It's like sitting in a front porch rocker with a glass of cold iced tea – lots of good folks sharing!  You can also follow along on Pinterest, Twitter or Instagram.
If you'd like to receive an email each time a new blog post goes live it's EASY to
Subscribe to our blog!
Save
Save
Save
Save
Save