by Texas Homesteader ~
RancherMan & I are able to live & work here on our Homestead – a place that speaks to our hearts – because we are very careful with our finances. You know what they say, "small leaks sink great ships" or, you know, something like that…
Anyway, my point is that by paying attention to the smaller things, living frugally just becomes a way of life. There's really no sacrifice, just a consciousness of frugal tasks that make sense in the flow of our days. In my case frugality is only part of the reason I'm paying attention – many times those same tasks are also environmentally friendly too. And that's a two-fer win for me!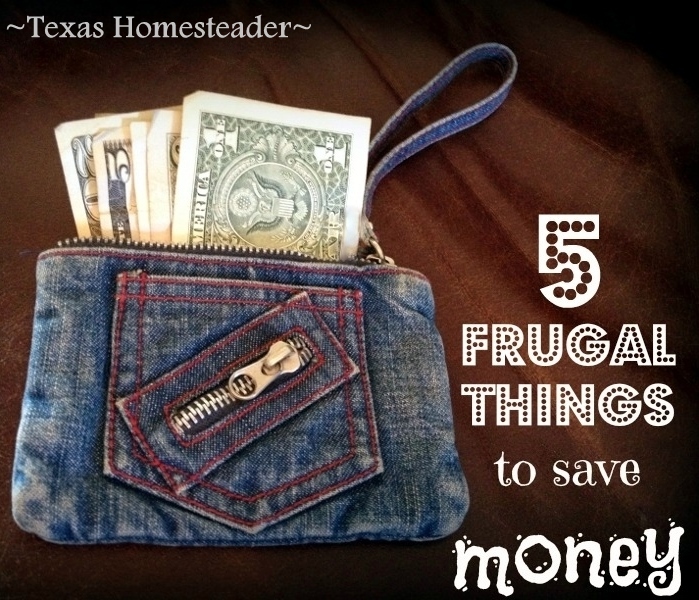 So following are 5 things accomplished in the Taylor Household yesterday that involved putting on my frugal-thinking cap:
RancherMan & I went around the house decluttering and sent off several items to the local charitable thrift store. Others can use our extra cloth napkins, new pillar candles that were still in the packaging along with other items, so those things will find new life in another household instead of being sent to the landfill. Plus since I itemized our donation we can use it for a tax deduction. (SWISH! – nothing but net y'all!)
Although I'm the most novice sewer in the history of Singer, I brought out my gifted sewing machine and sewed up three 100% linen bags for my homemade bread. (bought the linen on sale with a coupon too!) It's said that linen will keep homemade bread fresh longer since 100% linen supposedly attracts moisture. I'm really, REALLY hoping this works! Has anyone ever done this?
Supper included some ground pork steaks with onion gravy from the freezer, a result of my cook-once, eat-twice cooking last month. We also enjoyed leftover buttered carrots from last night's supper and the last starting-to-wrinkle fresh potatoes that we fried to crispy perfection.
Dessert after supper included fruit cups using a chopped fresh apple, frozen blueberries, the last banana as it was starting to speckle, some home canned diced pears in vanilla syrup and a few strawberries that had been frozen a few months ago since they were starting to go past their prime. The sweet treat was healthy, delicious and refreshing and involved several instances of saving food from being wasted! Y'all know how I *HATE* wasting food!
The chill in the air today was warded off with a nice warm fire which kept our HVAC system from having to come on. The firewood was harvested from trees that suffered damage during a previous season's ice storm. I'm not sure this one is an environmental win since wood smoke can release particulates in the air. But it's definitely a financial win.
So there ya go, five easy things included in my day to help save (or earn) a few bucks. What about you – what frugal things were part of your day today?
~TxH~
~ ~ ~ ~ ~ ~ ~ ~ ~ ~ ~ ~ ~
Other Frugal Tips
…and many MORE!


C'mon by & sit a spell! Come hang out at our Facebook Page. It's like sitting in a front porch rocker with a glass of cold iced tea. Lots of good folks sharing! You can also follow along on Pinterest, Twitter or Instagram.
If you'd like to receive an email each time a new blog post goes live it's EASY to
subscribe to our blog
Save