by Texas Homesteader ~
*contains affiliate link
I've found many 'recipes' for making your own homemade mouthwash. But often they're overly complicated or use specialty ingredients I don't want to have to buy.
What's my battle cry? Yep, y'all remember it well:
Use Whatcha Got!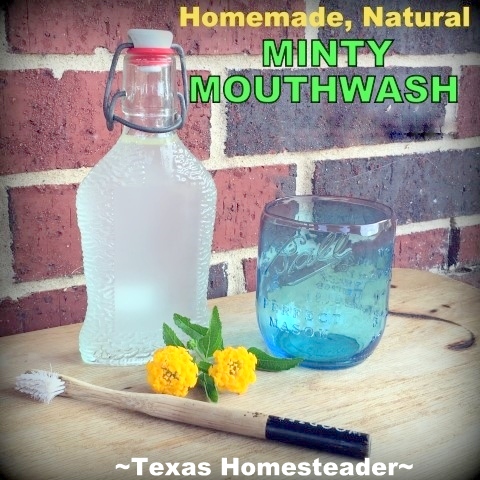 Jump to Recipe
Note: Some links in this post are for further information from earlier posts I've written. But links preceded with * are affiliate links. If you click them and buy something (almost anything, not just the item noted) I could receive a small commission. But the price you pay will NOT change. It's an easy way to support this blog without anything coming out of your pocket. So click often! Thank you!
Quick Breath Refresh
It was a great night's sleep. You wake up feeling refreshed and rested as you stretch and yawn – a streak of golden sunlight peeping through the window. Then… morning breath? UGH.
C'mon, we all have to deal with it, don't we?
I'll be sure to run this by my dentist at my next checkup. But I can't imagine that any of these common ingredients would be any cause for concern for him.
As a matter of fact, I'd think using a gentle, non-alcohol mouthwash would actually be BETTER for my oral health! I'll be sure to share what my dentist says. In the meantime, check this out y'all!
Good Oral Hygiene
I try to maintain good oral health. I brush daily and 'try' to floss daily. But I've found even after brushing well and flossing thoroughly, sometimes a tiny fleck of something stays undetected & lodged between my teeth.
Now that's just a recipe for bacteria and decay. Not to mention odoriferous breath!
So I typically add a vigorous swish of this homemade mouthwash to try to make sure nothing goes undetected. It's nicely minty and it costs pennies to make.
And I love how my homemade version along with my compostable *Bamboo Toothbrush helps me to toward that zero-waste lifestyle that I strive for.
(although let's be honest, I now love my *Snap Toothbrush even better!)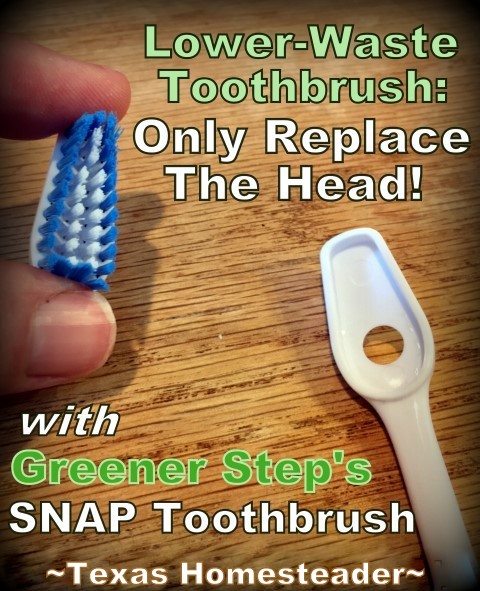 Natural Mouthwash Ingredients
C'mon, did ya ever look at the ingredient list of the commercial mouthwash? What ARE all those ingredients anyway? And I don't know how I feel about having them in my mouth.
Again, always check with your own dentist before trying any homemade concoctions.
But I love how my homemade mouthwash is alcohol free. And no hard-to-pronounce ingredients here. Plus, the cost? Yeah, that's the ticket!
Alcohol As A Preservative
Now I'm not a dental hygienist nor a trained medical professional. Just sharing what we do here on the Homestead.
I'm assuming here that alcohol is probably added to the commercial mouthwash to act as a preservative. Since my homemade version has none, I don't want to have it languish on the shelf for weeks.
I either use the mouthwash within a few days, or keep it in the refrigerator to have it last a bit longer.
Either way, know that there are no preservatives in this mouthwash and make your personal hygiene decisions accordingly.
Repurposed Flip-Top bottle
To make my homemade mouthwash I use an old flip-top bottle I found in an antique store. Isn't she a beauty? Ironically I think this is a small alcohol bottle.
Oh, the irony! LOL!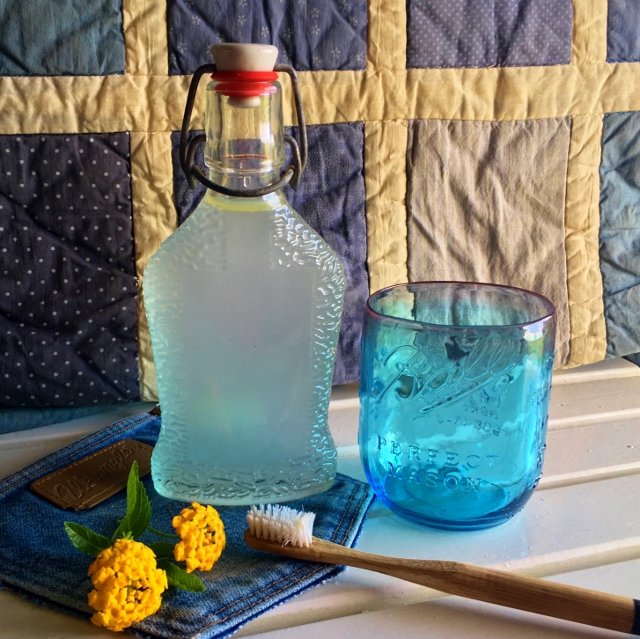 I cleaned & sanitized my bottle thoroughly with bleach water and allowed it to dry completely before filling it with my homemade minty mouthwash.
Here are my complicated instructions:
Combine 3/4-cup filtered water, 1 Tablespoon baking soda, 1 teaspoon powdered stevia & 4-5 drops mint essential oil. I placed it all in my repurposed flip-top bottle.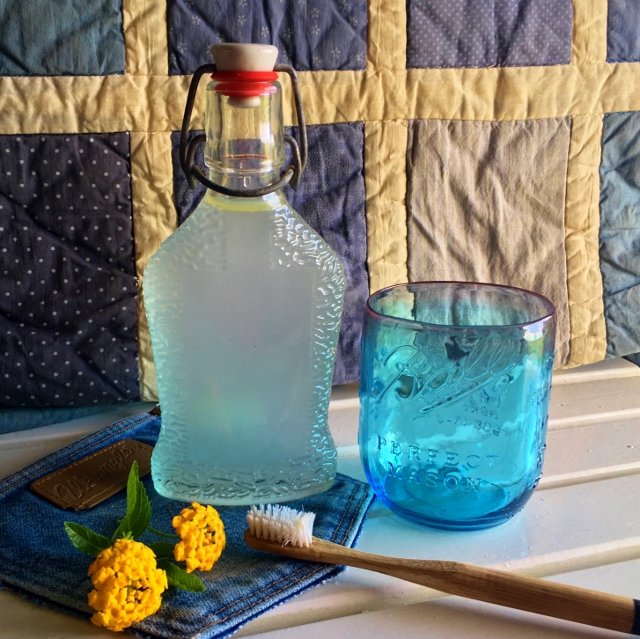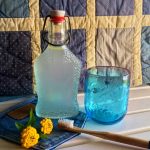 Homemade Minty Mouthwash
Commercial mouthwashes typically contain weird ingredients and alcohol. My homemade version uses only standard pantry ingredients and costs only pennies to make! Use a repurposed flip-top jar and you have made another step toward your zero-waste personal hygiene routine! (Check with your dentist if you have any reservations about homemade dental hygiene products) ~TMH~

Ingredients
3/4

Cup

Filtered Water

1

Tablespoon

Baking Soda

1

teaspoon

Powdered Stevia

Mint Essential Oil to taste (4-5 drops?)
Instructions
In my pint-sized flip-top bottle I add 3/4 cup filtered water, 1 tablespoon baking soda, 1 teaspoon powdered stevia sweetener (optional) and about 4-5 drops of mint essential oil. I flip the top closed and shake thoroughly.

To use, shake thoroughly & pour a small amount of mouthwash into a small cup. Swish thoroughly through all your teeth and spit mouthwash into sink. I like to swish with a little clear water afterward.

Recipe Notes
I store my mouthwash in my bathroom and have had no trouble provided I use it quickly since it contains no preservatives. But for safety's sake I'd recommend storing in the refrigerator and using within a week or two.
~TxH~
Zero-Waste Health & Beauty


C'mon by & sit a spell! Come hang out at our Facebook Page. It's like sitting in a front porch rocker with a glass of cold iced tea – lots of good folks sharing! You can also follow along on Pinterest, Twitter or Instagram.
If you'd like to receive an email each time a new blog post goes live it's EASY to
Subscribe to our blog!
*Amazon affiliate
Save
Save
Save
Save
Save