by Texas Homesteader ~

Recently I ran out of hairspray and decided to quickly whip up another batch. I mean why not, it only contains 3 ingredients and uses a repurposed spray bottle. Come see how ridiculously easy (and CHEAP it is to make your own hairspray with 3 common household ingredients.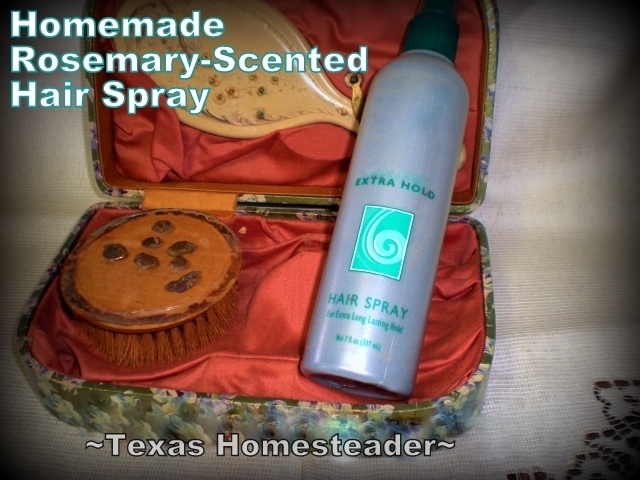 Low Waste Health & Beauty
I've been interested in making my own toiletries for quite a while now. It's a fun hobby that pacifies the environmental side of me as well as my budget-minded side.
Several years ago when I ran out of hairspray I hated to buy another blasted plastic spray bottle of the stuff.
(um yes I hate plastic, why do you ask??) LOL!
But let's face it, I work on a ranch so my needs for hairspray are few. The cows don't mind one bit if I have my hair pulled back in a ponytail. And with a Ponytail holder made of repurposed material at that, #thankyouverymuch.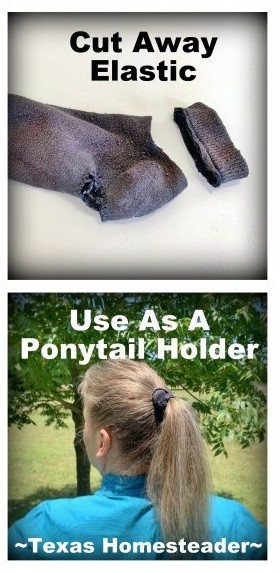 But my board-straight hair does need some help when we're out and about visiting with friends and family or attending church.
I've toyed around with different ingredients before. But this time I'm pretty pleased with the results.
Only 3 Ingredients!
I made this batch several months ago so I could try it out first & see what I thought. First I poured about 1/2 cup filtered water into a glass jar and added several sprigs of rosemary.
I've read that rosemary is good for your hair. It's also said that it also will over time subtly darken my newly-emerging gray platinum blonde streaks. (eh hum… )
I allowed the rosemary to steep in the water for a couple of days using good ole solar power by placing the lidded jar on our picnic table during the 100-degree days typical during the summer in NE Texas.
Then I brought the jar inside and strained the water and placed it in a microwavable container.
I heated it until it was hot, but not boiling. Finally I stirred in a tablespoon of sugar until it was fully dissolved and allowed it to cool.
Alcohol As A Preservative
Since I don't want to keep this spray bottle in my refrigerator I needed a way to preserve it so it wouldn't go 'off'. I noticed the commercial stuff has alcohol in the contents.
So although I was hesitant at first to add it, I stirred in two tablespoons of rubbing alcohol as a preservative.
It's a very small amount and I'm sure the commercial stuff I've already been using has much more.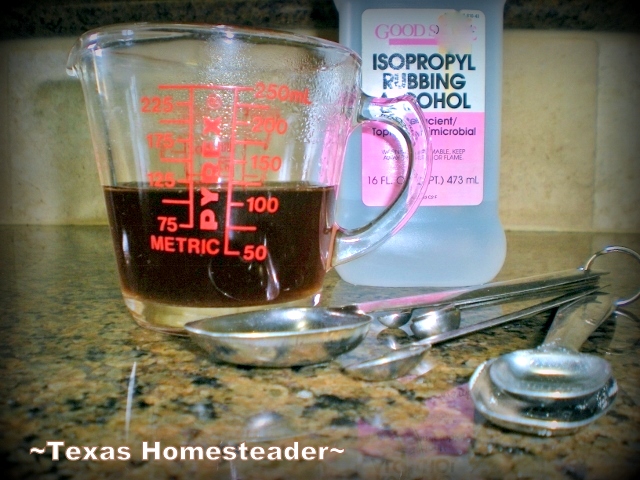 I poured it all into my now-empty hairspray bottle and took it back to my makeup container to store.
When I next needed to use hair spray I gave it a try and I was pleased with the results.
My Observations
It's a wetter formula than the commercial stuff. So you'll want to spray lightly and allow it to dry. (which it does quickly I'm guessing because of the alcohol) Then give another quick spray if you find you need more hold. In this case less is more so you don't want to use near as much as the commercial stuff.
I found this formula to be pleasantly scented because of my rosemary infusion. And I've not had a problem with the contents going 'off' even after several weeks – again presumably because of the alcohol that's stirred in as a preservative. This country girl's pretty pleased with the results.
So there ya go, homemade hairspray.
Cheap. Effective. Zero Waste.
Give it a try & let me know what you think!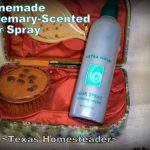 Homemade Rosemary-Infused Hairspray
Ingredients
1/2

Cup

Filtered Water

3

One-inch sprigs

Fresh Rosemary

1

Tablespoon

granulated sugar

2

Tablespoons

Rubbing Alcohol

(as a preservative)
Instructions
Measure 1/2 cup filtered water into a microwave-safe container and heat 30-45 seconds until hot. Stir in your sprigs of fresh rosemary.


Allow the rosemary to steep in the water for at least an hour.


Then strain the rosemary pieces from the water and place infused water in a microwavable container and heat about 30-45 seconds.

Stir in a Tablespoon of granulated sugar until it is fully dissolved.

Allow mixture to cool completely.

When mixture is cool, stir in two tablespoons of rubbing alcohol to use as a preservative.


Pour mixture into repurposed spray bottle. I use an empty hairspray pump bottle since it already sprays in tiny droplets, which are best for your homemade hairspray.

To use, spray hair lightly and allow to dry. If a stronger hold is needed apply a second time and allow to dry.

NOTE: For extra hold formula, increase the sugar to 2 Tablespoons

Zero-Waste Health & Beauty
Other Frugal Tips
…and many MORE!
Save
Posts About Reducing Plastic
Reducing Household Waste


C'mon by & sit a spell! Come hang out at our Facebook Page. It's like sitting in a front porch rocker with a glass of cold iced tea – lots of good folks sharing! You can also follow along on Pinterest, Twitter or Instagram.
If you'd like to receive an email each time a new blog post goes live it's EASY to
Subscribe to our blog!