by Texas Homesteader ~
'Plastic-Free July' is where folks around the world see how far they can go in shunning plastic in their day-to-day lives. Y'all know me, I'm all over that action!
To celebrate plastic-Free July I'm sharing the 5 zero-waste products I love most that help me eliminate a bit of plastic from my life and from our environment.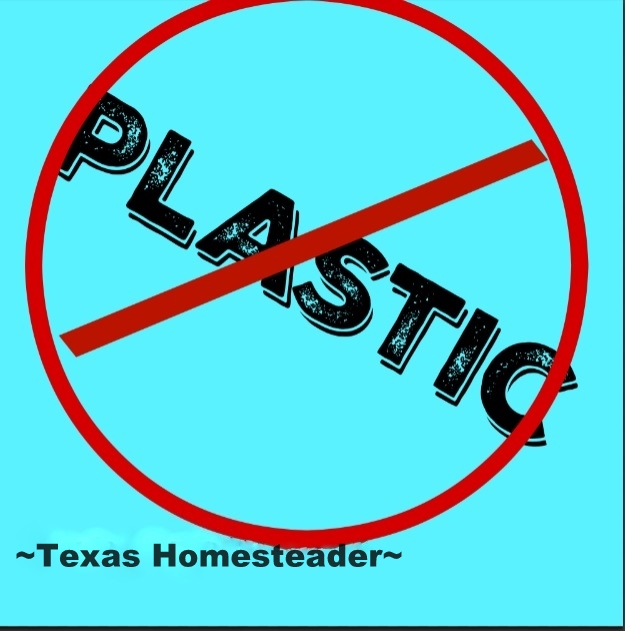 I don't expect to be able to achieve a 100% plastic free life. But I do plan to use this month to take special notice of plastic coming into our home, refusing it for better options when possible.
It's more about the awareness than attaining perfection anyway.
So c'mon – join the pledge with me and see what you can do to shun plastic for the month of July, ya wanna?? You might (like me) be pleasantly surprised at how easy it is & what other options you have.
Small Eco-Friendly Steps Make A Big Impact
I've learned that little things you do each day can make a big impact. I push back against plastic. Dang it's everywhere!
But there are easy ways to push back against disposable plastic:
Using what we have in another way to take the place of a plastic products. (using my grandmother's Corning Ware instead of plastic food storage for instance)

Some items take the place of plastic counterparts such as my stainless steel straw.

My glass water bottle eliminates a bit of plastic & saves money on recurring plastic.
Keep in mind that some of the items below contain affiliate links. If you click on one of the links preceded by as asterisk (*) I may receive a small commission if you buy something. BUT your price will not be changed & it has no bearing on my recommendation! Sound good? Good! On to my faves:
5 Easy Ways I Lower Our Plastic Waste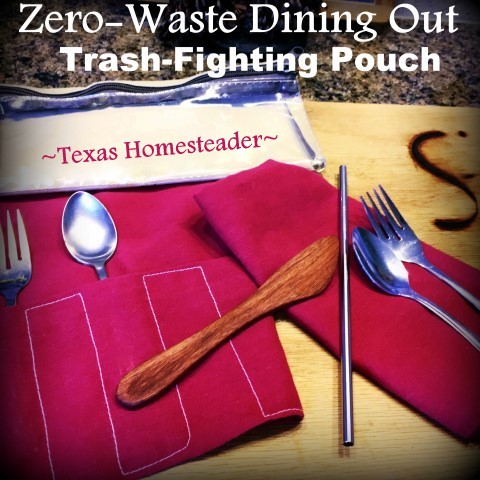 1 – *Stainless Straw – Plastic straws are becoming more & more problematic.
I must say I LOVE IT! And I've bought the larger smoothie-type straws too. So RancherMan & I can enjoy those icy-cold watermelon daiquiris during the hot summer months using a reusable straw.
---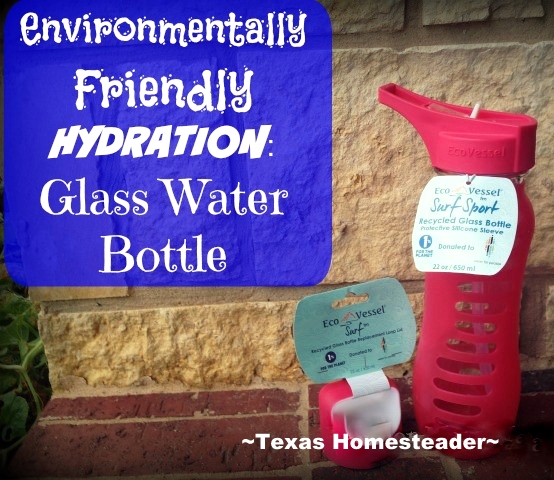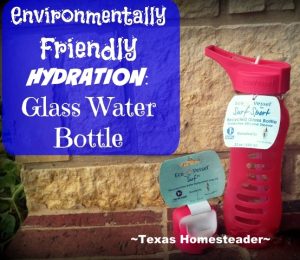 2 – *Glass Water Bottle – I drink lots of water and it's my day-to-day beverage of choice. But ugh – no disposable plastic water bottles. They're such a waste!
And buying bottled water just doesn't make sense when it's typically not even regulated like your tap water is.
So more often than not I'm sporting my own glass bottle filled with my very own (very cheap) filtered water instead.
---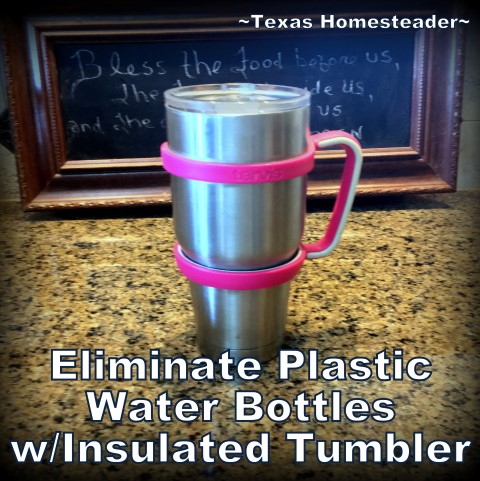 3 – *Stainless Tumbler – Sometimes a girl wants a hot beverage. RancherMan did his research & found these Ozark Trail tumblers from Wal-Mart fared nearly as well as the oh-so-expensive name-brand ones.
We bought them to give them a test run. I must say I've been very impressed. We have both the larger 30-oz as well as the smaller 20-oz sized tumblers.
But it's not just for hot beverages. When it's hot-hot-hot outside I'll fill my larger-sized tumbler with ice & filtered water & drink icy water all day long without needing to keep refilling it with ice.
Oftentimes when I set my tumbler aside and go to bed at night, I'll find there's still ice in the water the next morning. Awesome!
---
4 – Beeswax Wraps – I never used plastic wrap much anyway, but then I discovered beeswax wraps. So now instead of reaching for the blasted plastic cling film, I reach for a beeswax wrap. I wrap the item or bowl, press & hold the wrap gently and the warmth from my hands shapes it around the food.
I love that it's natural so I've started making my own since we're now beekeepers.
---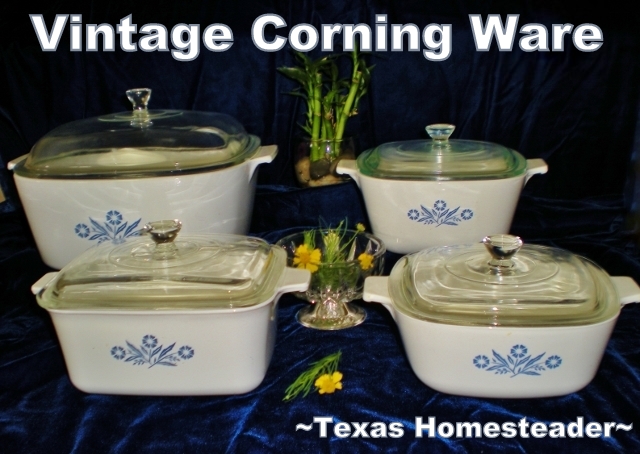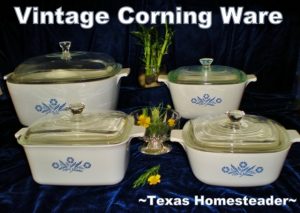 5 – *Corning Ware Glass Food Storage – I prefer to store my food in glass when possible. Not only is it a preference for me from a health standpoint, but I can cook/store/reheat in the same glass dish.
Less dishes to wash = happy cook!
I have my grandmother's vintage CorningWare dishes that I use. But you can still buy glass CorningWare or Pyrex online too.
---
Other Easy Low-Waste Tips
Not all of my push against plastic involves NO plastic. But it does significantly reduce what I need, use & throw away.
Other Easy Low-Waste Steps:
There are LOTS of easy ways just about anyone can push back against plastic!
Check out the Environmental Tag or some of the links to other eco-friendly posts below to see various ways I'm able to easily cut waste on a day-to-day basis.
What about you? What are some of your favorite ways to reduce waste?
~TxH~
This post categorized in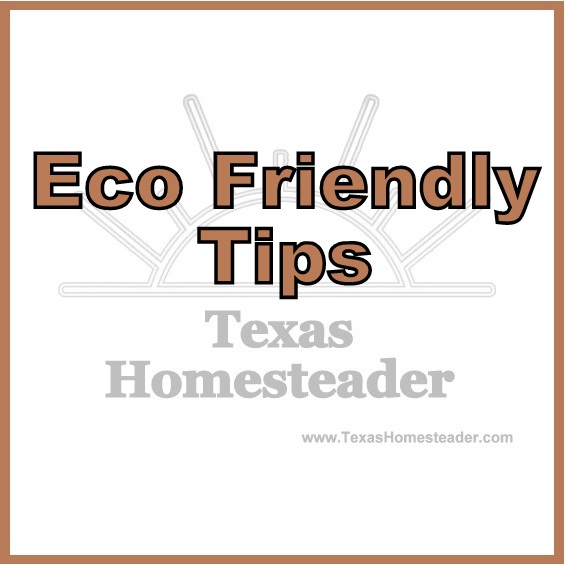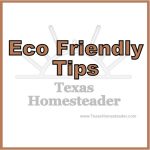 Want To Read More About Our Zero-Waste Journey?
Other Great Posts About Reducing Plastic
Reducing Household Waste
Other Low-Waste Stories
C'mon by & sit a spell! Come hang out at our Facebook Page. It's like sitting in a front porch rocker with a glass of cold iced tea – lots of good folks sharing! You can also follow along on Pinterest, Twitter or Instagram.
If you'd like to receive an email each time a new blog post goes live it's EASY to
Subscribe to our blog!