by Texas Homesteader ~
I make sun tea any time it's sunshiny and even close to being warm – Summer – Fall – Winter or Spring! I have a large hourglass-shaped glass picante jar that I fill with water & drop in a tea bag. Then I place it on our picnic table in the back yard and the sun does the rest!
By suppertime (or much earlier in the heat of summertime) our tea is deliciously brewed by the sun. I just bring it inside, mix it with a jar full of water and voila!
Tea brewed with no purchased energy. Can't get better than that, right?
I made a cute sugar jar for sweetening our tea using a repurposed canning jar and an empty box of salt!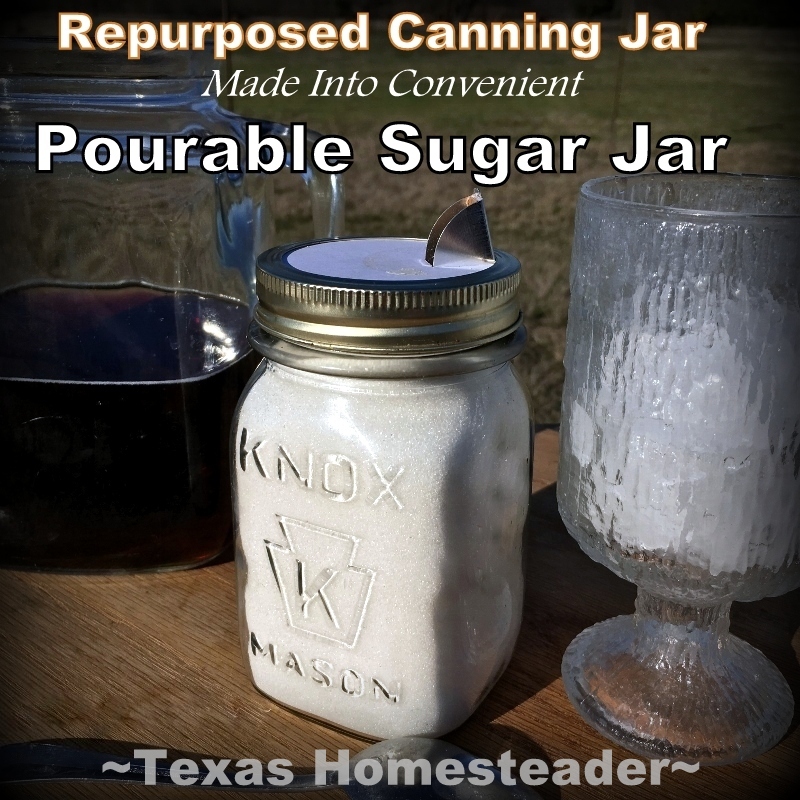 C'mon, we live in the south – HOME of sweetened tea! Of course RancherMan likes to sweeten his tea, while I prefer mine unsweetened.
Since we don't both sweeten our tea I leave the brewed tea in the pitcher unsweetened and RancherMan sweetens his tea by the glass.
But each time he wanted to sweeten his tea he had to pull out the bulky sugar canister from the cabinets and scoop a little sugar into his glass. I knew there was a better way.
But you know my battle cry: Use Whatcha Got!
Repurposing A Vintage Canning Jar
I found this old vintage Knox jar on our property several years ago. Because I'm not sure it could stand up to canning after all those years of being buried, I've labeled it to be a container only.
I just love the old vintage look of it, this will look great as my canning-jar-themed sugar jar.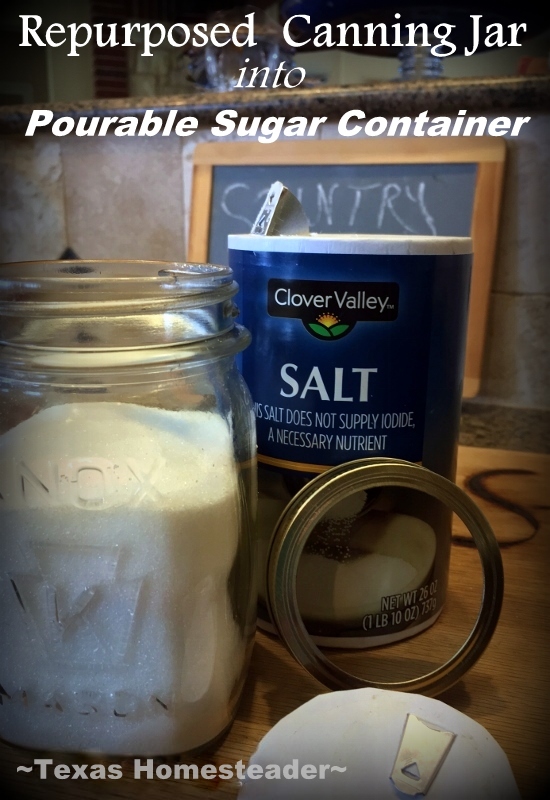 Hummm… This could be really, REALLY easy!
Repurposing Salt Box Spout
First I cut the top cardboard section from an empty canister of salt. Then I used a canning jar ring to mark the area I needed.
Finally I cut the cardboard to a size that fit snugly inside the ring.
Then I inserted the cardboard cut-out containing that metal spout into my canning jar ring and screwed it back onto my pint canning jar of sugar. Done & done.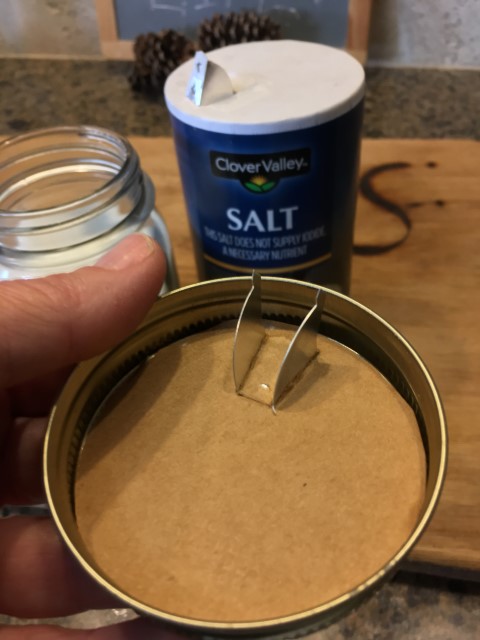 Plus, since it's a regular-sized ring it fits all regular canning jar mouth sizes whether 1/2 pint, pint or even quart!
More Convenient In My Kitchen
Now we have a smaller easy-pour sugar container. Plus the canning jar is perfectly themed with my kitchen.
And since this jar is only pint-sized it's easy to pick up & pour, unlike the bulky sugar canister RancherMan was using.
And, you know, the most beautiful part is that it only took just MINUTES to complete!
RancherMan's very pleased with this repurpose and it cost nothing. Use Whatcha Got!
~TxH~
Other Kitchen Homestead Hacks


C'mon by & sit a spell! Come hang out at our Facebook Page. It's like sitting in a front porch rocker with a glass of cold iced tea. There are lots of good folks sharing!
And you can also follow along on Pinterest, Twitter, Instagram
If you'd like to receive an email when a new blog post goes live,
subscribe to our Blog!
Save