by Texas Homesteader ~
*contains affiliate link
RancherMan loves his iced tea. I love that it's a healthier drink option for him than many other choices. And brewing our own tea means no trash. Plus it's super cheap.
All. Good. Stuff.
But did you know it doesn't necessarily have to be hot outside to brew tea? All you really need is sunshine. There are a couple of ways I'm able to provide RancherMan with that delicious beverage he loves. Brewed in winter or summer: No purchased energy necessary!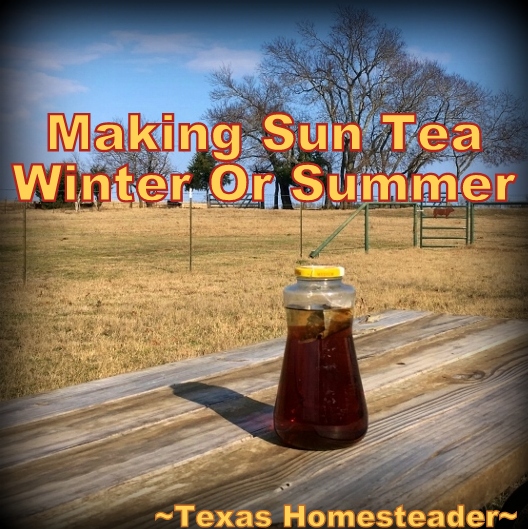 (Note: Some links in this post are for further information from earlier posts I've written. But links preceded with * are affiliate links. If you click them and buy something (almost anything, not just the item noted) I could receive a small purchase. But the price you pay will NOT change. It's an easy way to support this blog without anything coming out of your pocket. So click often! Thank you!)
I've written before about how I use Passive Solar Principles in our home. This allows me to use the sun to my benefit in many different ways. Brewing my tea is a helpful way I can harness the power of the sun for FREE!
I typically brew our tea in a Repurposed Jar I specifically use for brewing tea. It's hourglass shaped to make it easy to safely carry to & from our picnic table in the back yard. Then I just let the sun do its thing.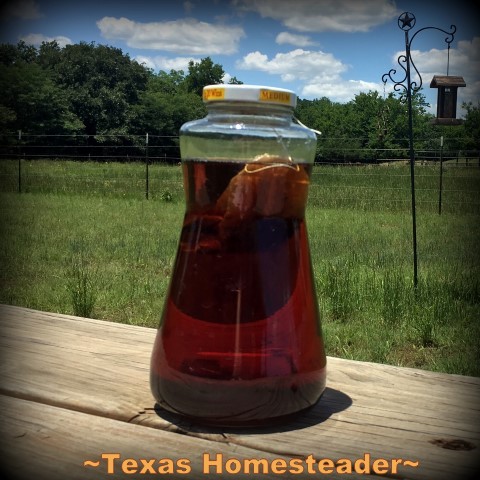 But did you know it doesn't have to necessarily be hot outside to brew tea? All you need is sunshine. So even in the colder winter months there are a couple of ways I'm able to provide RancherMan with that delicious beverage he loves.
Potential Sun Tea Concerns
There are some who have commented that brewing sun tea does not allow it to get hot enough to kill the bacteria in water. It's said that it must be boiled 3-5 minutes in order to be safe, then refrigerated immediately until consumed. So as I typically do, I went to the experts – my extension agent.
Apparently according to my extension agent (who is an AWESOME resource) the source of potential problem microbes isn't the water, it's the actual tea leaves. She recommends bringing the water to 195 degrees and steeping the tea for 3-5 minutes, then pouring into a pitcher over ice & refrigerating.
Of course you'll want to use your own judgement about making sun tea. If you have concerns about your individual health, your doctor is always your best source of advice.
For us, sun tea is still king. I continue to make sun tea several times each week, the same as I've done for years.
Brewing Tea In Repurposed Jar
I often just put a tea bag in my hourglass jar with some filtered water and set it on the picnic table in the sun. Of course during the summer months it brews pretty fast! But even in the winter months I get my tea brewed, it just takes a little longer.
How does that work? Well, you know how warm the inside of your car gets when it's parked in the sun, even in cold weather? That heat from the sun comes through the windshield & is trapped in the car.
Well this glass tea-brewing jar accomplishes the same thing. So even in cold weather, your tea will get brewed!
I just leave it in the sun until it's the color I want and then bring it inside. I'll pour it into our glass pitcher, add another jar of filtered water and BOOM! Sun Tea.
I like my tea unsweetened so it's typically prepared that way initially. You can add sugar to your tea, but you can't take it out once it's in there!
If RancherMan wants his tea sweet he'll add sugar from the Pourable Sugar Jar I made. He loves that jar – sweetening his tea is now so easy.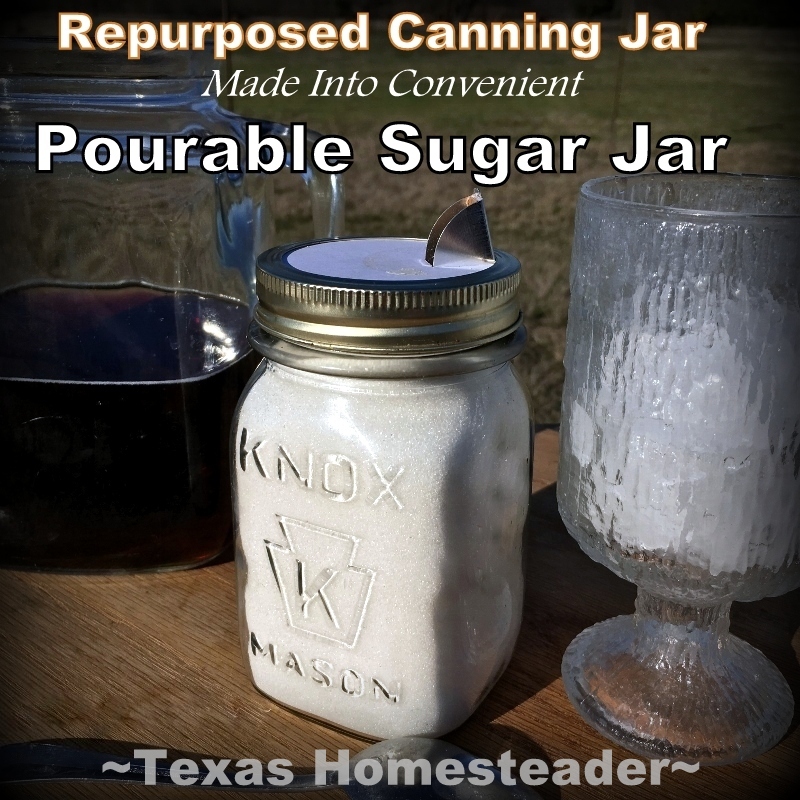 And I simply used a vintage glass canning jar & a repurposed ppout from an empty box of salt to make that sugar jar in minutes. Yea Repurposing!
Brewing Tea In Solar Oven
If the wind is low and I'm in a hurry I'll bring out my *Solar Oven. I just leave the lid unlatched so it gets nice & hot inside the oven without getting TOO hot for brewing my tea.
MAN I love my solar oven! I can bake bread in it, cook casseroles, or dehydrate food. Winter or summer, it doesn't matter as long as the sun is shining.
Did you know you can actually make 'boiled eggs' in the solar oven, cooked right in the cardboard carton! Whaaa…???!! Yep, it's true!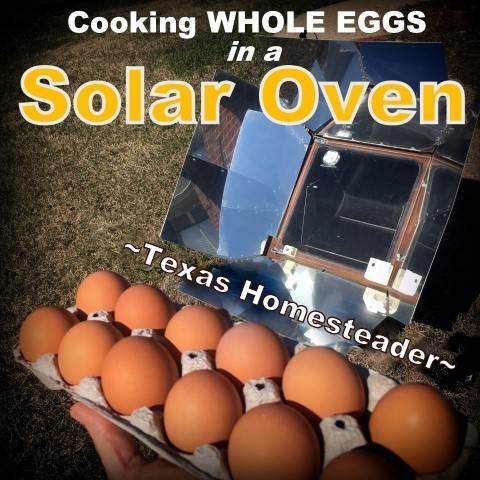 So I've shared a couple of easy ways to make your sun tea. Making it outside using only sunshine uses no purchased energy – winter or summer, hot or cold weather.
And if you're doing your brewing in the summer months it really helps to keep that heat & humidity outside where it belongs #amiright??
~TxH~
Links In This Post:
Looking For Solar-Cooking Recipes?
See other SOLAR COOKING articles here


C'mon by & sit a spell! Come hang out at our Facebook Page. It's like sitting in a front porch rocker with a glass of cold iced tea – lots of good folks sharing! You can also follow along on Pinterest, Twitter or Instagram.
If you'd like to receive an email each time a new blog post goes live it's EASY to
Subscribe to our blog!