by Texas Homesteader~
*contains affiliate link
I came across a great deal on potatoes recently and thought I'd use my solar oven to cook up baked potatoes. In this case I was ultimately going to dehydrate most of the potatoes for future consumption. But I read that you have to cook them before you can dehydrate them.
So I figured I'd kill two birds with one stone today. Well folks it's still hot in Texas . And that's not exactly the best time to throw on your heat-producing oven and bake potatoes.
Enter my handy-dandy solar oven. MAN I love this thing! I got the accessory kit when I bought it. So my solar oven's been going almost every day for the past two weeks either cooking or dehydrating garden produce. Aaaaaanyway, here's how I baked my potatotes.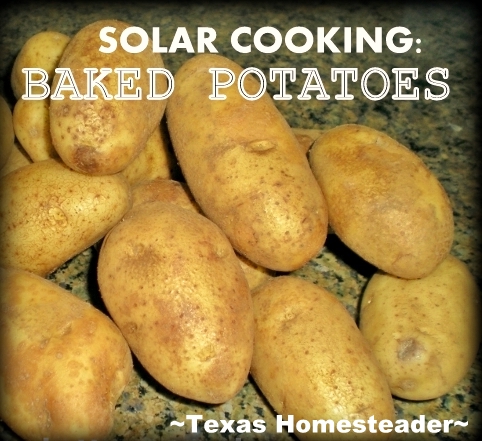 This post may contain affiliate links (marked with *) If you decide to make a purchase through one of the links contained in this post I may receive a commission. But the price you pay will not be changed. It's an easy way to support this blog without anything coming out of your pocket. So if you're interested in a product, don't be shy – click away! You can read my entire affiliate disclosure under the 'Legal' tab above.
(for those of you asking, I have a Sun Oven* solar oven.
Preparing The Potatoes
First I washed and dried enough potatoes to fit snugly into a black enamel covered pan. Then I used the sharp point of a knife to pierce each potato several times and stacked them into the pan.
They all fit in quite nicely.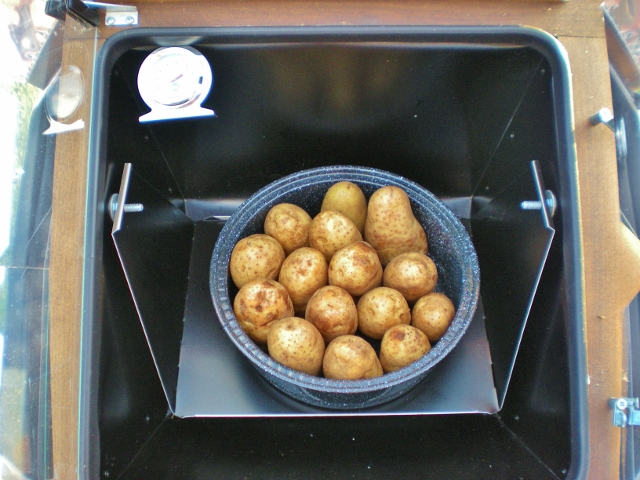 Now here's the really hard part. I put the pan into the solar oven, covered the pan, closed & latched the lid, pointed the reflectors at the sun and cooked them for about 3 hours.
How's that for easy!??
The temps inside the oven stayed about 300 – 350 for most of that time. I adjusted the reflectors about every hour to keep track of the sun.
But you don't even have to do that if you don't want to. Just cook them a smidge longer until they're as soft as you want them.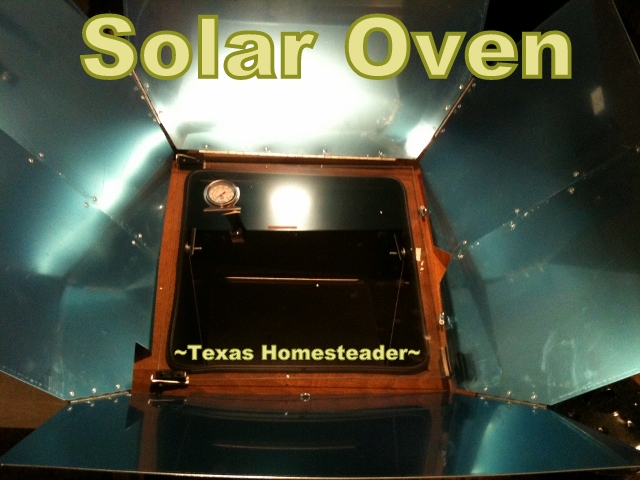 Setting Up A Solar Oven When You Won't Be Home
But a rule of thumb if you're not going to be around to babysit the oven is to point the reflectors at the sun when you start your timing, and additionally rotate it about 30-degrees clockwise. This gives you approximately 4 hours of average sun before you'll need to realign the reflectors to keep the heat going.
Although you sacrifice some of the consistent heat inside the oven by using this averaging method, it's often offset by the convenience of set it & forget it for 4 hours. You just need to add a little more cooking time to compensate for the lower temps. EASY!
Anyway the baked potatoes were done to my liking after about 3 hours. It doesn't get much easier than that!
Of course we enjoyed baked potatoes with our supper that night but most of these potatoes went into the refrigerator to cool overnight to prepare them for dehydrating the next day.
I'll be dehydrating them into Hash Browns!
~TxH~
Looking For More Solar-Cooking Recipes?
You can see our other SOLAR oven articles

here


C'mon by & sit a spell! Come hang out at our Facebook Page . It's like sitting in a front porch rocker with a glass of cold iced tea. There are lots of good folks sharing! And you can also follow along on Pinterest,Twitter or Instagram
If you'd like to receive an email when a new blog post goes live,
subscribe to our Blog!
*Amazon & Sun Oven Solar Oven Affiliate
* A word about our Affiliate Link – We are currently enrolled as an Amazon Affiliate. Occasionally I will insert an affiliate link into one of my posts if I think it may be of interest to you. I receive nothing from the manufacturer, but I love this solar oven & thought you might too. If you click on any of my affiliate links and buy something (almost anything, not just what was linked) I get a small referral percentage from Amazon. But here's the really important part – the price you pay for your items is UNCHANGED.
When you buy something through the affiliate link it's a great way to support this blog without anything coming out of your pocket so please click often!
Save
Save
Save
Save
Save
Save
Save
Save