by Texas Homesteader ~

"For Better or For Worse, In Sickness Or In Health…". I remember speaking those words to RancherMan as my husband-to-be on our wedding day. And I remember him saying those same words back to me. But what do they actually mean?
We weren't merely repeating the words as the preacher prompted us. We both truly meant those vows to each other & to God.
Those who know us say that we're like newlyweds even though we've been married for many years. And it's true, his brown eyes still make my heart flutter.
But although It's fun to be that cute couple at the church picnic who like to hold hands and always enjoy being together, it's that 'For Better or For Worse, In Sickness and In Health' part that defines a true soulmate.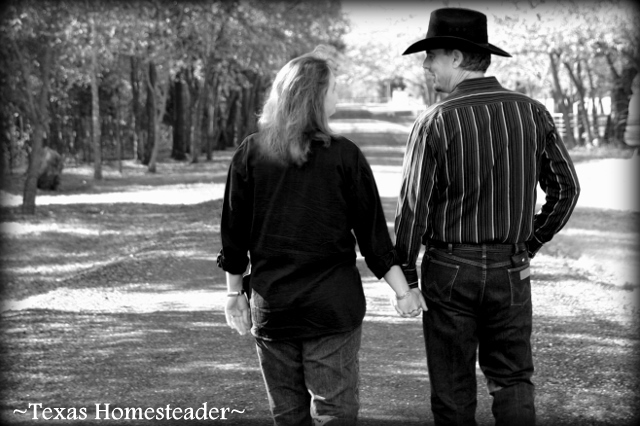 'For Worse' Being Put To The Test
We've had our share of life's hardships over the years of course. But we've gotten through each one of them together, side-by-side.
Some of those trials have been harder than others. One striking example was dealt to us, one of our most stressful challenges.
I was diagnosed with breast cancer – those horrible words no woman wants to hear.
But the experience has exposed many blessings too. Including real action to prove those sacred words 'For Better Or For Worse'
RancherMan, By My Side
How blessed I am to have him in my life! RancherMan was beside me at every diagnostic appointment, procedure & surgery as well as each & every follow-up visit with the many specialists afterward.
He told me one of his jobs was to hold my hand, and hold my hand he did! You see, I'm just a *little* needle-shy. But his hand was firmly grasping mine at each of those many episodes this year, calming and comforting me as only he can.
After Surgery
When the main surgery was over & the long recuperation began, that's when he really began to shine. He was solely responsible for running the Homestead by himself while I was out of commission. What a huge task! And yet never once a complaint from him.
Plus he was the most amazing, tender, unselfish caregiver I could have ever imagined. He made sure I was comfortable.
And he made sure my prescriptions were filled and that I took them on time. It was he who made sure I ate right and slept as comfortably as I could.
He kept detailed records during my recovery for follow-up visits and he handled each & every insurance issue one-by-one as they came in. He told me I had enough to worry with, I shouldn't be worrying with insurance. (smile)
I never had to ask for anything large or small, my needs were all met before I could ever ask!
Actually, it was at his insistence that I start this little blog of mine. He said it would help distract me, and give me a creative outlet while my body healed. Oh how I <3 him!!
'For Better' Days Ahead!
If there's a silver lining to all of this (and there IS) it's that this terrible year has drawn us even closer.
I have so much admiration for his strength and love. And I appreciate him in ways I could have never imagined had I not gone through this.
His eyes still sparkle when he looks at me. And with it's with sincere love & devotion in his voice when he tells me it's all been worth it because I'm still here with him.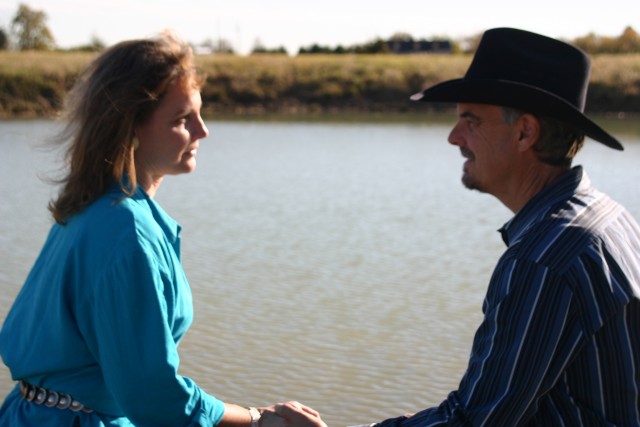 Thankfully, we've gotten one of the baddest of the bad 'Or Worse' times out of our way and we're looking forward to many more 'For Better' days ahead… TOGETHER!
October is National Breast Cancer Awareness month. I used to shrug off all the 'pink' that shows up this time of year with all the breast cancer fundraisers, etc.
But it's personal now.
Ladies, do those self exams & get your mammograms. Protect your life because yes, even without a family history of breast cancer it CAN happen to you!
~TxH~
More about my healing journey:
Other Inspiring Posts
…and MANY MORE!
Other Humanity Posts

C'mon by & sit a spell! Come hang out at our Facebook Page . It's like sitting in a front porch rocker with a glass of cold iced tea. There are lots of good folks sharing! And you can also follow along on Pinterest, Twitter or Instagram
If you'd like to receive an email when a new blog post goes live,
subscribe to our Blog!