by Texas Homesteader~
Last year something happened to me that affected me profoundly – I was diagnosed with breast cancer. Now hear me out, I'm going somewhere with this…
Several surgeries and thousands of prayers later I'm cancer free, praise GOD! But this frightening experience has changed me forever. I'm more keenly aware of the importance of faith, family & friends, I no longer take good health for granted.
And I've discovered that I really like the color PINK. I have hot pink shoelaces in my shoes, a bright pink cellphone case, a pink tablet case, pink hats and many pink shirts in my wardrobe.
RancherMan supports me in this great pinkness endeavor and he is often the gift-presenter for my pink accessories. But sometimes wonder, do I go too far?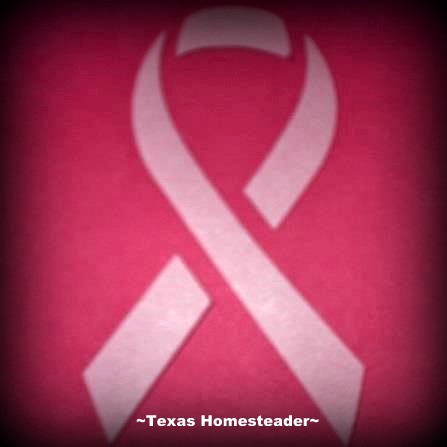 People Talk About Important Things In Their Lives
Let's look at it this way: We've all been there, someone has a new baby and that's aaaaaaall they want to talk about.
"Here's a picture of the baby. Look at this video of the baby. Want to hear the latest cute thing about THE BABY????"
Oh my gosh sometimes it's enough to send ya runnin', right??

Well I wonder about me having that same always-on-my-mind-thing mentality too. Except I'm talking about my life-changing experience surviving breast cancer. Am I going too far with all my pinkness?
Yes, this experience has affected me as profoundly. But are people around me secretly agonizing over all my pink?
A Profound Impact On My Life
I can say that in my journey from breast cancer diagnosis to survivor (one year and counting!) I've discovered many warrior sisters that have been through that same struggle as I have.
It's kind of like the bond of another young parent with a brand new mom. They share that life-changing experience and lavishly lap up the stories of each others child – sharing experiences, advice and support with each other.
I feel that way about these brave sisters and I must say it's a comfort to me to know so many other women have battled this demon and won.
There's a sort of kinship I feel with these brave women. I gather quite a bit of strength from their survival stories and they support me emotionally too, knowing all too well what it feels like to be in my shoes. Because they've been in the trenches too.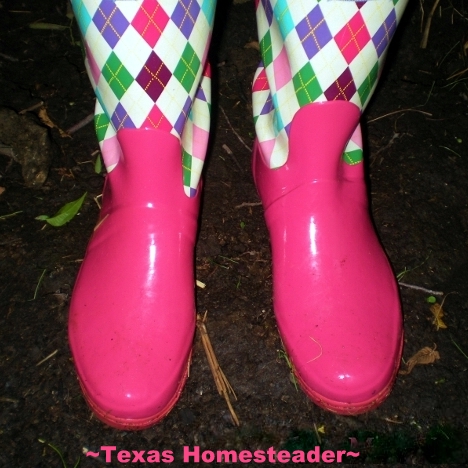 Just Part Of My Healing
So folks in honor of National Breast Cancer Awareness Month, if you happen to catch glimpse of me mowing the pasture wearing my favorite pink shirt, sporting my shoes with the bright pink laces and driving a tractor that has bright pink wheels (yes really), please know that it's not an attempt to get in your face about my battle.
It's just part of my own very personal emotional healing process.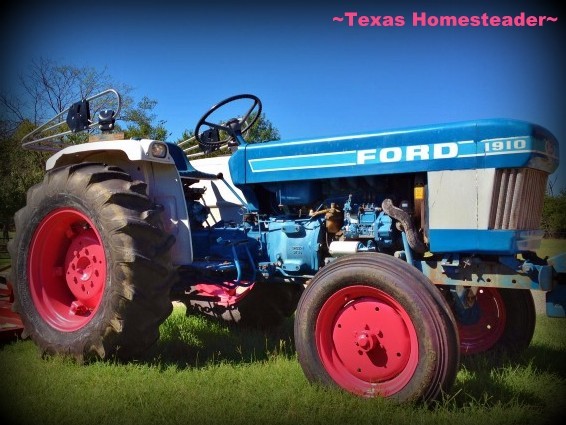 So here's a shout-out to my warrior sisters – Deb, Barbara, Stacy, Dorothy, Jennifer, Faye and Nancy – I share in your fight. And of course a prayer goes up for those gone too soon like sweet Natalie & cousin Debbie.
And here's to all the brave sisters out there that I've never met, staunchly fighting that breast cancer demon. I understand your struggle, and I support YOU!
~TxH~
More about my healing journey:
Other Inspirational Posts
…and MANY MORE!


C'mon by & sit a spell! Come hang out at our Facebook Page. It's like sitting in a front porch rocker with a glass of cold iced tea – lots of good folks sharing! You can also follow along on

Pinterest

, Twitter or

Instagram

.
If you'd like to receive an email each time a new blog post goes live it's EASY to Subscribe to our blog!
Save
Save