by Texas Homesteader ~

Do you know how it feels to be comforted by the arms of God? I was diagnosed with breast cancer & my world started to spin. There were frightening and painful procedures to endure, many hours on the road and away from the ranch to attend doctor visits and test facilities and many long tense hours awaiting test results. It was an unbelievably stressful time for us.
Although we didn't necessarily wish our predicament to be a secret, we didn't feel like talking about it to anyone other than immediate family. But little by little the news came out. Friend after friend voiced their concern and comfort, offering to do anything they could to ease our burden.
We're pretty fiercely independent so we didn't even know what to ask for. So we simply smiled and nodded, grateful for their friendship.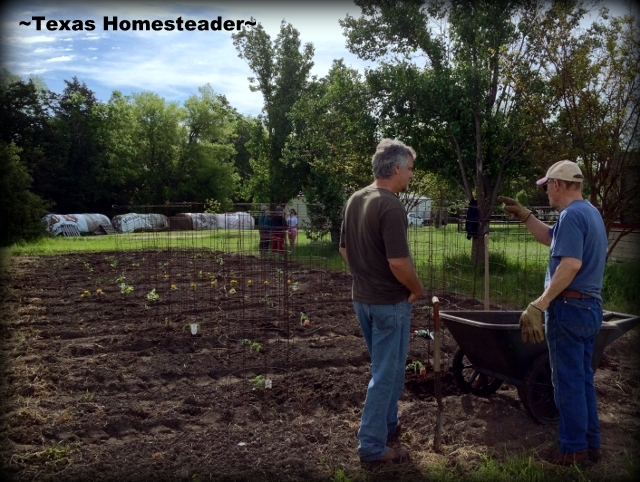 We began to prepare everything on the ranch for a potentially prolonged down time. We were trying to get the garden in order, the cattle set up, bills prepaid and preparing the property itself. Our focus was going to be elsewhere for awhile.
But shortly before the day of surgery we had a malfunction with our lawn mower. We have a friend who runs a lawn mowing business so we hired him to come mow our now fully out-of-control yard.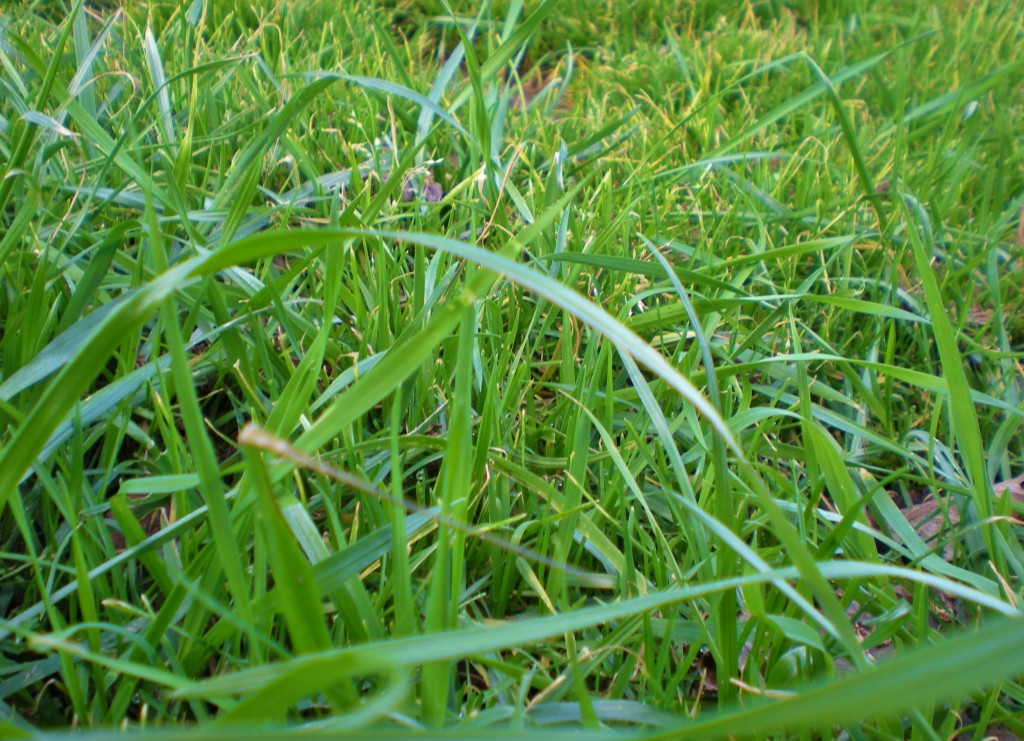 He came during my hospital stay and mowed and maintained our entire household property. But then he refused payment. Knowing this fine gentleman as I do, I'm really not surprised.
Surgery Day
On the day of surgery we were greeted by a waiting room filled with family members as well as our pastor. They were all there to show their support.
And they were still there several hours later when I emerged from surgery. Then there were many visits during the subsequent days of my hospital stay.
I've always enjoyed a very rare, extremely close family unit. But during that time even family members typically more comfortable close but at arms reach stepped up, openly showing their love and comfort.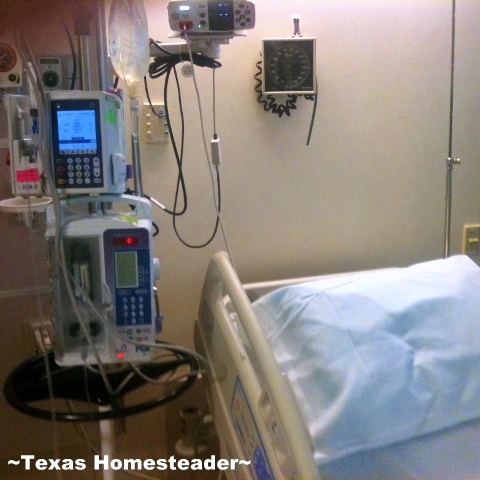 Love By Way of Food
When we returned home after the hospital stay we were met that very night by a beloved close friend bringing "Healing Chicken Soup" and cornbread along with a few amazing sweets. Those first days that soup was indeed a healing elixir on a troubled tummy. It allowed heat-&-eat convenience so focus could be on healing.
There were many subsequent food deliveries from wonderful friends & families in our church. Those meals tremendously eased our burden once patient care and recuperation were in full force. What a comfort!
There was a tray of beautifully arranged cut and already peeled fruit and raw veggies perfect for a tender appetite delivered by one of the true treasures at our church. And a personal delivery of blueberry muffins still hot out of the oven from a thoughtful neighbor. A full meal of roast with carrots and potatoes were brought days later from another special friend.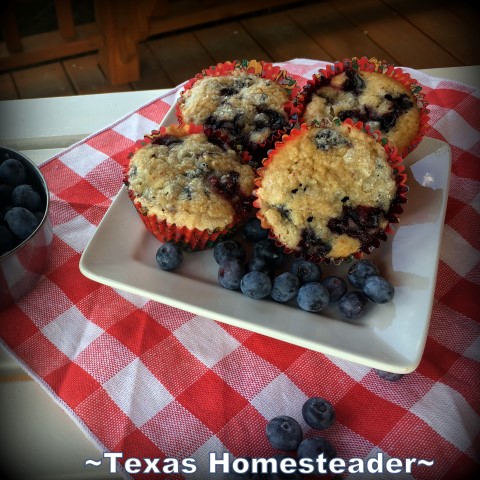 Many more meals were brought to us, always with an extra serving of LOVE. How blessed am I to have these fine people in my life?
Cards with well wishes filled our mailbox. Some were from family & close friends but one was from a stranger across the country who was acquainted with our daughter and reached out to me through her. Each and every word of encouragement brought a much-needed smile.
Prayers Not Answered??
I confided afterward to a family member that I had prayed hard for weeks that God would give me strength to get through this frightening ordeal. However as time passed I became concerned. I was expecting the answer to my earnest prayer for strength to come as calm and poise, confidence and assurance.
But I was feeling none of those things!
As the surgery date closed in I found myself still very afraid and unsure of the future. Although He'd never failed me before, was God going to answer my prayer for strength?
As it turned out, the overwhelming answer is YES!
The strength he offered me was in the many family members, close friends and even distant strangers that upheld me during my time of trial with their outpouring of love, support and assistance that we didn't even have to ask for. I was so touched by the magnitude of it all, and I came through a stronger person both physically and spiritually.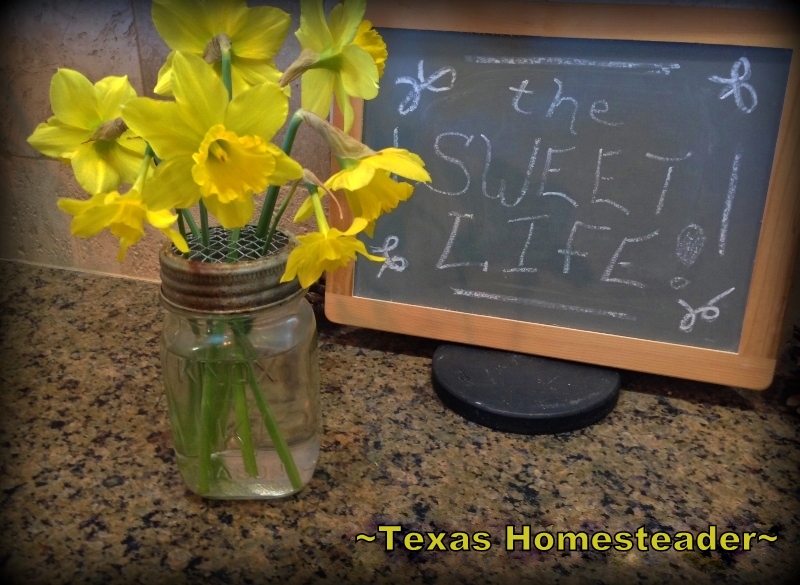 The next time I feel the tug to reach out to offer comfort to someone else, I'll remember the lesson I've learned through all of this: God uses His children to prove His love here on earth. When I feel that tug I'll be proud of the mission that He's now entrusted to me!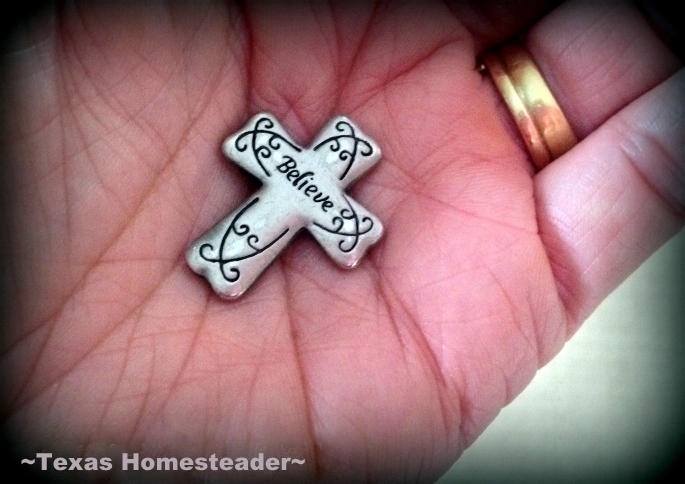 (NOTE: Many have asked where I got my pocket cross. I'm carrying them on my

Online Store

)
~TxH~
More about my healing journey:
Other Inspiring Posts
…and MANY MORE!

C'mon by & sit a spell! Come hang out at our Facebook Page . It's like sitting in a front porch rocker with a glass of cold iced tea. There are lots of good folks sharing! And you can also follow along on

Pinterest

, Twitter or Instagram
If you'd like to receive an email when a new blog post goes live,


subscribe

to our Blog!
Save