by Texas Homesteader ~
I was diagnosed with breast cancer a few years ago. There were many frightening aspects of going through that diagnosis and recovery. But I was surprised to find many blessings along the way as well!
Living & working on a cattle ranch means I certainty couldn't do my ranching chores for awhile. And my strength was zapped so it was difficult to even do the simple things like cook and clean, and planting my beloved garden was out of the question.
But a group of friends surprised me by showing up at my door early one Saturday and planting my garden for me. Tears of joy and appreciation streamed down my face as I was touched by their kind gesture. I truly felt the embrace of God Himself that day.
D'ya hear that??? Felt the embrace of GOD. Now that's a powerful feeling, my friends!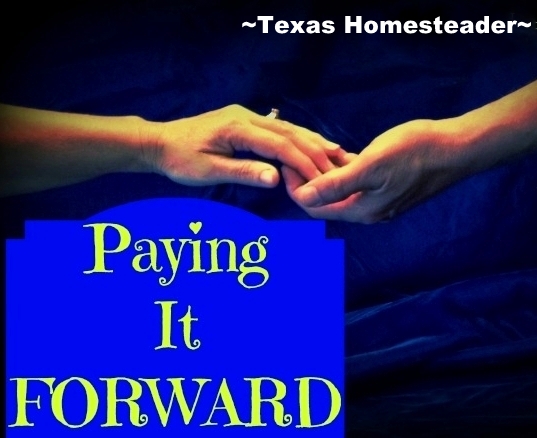 Opportunity To Pay It Forward
Ironically one of the people that showed up that morning several years ago just recently had a very serious accident. Like me, he couldn't imagine not planting his beloved garden. But like me he just couldn't physically do it this year.
He was there for me when I needed him years ago & he asked for nothing in return. And he was just giving of himself, showing God's love that day. He could have never known how much his gift meant to me but it meant a lot.
Now I'll make sure he feels that love as well. It's time for me to reach out & pay it forward!
Preparations Made
I first checked with his wife to assure that with all the extra responsibilities of being a caregiver, having a garden this year would be a blessing & not something that would add to her already-heavy burden.
She assured me that this would indeed be a blessing for both of them, although she desired to bring the size of their usually-huge garden down to a more manageable size this year.
So I put the word out at church and with a few close mutual friends. By golly, we'll step in and plant his garden for him this year! His wife said she wanted to pick up the plants that she wanted included. I certainly understand that since most people have their favorite varieties of veggies they enjoy eating.
But I had a few tiny heirloom seedlings and I asked if it was OK for me to bring them – we could plant them at the end of the garden or even in separate containers if they wanted. She assured me that would be fine.
So I brought along tomatoes, banana peppers and jalapenos to share. =In the days prior to planting I tried to make sure the seedlings were properly hardened off so they would be able to survive outside of the greenhouse.
Pay It Forward
So at last the day of planting arrived! Several of us showed up at their home early Saturday morning, work gloves in hand. Although the forecast had been threatening heavy rain for this day, it did not rain. The weather was absolutely lovely for planting!
The garden area had already been tilled before our arrival so getting the garden planted was going to be a cinch. We gathered the seedlings brought by volunteers and the other seedlings that had been purchased the day before. It was time to begin laying out the garden in the pattern they wanted it planted.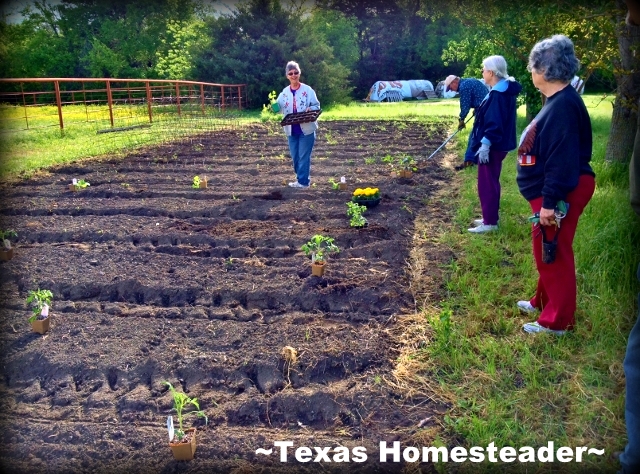 Many Hands Make Light Work
The ground was soft and lightly moist with the morning dew. We chatted and laughed with each other as we set to our work. Oh my goodness there were so many blessings to go around!
The honorees certainly felt the love and blessing being delivered that day but the volunteers were blessed as well.
It was yet another opportunity for us tie that bond that we already felt just a little tighter. The unmistakable bond of friendship and discipleship. The strong bond of community and caring.
I love all of these people like family and I'll always be there to step in and help when they need me. I know they will always be there for me as well.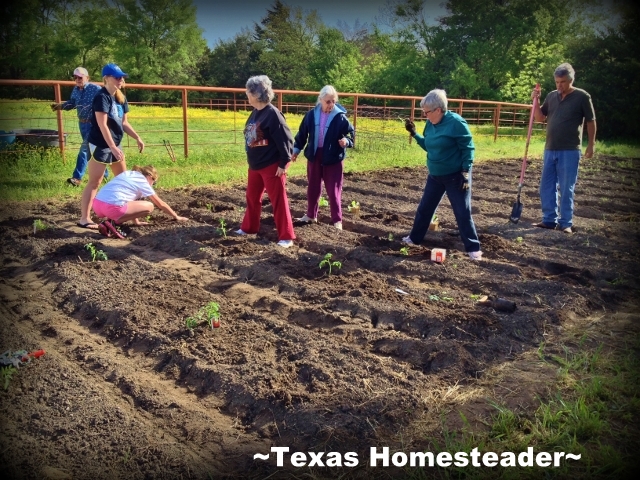 In attendance at this fun gathering were many of the same sweet people that were here at our ranch years ago planting my garden! Now here they were again, giving of themselves on a Saturday morning to show that same love to someone else.
What caring, giving people we have in our community!
An Important Teaching Moment
And in one case it was even a family affair teaching kinda moment. Although this young mom already had prior commitments on this day, she brought her two young children to help so that she could once again show them that when there is an opportunity to show God's love, you do it. You just make it happen.
The men worked hard too, but of course there are chewing-the-fat sessions that are just part of the whole process. I loved to see them chatting – I swear they were solving the world's problems right then, right there!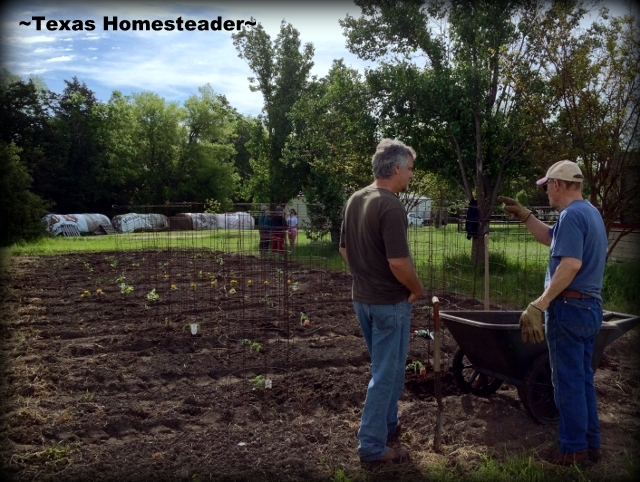 When it was all said & done, the garden was planted in record time. There were lots of things planted that day – tomatoes, peppers, squash, flowers and LOVE!
I hear people say sometimes that although they have the desire to Pay It Forward they just don't know where to start. I'm here to tell ya there are many day-to-day opportunities in REAL LIFE to do something great!
It's the ripple effect in action, and it's a beautiful thing indeed. Reach out to someone today!
~TxH~
Other Inspirational Posts
…and MANY MORE!

C'mon by & sit a spell! Come hang out at our Facebook Page . It's like sitting in a front porch rocker with a glass of cold iced tea. There are lots of good folks sharing! And you can also follow along on Pinterest, Twitter or Instagram
If you'd like to receive an email when a new blog post goes live,
subscribe to our Blog!
Save