by Texas Homesteader ~
There's always going to be differing values and opinions in this wonderful life we live. Let's show kindness & tolerance for others whose opinions may not exactly mirror our own. Remember: Many Flowers Makes For A Beautiful Bouquet!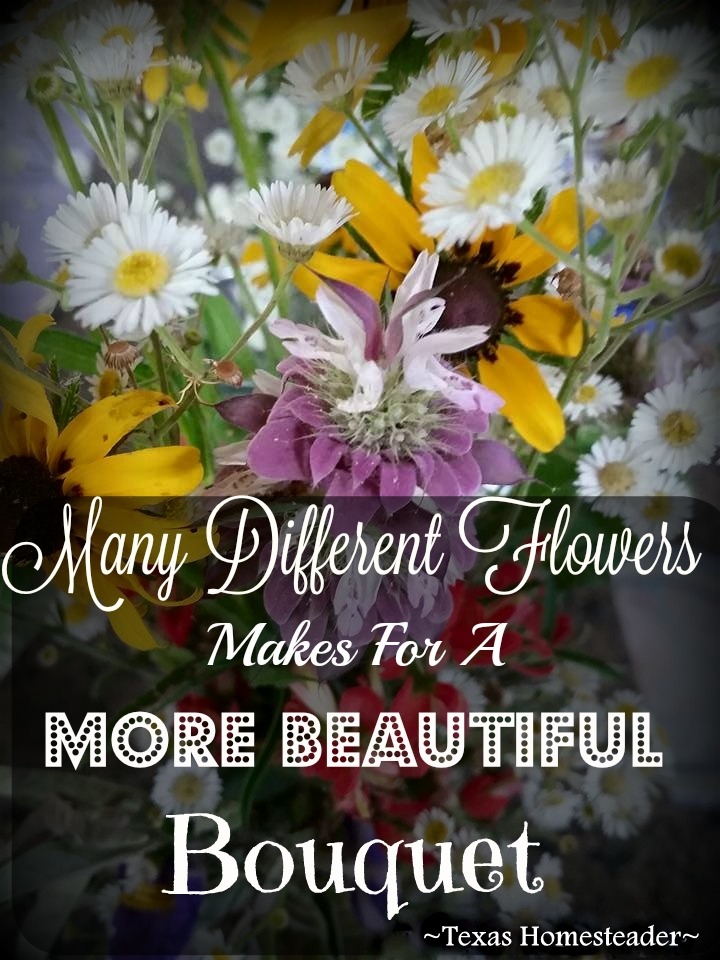 Tolerance & Understanding For Others
We each have the right to feel the way we do. I may not agree with you, and you may not agree with me and here's a secret: That's OK!!
But I wish we could all practice a little more tolerance for opinions that differ from our own. And I wish we all could show a little more love toward our fellow humans. What a wonderful world it would be!
It seems everyone needs a reason to be outraged these days about something – almost anything!
Then others jump on the bandwagon 'just because' – thinking perhaps they should be outraged too… (smh)
Hot topics sometimes trigger the passion we feel. Sometimes passion to overshadow the feelings of others, and sometimes even common decency in our response.
I realize it's easy to get swept up in all the turmoil, but don't we ALL need a reminder that others have the right to feel differently than we do?
Remember what you mama told ya: "If you can't say something nice…"

I pray for a gentler world where we can all live together doing the things that are important to us, while our neighbors tend to things that are important to them.
We're not all carbon copies of each other, and that's a wonderful thing. Remember, many different flowers makes for a more BEAUTIFUL BOUQUET!
~TxH~
Other Humanity Posts
Other Inspiring Posts
…and MANY MORE!

C'mon by & sit a spell! Come hang out at our Facebook Page . It's like sitting in a front porch rocker with a glass of cold iced tea. There are lots of good folks sharing! And you can also follow along on Pinterest, Twitter or Instagram
If you'd like to receive an email when a new blog post goes live,
subscribe to our Blog!
Save
Save
Save
Save
Save