by Texas Homesteader ~
More & more these days people hear a story and then jump on social media making sure everyone knows about this apparent injustice! But it's important to get the facts before sharing a story. Jumping to conclusions is a big mistake because all too often everything is not as it appears.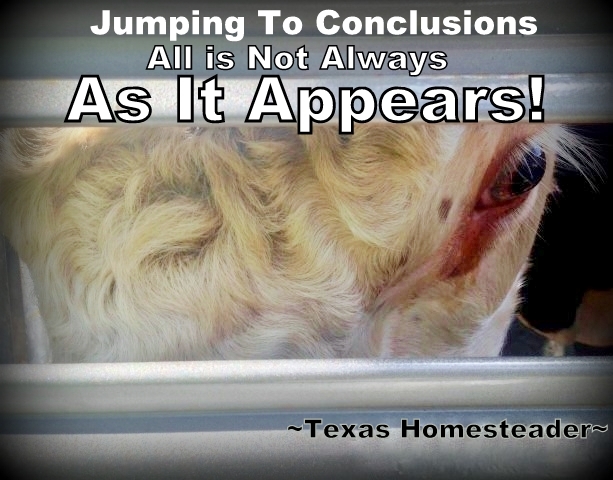 Social Media Benefits & Drawbacks
I love Facebook, and I especially love our Texas Homesteader Facebook followers. I get much enjoyment out of social media. From our Homesteader Facebook page I get to interact with some mighty fine folks.
And on my personal page I get to keep up with my family and our grandbabies and lots of friends. You know, stories about what they're doing, the fun they're having, etc.
But sometimes my social media newsfeed is filled with half-truths being touted as true and shared over & over again. It frustrates me to no end!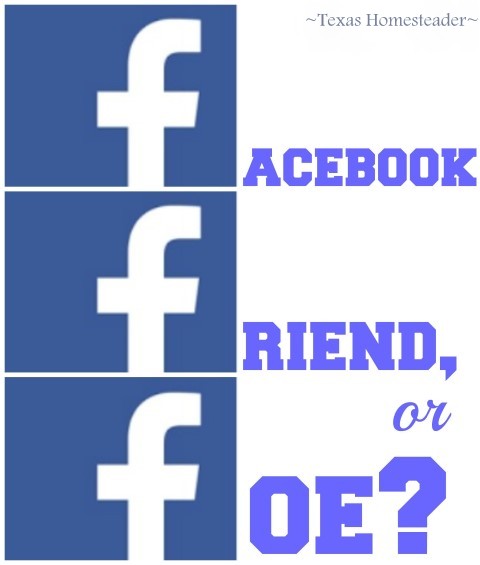 I've been very open about my feeling that everyone has the right to feel the way they do.
Not everyone feels like me, and I'll probably not have the same opinions as everyone else either. And that's OK!
But the thing that bothers me is someone hearing a shocking news story (perhaps purposely tilted by the media) and then taking the ball & running with it.
They get busy spreading that rumor themselves, feeling there must have been a gross injustice done.
But just because you read about it online (or even hear about it from a friend or family member) doesn't make it true!
Now I'm not aware of any falsehoods ever being spread about RancherMan or myself, that's not what this post is about. But I'd love to give the perfect illustration of what I'm talking about.
I'd like to share a real-life example with you why snap judgement about a situation might not be as it appears.
A Call For Help
A couple of years ago friends of ours called frantically. Their heifer had apparently gone into labor early and was having difficulty calving.
They were new to raising cattle and called us for advice. RancherMan & I flew into action.
We gathered the tools we felt we'd need to help deliver the calf and raced to their fledgling ranch nearby.
When we arrived we found the heifer in a small grove of trees. She was indeed in trouble. But something looked very wrong to us, things just didn't add up to it being her calving time.
She's a heifer so she'd never given birth before. But even so it appears she had no milk at all, her udders weren't filled even a little. And she wasn't springing either. And WOW does she look tremendously round!
So RancherMan & I assessed the situation & decided relieving that bloat had to be the first thing accomplished or she would surely die.
We tried to slide a tube down into her rumen to relieve the bloat, to no avail. The tube went down fine but there was no pressure release at all. Hummm…
Heifer's Needs Above Our Capabilities
We worked diligently on that heifer for about 45 minutes before I stood and looked my friend in the eyes.
"This doesn't look good. It's beyond our capabilities. This heifer needs a vet right now!"
But frantic phone calls had already proved that there were no vets available for an emergency onsite ranch visit. So it was up to us to save this heifer. We'd need to get her loaded up & to a vet STAT!
Do What You've GOT To Do!
Her hubby ran for the trailer and backed it up as close to that heifer as he could. But since she was down in a grove of trees he could only get so close.
How will we get her onto the trailer? She couldn't walk or even stand. Heck she was so bloated that even laying where she was her back feet were hanging in the air and not touching the ground!
After a little discussion we started figuring the best course of action for getting her moved. Time was of the essence!
We got a heavy come-along and chained it to the trailer. Then we attached ropes & chains until it was long enough to reach the heifer. We attached that other end to the cow.
Then as gently as we possibly could we inched her toward the mouth of the trailer. We were concerned about getting her up onto the trailer floor, but we knew she'd die if we didn't get help for her soon.
It was ugly let me tell ya, and I'll spare your tender hearts the details of it all. But after much effort from all of us we finally got her loaded up. I told our friend that we'd follow them to the vet and we all sped off.
Dire Diagnosis For Pregnant Heifer
When we got to the vet's office the cow was still down, and still dangerously bloated. The vets were shocked at her appearance & worked on her right there in the trailer as long as they could trying to get the calf out.
Then they mumbled to each other something I'd heard before. Uh oh. I knew the procedure they were about to be forced to resort to.
The calf was already dead. The vets had to get it out of the cow to save her life. But it wasn't gonna be pleasant…
I took my friend aside and explained what was about to happen, trying to shield her from witnessing the procedure.
In the end they found that there was not one, but two calves inside the heifer. They were both dead and had been for a while.
The cow wasn't going into labor, her body was attempting to abort the dead calves. The 'bloating' we were seeing was actually not bloat at all, but gasses resulting from decaying calves inside her. Poor girl!
Video Would Have Deceived!
Now if someone had been videoing our heroic efforts to get this heifer loaded into the trailer it would have looked shocking to an outsider. Especially to someone who did not know about raising cattle. And certainly to anyone who did not understand the gravity of the situation.
It would have looked like abuse. And it certainly would have looked like a callous disregard for this this poor animal.
But as it turned out, it was the only thing that saved her life.
If we hadn't gotten her to the vet immediately she would have died as well. But only after much agony.
This beloved heifer would never have gotten another chance to roam the pastures. She'd never get the chance to live the blissful 'cow life' our friends would have assured for her.
All's Well That Ends Well
As it turned out our friends diligently nursed her back to health. After several months of healing they placed her with their bull and she successfully bred. HOORAY!
She's never had a problem since and she's calved several times since that awful day. How wonderful for my friends to look out into their pasture and see that favored cow peacefully grazing with her newest baby beside her.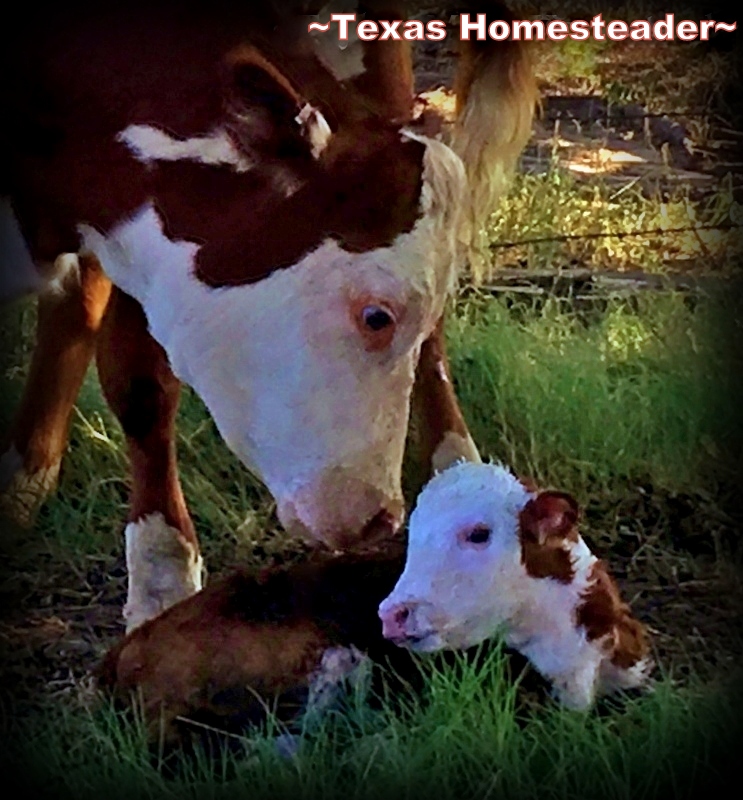 Story Is Not Always As It Appears
But this situation illustrates my point perfectly.
If a family member or friend of yours described our actions to you, it would have sounded horrible.
Even if you'd seen it with your own eyes on VIDEO it doesn't mean you know the whole story. What you're being told or seeing on video could very easily be misinterpreted.
News Stations Often Tilt Stories To Enrage Viewers
It's the same with news stories. Although conclusions can easily be jumped to, what you're hearing doesn't really mean there's a crooked scandal going on. It doesn't mean someone is just after the money and doesn't care about the results of their actions on others.
It could very well mean you're seeing only part of the story. (sometimes purposely shown or told to you that way for another purpose such as ratings, etc.)
The part you're not seeing is sometimes the part that makes it all make sense…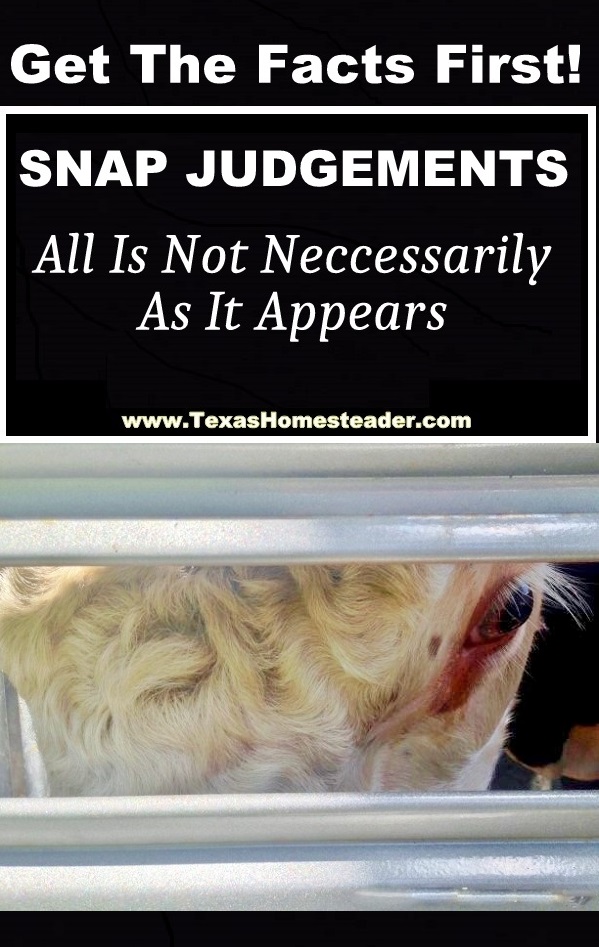 Fact Checking Stories Before Acting
But this is a good reminder for all of us. Be sure to check things out for yourself before plastering a partial-story character assassination of someone else on social media.
Of course you have the right to either like or not like another's actions. But get all the facts before you decide how you feel about it or pass on that half-truth juicy gossip about someone in your community to be further misinterpreted by even more people.
Please, please, PLEASE! Research for yourself before you jump on the rumor bandwagon & spread false malice about someone else.
Otherwise you may very well be just as guilty of character assassination as the person who started the rumors in the first place.
Always remember – not ALL is as it appears!
~TxH~
Other Humanity Posts
Inspiring Posts
…and MANY MORE!

C'mon by & sit a spell! Come hang out at our Facebook Page . It's like sitting in a front porch rocker with a glass of cold iced tea. There are lots of good folks sharing! And you can also follow along on Pinterest, Twitter or Instagram
If you'd like to receive an email when a new blog post goes live,
subscribe to our Blog!
Save
Save
Save
Save
Save
Save
Save