by Texas Homesteader ~
You value your family's heirlooms. But it seems we can no longer be sure future generations will be interested in receiving grandma's finer things. A generation shift could make it harder to pass grandma's stuff to your kids. Read my thoughts about the difference in typical life for different generations.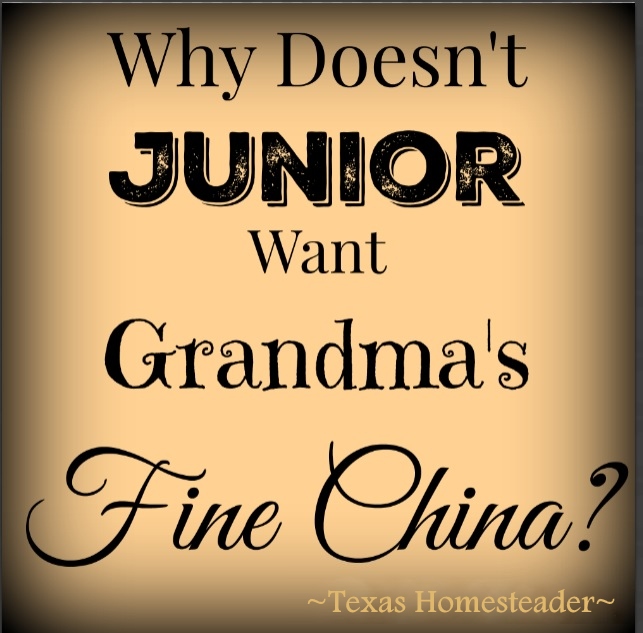 Estate Sales – Why Didn't Family Want Grandma's Things?
"I see there's an estate sale this weekend, do you think we should attend?" I asked RancherMan recently. As I went over their high-end offerings we got into a pretty deep conversation.
We were talking about the interesting social shift of current generations compared to generations of the past.
And why are younger generations not interested in things like fine china or heavy well-made antique furniture?
As we talked, a couple of things came to mind. It seems generations in the 30's, 40's & 50's were vastly different than later generations.
Does that explain why Junior is no longer interested in grandma's fine china? And what does that mean for the special things a typical family might carefully store back for their children one day?
Economic Differences Throughout The Generations
Many in earlier generations really had to claw their way through various stages of their lives.
My grandparents married young in 1938 and struggled to finally get their own home, which my grandfather built with his own two hands.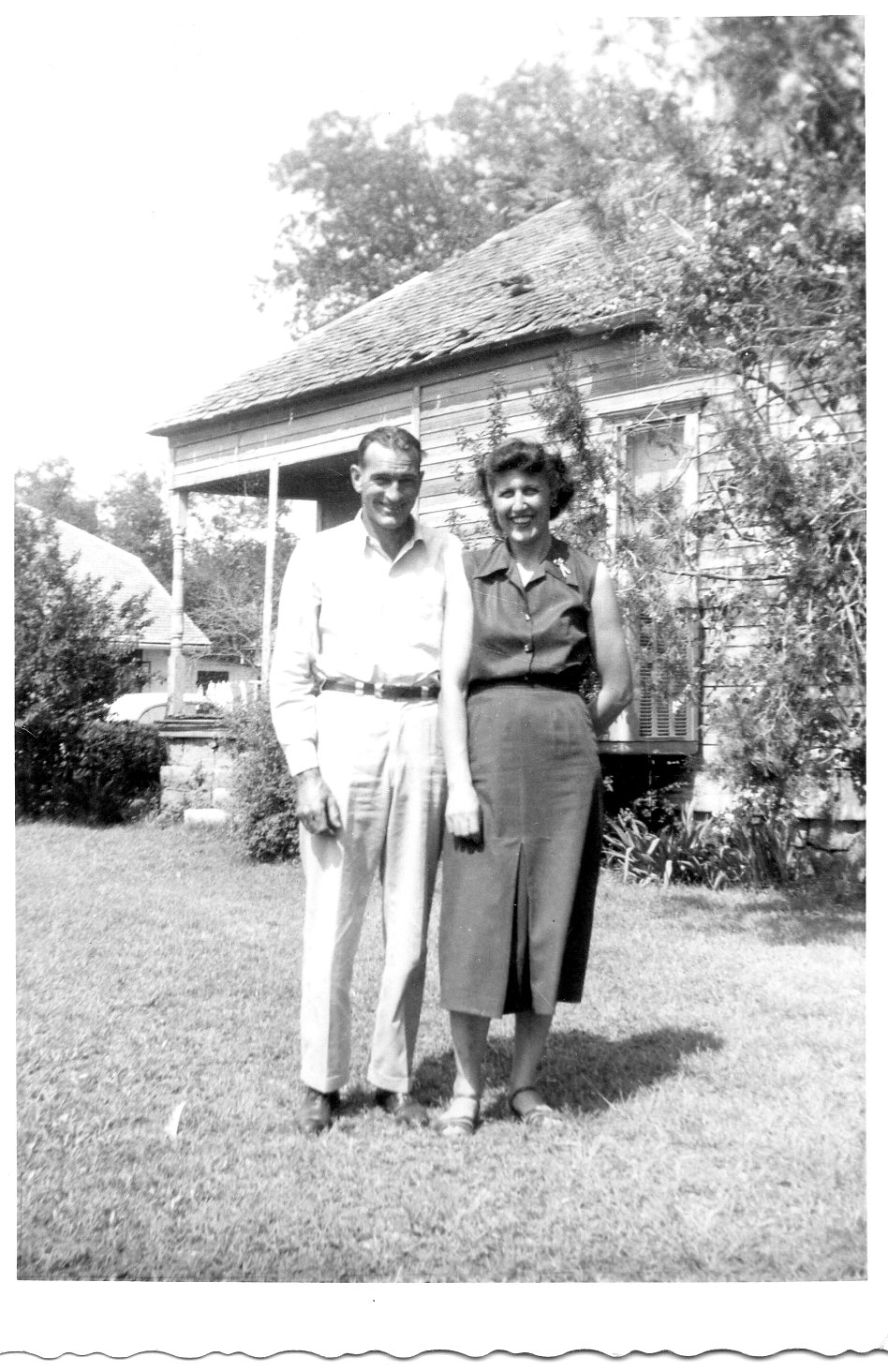 Extended family members would often help get a young couple on their feet by sharing belongings they were no longer using. These things had often been previously passed down to them such as their grandma's china and Aunt Dorothy's dining table.
Little by little my grandparents made their house into a home and started their own family, while still struggling financially every step of the way.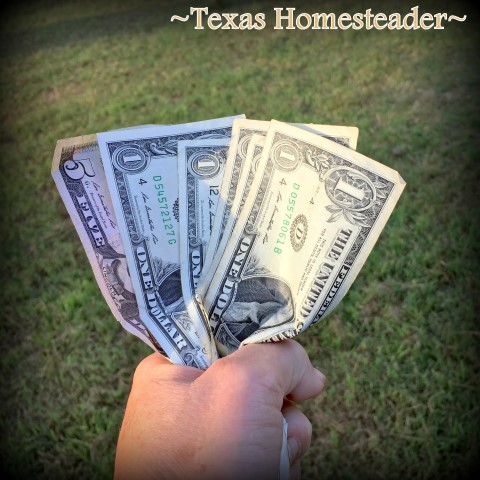 By the time their children grew up and started out on their own my grandparents had finally reached a slightly more financially comfortable place.
Now they wanted to make sure their children had the same assistance they received when they were just starting out. It was just the way it was done back then.
But today's young families have more options that are much less expensive available to them. There's no shortage of lighter-weight & inexpensive furniture & household goods.
Retailers such as Walmart & Ikea help to outfit a young adult's home on the cheap.
Difference In Entertainment Events
Our grandmothers often held lavish dinner parties. And they dedicated that good china for only such special occasions.
Those past generations used these gatherings as a major form of their social interaction & entertainment.
Their china was often passed down in near-pristine condition from generation to generation. Such finery was often cherished for its opulence.
Although there's still no shortage of dinner parties being held today, now it's common for groups of people to hang out more often at other entertainment venues – clubs, bars, theme parks and the like.
Formality Shift Though The Generations
It seems past generations were much more formal as well. Those dinner parties were often well orchestrated and they displayed all the finest possessions they had. These fineries were a great source of pride for those families.
Today's dinner parties are almost always much more casual. They often involve serve-yourself covered dish foods served on cute yet inexpensive or sometimes disposable dishes.


Families Put Down Roots Closeby
Once older generations had their own home, often it was there where they raised their families and go through the various life stages all in the same location.
It was not uncommon for many generations of the same family to live within just a few miles of each other all their lives.
Today's generation is often more mobile. They might live in several different apartments or rented houses in various cities when they first strike out on their own.
And oftentimes there are job transfers and moves to different states as they find their own way.
Today's generations often live in several temporary locations before finally putting down longer-term roots.
Should I Save Family Heirlooms For My Children?
There are always exceptions, but we shouldn't assume that our kiddos will be excited to receive that china passed down for generations or the sturdy well-made vintage furniture we enjoyed as a child.
It's always a good idea to check & see if there's any interest of course. But today's generations are often in a different place than generations gone by.
Use Your Fineries Now!
And for me one of the most important takeaways for me is that I don't want to put back the 'good stuff' for use only on special occasions.
RancherMan & I own very few higher-end items. But the nicer things we have are not tucked away behind glass or in a dusty chest, unseen and unloved.
Those Waterford Crystal glasses are relished as RancherMan & I sip on a glass of wine as we watch that golden sunset in the evenings.
Grandma's beautiful handmade quilt is on our bed right now, not tucked away in a box to make sure it doesn't wear.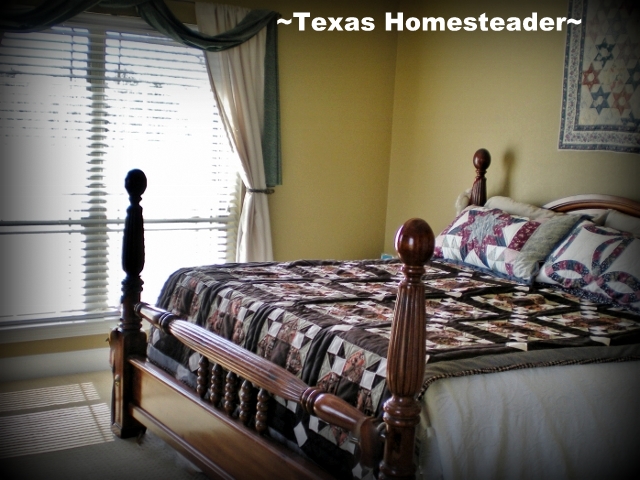 And I think that mentality applies to other 'special occasion' fineries as well. I make sure to enjoy nicer soaps & specialty lotions now. They're not tucked away for a special occasion.
Heck we've decided every day is a special day. Why not enjoy those nicer things now??
~TxH~
Other Humanity Posts
Other Inspiring Posts
…and MANY MORE!

C'mon by & sit a spell! Come hang out at our Facebook Page . It's like sitting in a front porch rocker with a glass of cold iced tea. There are lots of good folks sharing! And you can also follow along on Pinterest, Twitter or Instagram
If you'd like to receive an email when a new blog post goes live,
subscribe to our Blog!
Save
Save
Save
Save
Save