by Texas Homesteader ~
Apples are super cheap when they're in season. Don't you just crave that sweet deliciousness of autumn? Me too!
Come see my 5 favorite ways to preserve lots of fresh apples and some delicious apple dessert recipes as well.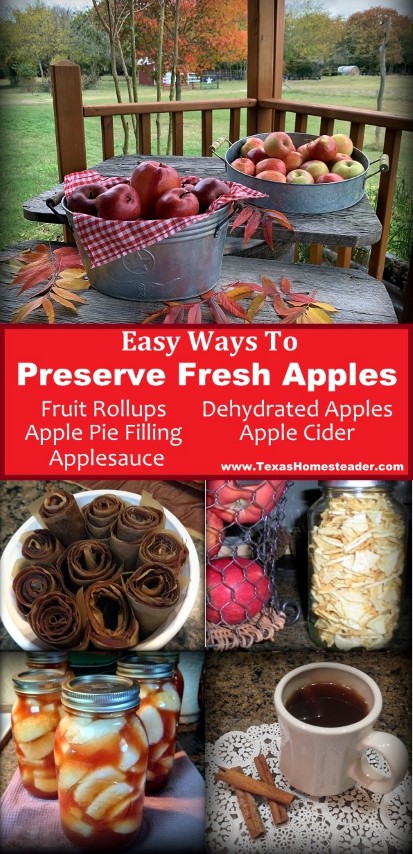 What To Do With Lots Of Apples?
Every year my aunt shares with us the abundance from her very productive apple tree. She always goes through quite a bit of effort to make sure I have all the apples I can possibly tote back home!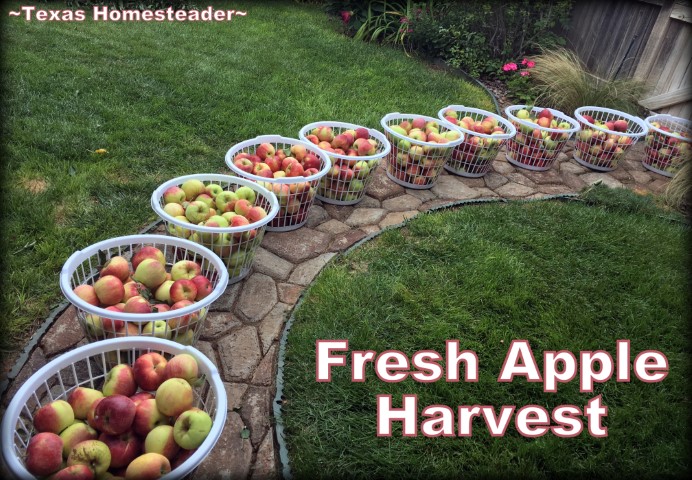 So RancherMan & I hauled back all we could fit into our small car. I'll not let any of them go to waste – I set out to preserve all those beautiful apples!
There were SO many apples that was a lot of work I'm not gonna lie. But after some time in the kitchen preserving them we have plenty of apple deliciousness in the pantry.
You can see all my apple posts simply by clicking the Apple Button below:

But I ended up with lots of apples so I sat out to preserve them all. Do you want to see some of the things I was able to do with a large amount of apples? I
'm sharing a list below of my favorite ways to preserve them, and some fun apple dessert recipes too.
Just click on the individual links below for more detailed information. Enjoy!
5 Easy Ways To Preserve Fresh Apples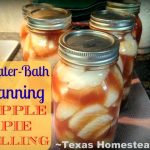 APPLE PIE FILLING
This apple pie filling recipe is straightforward and canning requires just a 20-minute stint in a water-bath canner. Those beautiful jars in the pantry mean I can make homemade apple pie in minutes!
---
Slow-Cooker Applesauce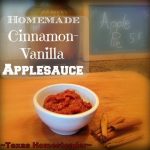 This is the simplest way to preserve fresh apples. Peel/core/slice them and chunk them into a slow cooker to cook down. Then canning them is easy! I've made regular unsweetened to enjoy and also use in my baking, and Cinnamon/Vanilla flavored applesauce too!
---
Apple Cider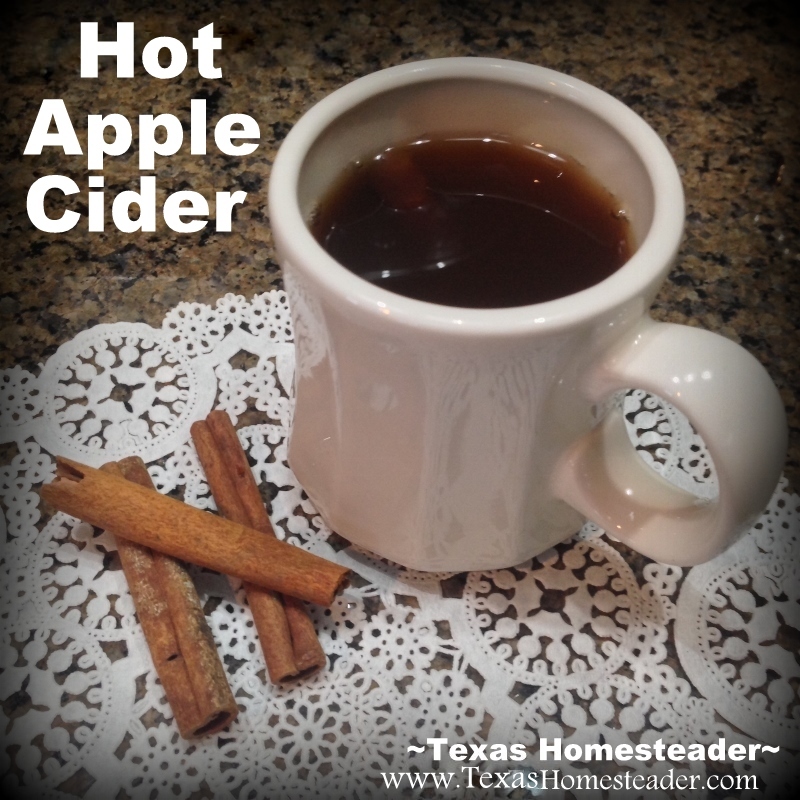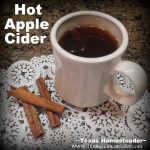 A delicious byproduct of making applesauce – the apple cider. It's easy to can too. In the cold winter months I enjoy a steaming cup of cider stirred with a cinnamon stick to warm me from the inside out.
---
Dehydrated Cinnamon/Sugar Apples
Slices of peeled/cored apples are sprinkled with cinnamon & sugar and then dehydrated. The result is a delicious, crunchy, sweet apple treat!
---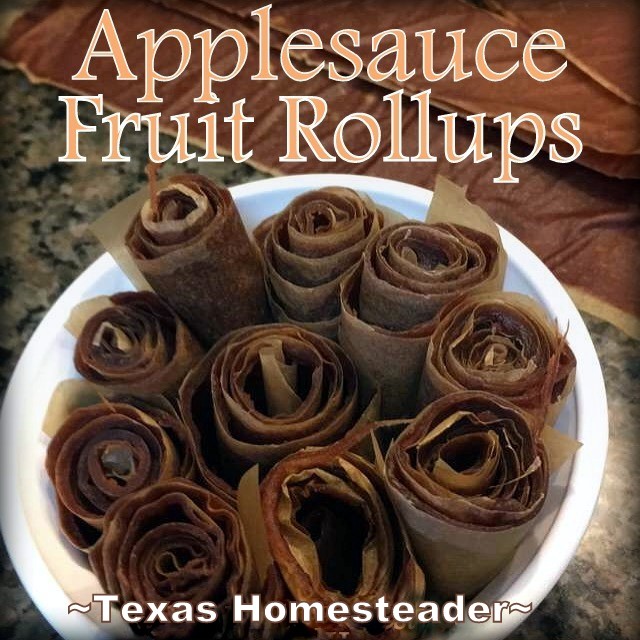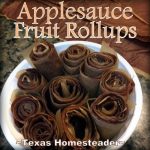 Apple Leather Fruit Roll Ups
If you have excess applesauce it's easy to make them into fruit rollups. Just spread them on the dehydrator trays & dry until no longer tacky. Then cut into strips & roll. I've made regular and cinnamon/sugar rollups. And they're both delicious!
---
What Easy Apple Desserts Use Apples?
Apples are used often in my favorite Homestead recipes.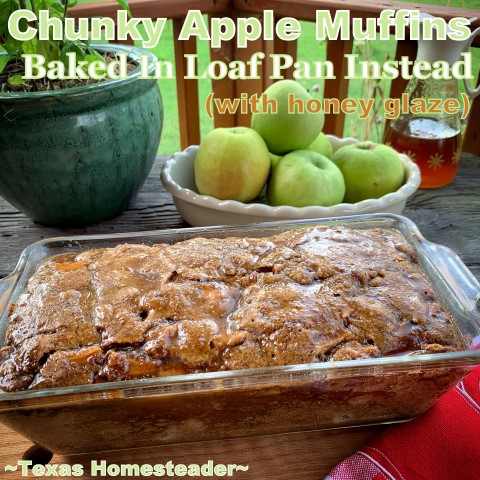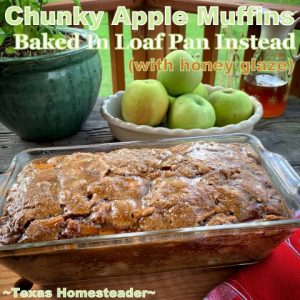 ---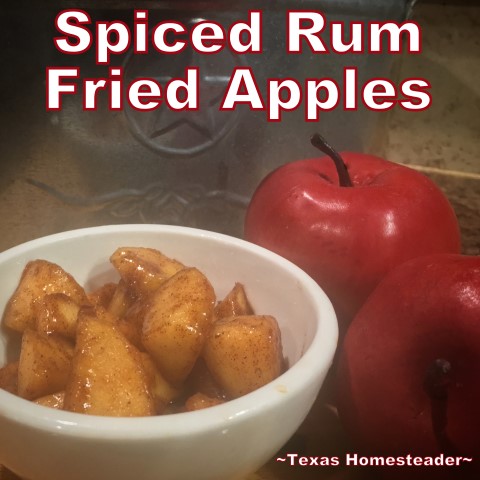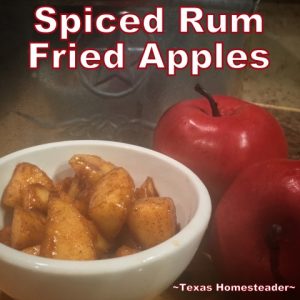 ---
---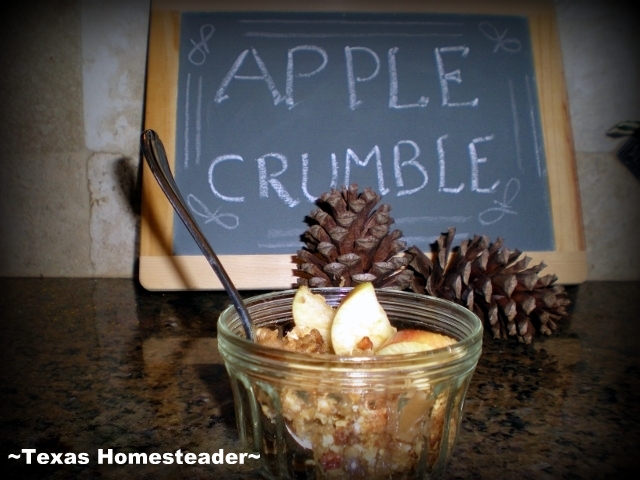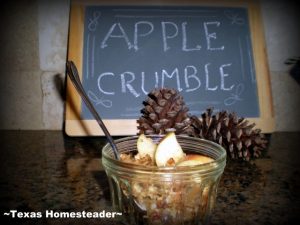 ---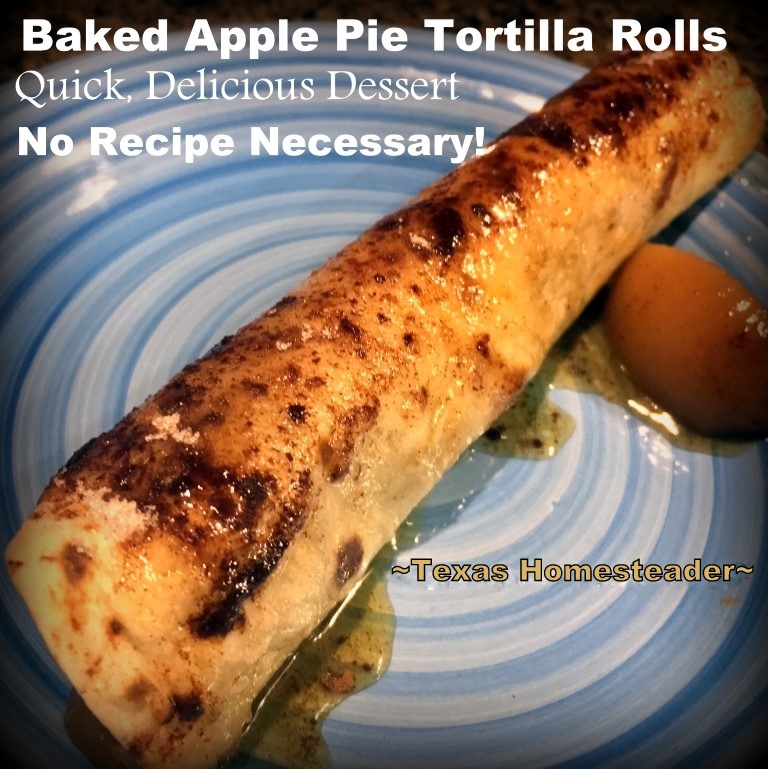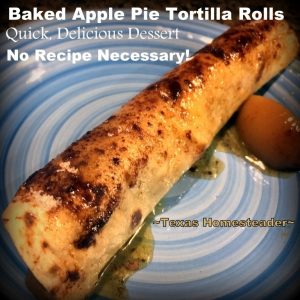 ---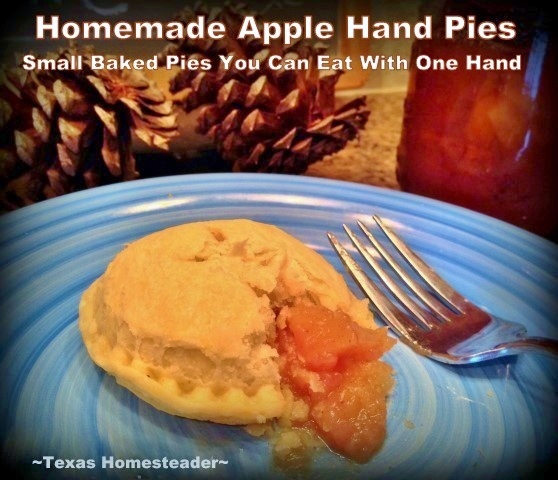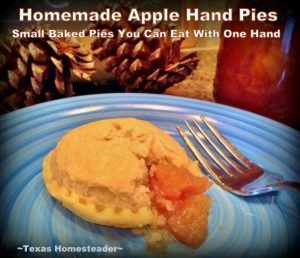 ---
So don't despair if you have lots of apples – try one of these easy ways to Preserve & enjoy them deliciously!
~TxH~
Other Easy Desserts
Cakes, Pies, Cobblers
Muffins, Breads
Cookies
Puddings
Ice Cream & Other Desserts
Dessert Toppings


C'mon by & sit a spell! Come hang out at our Facebook Page . It's like sitting in a front porch rocker with a glass of cold iced tea. There are lots of good folks sharing! And you can also follow along on Pinterest, Twitter or Instagram
If you'd like to receive an email when a new blog post goes live,
subscribe to our Blog!
Save
Save
Save
Save
Save
Save
Save
Save
Save