by Texas Homesteader ~
*contains affiliate link
What can you make with chickpeas?? (also known as garbanzo beans) I share a few ideas of different things I can easily make with Chick peas such as hummus, a crunchy snack and even whipped topping! Check out this edition of Food Talk.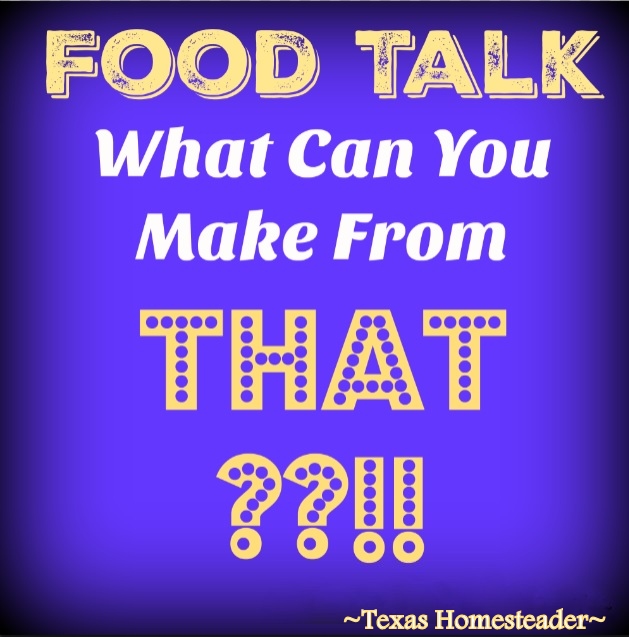 (Note: Links preceded with * are affiliate links. If you click and buy something I could receive a tiny commission.)
Recently we were gathered with a few friends and RancherMan overheard me speaking with a friend who was asking about garbanzo beans. (also known as Chickpeas or Chick Peas). She had some and didn't know what to do with them.
I was pretty excited about my suggestions and RancherMan had to smile. Afterward he suggested I do a series of posts about food that people may need suggestions about.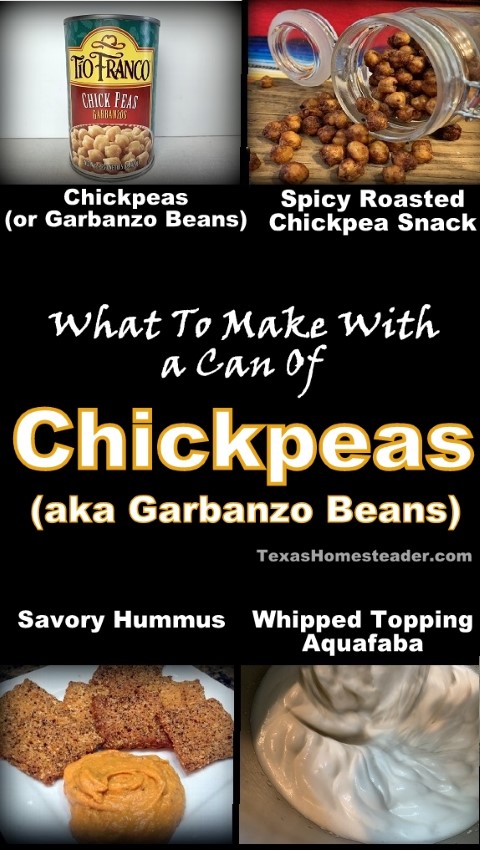 So this is my first of such series and I'm talking about chickpeas.
What To Make With Chick Peas
A can of chickpeas is pretty inexpensive to buy. But chickpeas are even CHEAPER if you buy a bag of dried beans instead of canned. I like that because I'm cheap, I mean broke, errr – careful with our money.
I've been very successful in cooking dried chickpeas very quickly using a pressure cooker – provided I'd pre-soaked the beans. And the cost (and landfill-bound trash) is significantly reduced. That really matters to me.
But now that you've got chickpeas, what do you do with 'em?
A Healthy Serving Of Beans
Of course you can eat chickpeas like you would any other bean, just seasoned as a side dish. I like to toss in a pinch of cumin.
They're a great plant-based protein and they're loaded with fiber, iron, B vitamins & more. We enjoy garbanzos from time to time this way.
It's also a nice protein boost to sprinkle chickpeas atop a healthy garden garden salad. Plus it adds fiber too.
Roasted Chickpeas As A Crunchy Snack
I've also made Roasted Chickpeas. It was easy.
Drain chickpeas

Coat with flavored olive oil

Toss with garlic salt, cajun spice, Taco Seasoning or any other spice blend
Roast in oven or air fryer until crispy. (be watching so they don't burn)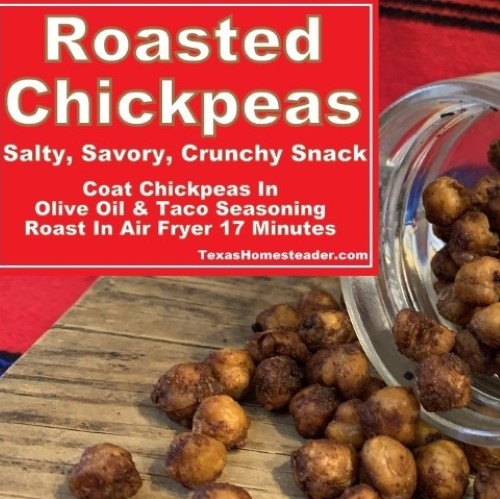 It's a healthier snack for my handsome RancherMan. And he really enjoys both the taste and the crunch.
Simple Chickpea Aquafaba
Now here's one of the most unusual things you can do with a can of chickpeas. Well, actually the LIQUID drained from a can of chickpeas…
Drain a can of chickpeas into a bowl. It yields about 3/4 cup. Then use this bean water (also called aquafaba) and whip using a stand mixer on the highest setting for until stiff peaks form Magic!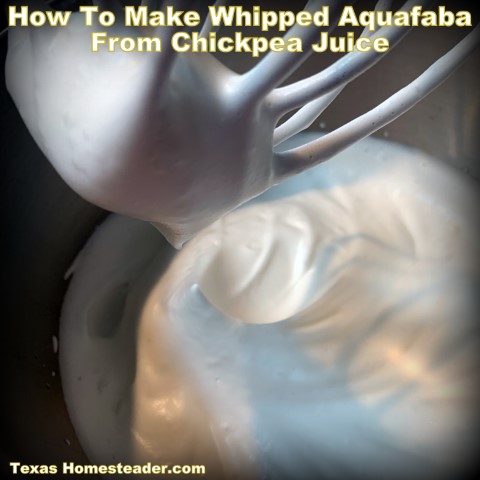 To make a sweetened topping I use this thickened aquafaba and add sugar. I just add about ½ cup powdered sugar and sometime a drop or two of vanilla extract. Then I whip it again until it's all fluffy & sweet!
This aquafaba is not as dense as my Homemade Whipped Cream or the commercial tub of Cool Whip topping. Aquafaba is lighter and airier. But it's fluffy & sweet and you can put a dollop on top of Homemade Chocolate Pudding and such.
Others use the aquafaba as an egg-white substitute in baking or to make meringue cookies. I'll be writing a detailed post about making aquafaba soon, be watching!
Chickpea Hummus A Creamy Dip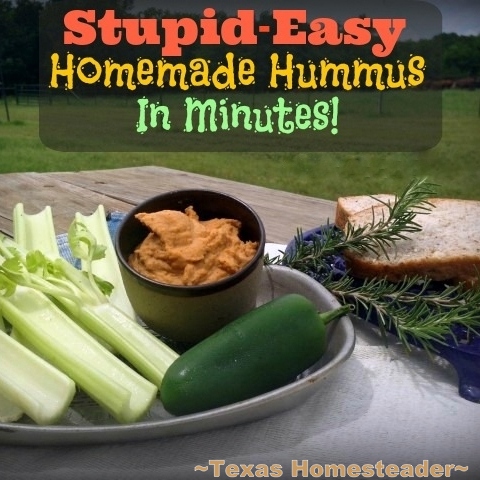 But my favorite way to enjoy chick peas is by making my own Homemade Hummus. Our youngest daughter shared the recipe with me a couple of years ago and she was right, it really is 'Stupid-Easy' to make!
I just place drained chickpeas and a few other simple ingredients/seasonings in my *Ninja Blender, whirr them for a few seconds and BOOM! Hummus!
I've made & served this delicious yet healthy snack food at many gatherings.
How do you most like to enjoy chick peas?
~TxH~
Other Favorite Condiments
…and MUCH more


C'mon by & sit a spell! Come hang out at our Facebook Page. It's like sitting in a front porch rocker with a glass of cold iced tea – lots of good folks sharing!
You can also follow along on Pinterest, Twitter or Instagram.
To receive an email when a new blog post goes live it's EASY to
Subscribe to our blog!
Save
Save
Save
Save