by Texas Homesteader ~
*affiliate link
I like to use fresh herbs from my garden as often as I can. I'd heard of freezing a mixture of herbs with olive oil into a cube. Herb bombs!
Even though the terrible weather & grasshopper damage has all but ruined my chances of harvesting anything, there has been a ray of sunshine in my gardening endeavors this year. My edible landscape!
I've had many herbs such as rosemary, thyme, sage and basil survive the weather and the grasshoppers.
I'd heard before about making 'Flavor Bombs' from various herbs and olive oil, so I figured I'd give it a try. Turns out I really like them!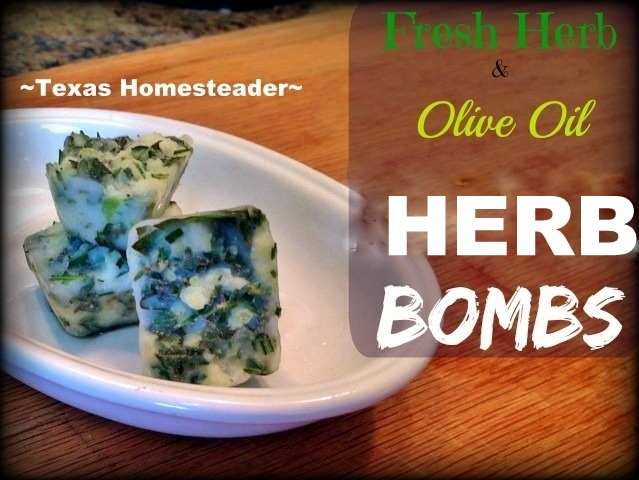 (Note: Some links in this post are for further information from earlier posts I've written. But links preceded with * are affiliate links. If you click them and buy something (almost anything, not just the item noted) I could receive a tiny commission. But the price you pay will NOT change. It's an easy way to support this blog without anything coming out of your pocket. So click often! Thank you!)
Now given the fact that I won't be harvesting & enjoying anything from my veggie garden soon because of the grasshopper damage, I'm sure having a blast experimenting with ways to fully use these aromatic herbs.
It's easy to make these Herb Bombs and have them in the freezer to be used whenever needed.
Harvesting Fresh Herbs
Here's what I did: Early in the morning when the dew had just dried from the herbs I went outside to my front porch and gathered several stems of different herbs.
I harvested a few sprigs of rosemary, a small fistful of thyme, a stem of basil and a small stem of sage. Then I brought them inside, washed them and got to chopping.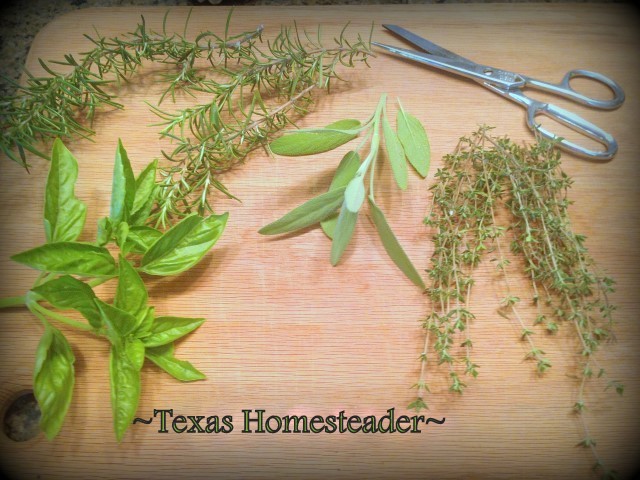 Mincing Herbs
I minced the herbs as finely as I could. And I pulled out two cloves of garlic and minced them as well. Yes, I could have just pressed them with the garlic press but I figured that minced would offer the perfect texture I was looking for.
Then I mixed all my minced herbs and garlic into a bowl and poured some extra virgin olive oil on top, stirring to mix everything together completely.
(deep breath) Oh my goodness that smells divine! And my mind is racing with all the things I might be able to flavor with it.
My first thought is to use these Herb Bombs to flavor my brown rice since I typically sauté the rice for just a few minutes in oil to intensify the rice flavor. Or maybe to add simple fresh flavor when I sauté those fresh garden veggies.
But I'm sure there are many things these convenient flavored cubes would be great for!
Freezing The Herb Bombs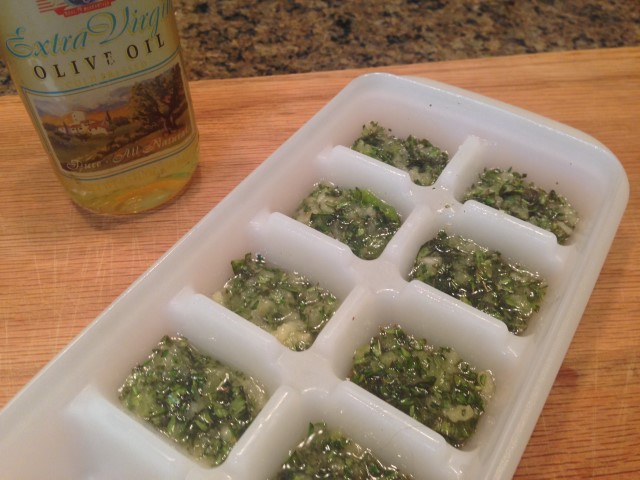 After I get everything mixed together I pulled out my ice cube tray. Those flimsy things you buy at the dollar store have always frustrated me.
So I have these heavy duty *ice cube trays with covers. Turns out they work PERFECTLY for this!
I drop about a tablespoon of my herb mixture into each ice cube section. The amount of herbs I'd minced made 8 cubes. I topped off the cubes that weren't completely covered in olive oil. Then it was time to get these babies in the freezer.
Sealing The Aroma
Now even though I have a heavy-duty covered ice cube tray, these herbs are certainly aromatic! I don't want to take the chance that they will flavor other items in our freezer such as ice cream and such.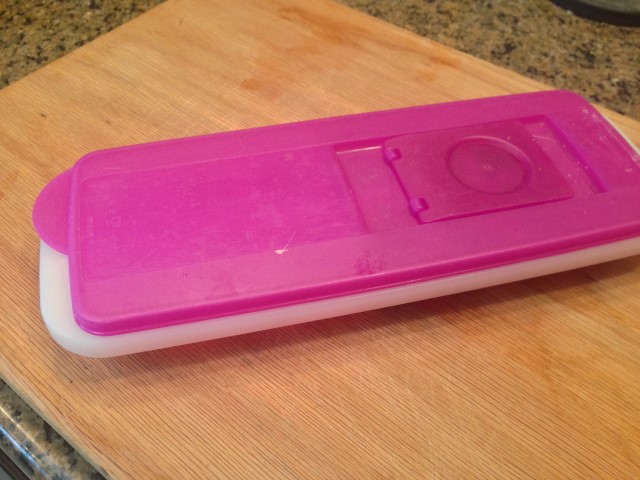 So after I snapped the lid on the tray I then slipped a repurposed bread bag over the whole shebangie. A twist tie was used to close it up securely. Now all that's left to do is wait for them to freeze.
When they were frozen solidly I brought them out of the freezer. A small condiment spoon was used to gently pry the Herb-Bombs from the ice cube trays and they came out easily.
Since the olive oil begins melting even with just the warmth of my skin I quickly placed the Flavor Bombs in a small zippered bag. A quick label & I returned them to the freezer.
The beauty of these Herb-Bombs is that you can adjust them to suit your taste. Want crushed red pepper in them? Add it! Want parsley in them? Add it!
Whatever herbs you enjoy cooking with can be used with these Herb-Bombs. And since they're ready & waiting right there in your own freezer, you have a healthy yet convenient flavor-aid right at your fingertips!
Here's how I made my Flavor Bombs: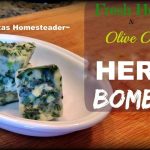 Fresh Herb & Olive Oil Herb-Bombs - makes about 8
Fresh herbs minced and frozen with olive oil in ice cube trays can be a quick flavor boost for rice or sautéed veggies.  See my tutorial for these easy-to-make HERB BOMBS! #TexasHomesteader
Ingredients
Minced Ingredients:
2

cloves

garlic,

minced

2

Tablespoons

Minced Fresh Rosemary

1

Tablespoon

Minced Fresh Sage

1.5

Tablespoon

Minced Fresh Thyme

1.5

Tablespoon

Minced Fresh Basil
Instructions
Mince all herbs and mix together in a bowl. Mince or press 2 cloves of garlic and add to the bowl with the herbs. Pour enough olive oil to thoroughly coat and gently stir to incorporate all ingredients. Drop approximately 1 Tablespoon into each ice cube tray compartment. Press herbs down to compact contents and add a little additional olive oil if needed to cover herbs.

Cover ice cube tray securely to keep aromas from flavoring other items in the freezer and place tray in freezer until completely frozen. When thoroughly frozen remove from ice trays by gently prying with a small spoon if necessary and quickly place Flavored Herb Bombs in a labeled freezer container for future use.
Recipe Notes
To use, place a herb bomb in a small container on the counter top until thawed and then stir into food to flavor.
For flavoring rice, drop herb-bomb in pan and use the oil it contains to sauté brown rice for about 3-4 minutes, then cook & serve rice as usual.
For flavoring simmering soups or broth, drop frozen herb-bomb directly into simmering recipes to flavor as the soup cooks.
~TxH~
Other Favorite Condiments
…and MUCH more


C'mon by & sit a spell! Come hang out at our Facebook Page. It's like sitting in a front porch rocker with a glass of cold iced tea – lots of good folks sharing!
You can also follow along on Pinterest, Twitter or Instagram.
To receive an email when a new blog post goes live it's EASY to
Subscribe to our blog!
Save
Save
Save
Save
Save