by Texas Homesteader ~
*contains affiliate link
I've heard that pear relish is delicious but… I dunno. I mean sweet pears coupled with savory onions & bell peppers? And jalapenos? And MUSTARD? Blech!
I've never been a fan of sweet & savory tastes together. But RancherMan asked me to get the recipe from a friend so I did. The instructions she sent were kind of vague and the recipe seemed to make quite a lot.
What if all that food & work were wasted because, well… (see pears vs peppers & onions argument above!)
So I made a small batch just to check it out. After sampling the results we found it delicious! RancherMan has already asked me to make it again, this time a full batch #ifyouplease!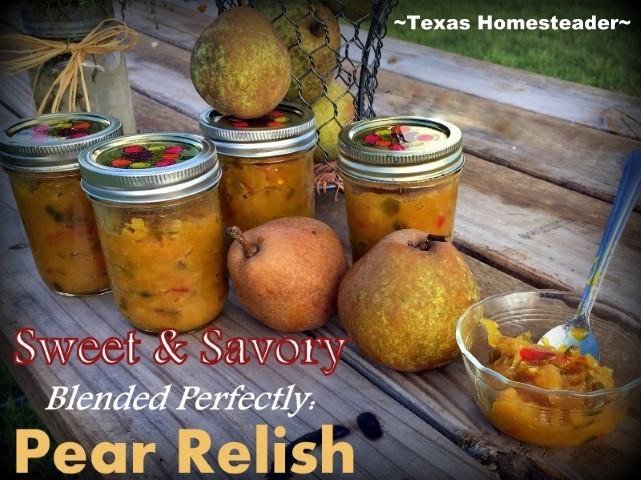 Abundant Pear Harvest
A little background: I was recently blessed enough to receive an invitation from a neighbor to harvest from their huge pear tree. RancherMan & I took a few paper feed bags and loaded up about 75 lbs just from what we could reach from the ground!
There are many things I'm anxious to do with these fresh pears! In the past I've made Pear Preserves (RancherMan's Fave) and Pears in Vanilla Syrup (my favorite).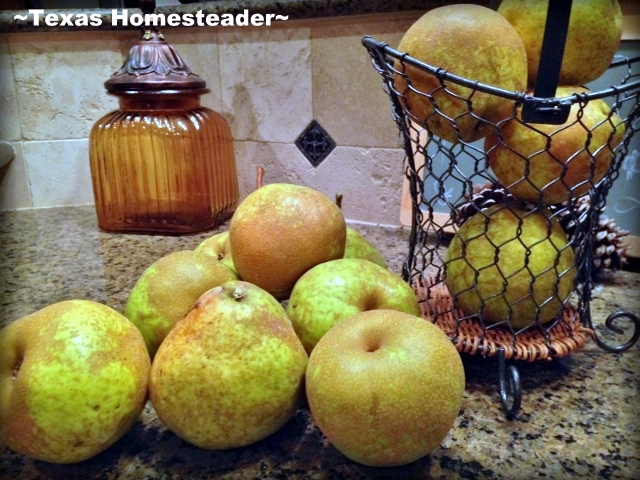 I've even made a delicious Pear Cake that's amazingly moist & delicious! But with this many pears I'm able to try new recipes too.
Questioning Pear Relish Ingredients
Fast forward a few days later & a friend was talking about how her family loved pear relish. I mentioned it to RancherMan who said it sounded interesting & I should make some. A
Although I was skeptical we'd like it, I asked her to send her recipe. She emailed it but like I said, the instructions were vague. I tweaked the recipe (as I guess I always do LOL)
But I was concerned about the hodge podge of ingredients. Pears and onions? And MUSTARD?
Asking A Friend About Pear Relish Ingredients
I was speaking with another friend at church & I mentioned the pear relish & its odd ingredients and her eyes sparkled. "Oh I love pear relish" she exclaimed.
I said "Yeah, but is there supposed to be mustard in it??" She said her pear relish always had mustard included, so I figured I'd move ahead with this recipe.
(Note: Some links in this post are for further information from earlier posts I've written. But links preceded with * are affiliate links. If you click them and buy something (almost anything, not just the item noted) I could receive a small purchase. But the price you pay will NOT change. It's an easy way to support this blog without anything coming out of your pocket. So click often! Thank you!)
I had some jalapenos and red & green bell peppers in the garden. The garden onions weren't quite ready so I bought them instead.
I gathered all ingredients together & pulled out my grandmother's food chopper. This bad boy has been feeding families for decades! I still feel my grandmother's presence when I'm using her kitchen tools. (contented smile)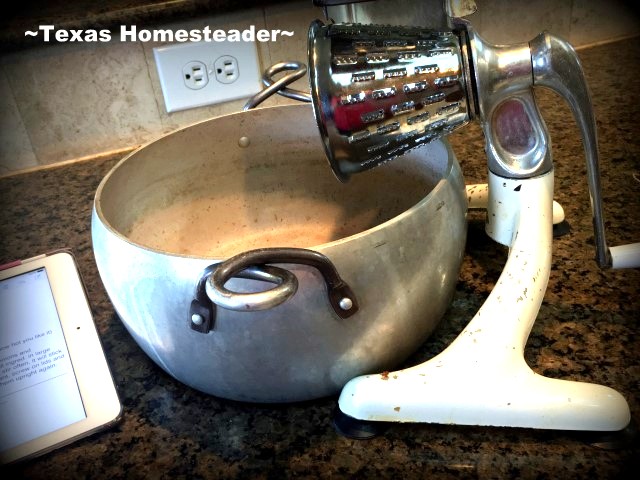 So RancherMan & I used our *apple peeler/corer to quickly peel some pears. Then I quartered and cored them. I seeded my bell peppers and peeled my onion and we ground it all together into a large stock pot.
Cooking Pear Relish
I stirred in the sugar, vinegar and mustard and put the pot on the stove. Not knowing how long it needed to simmer I stood there stirring. (I'd been warned it could stick to the bottom if not stirred frequently.)
I ended up simmering the relish for 20 minutes. It reduced quite a bit and the liquid became syrupy.


We decided to put the relish in 1/2 pint jars. That way we wouldn't have to open & use a larger jar.
I had already sanitized four 1/2-pint jars by washing them and placing them in the oven set to 220 degrees. This step also assures the jars are good & hot to receive the hot ingredients.
You remember in science class what happens when hot substances get poured into cool jars? Yeah, I didn't want that to happen! LOL
The instructions said to just put the lids & rings on the filled jars & turn the jars upside down. It went on to say to leave them for about 10 minutes and then turn them right-side up again. That was supposed to seal the jars.
Now I've done this before and to be honest I followed those directions this time as well. But for future batches I'll water-bath can them for 20 minutes just to be on the safe side.
Since there are variables to canning such as altitude and equipment, for your specific circumstances be sure to consult your canner's manual and also make sure you read and understand the USDA's recommendations on safe canning and follow their directions closely – food safety is important!
Enjoying Pear Relish In Savory Dishes
After cooking all that deliciousness the house smelled amazing, so maybe there's something to this pear relish thing after all!
To test the flavor we added a dollop on top of black-eyed peas with our supper and it was delicious.
I use this savory pear relish as an ingredient when I'm making RancherMan's favorite Thousand Island Salad Dressing.
I'm thinking it would be nice in egg salad too, and I make egg salad often to use up the eggs our girls provide.
I've been told it would work well on hot dogs and I can TOTALLY see that. I'm thinking it would go nicely anywhere regular pickle relish would go.
I'll be experimenting quite a bit in the very near future…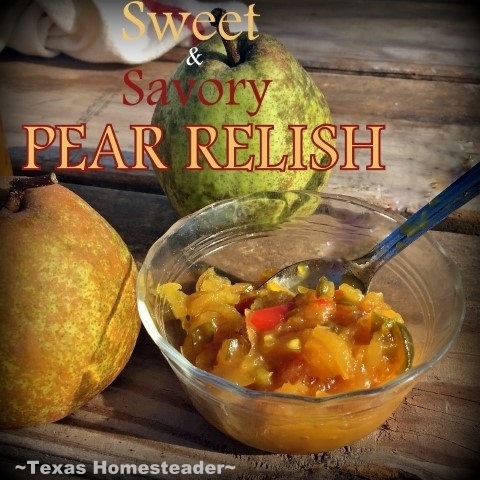 Here's the recipe in the quantity I initially made it. But I've included the full batch recipe below as well.
Trust me – go for the full batch! LOL.
Pear Relish Recipe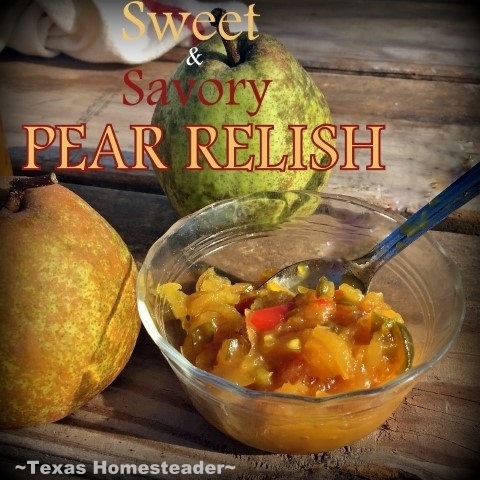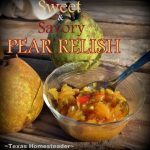 Pear Relish Recipe
Here's the recipe as I made it, but I've included the full batch recipe in the original post as well. Trust me - go for the full batch! LOL. ~TxH~

Water-Bath Canning Time
20
minutes
Servings
4
Half-Pint Jars
Ingredients
4

large pears

2

large onions

2

large bell peppers

red & green

2/3

cup

white vinegar

2/3

cup

yellow mustard

2

cups

sugar

Chopped Jalapenos to taste

I used 2 chopped
Instructions
Peel and quarter pears, seed peppers, peel onions.

Grate pears, peppers, onions and jalapenos with a food chopper or pulse in food processor just long enough to shred ingredients.

Place all ingredients into large stock pot and bring to boil. (Stir often, it will stick to bottom of pot.) Simmer for about 20 minutes, or until reduced & thick.

Ladle into sterilized canning jars, screw on canning lids and water-bath can for 20 minutes)
—————————————————————————————————————-
FULL BATCH – (8) 1/2-Pint Jars
12 large pears

6 large onions

6 large bell peppers (3 red, 3 green)

2 cups yellow mustard

2 cups white vinegar

6 cups sugar

Jalapenos to taste (maybe 6-10, depending on how hot you like it)
Peel and quarter pears, seed peppers, peel onions. Grind pears, peppers, onions and jalapenos in food processor. Place all ingredients into large stock pot and bring to boil. (Stir often, it will stick to bottom of pot.) Simmer for about 20 minutes, or until reduced & thick. Ladle into sterilized canning jars, screw on canning lids and water-bath can for 20 minutes.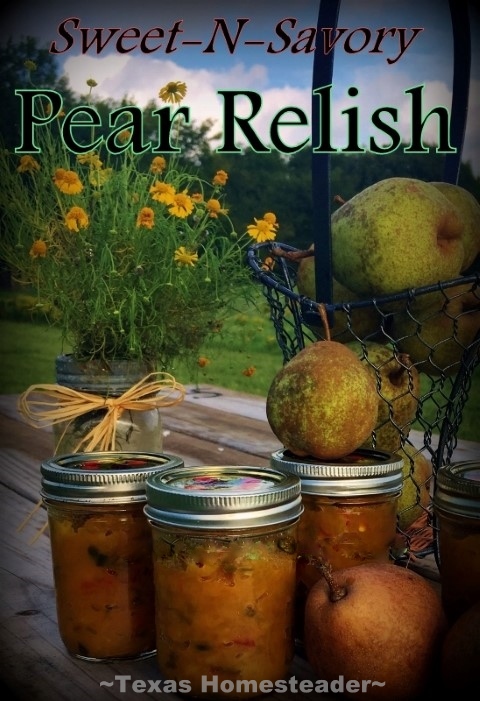 ~TxH~
Fresh Pear Delights:
Other Favorite Condiments
…and MUCH more


C'mon by & sit a spell! Come hang out at our Facebook Page. It's like sitting in a front porch rocker with a glass of cold iced tea – lots of good folks sharing!
To receive an email when a new blog post goes live it's EASY to
Subscribe to our blog!
Save
Save
Save