by Texas Homesteader ~
*contains affiliate link
RancherMan loves pizza. I mean LOVES pizza. As in that man could eat pizza every day for days on end and be a happy boy indeed!
I've made homemade pizza crust and of course those pizzas are delicious. But our work often brings us dragging in from the pastures after dark. Making the dough, letting it rise, baking it up routine often doesn't fit our lifestyle.
For a quicker version I've made French Bread Pizzas. Although RancherMan loves them, this is an even easier (and FASTER) way to get some pizza in his belly. Tortilla pizza.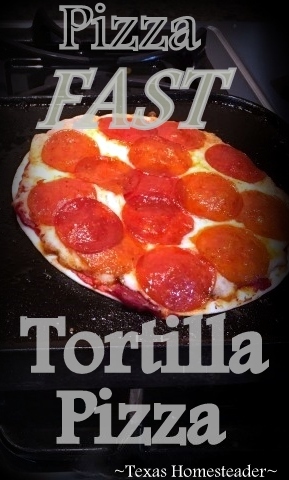 Now hang onto your hats folks, this is one quick meal and certain to please everyone in the family – from RancherMan all the way down to our grandbabies!
I preheat the oven to 425 degrees using my speed-bake option (a fan-assisted convection feature that cooks food faster than traditional bake)
(Note: Some links in this post are for further information from earlier posts I've written. But links preceded with * are affiliate links. If you click them and buy something (almost anything, not just the item noted) I could receive a small purchase. But the price you pay will NOT change. It's an easy way to support this blog without anything coming out of your pocket. So click often! Thank you!)
I have a heavy cast-iron griddle that I often use to make 3 or 4 at a time. But I also have two single-serving *comal pans. (a small round short-sided pan) that I use when it's just RancherMan & me.
So I place whatever cast-iron vessel I want to use into the oven while it's preheating to get the surface good and hot.
Dehydrated Tomato Leather Makes Pizzas FAST!
Now I'm turning my attention to those pizzas. I start by adding a tomato layer on top of the tortilla. Recently I dehydrated several 5-6″ tortilla-sized dehydrated tomato leather from some leftover pasta sauce.
I like to have these in the pantry because I kid you not – you roll them on top of your pizza crust (or tortilla in this case) and just start piling on toppings – no other step is necessary.
The toppings rehydrate the leather as the pizza is cooking. I LOVE these things! Obviously you can use tomato paste here if you don't have leather. But if using paste I'd sprinkle on a little Italian seasoning to give it a little pizza sumpin'.
Then a light sprinkling of cheese to anchor my fillings to the crust, and I start adding my toppings.
RancherMan prefers pepperoni but pepperoni makes me gag. LOL. I prefer to pile mine high with veggies – diced onion, bell pepper, jalapenos, from the garden. I also like to add black olives, and mushrooms. YUM.
I'm sure to dice the veggies small, since they'll be in the oven such a short time I need them to cook quickly. Then I sprinkle a little more cheese on top and bring out my now-hot comal pans.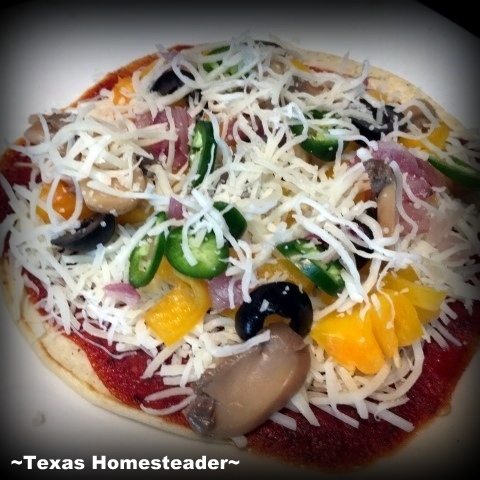 Quick Cooking For Small Pizzas!
I slide the tortilla pizzas from the plate to the hot comal and put them both back in the oven. Now the speed bake does a pretty quick job and I'm just looking for the cheese to get all melty. It typically takes only about 5 minutes.
After that time I pull them out of the oven & RancherMan's already hovering around me exclaiming that the kitchen smells delicious. I slide 'em on a plate and he digs in with relish!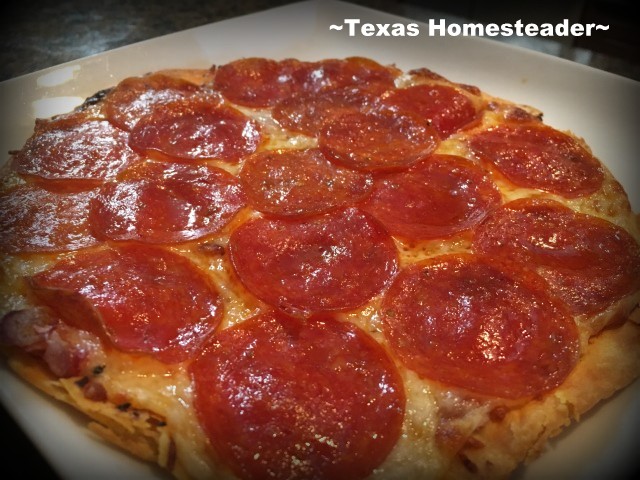 The cast iron helps the crust to get crispy. And this quick & easy meal certainly helps me give him the pizza he craves while saving my sanity after a busy day at the Homestead.
~TxH~
Links In This Post:
Want to see other Meal Ideas?



New Meals Remade With Leftovers
…and MUCH MORE!


C'mon by & sit a spell! Come hang out at our Facebook Page . It's like sitting in a front porch rocker with a glass of cold iced tea. There are lots of good folks sharing! And you can also follow along on Pinterest, Twitter & Instagram
If you'd like to receive an email when a new blog post goes live,
subscribe to our Blog!
Save
Save
Save