by Texas Homesteader ~
*contains affiliate link
A dear friend told me about dehydrating tomato puree (sometimes seasoned) into a leather. WHAT?? Tomato leather??
Yes, tomato leather can be used to simplify your pizza night. Just plop a tomato leather on top of your crust and start adding fillings. The leather rehydrates as the pizza cooks. Oh yeah, I've gotta try this!
Note: Some links in this post are for further information from earlier posts I've written. But links preceded with * are affiliate links. If you click them and buy something (almost anything, not just the item noted) I could receive a small purchase. But the price you pay will NOT change. It's an easy way to support this blog without anything coming out of your pocket. So click often! Thank you!)
Bumper Crop Of Garden Tomatoes
The weather this summer has been odd, unusually cool and with timely rains. The result has been the perfect storm (in a good way) for my tomatoes.
Although I only planted two tomato bushes this year they were my favorite heirloom San Marzanos . They always produce more than we can eat fresh and also plenty for us to preserve.
This year is my first attempt at making a tomato leather in my dehydrator.
What To Do With All The Fresh Tomatoes?
The onslaught of tomatoes from the garden means that RancherMan & I have eaten them fresh with our daily meals of course. And I've made blender salsa and frozen many of them for future use.
I've dehydrated the skins to make tomato powder and made tomato sauce as well as pasta sauce. But now I want to try my hand at something different.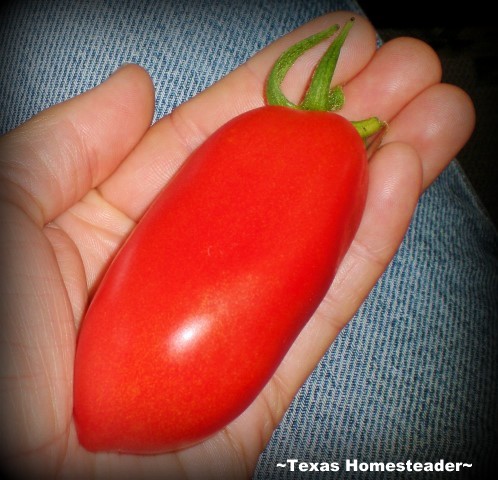 What Is 'Tomato Leather'?
A dear Facebook friend suggested I try to make tomato leather per the directions in my Excalibur book. Hummm… I'd never heard of tomato leather – I'm intrigued.
The friend stated that supposedly if I make this tomato leather I can roll it directly onto pizza crust and just start adding toppings – no need to rehydrate first. NOW she had my attention!
Upon glancing through my Excalibur book I saw that they did indeed suggest this was true. I have onions and garlic in the garden, as well as fresh oregano so why not flavor the whole thing with Italian seasonings before dehydrating?
Preparing Tomatoes
First I pulled all those beautiful fresh ripe tomatoes that from the garden, halved and seeded them.
This was an easy task since I can halve & seed these beautiful San Marzanos in about 10-15 seconds. LOVE IT! After I got them all seeded I added them to my slow cooker.
I added some chopped onions from the garden, a few pressed garlic cloves and some chopped oregano as well as some dried basil from the spice cabinet. I didn't measure anything, just added about the same quantities as I would if I were making pasta sauce.
Then I put the lid on the slow cooker, turned it to high and let the tomatoes cook overnight.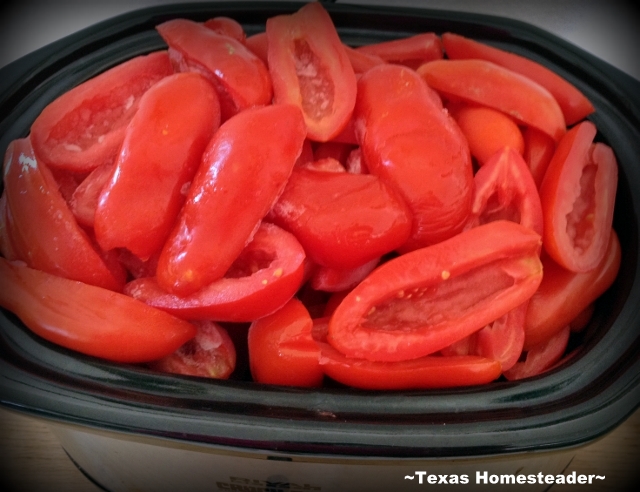 The next morning there was quite a bit of water released in those tomatoes. So I drained most of the liquid and then I used a stick blender to puree the tomatoes.
Then I took the top off of the slow cooker and allowed it to cook several more hours so it could evaporate the liquid & thicken the sauce.
Dehydrating Seasoned Tomato Puree
When it was as thick as I wanted I gave it a little taste. The spices were perfect but I added salt to taste, then got busy with my dehydrator.
For those of you asking, I purchased this * Excalibur dehydrator) and love it!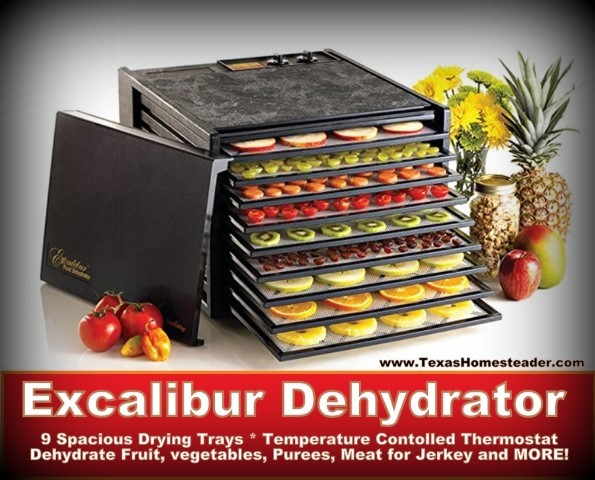 I put dehydrator sheets onto each of my dehydrator trays. These *dehydrator sheets
were recently purchased from Amazon. Now that I'm making leather I'm so glad I did!
I poured about 1 cup of my tomato puree onto each dehydrator sheet and spread it thinly with my spatula. By laying the spatula almost flat and with a light hand I swirled the puree toward the outside corners of the sheet, keeping the shape circular.
Extra Caution For Thickness of Puree
My dehydrator book warned that I'd want the circle to be thinnest in the center, a little thicker at the outside of the circle so that the outsides didn't over dry and crack before the insides of the circles were thoroughly dehydrated.
So I spread my circles about 1/8″ thick at the center and about 1/4″ thick at the edges.
Then I placed those trays into my dehydrator & took it outside. I placed it on a small table on my back porch so the heat would stay outside where it belongs during this hot humid season.
My Excalibur book says to dehydrate my tomato leather about 8-10 hours or until the center is no longer tacky. So I turned the temperature to 135 degrees and waited.
After about 4 hours I rotated all my trays. That helps result in a more even drying for my leathers. Properly dehydrated leather will lift up at the edges but will not be brittle. For me that took about 9 hours.
Your dehydrating time will vary based on many factors such as how thick your sauce is, how thickly you spread the puree circles, how humid your environment is and of course the power of your dehydrator.
Be sure to check your puree frequently and pull it when the centers are no longer tacky.
Storing Tomato Leathers
Although I read it's best to roll the leather while it's still warm I always worry about condensation resulting from cooling. So I allowed my leather to cool before rolling it up and it did fine.
But I needed a way to separate my leathers. I took a food-safe plastic bag that previously held cereal and cut it apart into squares that were larger than my leather circles and placed a square between each one.
Then I rolled the whole stack tightly and placed it into a heavy plastic Ziploc bag. Of course I'm going to want to know what's included in this bag so I always include a label.
I use a small scrap piece of paper to I write what's enclosed and the date – then I slip it into my Ziploc bag and seal it tight. I can't wait to give this leather a try on our next pizza night!
Using Tomato Leather
The dehydrator guide states I can use these leathers rolled out onto pizza crust and of course that will be my primary use for them. But some of it will also be used in soup by pulling off chunks and dropping it into my simmering soup pot this winter when I once again start making my endless soup lunches. Italian seasoned soups are my faves.
Although my dehydrator book stated I didn't have to peel my tomatoes before making the leather, my stick blender doesn't puree quite as smoothly as I'd like. I found there's remnants of the skins in the leather.
I don't think that will bother us on pizza with all the textures that are typically present. But I'm not sure about my soups. Next time I may go ahead & peel my tomatoes for a smoother leather.
Has anyone else ever made tomato leather? Did you peel your tomatoes first? How did you most enjoy using your tomato leather? Weigh in & let me know how you liked it – let's all learn from each other.
Observations & Updates
UPDATE: I've since tried using this tomato leather when making homemade pizza. Sure enough, all I had to do is roll the leather out on the dough (or french bread for my homemade french-bread pizza) trim it to fit and start adding toppings. LOVE IT!! ~TxH!
Update #2: Now, NOW my friends we've taken it to a different level. We've discovered tortilla pizza for lunch in a snap (and the grandbabies love it) So the other night when RancherMan & I had leftover pasta sauce I debated over what to do with it – remake it into another dish tomorrow? No, we already have supper plans tomorrow. Freeze it? Maybe, but dang our freezer is full.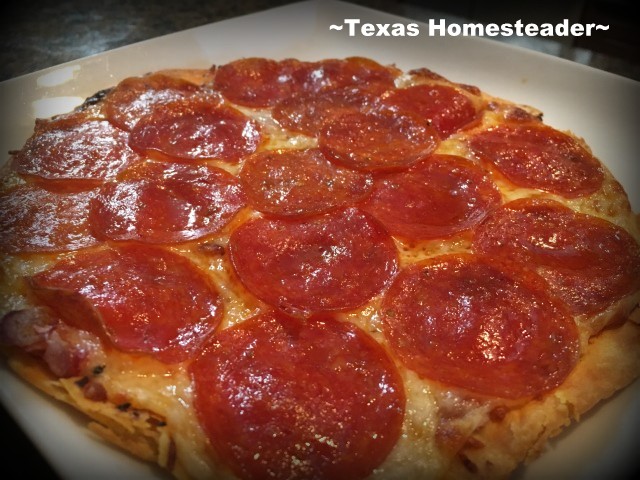 Then RancherMan casually mentioned "Why don't you dehydrate it into tortilla-sized pizza leather?" YES!! The sauce was already cooked, already seasoned & ready to go. These 5 to 5.5 inch leathers dehydrated in only about 6 hours.
Now that my leathers are made they take no additional energy to store in my pantry. They work great with our tortilla pizza. We just roll one onto a tortilla and start adding toppings, making sure to cover the leather.
Tortilla pizzas are layered like this: Tortilla, tomato leather, small sprinkling of cheese to anchor toppings, finely chopped veggies & topped with mozzarella. 5 minutes in my oven set to 425 degrees on fan-assisted bake and BOOM!

~TxH~
Other Dehydrating Posts


C'mon by & sit a spell! Come hang out at our Facebook Page. It's like sitting in a front porch rocker with a glass of cold iced tea – lots of good folks sharing! You can also follow along on Pinterest, Twitter or Instagram.
If you'd like to receive an email each time a new blog post goes live it's EASY to
Subscribe to our blog!
*Amazon Affiliate
* A word about our Affiliate Link – We are currently enrolled as an Amazon Affiliate. Occasionally I will insert an affiliate link into one of my posts if I think it may be of interest to you. I receive nothing from the manufacturer and I only link to products that I have used & love and feel you might love too. If you click on any of my affiliate links and buy something (almost anything, not just what was linked) I may get a small referral percentage from Amazon. But here's the really important part – the price you pay for your items is UNCHANGED.


When you buy something through the affiliate link it's a great way to support this blog without anything coming out of your pocket. So please click often!
Save
Save
Save
Save
Save
Save
Save
Save
Save
Save