by Texas Homesteader ~
*contains affiliate link
When our garden is producing extremely well I like to preserve as much as I can from it. Oftentimes our tomatoes are producing like GANGBUSTERS and I'm making Tomato Sauce and Pasta Sauce from it Sometimes I dehydrate them into Tomato Powder or just Dried Diced Tomatoes to drop into my wintertime simmering soups.
But one of my favorite ways to preserve tomatoes is by dehydrating it into tomato leather. That way I can roll it out directly on top of my pizza crust & just start piling on the toppings. The cooking process and the moisture in the toppings rehydrates the leather for me.
But I didn't get many tomatoes this year so I find myself purchasing pasta sauce until I can make it myself again. (sigh…) But recently I had leftover pasta sauce and wondered what to do with it. Since we've recently discovered tortilla pizzas I decided to make some tortilla-sized tomato leather!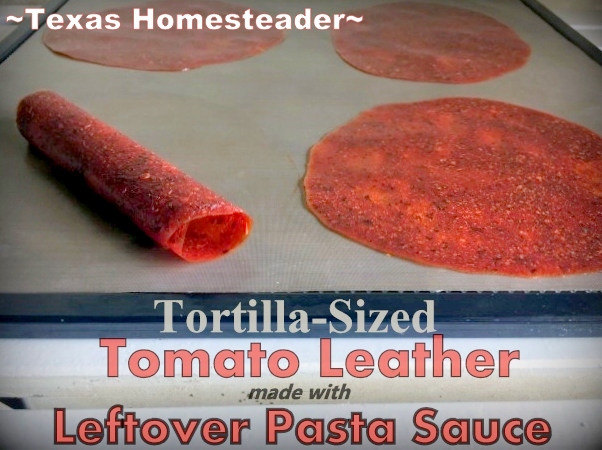 (Note: Some links in this post are for further information from earlier posts I've written. But links preceded with * are affiliate links. If you click them and buy something (almost anything, not just the item noted) I could receive a small purchase. But the price you pay will NOT change. It's an easy way to support this blog without anything coming out of your pocket. So click often! Thank you!)
Preparing The Leftover Pasta Sauce
The pasta sauce I had was chunky. So I took my stick blender and whirred it until it was smooth.
Then I took a 1/4 cup of sauce and plopped it onto my *Excalibur dehydrator trays that had been lined with non-stick *dehydrator drying sheets. I used the back of the measuring cup and smoothed the sauce into a circle.
A quarter cup made my circles about 5.5″ wide which is what I wanted for my tortillas. I smoothed it to about about 1/8″ thick at the center and about 1/4″ thick at the edges. The edges are a little thicker since the edge tends to dry a little faster than the middle.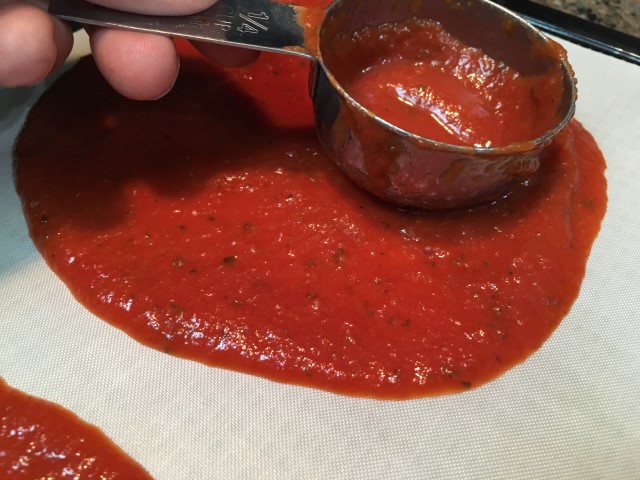 I figured these smaller circles would dehydrate in about 6-7 hours They just need to dry until the center is no longer tacky.
So into the Excalibur dehydrator the trays went. I turned the temperature to 135 degrees and waited.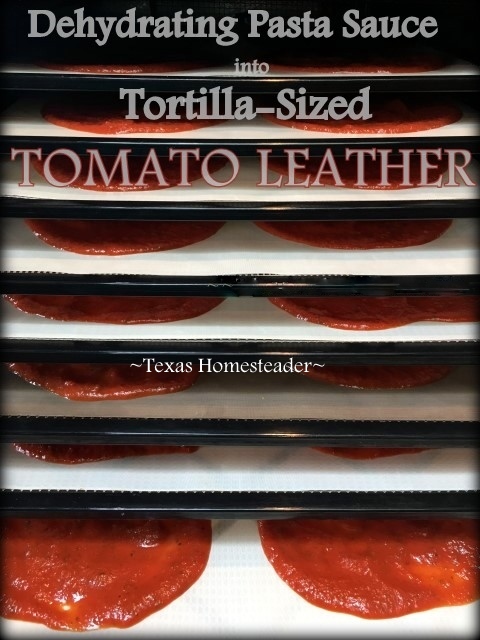 After about 3 hours I flipped the leathers & rotated all my trays since that helps result in a more even drying. Properly dehydrated leather will lift up at the edges but will not be brittle.
For me that took about 6 hours. Dehydrating time will vary based on many factors such as how thick the sauce is, how thickly the puree circles are, how humid the environment is and of course the power of the dehydrator. Be sure to check your puree frequently and pull it when the centers are no longer tacky.
Finished Tortilla-Sized Pizza Leather
When they were leather-like I turned the dehydrator off and left them inside the dehydrator overnight. I do this to make sure any residual moisture would evaporate. The next morning I prepared them for pantry storage.
Interior bags from boxes of cereal were repurposed by opening them at the seams until they were flat and cutting them. I cut strips as wide as my tomato leather and about twice as long. Then I laid a leather onto the waxed paper and folded it over, adding another leather on top. This way none of the leathers are touching each other to stick together.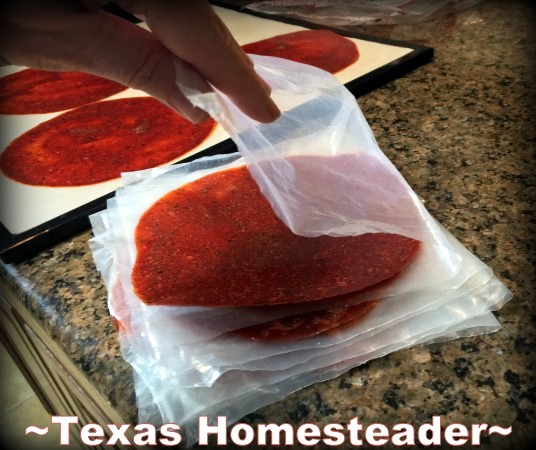 Then I rolled the stacks of waxed paper/leathers and placed them all into a zippered bag. I added a quick label to identify the contents as well as the date I made them. Then I popped them into my pantry alongside the larger tomato leathers I made from the garden last year.
When I want to use these tortilla-sized pizza leathers to make tortilla pizza I simply unroll it on top of my tortilla and start adding my toppings. The leather rehydrates on its own as the pizza cooks!
I've saved some money by using something I had leftover and remaking it into something delicious. Plus those little cans of tomato puree are expensive! And how quick will our homemade tortilla pizzas be now?? Love it!
~TxH~
Links In This Post
Dehydrating Posts
C'mon by & sit a spell! Come hang out at our Facebook Page. It's like sitting in a front porch rocker with a glass of cold iced tea – lots of good folks sharing! You can also follow along on Pinterest, Twitter or Instagram.
If you'd like to receive an email each time a new blog post goes live it's EASY to
Subscribe to our blog!
*Amazon affiliate link
Save
Save
Save
Save
Save
Save
Save
Save
Save
Save