by Texas Homesteader
*affiliate link
I recently acquired two different varieties of ripe plums that totaled about 30 lbs. Now I love fruit, and plums are some of my faves – so sweet, so juicy! But I'm going to have to preserve some of these plums if I'm going to keep them from going bad before they're all consumed.
I love plum jelly but I've made so much jelly lately including apple butter, blueberry jam and even honeysuckle jelly that I don't need any more in my stockpile. Even though I like to stock my pantry with jellies to sweeten my homemade yogurt, with only two of us at home these days I don't want to make more than we can use. What else can I do with these delicious plums?
Hummm… I like to sweeten my homemade pumpkin granola with dried fruit and I recently used the last of my dehydrated jujube fruit. So maybe I can dehydrate these plums into raisin-sized chunks to naturally sweeten my granola?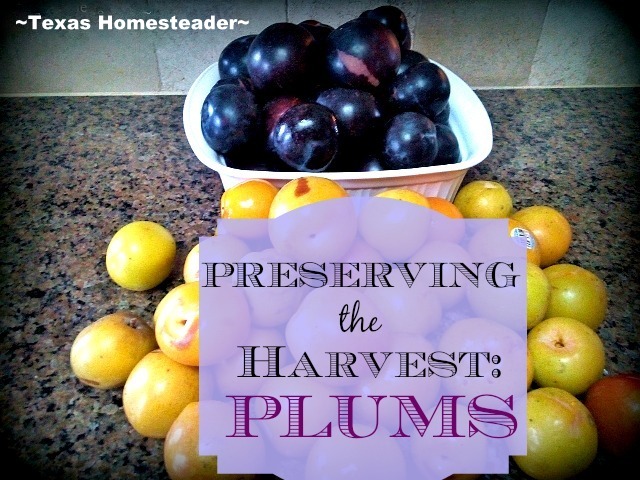 It's times like this, staring boldly in the face of thirty whopping pounds of fruit to dehydrate, that I'm more than grateful to have my large 9-tray * Excalibur Dehydrator! I'm able to fill all nine trays with prepared fruit, which significantly reduces the time I'm stuck processing all of these plums. And y'all know I'm all about gettin' in there & gettin' it DONE!
I started off by washing the fruit. The plums that still felt a little firm were put aside so they could ripen a little longer. Then I took the remaining fruit to my counter. With a cutting board & a sharp knife I got to work.
Thankfully RancherMan's no stranger in the kitchen and he asked if there was something he could do to help. "Um, YEAH! Oh, sorry – were you truly offering, or just asking to be polite?" LOL
Removing The Pit
We took each ripe plum and cut around the circumference of the fruit from the skin to the pit. Then it was easy to grab each half of the cut plum and twist, pulling the pit from the plum. If the plum was ripe enough and with half the pit already exposed on the remaining side a quick pinch & twist of the pit would usually release it from the fruit.
Oh, and seriously folks, don't act like you're not secretly insanely jealous of my fancy-schmancy cutting board! My baby sister still has teens at home that enjoy ice cream from time to time. She saves me the lids from the ice cream tubs for this purpose.
The lids make a perfect cutting board. Lightweight, recyclable, and the lip on the lid keeps any juices from spilling onto the counter. (Yeah, yeah, I'm a genius… HA!)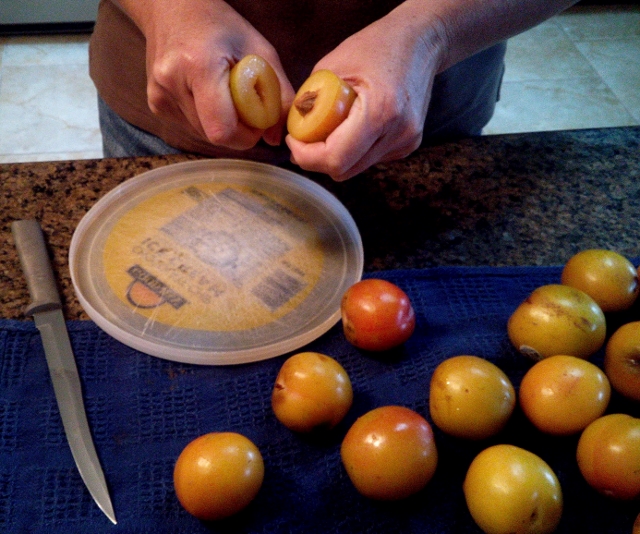 Aaaanyway… We just tossed the pits into the compost bucket. Now those pits probably won't fully compost down by the time I'm pulling compost for fall or even spring planting. But that's where all of my veggie/fruit scraps go, so in ya go!
Cutting Fruit To Size
Now that we have two pitted halves we went to work cutting them into the sizes I wanted. I'd like to use these dehydrated plums in the place of purchased raisins. So I'm cutting them about 2-3 times the size I want them to be when they're fully dehydrated.
I also cut some into larger 1/4″ slices to experiment with the different sizes/textures when fully dehydrated.
After the plums were cut to size I scored the flesh of each wedge piece 2-3 times. This should allow the dry air to penetrate the thicker fruit. I set the pieces skin-side down on my dehydrator tray.
(note: I wasn't impressed with the wedge pieces when they were dry so the rest of them were simply cut to chunks)
Dehydrating The Plums
I started out using dehydrator sheets over the trays because I was worried these juicy plum pieces would stick to the trays. But after loading a couple of trays I just started laying the cut pieces directly onto the trays themselves. They seemed to dry just fine that way & much quicker too.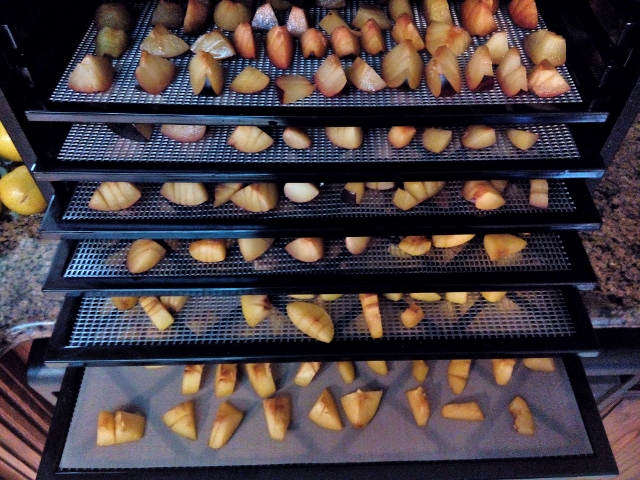 My dehydrator manual instructed me to set the temperature to 135 degrees for plums that are to be dried in halves. They should be leathery and fully dehydrated in 8-16 hours.
But since I'm cutting mine up into smaller chunks I figured it won't take that long to dehydrate these sweet jewels.
After about 4 hours in the dehydrator I pulled out the trays and moved the pieces around to make sure they wouldn't stick. My raisin-sized plum chunks were dried to my satisfaction in about 10 hours, although the larger wedges took a little longer.
There are many variables when dehydrating food including your humidity level, power on your dehydrator, size & residual juiciness of the food, etc.
I tend to dry mine just a tad past optimum. I think I'd probably cry like a little child if I inadvertently left a bit of moisture in the food & it molded in storage. So I'm one of those "better safe than sorry" kind of gals.
You'll want to use your best judgement when you're dehydrating your food. But your dehydrator's manual will direct you to the proper time/temp for the specific food you're dehydrating.
After that first batch was complete I repeated the process for batch two. But with my second batch I decided to experiment a little more. The plums were just a tad softer & more ripe. So it was super easy to remove the peel by hand before I cut the plums into chunks.
This made them dehydrate faster still. My raisin-sized chunks were now dehydrated to my satisfaction in only about 8 hours.
Make Sure No Moisture Remains
Although it took several dehydrator loads to dehydrate that many plums, after each batch I removed the pieces from the dehydrator trays and placed them into large-mouth glass jars. The lid was propped on top but not screwed on. For a couple of days I shook the contents of the jar to release any residual moisture that may be still present.
It's a common option to just freeze them if you want to be sure they don't mold. But I like to store mine in the pantry. So this procedure gives me a little extra assurance.
But how do they taste? Ummm… The chunks with skins still attached had a sweet-tart taste, much like craisins.
The chunks that didn't have the skins still attached were not quite as tart but just as sweet. But they all had the soft & chewy texture of raisins. I'm really glad I now have a hefty supply of natural sweetness to add to my homemade granola!
I've also got a glass jar of them prominently placed so RancherMan will be more apt to grab a handful when he's in the mood for something sweet. Now THAT'S some healthy snacking!
And by making my own dehydrated fruit instead of purchasing it I've not only saved money in our food budget but contributed no packaging to the landfill Win/Win!
How do you most like to preserve & enjoy your plums?
~TxH~
Links Included In This Post
Other Dehydrating Posts


C'mon by & sit a spell! Come hang out at our Facebook Page. It's like sitting in a front porch rocker with a glass of cold iced tea – lots of good folks sharing! You can also follow along on Pinterest, Twitter or Instagram.
If you'd like to receive an email each time a new blog post goes live it's EASY to Subscribe to our blog!
*Amazon affiliate
* A word about our Affiliate Link – We are currently enrolled as an Amazon Affiliate. Occasionally I will insert an affiliate link into one of my posts if I think it may be of interest to you. I receive nothing from the manufacturer. But I love my Excalibur dehydrator & thought you might too. If you click on any of my affiliate links and buy something (almost anything, not just what was linked) I get a small referral percentage from Amazon. But here's the really important part – the price you pay for your items is UNCHANGED.
When you buy something through the affiliate link it's a great way to support this blog without anything coming out of your pocket. So please click often!
Save
Save
Save
Save
Save
Save